Abstract
Background
Most alpine steppe grasslands on the Tibetan Plateau have in recent decades come under increasing threat from overgrazing due to population growth and food demand. Livestock exclosure has been widely employed by China's state and local authorities as a management practice aimed at restoring and protecting these fragile ecosystems. However, its effects on greenhouse gas fluxes are unclear.
Method
Therefore, measurements and analyses of key GHG fluxes (CO2, CH4 and N2O) were carried out in grazed and fenced areas of an alpine steppe grassland in the central Tibetan Plateau during the growing seasons of 2009 and 2010.
Results
Results showed that: (1) For the grazed area, ecosystem respiration was 156.1 ± 19.6 and 92.7 ± 11.7 mg.m−2.h−1, soil CH4 flux was −63.4 ± 6.0 and −70.2 ± 10.4 μg.m−2.h−1, and soil N2O flux was 0.1 ± 0.9 and −0.5 ± 1.3 μg.m−2.h−1 during the growing seasons of 2009 and 2010, respectively. (2) For the fenced area, ecosystem respiration was 131.5 ± 14.3 and 114.3 ± 10.6 mg.m−2.h−1, the CH4 flux rate was −84.8 ± 7.3 and −82.7 ± 9.2 μg.m−2.h−1, and soil N2O flux was 0.7 ± 0.5 and −5.8 ± 2.8 μg.m−2.h−1 in 2009 and 2010, respectively. (3) CO2 emission was positively correlated with soil moisture and temperature, while CH4 uptake was negatively correlated with soil moisture. The correlation between N2O flux with soil temperature or moisture was not significant. (4) Livestock exclosure decreased the Q10 value of CO2 emission, and enhanced CH4 uptake by 17.8% and 33.8% in 2009 and 2010, respectively, while its effect on CO2 emission and N2O flux was not significant.
Conclusions
The lower Q10 value of CO2 emissions and higher CH4 consumption rate in the fenced area after 4 years of grazing exclusion imply that livestock exclosure might be a promising measure to reduce CO2 emission sensitivity and enhance CH4 uptake in alpine steppe grasslands.
Access options
Buy single article
Instant access to the full article PDF.
USD 39.95
Price excludes VAT (USA)
Tax calculation will be finalised during checkout.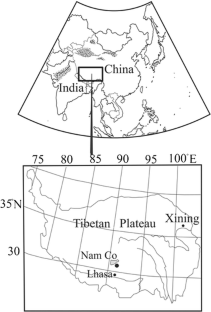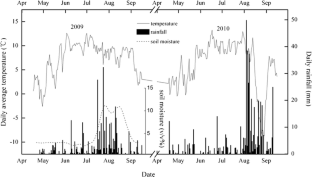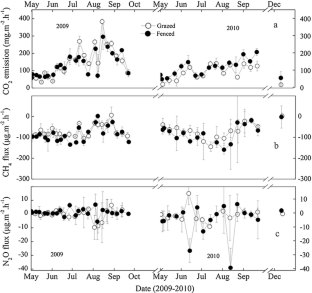 References
Bahn M, Rodeghiero M, Anderson-Dunn M, Dore S, Gimeno C, Drosler M, Williams M, Ammann C, Berninger F, Flechard C, Jones S, Balzarolo M, Kumar S, Newesely C, Priwitzer T, Raschi A, Siegwolf R, Susiluoto S, Tenhunen J, Wohlfahrt G, Cernusca A (2008) Soil respiration in European grasslands in relation to climate and assimilate supply. Ecosystems 11:1352–1367

Bremer DJ, Ham JM, Owensby CE, Knapp AK (1998) Responses of soil respiration to clipping and grazing in a tallgrass prairie. J Environ Qual 27:1539–1548

Cao GM, Tang YH, Mo WH, Wang YS, Li YN, Zhao XQ (2004) Grazing intensity alters soil respiration in an alpine meadow on the Tibetan plateau. Soil Biol Biochem 36:237–243

Chapuis-Lardy L, Wrage N, Metay A, Chotte JL, Bernoux M (2007) Soils, a sink for N2O? A review. Global Change Biol 13:1–17

Ciarlo E, Conti M, Bartoloni N, Rubio G (2007) The effect of moisture on nitrous oxide emissions from soil and the N2O/(N2O+N2) ratio under laboratory conditions. Biol Fert Soil 43:675–681

Cox PM, Betts RA, Jones CD, Spall SA, Totterdell IJ (2000) Acceleration of global warming due to carbon-cycle feedbacks in a coupled climate model. Nature 408:184–187

Curry CL (2007) Modeling the soil consumption of atmospheric methane at the global scale. Global Biogeochem Cy 21:1–B4012

Davidson EA, Janssens IA (2006) Temperature sensitivity of soil carbon decomposition and feedbacks to climate change. Nature 440:165–173

Davidson G, Behnke RH, Kerven C (2008) Implications of rangeland enclosure policy on the Tibetan Plateau. IHDP Update 2:59–62

Dong YS, Zhang S, Qi YC, Chen ZZ, Geng YB (2000) Fluxes of CO2, N2O and CH4 from a typical temperate grassland in Inner Mongolia and its daily variation. Chinese Sci Bull 45:1590–1594

Du R (2006) The processes of N2O production in temperate meadow grassland soils. Ecol Sci 25:202–206 (in Chinese)

Fang CM, Moncrieff JB (1999) A model for soil CO2 production and transport 1: model development. Agr Forest Meteorol 95:225–236

Grant RF, Pattey E (2003) Modelling variability in N2O emissions from fertilized agricultural fields. Soil Biol Biochem 35:225–243

Greenwood KL, McKenzie BM (2001) Grazing effects on soil physical properties and the consequences for pastures: a review. Aust J Exp Agr 41:1231–1250

Harris RB (2010) Rangeland degradation on the Qinghai-Tibetan plateau: a review of the evidence of its magnitude and causes. J Arid Environ 74:1–12

Hirota M, Tang YH, Hu QW, Kato T, Hirata S, Mo WH, Cao GM, Mariko S (2005) The potential importance of grazing to the fluxes of carbon dioxide and methane in an alpine wetland on the Qinghai-Tibetan Plateau. Atmos Environ 39:5255–5259

Jia BR, Zhou GS, Wang FY, Wang YH, Weng ES (2007) Effects of grazing on soil respiration of Leymus Chinensis steppe. Climatic Change 82:211–223

Jiang CM, Yu GR, Fang HJ, Cao GM, Li YN (2010) Short-term effect of increasing nitrogen deposition on CO2, CH4 and N2O fluxes in an alpine meadow on the Qinghai-Tibetan Plateau, China. Atmos Environ 24:2920–2926

Klein JA, Harte J, Zhao XQ (2004) Experimental warming causes large and rapid species loss, dampened by simulated grazing, on the Tibetan Plateau. Ecol Lett 7:1170–1179

Lü XM, Kang SC, Zhu LP (2009) Phenology characters of dominant plants in the Nam Co basin and its tesponse to climate. Tibet J Mt Sci 27:648–654 (in Chinese with English abstract)

Leirós MC, Trasar-Cepeda C, Seoane S, Gil-Sotres F (1999) Dependence of mineralization of soil organic matter on temperature and moisture. Soil Biol Biochem 31:327–335

Li CS (2000) Modeling Trace gas emissions from agricultural ecosystems. Nutr Cy Agr 58:259–276

Li XL, Gao J, Brierley G, Qiao YM, Zhang J, Yang YW (2011) Rangeland degradation on the Qinghai-Tibet plateau: Implications for rehabilitation. Land Degrad Dev. doi:10.1002/ldr.1108

Liu CY, Holst J, Bruggemann N, Butterbach-Bahl K, Yao ZS, Yue J, Han SH, Han XG, Krummelbein J, Horn R, Zheng XH (2007) Winter-grazing reduces methane uptake by soils of a typical semi-arid steppe in Inner Mongolia, China. Atmos Environ 41:5948–5958

Le Mer J, Roger P (2001) Production, oxidation, emission and consumption of methane by soils. Eur J Soil Biol 37:25–50

Mosier A, Schimel D, Valentine D, Bronson K, Parton W (1991) Methane and nitrous oxide fluxes in native, fertilized and cultivated grasslands. Nature 350:330–332

Panek JA, Matson PA, Ortíz-Monasterio I, Brooks P (2000) Distinguishing nitrification and denitrification sources of N2O in a Mexican wheat system using 15 N. Ecol App 10:506–514

Pei ZY, Ouyang H, Zhou CP, Xu XL (2009) Carbon balance in an alpine steppe in the Qinghai-Tibet Plateau. J Integr Plant Biol 51:521–526

Piñeiro G, Paruelo JM, Oesterheld M, Jobbágy EG (2010) Pathways of grazing effects on soil organic carbon and nitrogen. Rangeland Ecol Manag 63:109–119

Rustad LE, Campbell JL, Marion GM, Norby RJ, Mitchell MJ, Hartley AE, Cornelissen JHC, Gurevitch J (2001) A meta-analysis of the response of soil respiration, net nitrogen mineralization, and aboveground plant growth to experimental ecosystem warming. Oecologia 126:543–562

Tian YQ, Ouyang H, Gao Q, Xu XL, Song MH, Xu X (2010) Responses of soil nitrogen mineralization to temperature and moisture in alpine ecosystems on the Tibetan Plateau. Procedia Environ Sci 2:218–224

Tjoelker MG, Oleksyn J, Reich PB (2001) Modelling respiration of vegetation: evidence for a general temperature-dependent Q10. Global Change Biol 7:223–230

Wang YS, Wang YH (2003) Quick measurement of CH4, CO2 and N2O emissions from a short-plant ecosystem. Adv Atmos Sci 20:842–844

Wang GX, Qian J, Cheng GD, Lai YM (2002) Soil organic carbon pool of grassland soils on the Qinghai-Tibetan Plateau and its global implication. Sci Total Environ 291:207–217

Wang GX, Wang YB, Li YS, Cheng HY (2007) Influences of alpine ecosystem responses to climatic change on soil properties on the Qinghai-Tibet Plateau, China. Catena 70:506–514

Wang XD, Zhong XH, Liu SZ, Liu JG, Wang ZY, Li MH (2008) Regional assessment of environmental vulnerability in the Tibetan Plateau: Development and application of a new method. J Arid Environ 72:1929–1939

Wang Y, Xue M, Zheng X, Ji B, Du R, Wang Y (2005) Effects of environmental factors on N2O emission from and CH4 uptake by the typical grasslands in the Inner Mongolia. Chemosphere 58:205–215

Wolf B, Zheng XH, Bruggemann N, Chen WW, Dannenmann M, Han XG, Sutton MA, Wu HH, Yao ZS, Butterbach-Bahl K (2010) Grazing-induced reduction of natural nitrous oxide release from continental steppe. Nature 464:881–884

Wu GL, Liu ZH, Zhang L, Chen JM, Hu TM (2010) Long-term fencing improved soil properties and soil organic carbon storage in an alpine swamp meadow of western China. Plant Soil 332:331–337

Yang YH, Ma WH, Mohammat A, Fang JY (2007) Storage, patterns and controls of soil nitrogen in China. Pedosphere 17:776–785

Yates CJ, Norton DA, Hobbs RJ (2000) Grazing effects on plant cover, soil and microclimate in fragmented woodlands in south-western Australia: implications for restoration. Aust Ecol 25:36–47

You QL, Kang SC, Li CL (2007) Variation features of meteorological elements at Nam Co station, Tibetan Plateau. Meteorol Mon 33:54–60 (in Chinese with English abstract)
Acknowledgements
This work was supported by the National Natural Scientific Foundation of China (40605032, 40975096) and Strategic Priority Research Program-Climate Change: Carbon Budget and Related Issues of the Chinese Academy of Sciences (XDA05020402, XDA05050404-3-2). We thank Zonghu Huang, Tsering Dorje, Zhong Wang, Guoshuai Zhang, Tianxiang Luo and Kelly Hopping for their help with field work and manuscript revision. Thanks should also be given to Nam Co Station for their permission to use the meteorological data. We are grateful to the anonymous reviewers for their valuable comments on this manuscript.
Additional information
Responsible Editor: Katja Klumpp.
About this article
Cite this article
Wei, D., -Ri, X., Wang, Y. et al. Responses of CO2, CH4 and N2O fluxes to livestock exclosure in an alpine steppe on the Tibetan Plateau, China. Plant Soil 359, 45–55 (2012). https://doi.org/10.1007/s11104-011-1105-3
Received:

Accepted:

Published:

Issue Date:

DOI: https://doi.org/10.1007/s11104-011-1105-3
Keywords
Livestock exclosure

Alpine steppe

Greenhouse gas flux

Tibetan Plateau