Abstract
Background and Aims
Rocket salad (Eruca sativa Mills) is one of the major leafy vegetables produced worldwide and has been characterized as a rich source of chemoprotective glucosinolates (GSL). The relationship between N fertilization and the resulting plant biomass and N status with GSL quantity and quality in rocket leaves was examined.
Methods
A pot experiment was conducted, applying ten different N-rates and destructive sampling was carried out 15, 30 and 45 days after transplanting (DAT). The Mitscherlich equation was used to establish NO3-N critical levels at each growth stage and as an indicator of N demand for relative maximum dry matter accumulation and glucosinolate content and composition was determined.
Results
Glucosinolate content was significantly influenced by N rate, growth stage and their interaction. Different GSL types showed dissimilar responses to N fertilization: aliphatic GSLs were significantly reduced under increased N rates whereas indole GSL showed the reverse. Under excess N fertilization (>1.04 g/plant), dry matter accumulation remained constant, NO3-N was significantly increased and total GSL content was significantly reduced, factors that could lead to an anticipated product quality decline.
Conclusions
The application of the critical NO3-N level approach used to identify optimal N fertilization rates for plant growth could serve as means to obtain optimized GSL content in the edible plant parts.
This is a preview of subscription content,
to check access.
Access this article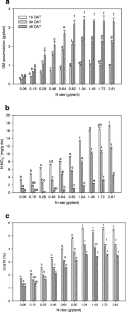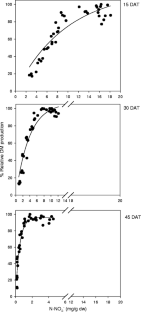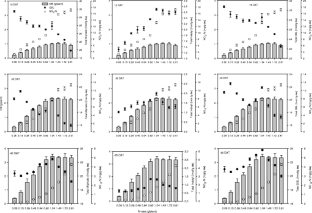 References
Aires A, Rosa E, Carvalho R, Haneklaus S, Schnug E (2007) Influence of nitrogen and sulfur fertilization on the mineral composition of broccoli sprouts. J Plant Nutr 30:1035–1046

Alivelu K, Srivastava S, Rao AS, Singh KN, Selvakumari G, Raju NS (2003) Comparison of modified mitscherlich and response plateau models for calibrating soil test based nitrogen recommendations for rice on typic ustropept. Comm Soil Sci Plan 34:2633–2643

Alva AK (2009) Effects of various preplant and in-season nitrogen management practices for potatoes on plant and soil nitrogen status. Comm Soil Sci Plan 40:649–659

Barillari J, Canistro D, Paolini M, Ferroni F, Pedulli GF, Iori R, Valgimigli L (2005) Direct antioxidant activity of purified glucoerucin, the dietary secondary metabolite contained in rocket (Eruca sativa mill.) seeds and sprouts. J Agric Food Chem 53:2475–2482

Batra S, Sahu RP, Kandala PK, Srivastava SK (2010) Benzyl isothiocyanate-mediated inhibition of histone deacetylase leads to NF-κB turnoff in human pancreatic carcinoma cells. Mol Cancer Ther 9:1596–1608

Bellostas N, Kachlicki P, Sørensen JC, Sørensen H (2007) Glucosinolate profiling of seeds and sprouts of B. oleracea varieties used for food. Sci Hortic Amsterdam 114:234–242

Bennett RN, Mellon FA, Botting NP, Eagles J, Rosa EAS, Williamson G (2002) Identification of the major glucosinolate (4-mercaptobutyl glucosinolate) in leaves of Eruca sativa (salad rocket). Phytochemistry 61(1):25–30

Bennett RN, Rosa EAS, Mellon FA, Kroon PA (2006) Ontogenic profiling of glucosinolates, flavonoids, and other secondary metabolites in eruca sativa (salad rocket), diplotaxis erucoides (wall rocket), diplotaxis tenuifolia (wild rocket), and bunias orientalis (turkish rocket). J Agric Food Chem 54:4005–4015

Bennett RN, Carvalho R, Mellon FA, Eagles J, Rosa EAS (2007) Identification and quantification of glucosinolates in sprouts derived from seeds of wild Eruca sativa (salad rocket) and Diplotaxis tenuifolia (wild rocket) from diverse geographical locations. J Agric Food Chem 55:67–74

Bloem E, Haneklaus S, Schnug E (2004) Influence of nitrogen and sulfur fertilization on the alliin content of onions and garlic. J Plant Nutr 27:1827–1839

Bloem E, Haneklaus S, Schnug E (2007) Comparative effects of sulfur and nitrogen fertilization and post-harvest processing parameters on the glucotropaeolin content of Tropaeolum majus L. J Sci Food Agr 87:1576–1585

Brown PD, Tokuhisa LG, Reichelt M, Gershenzon J (2003) Variation of glucosinolate accumulation among different organs and developmental stages of Arabidopsis thaliana. Phytochemistry 62:471–481

Brunelli D, Tavecchio M, Falcioni C, Frapolli R, Erba E, Iori R, Rollin P, Barillari J, Manzotti C, Morazzoni P, D'Incalci M (2010) The isothiocyanate produced from glucomoringin inhibits nf-kb and reduces myeloma growth in nude mice in vivo. Biochem Pharmacol 79:1141–1148

Burns IG (1992) Influence of plant nutrient concentration on growth-rate - use of a nutrient interruption technique to determine critical concentrations of N, P and K in young plants. Plant Soil 142:221–233

Cole RA (1980) Volatile compounds produced during ontogeny of some cultivated cultivars. J Sci Food Agric 31:549–557

Fahey JW, Zalcmann AT, Talalay P (2001) The chemical diversity and distribution of glucosinolates and isothiocyanates among plants. Phytochemistry 56(1):5–51

Francisco M, Cartea ME, Soengas P, Velasco P (2011) Effect of genotype and environmental conditions on health-promoting compounds in Brassica rapa. J Agric Food Chem 59:2421–2431

Fortier E, Desjardins Y, Tremblay N, Belec C, Cote M (2010) Influence of irrigation and nitrogen fertilization on broccoli polyphenolics concentration. ISHS Acta Hortic, vol 856. International Symposium on Vegetable Safety and Human Health.

Gardner BR, Roth RL (1989) Midrib nitrate concentration as a means for determining nitrogen needs of broccoli. J Plant Nutr 12:111–125

Hamilton JM, Fonseca JM (2010) Effect of saline irrigation water on antioxidants in three hydroponically grown leafy vegetables: Diplotaxis tenuifolia, eruca sativa, and lepidium sativum. HortScience 45(4):546–552

Heimler D, Isolani L, Vignolini P, Tombelli S, Romani A (2007) Polyphenol content and antioxidative activity in some species of freshly consumed salads. J Agric Food Chem 55:1724–1729

Hesse H, Nikiforova V, Gakire B, Hoefgen R (2004) Molecular analysis and control of cysteine biosynthesis: integration of nitrogen and sulphur metabolism. J Exp Bot 55:1283–1292

Hocking PJ (2001) Effects of sowing time on nitrate and total nitrogen concentrations in field-grown canola (Brassica napus L.) and implications for plant analysis. J Plant Nutr 24:43–59

Jeuffroy MH, Ney B, Ourry A (2002) Integrated physiological and agronomic modelling of N capture and use within the plant. J Exp Bot 53:809–823

Jirovetz L, Smith D, Buchbauer G (2002) Aroma compound analysis of Eruca sativa (brassicaceae) SPME headspace leaf samples using GC, GC-MS, and olfactometry. J Agric Food Chem 50:4643–4646

ISO 9167-1 norm (1992) Rapeseed- Determination of glucosinolate content-Part 1: method using high-performance liquid chromatography. 1–9

Kim SJ, Ishii G (2006) Glucosinolate profiles in the seeds, leaves and roots of rocket salad (Eruca sativa mill.) and anti-oxidative activities of intact plant powder and purified 4-methoxyglucobrassicin. Soil Sci Plant Nutr 52:394–400

Kim SJ, Matsuo T, Watanabe M, Watanabe Y (2002) Effect of nitrogen and sulphur application on the glucosinolate concentration in vegetable turnip rape (brassica rapa l.). Soil Sci Plant Nutr 48:43–49

Kim SJ, Kawaharada C, Jin S, Hashimoto M, Ishii G, Yamauchi H (2007) Structural elucidation of 4-(cystein-S-yl)butyl glucosinolate from the leaves of Eruca sativa. Biosci Biotech Bioch 71:114–121

Kopsel DA, Barickman TC, Sams CE, Mcelroy JS (2007) Influence of nitrogen and sulfur on biomass production and carotenoid and glucosinolate concentrations in watercress (nasturtium officinale r. Br.). J Agric Food Chem 55:10628–10634

Kronbak R, Duus F, Vang O (2010) Effect of 4-methoxyindole-3-carbinol on the proliferation of colon cancer cells in vitro, when treated alone or in combination with indole-3-carbinol. J Agric Food Chem 58:8453–8459

Kruse J, Kopriva S, Hansch R, Krauss GJ, Mendel RR, Rennenberg H (2007) Interaction of sulfur and nitrogen nutrition in tobacco (Nicotiana tabacum) plants: significance of nitrogen source and root nitrate reductase. Plant Biology 9(5):638–646

Li S, Schonhof I, Krumbein A, Li L, Stutzel H, Schreiner M (2007) Glucosinolate concentration in turnip (Brassica rapa ssp. Rapifera l.) roots as affected by nitrogen and sulfur supply. J Agric Food Chem 55:8452–8457

Li Y, Zhang T, Korkaya H, Liu S, Lee HF, Newman B, Yu Y, Clouthier SG, Schwartz SJ, Wicha MS, Sun D (2010) Sulforaphane, a dietary component of broccoli/broccoli sprouts, inhibits breast cancer stem cells. Clin Cancer Res 16:2580–2590

McGregor DI (1988) Glucosinolate content of developing rapeseed (Brassica napus L Midas) seedlings. Can J Plant Sci 68:367–380

Montgomery DC, Peck EA (1992) Introduction to linear regression analysis, 2nd edn. Wiley, New York

Miyazawa M, Maehara T, Kurose K (2002) Composition of the essential oil from the leaves of eruca sativa. Flavour and Frag J 17:187–190

Nemeth T (2006) Application of the bray-mitscherlich equation approach for economically and environmentally sound fertilization of field crops in Hungary. Comm Soil Sci Plan 37:2227–2247

Nielsen T, Bergstrom B, Borch E (2008) The origin of off-odours in packaged rucola (Eruca sativa). Food Chem 110:96–105

Nijland GO, Schouls J, Goudriaan J (2007) Integrating the production functions of liebig, michaelis-menten, mitscherlich and liebscher into one system dynamics model. NJAS - Wagen J Life Sci 55:199–224

Nikiforova V, Freitag J, Kempa S, Adamik M, Hesse H, Hoefgen R (2003) Transcriptome analysis of sulfur depletion in Arabidopsis thaliana: interlacing of biosynthetic pathways provides response specificity. Plant J 33(4):633–650

Nkoa R, Desjardins Y, Tremblay N, Querrec L, Baana M, Nkoa B (2003) A mathematical model for nitrogen demand quantification and a link to broccoli (Brassica oleracea var. Italica) glutamine synthetase activity. Plant Sci 165(3):483–496

Omirou MD, Papadopoulou KK, Papastylianou I, Constantinou M, Karpouzas DG, Asimakopoulos I, Ehaliotis C (2009) Impact of nitrogen and sulfur fertilization on the composition of glucosinolates in relation to sulfur assimilation in different plant organs of broccoli. J Agric Food Chem 57:9408–9417

Padilla G, Cartea ME, Velasco P, de Haro A, Ordas A (2007) Variation of glucosinolates in vegetable crops of Brassica rapa. Phytochemistry 68:536–545

Papastylianou I (1986) Diagnosis of nitrogen deficiency in barley, growing in different rotation systems, by plant analysis. Fert Res 9:241–250

Papastylianou I, Graham RD, Puckridge DW (1982) The diagnosis of nitrogen deficiency in wheat by means of a critical nitrate concentration in stem bases. Comm Soil Sci Plan 13:473–485

Petersen BL, Chen S, Hansen CH, Olsen CE, Halkier BA (2002) Composition and content of glucosinolates in developing Arabidopsis thaliana. Planta 214:562–571

Pereira FMV, Rosa E, Fahey JW, Stephenson KK, Carvalho R, Aires A (2002) Influence of temperature and ontogeny on the levels of glucosinolates in broccoli (Brassica oleracea var. italica) sprouts and their effect on the induction of mammalian phase 2 enzymes. J Agric Food Chem 50:6239–6244

Perez-Balibrea S, Moreno DA, Garcia-Viguera C (2011) Genotypic effects on the phytochemical quality of seeds and spouts from commercial broccoli cultivars. Food Chem 125:348–354

Pimpini F, Enzo M (1997) Present status and future prospects for rocket cultivation in Veneto region. In: Padulosi S, Pignone D (eds) Rocket: a Mediterranean crop for the world. International Plant Genetic Resources Institute, Rome, pp 51–66

Rask L, Andreasson E, Ekbom B, Eriksson S, Pontoppidan B, Meijer J (2000) Myrosinase: gene family evolution and herbivore defense in Brassicaceae. Plant Mol Biol 42:93–113

Robinson JB (1993) Plant sampling - a review. Aust J Exp Agr 33:1007–1014

Rodrigues MA (2004) Establishment of continuous critical levels for indices of plant and presidedress soil nitrogen status in the potato crop. Comm Soil Sci Plan 35:2067–2085

Rosa EAS, Rodrigues AS (2001) Total and individual glucosinolate content in 11 broccoli cultivars grown in early and late seasons. Hortscience 36:56–59

Rosen CJ, Errebhi M, Wang WS (1996) Testing petiole sap for nitrate and potassium: a comparison of several analytical procedures. Hortscience 31:1173–1176

Rosen CJ, Fritz VA, Gardner GM, Hecht SS, Carmella SG, Kenney PM (2005) Cabbage yield and glucosinolate concentrations as affected by nitrogen and sulfur fertility. HortScience 40(5):1493–1498

Santamaria P (2006) Nitrate in vegetables: toxicity, content, intake and EC regulations. J Sci Food Agric 86:10–17

Santamaria P, Elia A, Serio F (2002) Effect of solution nitrogen concentration on yield, leaf element content, and water and nitrogen use efficiency of three hydroponically-grown rocket salad genotypes. J Plant Nutr 25:245–258

Sarwar Alam M, Kaur G, Jabbar Z, Javed K, Athar M (2007) Eruca sativa seeds possess antioxidant activity and exert a protective effect on mercuric chloride induced renal toxicity. Food Chem Toxicol 45:910–920

Schonhof I, Blankenburg D, Muller S, Krumbein A (2007) Sulfur and nitrogen supply influence growth, product appearance, and glucosinolate concentration of broccoli. J Plant Nutr Soil Sci 170:65–72

Selma MV, Martinez-Sanchez A, Allende A, Ros M, Hernandez MT, Gil MI (2010) Impact of organic soil amendments on phytochemicals and microbial quality of rocket leaves (eruca sativa). J Agric Food Chem 58:8331–8337

Smith FW, Loneragan JF (1997) Interpretation of plant analysis: concepts and principles. In: Reuter DJ, Robinson JB (eds) Plant analysis: an interpretation manual, 2nd edn. CSIRO Publishing, Collingwood, pp 3–33

Vallejo F, Garcia-Viguera C, Tomas-Barberan FA (2003) Changes in broccoli (Brassica oleracea L. var. italica) health-promoting compounds with inflorescence development. J Agric Food Chem 51:3776–3782

Vold A, Bakken LR, Uhlen G, Vatn A (1999) Use of data from long-term fertilizer experiments to model plant nitrogen uptake. Nutr Cycl Agroecosys 55:197–206

Wagner AE, Ernst I, Iori R, Desel C, Rimbach G (2010) Sulforaphane but not ascorbigen, indole-3-carbinole and ascorbic acid activates the transcription factor nrf2 and induces phase-2 and antioxidant enzymes in human keratinocytes in culture. Exp Dermatol 19:137–144

Ware GO, Ohki K, Moon LG (1982) The Mitscherlich plant growth model for determining critical nutrient deficiency. Agron J 74:88–91

Wathelet JP, Iori R, Leoni O, Rollin P, Quinsac A, Palmieri S (2004) Guidelines for glucosinolate analysis in green tissues used in biofumigation. Agroindustria 3:257–266

Westerveld SM, McDonald MR, McKeown AW (2007) Establishment of critical sap and soil nitrate concentrations using a cardy nitrate meter for two carrot cultivars grown on organic and mineral soil. Commun Soil Science Plant Anal 38:1911–1925

Wentzell AM, Kliebenstein DJ (2008) Genotype, age, tissue and environment regulate the structural outcome of glucosinolate activation. Plant Physiol 147:415–428

Williams CMJ, Maier NA (1996) Assessment of the nitrogen and potassium status of irrigated Brussels sprouts (Brassica oleracea L var gemmifera) by plant analysis. Aust J Exp Agr 36:887–895

Zhao FJ, Evans EJ, Bilsborrow PE, Syers JK (1993) Influence of sulfur and nitrogen on seed yield and quality of low glucosinolate oilseed rape (Brassica-napus L). J Sci Food Agric 63:29–37
Acknowledgements
This work was financially supported by the Foundation of Research Promotion of the Republic of Cyprus within the frame of the project "BIOFUME" 0506/07 and the Postgraduate Programmes "Biotechnology: Quality of Nutrition and the Environment" and "Applications of Molecular Biology-Genetics. Diagnostic Biomarkers", (code 3817), of the Department of Biochemistry & Biotechnology, University of Thessaly.
Additional information
Responsible Editor: A.C. Borstlap.
About this article
Cite this article
Omirou, M., Papastefanou, C., Katsarou, D. et al. Relationships between nitrogen, dry matter accumulation and glucosinolates in Eruca sativa Mills. The applicability of the critical NO3-N levels approach. Plant Soil 354, 347–358 (2012). https://doi.org/10.1007/s11104-011-1071-9
Received:

Accepted:

Published:

Issue Date:

DOI: https://doi.org/10.1007/s11104-011-1071-9
Keywords