Abstract
Aims
A key issue related to the usefulness of the minirhizotron technique is whether root presence and behaviour in the soil zone at the minirhizotron interface are consistent with those in the bulk soil. We wanted to test the null hypotheses that there were no differences in root densities or specific root length (SRL) between those positions. The effects of different nutrient and water regimes, and different tree species (grey alder and basket willow) on the root variables were also examined.
Methods
We quantified root mass and length densities, and calculated SRL, of three diameter classes from cores sampled around minirhizotrons and in the bulk soil, i.e. quartz sand. Fine root dynamics were monitored in the minirhizotrons during three consecutive years prior to sampling. The study was conducted on individual root systems within buried and covered lysimeters, placed in a stand structure, and with different water and nutrient regimes.
Results
Significant discrepancies in root densities were found between positions. Plants subjected to limited water or nutrient supply had up to three times higher densities at the minirhizotrons. However, effects of species and treatments showed a similar pattern for the diameter class <1 mm between the two sampling positions and minirhizotron observations. The pulses of fine root growth and decay were coordinated in time for both species and treatments. The SRL was not affected by the tube in any diameter class.
Conclusions
We concluded that the minirhizotron technique alone was of limited use for estimating root densities in the bulk soil. But the results showed that minirhizotrons could be useful, for example, combined with soil coring or in comparative studies. The patterns of fine root growth and decay were similar for species and treatments, and SRL was unaffected, suggesting that minirhizotrons can be used in studies of root dynamics and morphology. There is, however, a need for further studies concerning the influence on root survival and decay.
Access options
Buy single article
Instant access to the full article PDF.
USD 39.95
Price excludes VAT (USA)
Tax calculation will be finalised during checkout.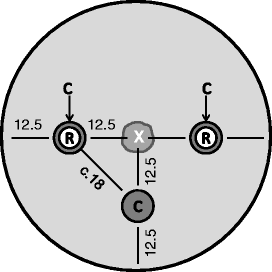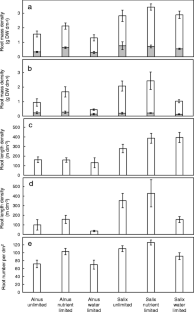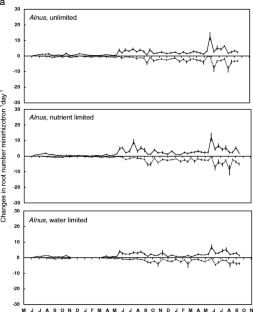 References
Aerts R, Berendse F, Klerk NM, Bakker C (1989) Root production and root turnover in two dominant species of wet heathlands. Oecologia 81:374–378

Andrén O, Hansson A-C, Végh K (1993) Barley nutrient uptake root growth and depth distribution in two soil types in a rhizotron with vertical and horizontal minirhizotrons. Swed J Agr Res 23:115–126

Atkinson D (1985) Spatial and temporal aspects of root distribution as indicated by the use of a root observation laboratory. In: Fritter et al (eds) Ecological interactions in the soil. Blackwell Scientific Publ, Oxford, pp 43–65

Bates GH (1937) A device for the observation of root growth in the soil. Nature 139:966–967

Böhm W (1979) Methods of studying root systems. Ecological Studies vol. 33. Springer-Verlag, Heidelberg

Böhm W, Maduakor H, Taylor HM (1977) Comparison of five methods for characterizing soybean rooting density and development. Agron J 69:415–419

Bragg PL, Govi G, Cannell RQ (1983) A comparison of methods including angled and vertical minirhizotrons for studying root growth and distribution in a spring oat crop. Plant Soil 73:435–440

Brouwer R (1962) Nutritive influences on the distribution of dry matter in the plant. Neth J Agr Sci 10:399–408

Brundrett M, Murase G, Kendrick B (1990) Comparative anatomy of roots and mycorrhizae of common Ontario trees. Can J Bot 68:551–578

Buckland ST, Campbell CD, Mackie-Dawson LA, Horgan GW, Duff EI (1993) A method for counting roots observed in minirhizotrons and their theoretical conversion to root length. Plant Soil 153:1–9

Burke MK, Raynal DK (1994) Fine root growth phenology production and turnover in a northern hardwood forest ecosystem. Plant Soil 162:135–146

Cheng W, Coleman DC, Box JE Jr (1990) Root dynamics production and distribution in agroecosystems on the Georgia Piedmont using minirhizotrons. J Appl Ecol 27:592–604

Eissenstat DM, Wells CE, Yanai RD, Whitbeck JL (2000) Building roots in a changing environment: implications for root longevity. New Phytol 147:33–42

Ericsson T, Rytter L (1998) Nitrogen fixation in lysimeter-grown grey alder (Alnus incana (L) Moench) saplings – influence of nitrogen fertilization. Department of Short Rotation Forestry, Swedish University of Agricultural Sciences, Report 60

Ericsson T, Rytter L, Vapaavuori E (1996) Physiology of carbon allocation in trees. Biomass and Bioenergy 11:115–127

Goins DG, Russelle MP (1996) Fine root demography in alfalfa (Medicago sativa L). Plant Soil 185:281–291

Gregory PJ (1979) A periscope method for observing root growth and distribution in field soil. J Exp Bot 30:205–214

Guo DL, Mitchell RJ, Hendricks JJ (2004) Fine root branch orders respond differentially to carbon source-sink manipulations in long-leaf pine forests. Oecologia 140:450–457

Guo D, Li H, Mitchell RJ, Han W, Hendricks JJ, Fahey TJ, Hendrick RL (2008) Fine root heterogeneity by branch order: exploring the discrepancy in root turnover estimates between minirhizotron and carbon isotopic methods. New Phytol 177:443–456

Hansson A-C, Zhao A, Andrén O (1995) Fine-root production and mortality in horqin sandy rangeland in Inner Mongolia. Arid Soil Res Rehabil 9:1–13

Heeraman DA, Juma NG (1993) A comparison of minirhizotron, core and monolith methods for quantifying barley (Hordeum vulgare L) and fababean (Vicia faba L) root distribution. Plant Soil 148:29–41

Hendrick RL, Pregitzer KS (1992a) The demography of fine roots in a northern hardwood forest. Ecology 73:1094–1104

Hendrick RL, Pregitzer KS (1992b) Spatial variation in tree root distribution and growth associated with minirhizotrons. Plant Soil 143:283–288

Hendrick RL, Pregitzer KS (1993) The dynamics of fine root length, biomass, and nitrogen content in two northern hardwood ecosystems. Can J For Res 23:2507–2520

Hendricks JJ, Hendrick RJ, Wilson CA, Mitchell RJ, Pecot SD, Guo D (2006) Assessing the patterns and controls of fine root dynamics: an empirical test and methodological review. J Ecol 94:40–57

Ingestad T (1979) Nitrogen stress in birch seedlings. II. N, K, P, Ca and Mg nutrition. Physiol Plant 45:149–157

Ingestad T (1987) New concepts on soil fertility and plant nutrition as illustrated by research on forest trees and stands. Geoderma 40:237–252

Jose S, Gillespie AR, Seifert JR, Pope PE (2001) Comparison of minirhizotron and soil core methods for quantifying root biomass in temperate alley cropping system. Agroforestry Systems 52:161–168

Lõhmus K, Truu M, Truu J, Ostonen I, Vares A, Uri V, Alama S, Kanal A (2006) Functional diversity of culturable bacterial communities in the rhizosphere in relation to fine-root and soil parameters in alder stands on forest, abandoned agricultural, and oil-shale mining areas. Plant Soil 283:1–10

Majdi H, Smucker AJM, Persson H (1992) A comparison between minirhizotron and monolith sampling methods for measuring root growth of maize (Zea mays L). Plant Soil 147:127–134

Ostonen I, Püttsepp Ü, Biel C, Alberton O, Bakker MR, Lõhmus K, Majdi H, Metcalfe D, Olsthoorn AFM, Pronk A, Vanguelova E, Weih M, Brunner I (2007) Specific root length as an indicator of environmental change. Plant Biosystems 141:426–442

Pregitzer KS, DeForest JL, Burton AJ, Allen MF, Ruess RW, Hendrick RL (2002) Fine root architecture of nine North American trees. Ecol Monogr 72:293–309

Roy S, Singh JS (1995) Seasonal and spatial dynamics of plant-available N and P pools and N-mineralization in relation to fine roots in a dry tropical forest habitat. Soil Biol Biochem 27:33–40

Rytter L, Ericsson T (1993) Leaf nutrient analysis in Salix viminalis (L) energy forest stands growing on agricultural land. Z Pflanzenernähr Bodenk 156:349–356

Rytter R-M (1999) Fine-root production and turnover in a willow plantation estimated by different calculation methods. Scand J For Res 14:526–537

Rytter R-M (2001) Biomass production and allocation including fine root turnover and annual N uptake in lysimeter-grown basket willows. For Ecol Manage 140:177–192

Rytter R-M, Hansson A-C (1996) Seasonal amount, growth and depth distribution of fine roots in an irrigated and fertilized Salix viminalis L. plantation. Biomass and Bioenergy 11:129–137

Rytter R-M, Rytter L (1998) Growth, decay, and turnover rates of fine roots of basket willows. Can J For Res 28:893–902

Samson BK, Sinclair TR (1994) Soil core and minirhizotron comparison for the determination of root length density. Plant Soil 161:225–232

SAS Institute Inc (1999) SAS/STAT User's Guide Version 8, SAS Institute Inc, Cary NC ISBN 1-58025-494-2

Shank DB (1945) Effects of phosphorus, nitrogen and soil moisture on top-root ratios of inbred and hybrid maize. J Agric Res 70:365–377

Swedish Meteorological and Hydrological Institute. 2011. www.smhi.se

Upchurch DR (1987) Conversion of minirhizotron-root intersections to root length density. In: Taylor HM (ed) Minirhizotron Observation Tubes: Methods and Applications for Measuring Rhizosphere Dynamics, Amer Soc Agron, Crop Sci Soc Amer, Soil Sci Soc Amer, Spec Publ 50, Madison, Wisconsin, pp 51–65

Vogt KA, Vogt DJ, Bloomfield J (1998) Analysis of some direct and indirect methods for estimating root biomass and production of forests at an ecosystem level. Plant Soil 200:71–89

Wells CE, Glenn DM, Eissenstat DM (2002) Changes in the risk of fine root mortality with age: a case study in Peach, Prunus persica (Rosaceae). Am J Bot 89:79–87

Withington JM, Elkin AD, Bulaj B, Olesiński J, Tracy KN, Bouma TJ, Oleksyn J, Anderson LJ, Modrzyński J, Reich PB, Eissenstat DM (2003) The impact of material used for minirhizotron tubes for root research. New Phytol 160:533–544
Acknowledgements
This study was supported by The Swedish Energy Agency. The authors wish to thank Eva-Marie Fryk, Ann Gedin and Christina Segerkvist for their careful and enduring work with root sampling and processing. We are also grateful to Martin Weih and two anonymous reviewers for valuable comments on the manuscript. Gunnar Jansson is acknowledged for statistical advises.
Additional information
Responsible Editor: Peter J. Gregory.
About this article
Cite this article
Rytter, RM., Rytter, L. Quantitative estimates of root densities at minirhizotrons differ from those in the bulk soil. Plant Soil 350, 205–220 (2012). https://doi.org/10.1007/s11104-011-0896-6
Received:

Accepted:

Published:

Issue Date:

DOI: https://doi.org/10.1007/s11104-011-0896-6
Keywords
Alnus incana

Fine roots

Fine root dynamics

Lysimeter

Minirhizotrons

Root length density

Root mass density

Salix viminalis

Soil cores

Specific root length