Abstract
Changes in precipitation patterns and N cycling across the globe are likely to affect ecosystem primary productivity and CO2 exchanges, especially in arid and semi-arid grasslands. To evaluate the effects of water and N availability on ecosystem CO2 fluxes, we conducted a manipulative field experiment with water and N addition in a temperate semiarid steppe in 2006 and 2007 with remarkably different amount of natural precipitation. For each growing season (June–September), water (15 mm) was added about every 2 weeks, which summed up to about 120 mm year−1. N (as urea) was added at a rate of 6.96 g N m−2 every month during the same period. Variations of the growing-season CO2 fluxes, including net ecosystem exchange (NEE), gross ecosystem photosynthesis (GEP) and ecosystem respiration (ER) were examined. Net carbon uptake was found in all treatments over the growing season in both years, with the growing season average NEE ranging from −1.27 to −5.59 μmol m−2 s−1. During two growing seasons, water and N addition significantly increased NEE (+42% and +30% in 2006 and 2007, respectively), because greater stimulation of GEP than ER. Net primary productivity, especially grass biomass, correlated closely with variation in GEP and ER. Precipitation (and thus soil moisture) regulated seasonal and inter-annual variations in GEP and ER, and subsequently NEE. Moreover, both water and N addition effects depended greatly on the initial water condition in this temperate semiarid steppe.
This is a preview of subscription content,
to check access.
Access this article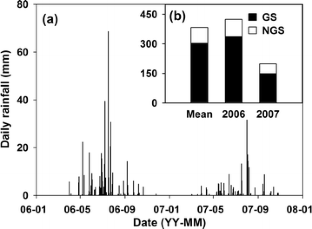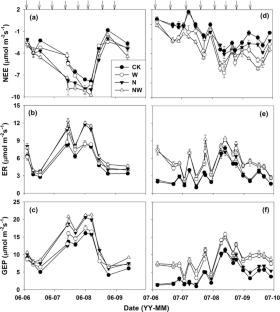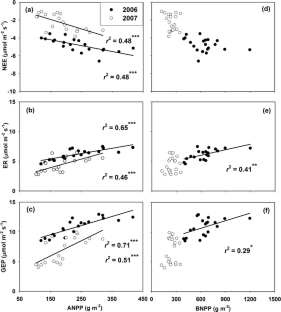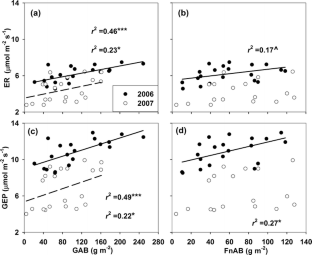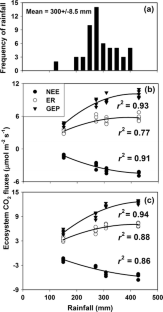 Similar content being viewed by others
References
Aires LM, Pio CA, Pereira JS (2008) Carbon dioxide exchange above a Mediterranean C3/C4 grassland during two climatologically contrasting years. Global Change Biol 14:539–555

Bai YF, Wu JG, Clark CM, Naeem S, Pan QM, Huang JH, Zhang LX, Han XG (2010) Tradeoffs and thresholds in the effects of nitrogen addition on biodiversity and ecosystem functioning: evidence from Inner Mongolia Grasslands. Global Change Biol 16:358–372

Baldocchi D (1997) Measuring and modelling carbon dioxide and water vapour exchange over a temperate broad-leaved forest during the 1995 summer drought. Plant Cell Environ 20:1108–1122

Bubier JL, Moore TR, Bledzki LA (2007) Effects of nutrient addition on vegetation and carbon cycling in an ombrotrophic bog. Global Change Biol 13:1168–1186

Burke IC, Lauenroth WK, Parton WJ (1997) Regional and temporal variation in net primary production and nitrogen mineralization in grasslands. Ecology 78:1330–1340

Cable JM, Ogle K, Williams DG, Weltzin JF, Huxman TE (2008) Soil texture drives responses of soil respiration to precipitation pulses in the sonoran desert: Implications for climate change. Ecosystems 11:961–979

Chen SP, Lin GH, Huang JH, Jenerette GD (2009) Dependence of carbon sequestration on the differential responses of ecosystem photosynthesis and respiration to rain pulses in a semiarid steppe. Global Change Biol 15:2450–2461

Cheng X, Luo Y, Su B, Verburg PSJ, Hui DF, Obrist D, Arnone Iii JA, Johnson DW, Evans RD (2009) Responses of net ecosystem CO2 exchange to nitrogen fertilization in experimentally manipulated grassland ecosystems. Agr Forest Meteorol 149:1956–1963

Cholaw B, Cubasch U, Lin YH, Ji LR (2003) The change of North China climate in transient simulations using the IPCCSRES A2 and B2 scenarios with a coupled atmosphere-ocean general circulation model. Adv Atmos Sci 20:755–766

Emmerich WE, Verdugo CL (2008) Precipitation thresholds for CO2 uptake in grass and shrub plant communities on walnut gulch experimental watershed. Water Resour Res 44, W05S16, doi:10.1029/2006WR005690.

Flanagan LB, Johnson BG (2005) Interacting effects of temperature, soil moisture and plant biomass production on ecosystem respiration in a northern temperate grassland. Agr Forest Meteorol 130:237–253

Flanagan LB, Wever LA, Carlson PJ (2002) Seasonal and interannual variation in carbon dioxide exchange and carbon balance in a northern temperate grassland. Global Change Biol 8:599–615

Gruber N, Galloway JN (2008) An earth-system perspective of the global nitrogen cycle. Nature 451:293–296

Hao YB, Wang YF, Mei XR, Huang XZ, Cui XY, Zhou XQ, Niu HS (2008) CO2, H2O and energy exchange of an Inner Mongolia steppe ecosystem during a dry and wet year. Acta Oecol 33:133–143

Harpole WS, Potts DL, Suding KN (2007) Ecosystem responses to water and nitrogen amendment in a California grassland. Global Change Biol 13:2341–2348

Harte J, Shaw R (1995) Shifting dominance within a montane vegetation community -results of a climate-warming experiment. Science 267:876–880

Hooper DU, Johnson L (1999) Nitrogen limitation in dryland ecosystems: responses to geographical and temporal variation in precipitation. Biogeochemistry 46:247–293

Hunter JJ, Visser JH (1989) The effect of partial defoliation, leaf position and developmental stage of the vine on leaf chlorophyll concentration in relation to the photosynthetic activity and light intensity in the canopy of Vitis vinifera L. cv. Cabernet Sauvignon. South Afr J Enol Vitic 10:67–73

Huxman TE, Snyder KA, Tissue D, Leffler AJ, Ogle K, Pockman WT, Sandquist DR, Potts DL, Schwinning S (2004) Precipitation pulses and carbon fluxes in semiarid and arid ecosystems. Oecologia 141:254–268

IPCC (2007) Climate Change 2007: the Physical Science Basis: Summary for Policymakers. IPCC WGI Fourth Assessment Report.

Johnson MG, Phillips DL, Tingey DT, Storm MJ (2000) Effects of elevated CO2, N-fertilization, and season on survival of ponderosa pine fine roots. Can J Forest Res 30:220–228

Keller M, Kummer M, Vasconcelos MC (2001) Soil nitrogen utilisation for growth and gas exchange by grapevines in response to nitrogen supply and rootstock. Aust J Grape Wine Res 7:2–11

Kieft TL, Soroker E, Firestone MK (1987) Microbial biomass response to a rapid increase in water potential when dry soil is wetted. Soil Biol Biochem 19:119–26

Kirchner TB (1977) The effects of resource enrichment on the diversity of plants and arthropods in a short-grass prairie. Ecology 58:1334–1344

Krishnan P, Black TA, Grant NJ, Barr AG, Hogg EH, Jassal RS, Morgenstern K (2006) Impact of changing soil moisture distribution on net ecosystem productivity of a boreal aspen forest during and following drought. Agr Forest Meteorol 139:208–223

Kwon H, Pendall E, Ewers BE, Cleary M, Naithani K (2008) Spring drought regulates summer net ecosystem CO2 exchange in a sagebrush-steppe ecosystem. Agr Forest Meteorol 148:381–391

LeBauer DS, Treseder KK (2008) Nitrogen limitation of net primary productivity in terrestrial ecosystems is globally distributed. Ecology 89:371–379

Li SG, Eugster W, Asanuma J, Kotani A, Davaa G, Oyunbaatar D, Sugita M (2008a) Response of gross ecosystem productivity, light use efficiency, and water use efficiency of Mongolian steppe to seasonal variations in soil moisture. J Geophys Res 113. G01019. doi:10.1029/2006JG00349.

Li YL, Tenhunen J, Owen K, Schmitt M, Bahn M, Droesler M, Otieno D, Schmidt M, Gruenwald T, Hussain MZ, Mirzae H, Bernhofer C (2008b) Patterns in CO2 gas exchange capacity of grassland ecosystems in the Alps. Agr Forest Meteorol 148:51–68

Lloyd J, Taylor JA (1994) On the temperature dependence of soil respiration. Funct Ecol 8:315–323

Ma S, Baldocchi D, Xu L, Hehn T (2007) Inter-annual variability in carbon dioxide exchange of an oak/grass savanna and open grassland in California. Agr Forest Meteorol 147:157–171

Mack MC, Schuur EAG, Bret-Harte MS, Shaver GR, Chapin FS (2004) Ecosystem carbon storage in arctic tundra reduced by long-term nutrient fertilization. Nature 431:440–443

Niu SL, Wu MY, Han Y, Xia JY, Li LH, Wan SQ (2008) Water-mediated responses of ecosystem carbon fluxes to climatic change in a temperate steppe. New Phytol 177:209–219

Niu SL, Yang HJ, Zhang Z, Wu MY, Lu Q, Li LH, Han XG, Wan SQ (2009) Non-additive effects of water and nitrogen addition on ecosystem carbon exchange in a temperate steppe. Ecosystems 12:915–926

Patrick L, Cable J, Potts D, Ignace D, Barron-Gafford G, Griffith A, Alpert H, Van Gestel N, Robertson T, Huxman TE, Zak J, Loik ME, Tissue D (2007) Effects of an increase in summer precipitation on leaf, soil, and ecosystem fluxes of CO2 and H2O in a sotol grassland in big bend national park, Texas. Oecologia 151:704–718

Potts DL, Huxman TE, Cable JM, English NB, Ignace DD, Eilts JA, Mason MJ, Weltzin JF, Williams DG (2006) Antecedent moisture and seasonal precipitation influence the response of canopy-scale carbon and water exchange to rainfall pulses in a semi-arid grassland. New Phytol 170:849–860

Pregitzer KS, Burton AJ, Zak DR, Talhelm AF (2008) Simulated chronic nitrogen deposition increases carbon storage in northern temperate forests. Global Change Biol 14:142–153

Reynolds JF, Kemp PR, Ogle K, Fernandez RJ (2004) Modifying the 'pulse-reserve' paradigm for deserts of North America: Precipitation pulses, soil water, and plant responses. Oecologia 141:194–210

Risch AC, Frank DA (2007) Effects of increased soil water availability on grassland ecosystem carbon dioxide fluxes. Biogeochemistry 86:91–103

Risch AC, Frank DA (2010) Diurnal and seasonal patterns in ecosystem CO2 fluxes and their controls in a temperate grassland. Rangeland Ecol Manage 63:62–71

Rowell DL (1994) Soil Science: methods and applications. Longman, London

Saarnio S, Jarvio S, Saarinen T, Vasander H, Silvola J (2003) Minor changes in vegetation and carbon gas balance in a boreal mire under a raised CO2 or NH4NO3 supply. Ecosystems 6:46–60

Schlesinger WH (2009) On the fate of anthropogenic nitrogen. Proc Nat Acad Sci USA 106:203–208

Shaver GR, Johnson LC, Cades DH, Murray G, Laundre JA, Rastetter EB, Nadelhoffer KJ, Giblin AE (1998) Biomass and CO2 flux in wet sedge tundras: responses to nutrients, temperature, and light. Ecol Monogr 68:75–97

Shen WJ, Reynolds JF, Hui DF (2009) Responses of dryland soil respiration and soil carbon pool size to abrupt vs. gradual and individual vs. combined changes in soil temperature, precipitation, and atmospheric [CO2]: a simulation analysis. Global Change Biol 15:2274–2294

St Clair SB, Sudderth EA, Fischer ML, Torn MS, Stuart SA, Salve R, Eggett DL, Ackerly DD (2009) Soil drying and nitrogen availability modulate carbon and water exchange over a range of annual precipitation totals and grassland vegetation types. Global Change Biol 15:3018–3030

Sullivan PF, Arens SJT, Chimner RA, Welker JM (2008) Temperature and microtopography interact to control carbon cycling in a high arctic fen. Ecosystems 11:61–76

Verma SB, Dobermann A, Cassman KG, Walters DT, Knops JM, Arkebauer TJ, Suyker AE, Burba GG, Amos B, Yang HS, Ginting D, Hubbard KG, Gitelson AA, Walter-Shea EA (2005) Annual carbon dioxide exchange in irrigated and rainfed maize-based agroecosystems. Agr Forest Meteorol 131:77–96

Wan S, Norby RJ, Ledford J, Weltzin JF (2007) Responses of soil respiration to elevated CO2, air warming, and changing soil water availability in a model old-field grassland. Global Change Biol 13:2411–2424

Wan S, Xia J, Liu W, Niu S (2009) Photosynthetic overcompensation under nocturnal warming enhances grassland carbon sequestration. Ecology 90:2700–2710

Xia J, Wan S (2008) Global response patterns of terrestrial plant species to nitrogen addition. New Phytol 179:428–439

Xia J, Niu S, Wan S (2009) Response of ecosystem carbon exchange to warming and nitrogen addition during two hydrologically contrasting growing seasons in a temperate steppe. Global Change Biol 15:1544–1556

Xu W, Wan S (2008) Water- and plant-mediated responses of soil respiration to topography, fire, and nitrogen fertilization in a semiarid grassland in northern china. Soil Biol Biochem 40:679–687

Yan L, Chen S, Lin G, Huang J (2009) Differential responses of auto- and heterotrophic soil respiration to water and nitrogen addition in a semiarid temperate steppe. Global Change Biol 16:2345–2357

Yang P (1998) Carbon dioxide flux within and above a boreal aspen forest. University of British Columbia, Vancouver

Yepez EA, Scott RL, Cable WL, Williams DG (2007) Intraseasonal variation in water and carbon dioxide flux components in a semiarid riparian woodland. Ecosystems 10:1100–1115

Yuan ZY, Li LH, Han XG, Huang JH, Jiang GM, Wan S (2005) Soil characteristics and nitrogen resorption in Stipa krylovii native to northern China. Plant Soil 273:257–268

Zhang WL, Chen SP, Chen J, Wei L, Han XG, Lin GH (2007) Biophysical regulations of carbon fluxes of a steppe and a cultivated cropland in semiarid Inner Mongolia. Agr Forest Meteorol 146:216–229

Zhang N, Zhao YS, Yu GR (2009) Simulated annual carbon fluxes of grassland ecosystems in extremely arid conditions. Ecol Res 24:185–206

Zhou XH, Weng ES, Luo YQ (2008) Modeling patterns of nonlinearity in ecosystem responses to temperature, CO2, and precipitation changes. Ecol Appl 18:453–466
Acknowledgements
We thank Wenli Zhang, Haixia Miao and Ping Zhang for their helps on setting up the field facilities and conducting field measurements. This study was supported by the National Basic Research Program of China (973 program) (2010CB833501), the "Strategic Priority Research Program–Climate Change: Carbon Budget and Related Issues" of the Chinese Academy of Sciences (XDA05050402), the National Natural Science Foundation of China (30800141), and the Innovative Research Group Project of National Natural Science Foundation of China (30821062).
Additional information
Responsible Editor: Katja Klumpp.
Electronic supplementary material
Below is the link to the electronic supplementary material.
About this article
Cite this article
Yan, L., Chen, S., Huang, J. et al. Increasing water and nitrogen availability enhanced net ecosystem CO2 assimilation of a temperate semiarid steppe. Plant Soil 349, 227–240 (2011). https://doi.org/10.1007/s11104-011-0864-1
Received:

Accepted:

Published:

Issue Date:

DOI: https://doi.org/10.1007/s11104-011-0864-1
Keywords