Abstract
Little is known about the soils that support agriculture in Tibet. The aim of this paper is to investigate the physical and chemical properties of Tibet's agricultural soils, the nutritional status of wheat (Triticum aestivum L.) and barley (Hordeum vulgare L.) crops, and the sustainability of current soil management practices. Physical descriptions of Tibet's agricultural soils were based on soil pits dug at three locations across Tibet's agricultural zone. Chemical analyses were conducted on soils from seven sites across the zone. Nutritional constraints to agriculture were identified through leaf tissue tests on wheat and barley crops from 23 fields. These results, combined with published information on farm inputs and yields, provided insight into the sustainability of current nutrient practice. Soils were found to be silty or sandy clay loams with alkaline reaction, low organic content and low K and Zn status. Leaf analysis revealed one third to one half of cereal crops were marginal or deficient for K, Zn and Mg. Most farmers export grain and import only nitrogenous and phosphatic fertilizers leading to a nutrient imbalance. A balanced fertilizer program is required to halt nutrient depletion and increase grain production. Reduced tillage and crop residue retention are needed to improve soil health.
Access options
Buy single article
Instant access to the full article PDF.
US$ 39.95
Tax calculation will be finalised during checkout.
Subscribe to journal
Immediate online access to all issues from 2019. Subscription will auto renew annually.
US$ 119
Tax calculation will be finalised during checkout.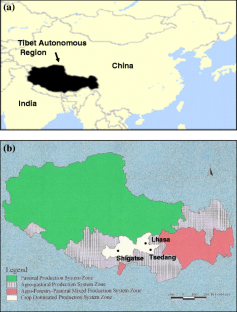 References
Abegaz A, Keulen H, Haile M, Oosting SJ (2007) Nutrient dynamics on smallholder farms in Teghane, northern highlands of Ethiopia. In: Bationo A, Waswa B, Kihara J, Kimetu J (eds) Advances in integrated soil fertility management in sub-Saharan Africa: challenges and opportunities. Springer, New York, pp 365–378

Aitken RL, Scott BJ (1999) Magnesium. In: Peverill KI, Sparrow LA, Reuter DJ (eds) Soil analysis: an interpretation manual. CSIRO, Melbourne, pp 255–262

Aldenderfer M, Zhang YN (2004) The prehistory of the Tibetan plateau to the seventh century AD: perspectives and research from China and the West since 1950. J World Prehist 18:1–55

Blair GJ, Chinoim N, Lefroy RDB, Anderson GC, Crocker GJ (1991) A soil sulfur test for pastures and crops. Aust J Soil Res 29:619–626

Brady NC, Weil RR (1999) The nature and properties of soils. Prentice Hall, Upper Saddle River

Bruce RC (1999) Calcium. In: Peverill KI, Sparrow LA, Reuter DJ (eds) Soil analysis: an interpretation manual. CSIRO, Melbourne, pp 247–254

Cakmak I (2008) Enrichment of cereal grains with zinc: agronomic or genetic biofortification? Plant Soil 302:1–17

Colwell JD (1963) The estimation of the phosphorus fertilizer requirements of wheat in southern New South Wales by soil analysis. Aust J Exp Agric Anim Husb 3:190–198

Goldstein MC, Jiao B, Beall CM, Tsering P (2003) Development and change in rural Tibet—problems and adaptations. Asian Surv 43:758–779

Gourley CJP (1999) Potassium. In: Peverill KI, Sparrow LA, Reuter DJ (eds) Soil analysis: an interpretation manual. CSIRO, Melbourne, pp 229–245

Halvorson AD, Wienhold BJ, Black AL (2002) Tillage, nitrogen, and cropping system effects on soil carbon sequestration. Soil Sci Soc Am J 66:906–912

He P, Li ST, Jin JY, Wang HT, Li CJ, Wang YL, Cui RZ (2009) Performance of an optimized nutrient management system for double-cropped wheat-maize rotations in north-central China. Agron J 101:1489–1496

Hobbs P (2007) Conservation agriculture: what is it and why is it important for future sustainable food production? J Agric Sci 145:127–137

Hossain MZ (2001) Farmer's view on soil organic matter depletion and its management in Bangladesh. Nutr Cycl Agroecosyst 61:197–204

Huang GB, Zhang RZ, Li GD, Li LL, Chan KY, Heenan DP, Chen W, Unkovich MJ, Robertson MJ, Cullis BR, Bellotti WD (2008) Productivity and sustainability of a spring wheat-field pea rotation in a semi-arid environment under conventional and conservation tillage systems. Field Crops Res 107:43–55

Isbell RF (2002) The Australian soil classification. CSIRO, Canberra

Kaiser K, Lai ZP, Schneider B, Schoch WH, Shen XH, Miehe G, Bruckner H (2009) Sediment sequences and paleosols in the Kyichu Valley, southern Tibet (China), indicating Late Quaternary environmental changes. Isl Arc 18:404–427

Kopittke PM, Menzies NW (2007) A review of the use of the basic cation saturation ratio and the "ideal" soil. Soil Sci Soc Am J 71:259–265

Lal R (2005) World crop residues production and implications of its use as a biofuel. Environ Int 31:575–584

Lane IR (2006) Fodder conservation. In: Lane IR (ed) Fodder production and double cropping in Tibet: training manual. FAO, Beijing

Liu G, Lucas M, Shen L (2008) Rural household energy consumption and its impacts on eco-environment in Tibet: taking Taktse county as an example. Renew Sust Energ Rev 12:1890–1908

McDonald R, Isbell RF, Speight JG, Walker J, Hopkins MS (1990) Australian soil and land survey—field handbook, 2nd edn. Inkata, Melbourne

McNamara NP, Black HIJ, Beresford NA, Parekh NR (2003) Effects of acute gamma irradiation on chemical, physical and biological properties of soils. Appl Soil Ecol 24:117–132

Paltridge N, Tao J, Unkovich M, Bonamano A, Gason A, Grover S, Wilkins J, Tashi N, Coventry D (2009) Agriculture in central Tibet: an assessment of climate, farming systems, and strategies to boost production. Crop Pasture Sci 60:627–639

Peverill KI, Sparrow LA, Reuter DJ (1999) Soil analysis: an interpretation manual. CSIRO, Melbourne

Rayment GE, Higginson FR (1992) Australian soil and land survey handbook—Australian laboratory handbook of soil and water chemical methods. Inkata, Melbourne

Reuter DJ, Edwards DG, Willhelm NS (1997) Temperate and tropical crops. In: Reuter DJ, Robinson JB (eds) Plant analysis: an interpretation manual. CSIRO, Melbourne, pp 81–279

Rongzu Z (1989) Case study on mountain environmental management: Nyemo County, Tibet. ICIMOD Occasional paper no. 13, Kathmandu

Schultz JE, French RJ (1978) The mineral content of cereals, grain legumes and oilseed crops in South Australia. Aust J Exp Agric Anim Husb 18:579–585

Searle PL (1984) The Berthelot or indphenol reaction and its use in the analytical chemistry of nitrogen—a review. Analyst 109:549–568

Shaw RJ (1999) Soil salinity—electrical conductivity and chloride. In: Peverill KI, Sparrow LA, Reuter DJ (eds) Soil analysis: an interpretation manual. CSIRO, Melbourne, pp 129–145

Sinclair TR, Bai Q (1997) Analysis of high wheat yields in Northwest China. Agric Syst 53:373–385

Smith CAS, Clark M, Broll G, Ping CL, Kimble JM, Luo G (1999) Characterization of selected soils from the Lhasa region of Qinghai-Xizang Plateau, SW China. Permafrost Periglac 10:211–222

Songjie H (1995) Conspectus of Tibetan agriculture. Sichuan Science and Technology Publishing House, Chengdu

Strong WM, Mason MG (1999) Nitrogen. In: Peverill KI, Sparrow LA, Reuter DJ (eds) Soil analysis: an interpretation manual. CSIRO, Melbourne, pp 171–185

Tashi N, Yanhua L, Partap T (2002) Making Tibet food secure: assessment of scenarios. ICIMOD, Kathmandu

TSY (Tibet Bureau of Statistics) (2007) Tibet statistical yearbook 2007. China Statistical, Beijing

Walkley A, Black IA (1934) An examination of the Degtjareff method for determining soil organic matter and a proposed modification of the chromic acid titration method. Soil Sci 37:29–38

Welch RM, Graham RD (2004) Breeding for micronutrients in staple food crops from a human nutrition perspective. J Exp Bot 55:353–364

Zarcinas BA, Cartwright B, Spouncer LR (1987) Nitric-acid digestion and multielement analysis of plant-material by inductively coupled plasma spectrometry. Commun Soil Sci Plant Anal 18:131–146

Zhengchang Z, Guohui Z, Jiangping F, Shuang Y, Zhilan C (2006) Summary of research on Tibet soil nutrition. Proceedings, 2006 Tibet Association for Science and Technology Annual Academic Council, Lhasa

Zou C, Gao X, Shi R, Fan X, Zhang F (2008) Micronutrient deficiencies in crop production in China. In: Alloway BJ (ed) Micronutrient deficiencies in global crop production. Springer, Dordrecht
Acknowledgements
This work was supported by the Australian Centre for International Agricultural Research. Samantha Grover was supported in Tibet by the Australian Youth Ambassadors for Development scheme.
Additional information
Responsible Editor: Hans Lambers.
About this article
Cite this article
Paltridge, N.G., Grover, S.P.P., Gouyi, L. et al. Soils, crop nutrient status and nutrient dynamics on small-holder farms in central Tibet, China. Plant Soil 348, 219–229 (2011). https://doi.org/10.1007/s11104-011-0859-y
Received:

Accepted:

Published:

Issue Date:
Keywords
Agriculture

Wheat

Barley

Potassium

Zinc

Magnesium