Abstract
Recent theoretical and experimental work suggests that species diversity enhances the temporal stability of communities. However, empirical support largely comes from experimental communities. The relationship between diversity and stability in natural communities, and the ones facing environmental changes in particular, has received less attention. We created a gradient of fertility in a natural alpine meadow community to test the effects of diversity and fertilization on the temporal variability of community cover and cover of component species and to determine the importance of asynchrony, portfolio effects, cover and dominance for diversity-stability relationships. Although fertilization strongly reduced species richness, the temporal stability in community cover increased with fertilization. Most species showed a decline of temporal stability in mean population cover with fertilization, but two grass species, which dominated fertilized communities after 10 years, showed an increase of stability. Detailed analysis revealed that the increased dominance of these two highly stable grass species was associated with increased community stability at high levels of fertilization. In contrast, we found little support for other mechanisms that have been proposed to contribute to community stability, such as changes in asynchrony and portfolio effects. We conclude that the presence of highly productive species that have stabilizing properties dominate fertilized assemblages and enhance ecosystem stability.
Access options
Buy single article
Instant access to the full article PDF.
USD 39.95
Price excludes VAT (USA)
Tax calculation will be finalised during checkout.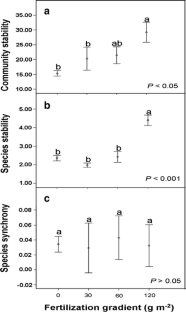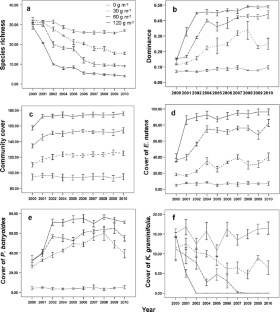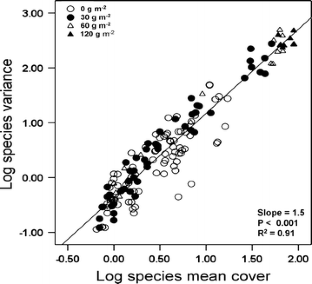 References
Aarssen L (1997) High productivity in grassland ecosystems: effected by species diversity or productive species? Oikos 80:183–184

Bai Y, Han Z, Wu J, Chen Z, Li L (2004) Ecosystem stability and compensatory effects in the inner Mongolia grasslands. Nature 431:181–184

Berendse F, Bobbink R, Rouwenhorst G (1989) A comparative study on the nutrient cycling in wet heathland ecosystems: II. Litter decomposition and nutrient mineralization. Oecologia 78:338–348

Cottingham KL, Brown BL, Lennon JT (2001) Biodiversity may regulate the temporal variability of ecological systems. Ecol Lett 4:72–85

Crawley MJ, Johnston AE, Silvertown J, Dodd M, de Mazancourt C, Heard MS, Henman DF, Edwards GR (2005) Determinants of species richness in the park grass experiment. Am Nat 165:179–192

Doak DF, Bigger D, Harding EK, Marvier MA, O'Malley RE, Thomson D (1998) The statistical inevitability of stability-diversity relationships in community ecology. Am Nat 151:264–276

Dodd ME, Silvertown J, McConathy K, Potts J, Crawley M (1994) Stability in the plant communities of the Park Grass Experiment: the relationships between species richness, soil pH and biomass variability. Philos Trans R Soc Lond B 346:185–193

Gonzalez A, Loreau M (2009) The causes and consequences of compensatory dynamics in ecological communities. Annu Rev Ecol Sys 40:393–414

Grime JP (1998) Benefits of plant diversity to ecosystems: immediate, filter and founder effects. J Ecol 86:902–910

Grimm V, Wissel C (1997) Babel, or the ecological stability discussions: an inventory and analysis of terminology and a guide for avoiding confusion. Oecologia 109:323–334

Grman E, Jennifer AL, Donald R, Gross KL (2010) Mechanisms contributing to stability in ecosystem function depend on the environmental context. Ecol Lett 13:1400–1410

Hautier Y, Niklaus PA, Hector A (2009) Competition for light causes plant biodiversity loss after eutrophication. Science 324:636–638

Hector A, Hautier Y, Saner P, Wacker L, Bagchi R, Joshi J, Scherer-Lorenzen M, Spehn EM et al (2010) General stabilizing effects of plant diversity on grassland productivity through population asynchrony and overyielding. Ecology 91:2213–2220

Hillebrand H, Bennett MD, Cadotte MW (2008) Consequences of dominance: a review of evenness effects on local and regional ecosystem processes. Ecology 89:1510–1520

Hooper DU, Chapin FS III, Ewel JJ, Hector A, Inchausti P, Lavorel S et al (2005) Effects of biodiversity on ecosystem functioning: a consensus of current knowledge. Ecol Monogr 75:3–35

Houlahan JE, Currie DJ, Cottenie K, Cumming GS, Ernest SKM, Findlay CS, Fuhlendor SD et al (2007) Compensatory dynamics are rare in natural ecological communities. Proc Natl Acad Sci USA 104:3273–3277

Huston MA (1997) Hidden treatments in ecological experiments: re-evaluating the ecosystem function of biodiversity. Oecologia 110:449–460

Isbell FI, Polley HW, Wilsey BJ (2009) Biodiversity, productivity and the temporal stability of productivity: patterns and processes. Ecol Lett 12:443–451

Ives AR (2005) Community diversity and stability: changing perspectives and changing definitions. In ecological paradigms lost: routes to theory change. Academic, Amsterdam 159–182

Ives AR, Carpenter SR (2007) Stability and diversity of ecosystems. Science 317:58–62

Lehman CL, Tilman D (2000) Biodiversity, stability, and productivity in competitive communities. Am Nat 156:534–552

Leps J (2004) Variability in population and community biomass in a grassland community affected by environmental productivity and diversity. Oikos 107:64–71

Loreau M, de Mazancourt C (2008) Species synchrony and its drivers: neutral and nonneutral community dynamics in fluctuating environments. Am Nat 172:48–66

Luo YJ, Qin GL, Du GZ (2006) Importance of assemblage-level thinning: a field experiment in an alpine meadow on the Tibet plateau. J Veg Sci 17:417–424

May RM (1972) Will a large complex system be stable? Nature 238:413–414

May RM (1973) Stability and complexity in model ecosystems. Princeton landmarks in biology. Princeton University Press, Princeton

McNaughton SJ (1977) Diversity and stability of ecological communities: a comment on the role of empiricism in ecology. Am Nat 111:515–525

Murdoch WW, Stewart-Oaten A (1989) Aggregation by parasitoids and predators: effects on equilibrium and stability. Am Nat 134:288–310

Pimm SL (1984) The complexity and stability of ecosystems. Nature 307:321–326

Polley H, Wilsey BJ, Derner JD (2007) Dominant species constrain effects of species diversity on temporal variability in biomass production of tallgrass prairie. Oikos 116:2044–2052

Simpson EH (1949) Measurement of diversity. Nature 163:688

Smith MD, Knapp AK (2003) Dominant species maintain ecosystem function with non-random species loss. Ecol Lett 6:509–517

Steiner CF, Long ZT, Krumins JA, Morin PE (2005) Temporal stability of aquatic food webs: partitioning the effects of species diversity, species composition and enrichment. Ecol Lett 8:819–829

Stevens CJ, Dise NB, Mountford OJ, Gowing DJ (2004) Impact of nitrogen deposition on the species richness of grasslands. Science 303:1876–1879

Suding KN, Collings SL, Gough L, Clark C, Cleland EE, Gross KL et al (2005) Functional and abundance-based mechanisms explain diversity loss due to N fertilization. Proc Natl Acad Sci USA 102:4387–4392

Tilman D (1987) Secondary succession and the pattern of plant dominance along experimental nitrogen gradients. Ecol Monogr 57:189–214

Tilman D (1996) Biodiversity: population versus ecosystem stability. Ecology 77:350–363

Tilman D (1999) The ecological consequences of changes in biodiversity: a search for general principles. Ecology 80:1455–1474

Tilman D, Downing JA (1994) Biodiversity and stability in grasslands. Nature 367:363–365

Tilman D, Wedin D, Knops JMH (1996) Productivity and sustainability influenced by biodiversity in grassland ecosystems. Nature 379:718–720

Tilman D, Lehman CL, Bristow CE (1998) Diversity-stability relationships: statistical inevitability or ecological consequence. Am Nat 151:277–282

Tilman D, Reich PB, Knops JMH (2006) Biodiversity and ecosystem stability in a decade-long grassland experiment. Nature 442:629–632

Valone TJ, Hoffman CD (2003) A mechanistic examination of diversity-stability relationships in annual plant communities. Oikos 103:519–527

Van Ruijven J, Berendse F (2007) Contrasting effects of diversity on the temporal stability of plant populations. Oikos 116:1323–1330

Yachi S, Loreau M (1999) Biodiversity and ecosystem productivity in a fluctuating environment: the insurance hypothesis. Proc Natl Acad Sci USA 96:1463–1468
Acknowledgements
We thank Dr Hui Guo, Shujun Wen, Xin Chen, Peng Jia, Wei Li, Xiaoiming Shi and Chunhui Zhang for helpful discussions and comments on the manuscript; Yuanzhen Zhu, Liujie Wang, Xiao Yang, Wenxiang Hu, Junyong Li and many others of the Maqu Rangeland Workgroup for assistance in both the field and lab. This project was supported by Key Program of National Natural Science Foundation of China(Grant No:40930533).
Additional information
Responsible Editor: Jeff R. Powell.
Electronic supplementary materials
Below is the link to the electronic supplementary material.
A list of mean population stability at each level of fertilization (in g m-2). Calculations were restricted to species that were present in a plot in at least 9 of the 10 years. Hence, empty cells indicate the species was not present throughout the experimental period. F-values from one-way ANOVAs show the effect of fertilization on population stability. *** = P < 0.001; ** = P < 0.01; * = P < 0.05; NS = not significant. (DOC 68 kb)
About this article
Cite this article
Yang, Z., van Ruijven, J. & Du, G. The effects of long-term fertilization on the temporal stability of alpine meadow communities. Plant Soil 345, 315–324 (2011). https://doi.org/10.1007/s11104-011-0784-0
Received:

Accepted:

Published:

Issue Date:

DOI: https://doi.org/10.1007/s11104-011-0784-0
Keywords
Alpine meadows

Community stability

Compensatory dynamics

Diversity

Population stability

Portfolio effect