Abstract
Producing nonmycorrhizal plants in the field is a challenge due to the ubiquitous distribution of arbuscular mycorrhizal [AM] fungi and impacts of chemical treatments upon nontarget organisms. A field plot was covered with ground cover fabric to prohibit plant growth and take advantage of the obligate symbiotic nature of AM fungi to selectively starve and remove them from the soil microbiological community. The decline in the AM fungus population was monitored through spore counts and most probable number bioassays. Response to inoculation experiments were conducted to contrast the response of Allium porrum L. to inoculation with in vitro produced spores of Glomus intraradices Schenck and Smith when plants were grown in the AM fungus-depleted soil vs. soil from an adjacent, cropped plot. Data indicated a strongly diminished, yet still viable population of AM fungi after 39 months of bare fallow. Plants grown in cropped soil showed no growth response nor increase in percentage root length colonized as a result of inoculation, while the response to inoculation of plants grown in the covered soil increased as the population of AM fungi declined below 1 propagule cm−3.
Access options
Buy single article
Instant access to the full article PDF.
US$ 39.95
Tax calculation will be finalised during checkout.
Subscribe to journal
Immediate online access to all issues from 2019. Subscription will auto renew annually.
US$ 119
Tax calculation will be finalised during checkout.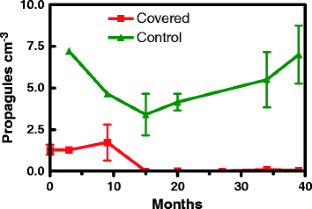 References
Abu-Zeyad R, Khan AG, Khoo C (1999) Occurrence of arbuscular mycorrhiza in Castanospermum australe A. Cumm. & Fraser and effects on growth and production of castanospermine. Mycorrhiza 9:111–117

Alexander M (1965) Most-probable-number method for microbial populations. In: Black CA, Evans DD, Ensminger LE, White JL, Clark FE (eds) Methods of soil analysis part 2 chemical and microbiological properties. American Society of Agronomy, Madison, pp 1467–1472

Allen MF, Sexton JC, Moore TS, Christensen M (1981) Influence of phosphate source on vesicular-arbuscular mycorrhizae of Bouteloua gracilis. New Phytol 87:687–694

Amaranthus MP, Trappe JM (1993) Effects of erosion on ecto- and VA-mycorrhizal inoculum potential of soil following forest fire in southwest Oregon. Plant Soil 150:41–49

Amijee F, Tinker PB, Stribley DB (1989) The development of endomycorrhizal root systems. VII. A detailed study of effects of soil phosphorus on colonization. New Phytol 111:435–446

Augé RM (2000) Stomatal behavior of mycorrhizal plants. In: Kapulnik Y, Douds DD (eds) Arbuscular Mycorrhizas: physiology and function. Kluwer Academic Publishers, Dordrecht, pp 201–237

Bago B, Pfeffer PE, Douds DD, Brouillette J, Bécard G, Shachar-Hill Y (1999) Carbon metabolism in spores of the arbuscular mycorrhizal fungus Glomus intraradices as revealed by nuclear magnetic resonance spectroscopy. Plant Physiol 121:263–271

Bagyaraj DJ (1992) Vesicular-arbuscular mycorrhiza: application in agriculture. Methods Microbiol 24:359–373

Bécard G, Piché Y (1989) Fungal growth stimulation by CO2 and root exudates in vesicular-arbuscular mycorrhizal symbiosis. Appl Environ Microbiol 55:2320–2325

Daniels BA, Trappe JM (1980) Factors affecting spore germination of the vesicular-arbuscular mycorrhizal fungus, Glomus epigaeus. Mycologia 77:457–471

Dodd JC, Dougall TA, Clapp JP, Jeffries P (2002) The role of arbuscular mycorrhizal fungi in plant community establishment at Samphiire Hoe, Kent, UK- the reclamation platform created during the building of the Channel tunnel between France and UK. Biodivers Conserv 11:39–58

Doner LW, Bécard G (1991) Solubilization of gellan gels by chelation of cations. Biotechnol Tech 5:25–29

Douds DD (2009) Utilization of inoculum produced on-farm for production of AM fungus colonized pepper and tomato seedlings under conventional management. Biol Agric Hortic 26:353–364

Douds DD, Reider C (2003) Inoculation with mycorrhizal fungi increases the yield of green peppers in a high P soil. Biol Agric Hortic 21:91–102

Franke-Snyder M, Douds DD, Galvez L, Phillips JG, Wagoner P, Drinkwater LE, Morton JB (2001) Diversity of communities of arbuscular mycorrhizal (AM) fungi present in conventional versus low-input agricultural sites in eastern Pennsylvania, USA. Appl Soil Ecol 16:35–48

Galvez L, Douds DD, Wagoner P, Longnecker LR, Drinkwater LE, Janke RR (1995) An overwintering cover crop increases inoculum of VAM fungi in agricultural soil. Am J Altern Agric 10:152–156

Gambiel A, Gadkar V, Zilberg V, Beniches M, Rabinowich E, Manor H, Wininger S, Kapulnik Y (2004) Effect of solarization intensity on the control of pink root of chives, and the response of the crop to AM fungal application. Symbiosis 37:233–247

Gerdemann JW, Nicholson TH (1963) Spores of mycorrhizal Endogone species extracted by wet sieving and decanting. Trans Br Mycol Soc 46:235–244

Hamel C, Dalpé Y, Furlan V, Parent S (1997) Indigenous populations of arbuscular mycorrhizal fungi and soil aggregate stability are major determinants of leek (Allium porrum L.) response to inoculation with Glomus intraradices Schenck and Smith or Glomus versiforme (Karsten) Berch. Mycorrhiza 7:187–196

Hoagland DR, Arnon DI (1938). The water-culture method for growing plants without soil. University of California College of Agriculture, Agriculture Experiment Station Circular 347. Berkeley, CA, USA

Jasper DA, Robson AD, Abbott LK (1979) Phosphorus and the formation of vesicular-arbuscular mycorrhizas. Soil Biol Biochem 11:501–505

Jenkins WR (1964) A rapid centrifugal-flotation technique for separating nematodes from soil. Plant Dis Rep 73:288–300

Jifon JL, Graham JH, Drouillard DL (2002) Growth depression of mycorrhizal Citrus seedlings grown at high phosphorus supply is mitigated by elevated CO2. New Phytol 153:133–142

Jordan N, Huerd S (2008) Effects of soil fungi on weed communities in a corn-soybean rotation. Renew Ag Food Sys 23:108–117

Kahiluoto H, Ketoja E, Vestberg M (2000) Creation of a non-mycorrhizal control for bioassay of AM effectiveness. 1. Comparison of methods. Mycorrhiza 9:241–258

Koide RT, Landherr LL, Besmer YL, Detweiler JM, Holcomb EJ (1999) Strategies for mycorrhizal inoculation of six annual bedding plant species. Hortscience 34:1217–1220

Larsen J, Thingstrup I, Jakobsen I, Rosendahl S (1996) Benomyl inhibits phosphorus transport but not fungal alkaline phosphatase activity in a Glomus- cucumber symbiosis. New Phytol 132:127–133

Murphy J, Riley JP (1962) A modified single solution method for the determination of phosphate in natural waters. Anal Chim Acta 27:31–36

Newman EI (1966) A method of estimating the total length of root in a sample. J Appl Ecol 3:139–145

Phillips JM, Hayman DS (1970) Improved procedures for clearing roots and staining parasitic and vesicular-arbuscular mycorrhizal fungi for rapid assessment of infection. Trans Br Mycol Soc 55:158–160

Reynolds L, Hartley AE, Vogelsang KM, Bever JD, Schultz PA (2005) Arbuscular mycorrhizal fungi do not enhance nitrogen acquisition and growth of old-field perennials under low nitrogen supply in glasshouse culture. New Phytol 167:8869–880

Rillig MC, Ramsey PW, Gannon JE, Mummey DL, Gadkar V, Kapulnik Y (2008) Suitability of mycorrhiza-defective mutant/wild type plant pairs (Solanum lycopersicum L. cv Micro-Tom) to address questions in mycorrhizal soil ecology. Plant Soil 308:267–275

Schreiner RP, Ivors KL, Pinkerton JN (2001) Soil solarization reduces arbuscular mycorrhizal fungi as a consequence of weed suppression. Mycorrhiza 11:273–277

Sieverding E (1991) Vesicular-arbuscular mycorrhiza management in tropical agrosystems. Duetsche Gesellschaft für Technische Zusammenarbeit (GTZ) GnbH. Eschborn

Smith SE, Read DJ (2008) Mycorrhizal symbiosis, 3rd edn. Academic, Amsterdam

Smith MD, Hartnett DC, Rice CW (2000) Effects of long-term fungicide applications on microbial properties in tallgrass prairie soil. Soil Biol Biochem 32:935–946

Sorensen JN, Larsen J, Jakobsen I (2008) Pre-inoculation with arbuscular mycorrhizal fungi increases early nutrient concentration and growth of field-grown leeks under high productivity conditions. Plant Soil 307:135–147

St-Arnaud MC, Hamel C, Vimard B, Caron M, Fortin JA (1996) Enhanced hyphal growth and spore production of the arbuscular mycorrhizal fungus Glomus intraradices in an in vitro system in the absence of host roots. Mycol Res 100:328–332

Sylvia DM, Hammond LC, Bennett JM, Haas JH, Linda SB (1993) Field response of maize to a VAM fungus and water management. Agron J 85:193–198

Thingstrup I, Rubaek G, Sibbeson E, Jakobsen I (1998) Flax (Linum usitatissimum L.) depends on arbuscular mycorrhizal fungi for growth and P uptake at intermediate but not at high soil P levels in the field. Plant Soil 203:37–46

Thompson JP (1987) Decline of vesicular-arbuscular mycorrhizae in long fallow disorder of field crops and its expression in phosphorus deficiency of sunflower. J Agric Res 38:847–867

Tommerup IC (1983) Temperature relations of spore germination and hyphal growth of vesicular-arbuscular mycorrhizal fungi in soil. Trans Br Mycol Soc 81:381–387

Tommerup IC (1984) Effect of soil water potential on spore germination by vesicular-arbuscular mycorrhizal fungi. Trans Br Mycol Soc 83:193–202

Troeh ZI, Loynachan TE (2003) Endomycorrhizal fungal survival in continuous corn, soybean, and fallow. Agron J 95:224–230

West HM, Fitter AH, Watkinson AR (1993) The influence of three biocides on the fungal associates of the roots of Vulpia ciliata ssp ambigua under natural conditions. J Ecol 81:345–350
Acknowledgement
We would like to thank S. Campbell and J. Lee for their technical assistance.
Additional information
Mention of a trade or brand name does not imply an endorsement by the US Department of Agriculture over others not mentioned.
Responsible Editor: Per Ambus.
About this article
Cite this article
Douds, D.D., Nagahashi, G., Wilson, D.O. et al. Monitoring the decline in AM fungus populations and efficacy during a long term bare fallow. Plant Soil 342, 319–326 (2011). https://doi.org/10.1007/s11104-010-0697-3
Received:

Accepted:

Published:

Issue Date:
Keywords
Inoculum

Leek

Response to inoculation

High P soil