Abstract
This study used hydroponics cultivation to investigate the manganese (Mn) accumulation and tolerance abilities of six species—Phytolacca americana L., Poa annua L., Comnyza canadensis L., Cynodon dactylon L., Polygonum hydropiper L., and Polygonum perfoliatum L. We found that P. perfoliatum, P. hydropiper, and P. americana were Mn-hyperaccumulators and that P. perforliatum have superior Mn accumulation and toleration abilities over the other five species. The Mn concentration within the shoots of P. perfoliatum reached as high as 18,342.3 mg kg−1. The root growth of P. perfoliatum was promoted under low-Mn treatments, but the growths of the five other species were inhibited by the Mn treatments and the damage intensified as Mn concentration increased. The biomass of P. perfoliatum was minimally affected by the Mn treatments. The chlorophyll (CHL), soluble protein (SP), and malondialdehyde (MDA) contents of P. perfoliatum were not adversely affected, but these parameters of the other five species showed significant (P < 0.05) deterioration from the control. By comparison among the six species, the hyperaccumulator P. perfoliatum was the most suitable species for bioremediation of Mn-polluted environments. However, the findings need further study in soil cultivation.
This is a preview of subscription content,
to check access.
Access this article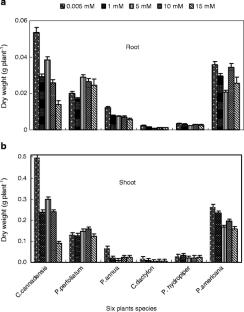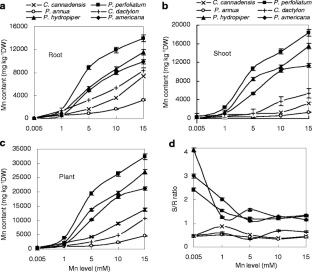 Similar content being viewed by others
References
Baldisserotto C, Ferroni L, Anfuso E, Pagnoni A, Fasulo MP, Pancaldi S (2007) Responses of Trapa natans L. floating laminae to high concentrations of manganese. Protoplasma 231:65–82. doi:10.1007/s00709-007-0242-2

Barančiková G, Madaras M, Rybár Q (2004) Crop contamination by selected trace elements. J Soils Sediments 4:37–42. doi:10.1007/BF02990827

Barceló J, Poschenrieder C (2003) Phytoremediation: principles and perspectives. Contrib Sci 2:333–344

Bidwell SD, Woodrow IE, Batiano GN, Sommer-Knudsen J (2002) Hyperaccumulation of manganese in the rainforest tree Austromyrtus bidwillii (Myrtaceae) from Queensland, Australia. Funct Plant Biol 29:899–905

Bouwman LA, Bloem J, Römkens PFAM, Japenga J (2005) EDGA amendment of slightly heavy metal loaded soil affects heavy metal solubility, crop growth and microbivorous nematodes but not bacteria and herbivorous nematodes. Soil Biol Biochem 37:71–278

Bradford MM (1976) A rapid and sensitive method for the quantization of microgram quantities of protein utilizing the principle of protein-dye binding. Anal Biochem 72:248–254

Büchel C, Barber J, Ananyev G, Eshaghi S, Watt R, Dismukes C (1999) Photoassembly of the manganese cluster and oxygen evolution from monomeric and dimeric CP47-reaction center photosystem II complexes. Proc Natl Acad Sci USA 96:14288–14293

Cao G, Liang MZ (2004) Manganese-trace element necessary for plants at the balance growth system. Soil Fert 1:23

Carranza-Álvarez C, Alonso-Castro AJ, Alfaro-De La Torre MC, Garcίa-De La Cruz RF (2008) Accumulation and distribution of heavy metals in Scirpus americanus and Typha latifolia from an artificial lagoon in San Luis Potosί, México. Water Air Soil Pollut 88:297–309

Chaney RL, Li YM, Brown SL, Homer FA, Malik M, Angle JS, Baker AJM, Reeves RD, Chin M (2000) Improving metal hyperaccumulator wild plants to develop commercial phytoextraction systems: approaches and progress. In: Terry N, Bañuelos G (eds) Phytoremediation of contaminated soil and water. Lewis, Boca Raton, pp 129–158

Ding JQ, Reardon R, Wu Y, Zheng H, Fu WD (2006) Biological control of invasive plants through collaboration between China and the United States of America: a perspective. Biol Invasions 8:1439–1450. doi:10.1007/s10530-005-5833-2

Dučić T, Polle A (2005) Transport and detoxification of manganese and copper in plants. Brazilian J Plant Physiol 17:103–112

Erikson KM, Aschner M (2003) Manganese neurotoxicity and glutamate GABA interaction. Neurochem Int 43:475–480. doi:10.1016/S0197-0186(03)00037-8

Fan ZL, Mo LY, Chen TB, Zhai LM, Lei M, Huang AQ, Li H (2007) Accumulation of Cu, Mn and Zn in plants grown in areas near three abandoned mines in Guangxi and the discovery of potential Mn-hyperaccumulators. Geograph Res 26:125–131

Fellet G, Marchiol L, Perosa D, Zerbi G (2007) The application of phytoremediation technology in a soil contaminated by pyrite cinders. Ecol Eng 31:207–214. doi:10.1016/j.ecoleng.2007.06.011

Fernando DR, Batianoff GN, BakerAJ WIE (2006a) In vivo localization of manganese in the hyperaccumulator Gossia bidwilii (Benth.) N. Snow & Guymer (Myrtaceae) by cryo-SEM/EDAX. Plant Cell Environ 29:1012–1020

Fernando DR, Bakkaus EJ, Perrier N, Baker AJM, Woodrow IE, Batianoff GN, Collins RN (2006b) Manganese accumulation in the leaf mesophyll of four tree species: a PIXE/EDAX localization study. New Phytol 171:751–758

Fernando DR, Marshall AT, Gouget B, Carrie M, Collins RN, Woodrow IE, Baker AJ (2008a) Novel pattern of foliar metal distribution in a manganese hyperaccumulator. Funct Plant Biol 35:193–200

Fernando DR, Woodrow IE, Jaffr T, Dumontet V, Marshall AT, Baker AJM (2008b) Foliar mangan-ese accumulation by Maytenus founieri (Celastraceae) in its native New Caledonian habitats: populational variation and localization by X-ray microanalysis. New Phytol 177:178–185

Garbisu C, Alkorta I (2001) Phytoextraction: a cost-effective plant-based technology for the removal of metals from the environment. Bioresour Technol 77:229–236. doi:10.1016/S0960-8524(00)00108-5

Guo SL, Huang CB, Bian Y, Lin GP (2002) On absorption and accumulation of six heavy metal elements of weeds in Jinhua suburb-survey on content of six heavy metal elements in weeds and soil. J Shanghai Jiaotong University (Agr Sci) 20:1–8

Han YL, Huang SZ, Gu JG, Qiu S, Chen JM (2008) Tolerance and accumulation of lead by species of Iris L. Ecotoxicology 17:853–859. doi:10.1007/s10646-008-0248-3

Hegedüs A, Erdei S, Horváth G (2001) Comparative studies of H2O2 detoxifying enzymes in green and greening barley seedlings under cadmium stress. Plant Sci 106:1085–1093

Hoagland DR, Arnon DI (1957) California agriculture experiment station. Circular, pp 347

Hyatt LA, Araki S (2006) Comparative population dynamics of an invading species in its native and novel ranges. Biol Invasions 8:261–275. doi:10.1007/s10530-004-5572-9

Islam E, Liu D, Li TQ, Yang XE, Jin XF, Mahmood Q, Tian SK, Li JY (2008) Effect of Pb toxicity on leaf growth, physiology and ultrastructure in the two ecotypes of Elsholtzia argyi. J Hazardous Mater 154:914–926. doi:10.1016/j.jhazmat.2007.10.121

Krämer U, Pickering IJ, Prince RC, Raskin I, Salt DE (2002) Subcellular localization and speciation of nickel in hyperaccumulator and non-accumulator Thlaspi species. Plant Physiol 122:1343–1353. doi:10.1104/pp.122.4.1343

Lei YB, Chen K, Tian XR, Korpelainen H, Li CY (2007) Effect of Mn toxicity on morphological and physiological changes in two Populus cathayana populations originating from different habitats. Trees 21:569–580

Long XX, Yang X, Ye ZQ, Ni WZ, Shi WY (2002) Differences of uptake and accumulation of Zinc in four species of sedum. Acta Bot Sin 44:152–157

Marchiol L, Sacco P, Assolari S, Zerbi G (2004) Reclamation of Polluted soil: phytoremediation potential of crop related Brassica species. Water Air Soil Pollut 158:345–356. doi:10.1023/B:WATE.0000044862.51031.fb

Mark WP, Alejandro V, Edward FR (2005) Manganese toxicity thresholds for restoration grass species. Environ Pollut 135:313–322. doi:10.1016/j.envpol.2004.08.006

McGrath SP, Zhao FJ (2003) Phytoextraction of metals and metalloids from contaminated soils. Curr Opin Biotechnol 142:77–282. doi:10.1016/S0958-1669(03)00060-0

Meerts P, Isacker NV (1997) Heavy metal tolerance and accumulation in metallicolous and non-metallicolous populations of Thlaspi caerulescens from continental Europe. Plant Ecol 133:221–231

Memon AR, Chino M, Takeoka Y, Hara K, Yatazawa M (1980) Distribution of manganese in leaf tissues of the manganese accumulator: Acanthopanax sciadophylloides as revealed by electronprobe X-ray microanalysis. J Plant Nutr 2:457–476

Memon AR, Aktoprakligil D, Özdemir A, Vertii A (2001) Heavy metal accumulation and detoxification mechanisms in plants. Turk J Bot 25:111–121

Panich-Pat T, Pokethitiyook P, Kruareachue M, Upasam ES, Srinives P, Lanza GR (2004) Removal of lead from contaminated soils by Typha agustifolia. Water Air Soil Pollut 155:159–171. doi:10.1023/B:WATE.0000026523.96599.6b

Peng KJ, Li XD, Luo CL, Shen ZG (2006) Vegetation composition and heavy metal uptake by wild plants at three contaminated sites in Xiangxi area. China J Environ Sci Health Part A 41:65–75

Peng KJ, Luo CL, You WX, Lian CL, Li XD, Shen ZG (2008) Manganese uptake and interactions with cadmium in the hyperaccumulator—Phytolacca americana L. J Hazard Mater 154:674–681. doi:10.1016/j.jhazmat.2007.10.080

Pittman JK (2005) Managing the manganese: molecular mechanisms of manganese transport and homeostasis. New Phytol 167:733–742

Prasad MNV (2003) Phytoremediation of metal-polluted ecosystems: hype for commercialization. Russ J Plant Physiol 50:686–700. doi:10.1023/A:1025604627496

Proctor J, Phillipps C, Du GK, Heaney A, Robertson FM (1989) Ecological studies on Gunung Silam, a small ultrabasic mountain in Sabah, Malaysia: II Some forest processes. J Ecol 77:317–331

Reeves RD (2003) Tropical hyperaccumulators of metals and their potential for phytoextraction. Plant Soil 249:57–65. doi:10.1023/A:1022572517197

Reeves RD, Adigüzel N (2004) Rare plants and nickel accumulators from Turkish serpentine soils, with special reference to Centaurea species. Turkish J Bot 28:147–153

Reeves RD, Baker AJM (2000) Metal-accumulating plants. In: Raskin I, Ensley BD (eds) Phytoremediation of toxic metals: using plants to clean up the environment. Wiley, New York

Ren LM, Liu P (2007) Review of manganese toxicity & the mechanisms of plant tolerance. Acta Ecol Sin 21:356–367

Ren LM, Liu P, Cai MZ, Xu GD, Fang XY, Cheng ZX (2007) Physiological response of Polygonum hydropiper, Comnyza canadensis, Polygonum perfoliatum and Phytolacca americana to Manganese toxicity. J Soil Water Conser 21:81–85

Ru SH, Wang JQ, Su DC (2004) Characteristics of Cd uptake and accumulation in two Cd accumulator oilseed rape species. J Environ Sci 16:594–598

Salt DE, Blaylock M, Kumar PBAN, Dushenkov V, Ensley BD, Chet I, Raskin I (1995) Phytoremediation: a novel strategy for the removal of toxic metals from the environment using plants. Biotechnol 13:468–474

Salt DE, Smith RD, Raskin I (1998) Phytoremediation. Annu Rev Plant Physiol Plant Mol Biol 49:643–668

Santandrea G, Pandolfi T, Bennici A (2000) A physiological characterization of Mn-tolerant tobacco plants selected by in vitro culture. Plant Sci 150:163–170

Shen ZG, Liu YL (1998) Progress in the study on that hyperaccumulate heavy metal. Plant Physiol Commun 34:133–139

Shen RF, Ma JF, Kyo M, Iwashita T (2002) Compartmentation of aluminium in leaves of an Al-accumulator, Fagopyrum esculentum Moench. Planta 215:394–398. doi:10.1007/s00425-002-0763-z

Singh OV, Labana S, Pandey G, Budhiraja R, Jain RK (2003) Phytoremediation: an overview of metallic ion decontami-nation from soil. Appl Microbiol Biotechnol 61:405–412

Sun YB, Zhou QX, Wang L, Liu WT (2009) Cadmium tolerance and accumulation characteristics of Bidens pilosa L. as a potential Cd-hyperaccumulator. J Hazard Mater 161:808–814. doi:10.1016/j.jhazmat.2008.04.030

Tie BQ, Yuan M, Tang MZ (2005) Phytolacca americana L.: a new manganese accumulator plant. J Agro-Environ Sci China 24:340–343

Wang ME, Zhou QX (2006) Effects of herbicide chlorimuron-ethyl on physiological mechanisms in wheat (Triticum aestivum). Ecotox Environ Safe 64:190–197. doi:10.1016/j.ecoenv.2005.03.032

Wang QR, Cui YS, Dong YT (2001) Phytoremediation—an effective approach of heavy metal clean up from contaminated soil. Acta Ecol Sin 21:326–331

Wang H, Tang SM, Liao XJ, Cao QM, Yang AF, Wang TZ (2007) A new manganese hyperaccumulator: Polygonum hydropiper L. Ecol Environ 16:830–834

Wei SH, Zhou QX (2004) Identification of weed species with hyperaccumulative characteristics of heavy metals. Prog Nat Sci 14:1259–1265

Whiting SN, Reeves RD, Richards D, Johnson MS, Cooke JA, Malaisse F, Paton A, Smith JAC, Angle JS, Chaney RL, Ginocchio R, Jaffré T, Johns R, McIntyre T, Purvis OW, Salt DE, Schat H, Zhao FJ, Baker AJM (2004) Research priorities for conservation of metallophyte biodiversity and their potential for restoration and site remediation. Restorat Ecol 12:106–116

Wissemeier AH, Horst WJ (1992) Effect of light intensity on manganese toxicity symptoms and callose formation in cowpea (Vigna unguiculata). Plant Soil 143:299–309. doi:10.1007/BF00007886

Wu XY, von Tiedemann A (2002) Impact of fungicides on active oxygen species and antioxidant enzymes in spring barley (Hordeum vulgare L.) exposed to ozone. Environ Pollut 116:37–47. doi:10.1016/S0269-7491(01)00174-9

Xu XH, Shi JY, Chen YX, Chen XC, Wan H, Perera A (2006) Distribution and mobility of manganese in the hyperaccumulator plant Phytolacca acinosa Roxb. (Phytolaccaceae). Plant Soil 285:323–331. doi:10.1007/s11104-006-9018-2

Xu XH, Shi JY, Chen XC, Chen YX, Hu TD (2009) Chemical forms of manganese in the leaves of ma-nganese hyperaccumulator Phytolacca acinosa Roxb (Phytolaccaceae). Plant and Soil 318:197–204. doi:10.1007/s11104-008-9829-4

Xue SG, Chen YX, Lin Q, Xu SY, Wang YP (2003) Phytolacca acinosa Roxb. (Phytolaccaceae): a new manganese hyperaccumulator plant from Southern China. Acta Ecol Sin 23:935–937

Yuan M, Tie BQ, Tang MZ, Isao A (2007) Accumulation and uptake of manganese in a hyperaccumulator Phytolacca americana. Miner Eng 20:188–190. doi:10.1016/j.mineng.2006.06.003

Zang XP (1999) Manganese toxicity of soil and manganese toxicity of plant. Chin J Soil Sci 30:139–141

Zhou QX, Wei SH, Zhang QR (2004) Ecological remediation. Chinese Environmental Science, Beijing
Acknowledgements
This study was supported by the National Natural Science Foundation of People's Republic of China (No.30540056) and by the Zhejiang Provincial Natural Science Foundation for Young Scientist of People's Republic of China (No.Y306391). The authors are grateful to professor Jianwei Pan and doctor Wenrong Chen for providing valuable guidance for this experiment and the paper.
Additional information
Responsible Editor: Juan Barcelo.
About this article
Cite this article
Liu, P., Tang, X., Gong, C. et al. Manganese tolerance and accumulation in six Mn hyperaccumulators or accumulators. Plant Soil 335, 385–395 (2010). https://doi.org/10.1007/s11104-010-0427-x
Received:

Accepted:

Published:

Issue Date:

DOI: https://doi.org/10.1007/s11104-010-0427-x
Keywords