Abstract
Understanding better the interactions between root systems in associated crops is significant for basic knowledge in plant science and to help designing cropping systems. Current research on inter-specific root interactions concentrates on static descriptions of the horizontal extension of root systems or on the dynamics of provoked root encounters. This study considers detailed observations of the dynamics of inter-specific root interactions, in the vertical plane, at both the whole root system and the individual root levels. Corn and young rubber trees were grown in association in artificial conditions that excluded the possibility of competition for resources, using rhizoboxes, i.e. thin containers with a transparent wall. The paper presents novel approaches, such as the study of root system growth trajectories, to document root system development in terms of overall growth rate, colonization of soil space and individual root growth patterns. It was found that (i) corn roots developed towards rubber roots until a contact was established, (ii) rubber roots expanded faster and more vertically in association with corn, (iii) the expansion rates of both root systems varied concomitantly and (iv) inter-specific root encounters resulted in reduced elongation rates in both species. Implications of these results for corn/rubber inter-cropping are discussed. This work advocates in favour of a better understanding of under-ground facilitative effects between species. If understood enough to be manipulated, such knowledge might become a powerful tool for the design of more sustainable and efficient cropping systems.
Access options
Buy single article
Instant access to the full article PDF.
US$ 39.95
Tax calculation will be finalised during checkout.
Subscribe to journal
Immediate online access to all issues from 2019. Subscription will auto renew annually.
US$ 119
Tax calculation will be finalised during checkout.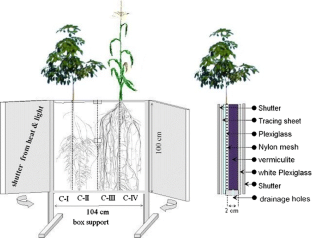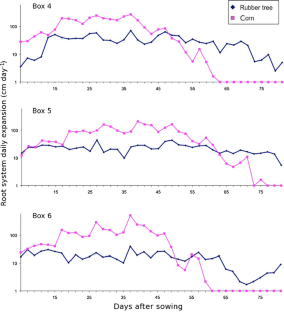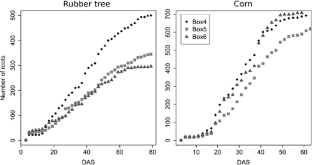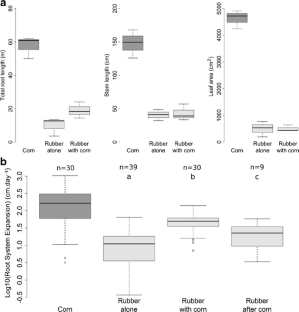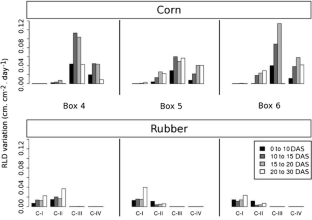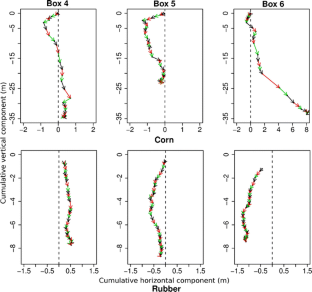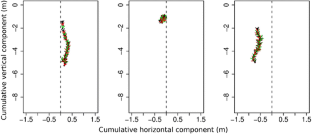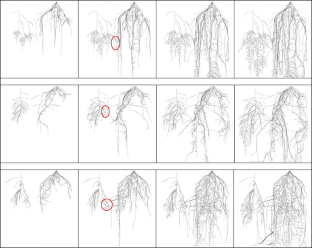 Abbreviations
DAS:

Days after sowing

RLD:

Root length density
References
Aerts R, Chapin FS III (2000) The mineral nutrition of wild plants revisited: a re-evaluation of processes and patterns. Adv Ecol Res 30:1–67

Atger C, Edelin C (1994) Strategies of underground occupation by the root systems of trees. Rev Ecol—La Terre et la Vie 49:343–356

Bartelheimer M, Steinlein T, Beyschlag W (2006) Aggregative root placement: a feature during interspecific competition in inland sand-dune habitats. Plant Soil 280:101–114

Brisson J, Reynolds JF (1994) The effect of neighbors on root distribution in a creosotebush (Larrea tridentata) population. Ecology 75:1693–1702

Cahn MD, Zobel RW, Bouldin DR (1989) Relationship between root elongation rate and diameter and duration of growth of lateral roots of maize. Plant Soil 119:271–79

Calder IR, Rosier PTW, Prasanna KT, Parameswarappa S (1997) Eucalyptus water use greater than rainfall input—a possible explanation from southern India. Hydrol Earth Syst Sci 1:249–256

Casper BB, Jackson RB (1997) Plant competition underground. Annu Rev Ecol Syst 28:545–570

Celette F, Wery J, Chantelot E, Celette J, Gary C (2005) Belowground interactions in a vine (Vitis vinifera L.)-tall fescue (Festuca arundinacea Shreb.) intercropping system:water relations and growth. Plant Soil 276:205–217

Collet C, Lof M, Pagès L (2006) Root system development of oak seedlings analysed using an architectural model. Effects of competition with grass. Plant Soil 279:367–383

De Willigen P, Heinen P, Mollier A, van Noordwijk M (2002) Two-dimensional growth of a root system described as diffusion. I. Analytical solutions. Plant Soil 240:225–243

R Development Core Team (2009) R: a language and environment for statistical computing. R Foundation for Statistical Computing, Vienna, Austria. ISBN 3-900051-07-0, URL http://www.R-project.org.

Drew MC (1975) Comparison of the effects of a localised supply of phosphate, nitrate, ammonium and potassium. New Phytol 75:479–490

Epstein E, Bloom AJ (2005) Mineral nutrition of plants: principles and perspectives, 2nd edn. Sinauer Associates, Sunderland, 400 p

Falik O, Reides P, Gersani M, Novoplansky A (2003) Self/non-self discrimination in roots. J Ecol 91:525–531

Falik O, Reides P, Gersani M, Novoplansky A (2005) Root navigation by self inhibition. Plant Cell Environ 28:562–569

Gersani M, Brown JS, O'Brien EE, Maina GM, Abramsky Z (2001) Tragedy of the commons as a result of root competition. J Ecol 89:660–669

Gershenzon J (1984) Changes in the levels of plant secondary metabolites under water and nutrient stress. Recent Adv Phytochem 18:273–320

Gregory PJ (2006) Plant roots: their growth, activity, and interaction with soils. Blackwell, Oxford, 328 p

Grime JP (1977) Evidence for the existence of three primary strategies in plants and its relevance to ecological and evolutionary theory. Am Nat 111:1169–1194

Jackson RB, Sperry JS, Dawson TE (2000) Root water uptake and transport: using physiological processes in global predictions. Trends Plant Sci 5:482–488

Krannitz PG, Caldwell MM (1995) Root growth responses of three Great Basin perennials to intra- and interspeciic contact with other roots. Flora 190:161–167

Laosuwan P (1996) Intercropping of young rubber. Suranaree J Sci Technol 3:171–179

Laosuwan P, Yeedum I, Sripana P, Sirisongkram P (1988) A study on intercropping of young rubber II. Effect on intercropping of young rubber. Thai J Agric Sci 21:263–270

Le Bot J, Serra V, Fabre J, Draye X, Adamowicz S, Pagès L (2009) DART: a software to analyze root system architecture and development from captured images. Plant Soil. doi:10.1007/s11104-009-0005-2

Le Roux Y (1994) Mise en place de l'architecture racinaire d'Hevea brasiliensis. Etude comparée du semis et de la microbouture. PhD Thesis, University of Aix-Marseille III, France. 295 p.

Le Roux Y, Pagès L (2000) Experimental changes in morphogenesis of hevea seedling root systems (Hevea brasiliensis). Can J Bot 78:1460–1468

Li L, Sun J, Zhang F, Guo T, Bao X, Smith FA, Smith SE (2006) Root distribution and interactions between intercropped species. Oecologia 147:280–290

Li L, Li SM, Sun JH, Zhou LL, Bao XG, Zhang HG, Zhang FS (2007) Diversity enhances agricultural productivity via rhizosphere phosphorus facilitation on phosphorus deficient soils. Proc Natl Acad Sci 104:11192–11196

Mahall BE, Callaway RM (1991) Root communication among desert shrubs. Proc Nat Acad Sci USA 88:874–876

Malezieux E, Crozat Y, Dupraz C, Laurans M, Makowski D, Ozier-Lafontaine H, Rapidel B, de Tourdonnet S, Valantin-Morison M (2009) Mixing plant species in cropping systems: concepts, tools and models. A review. Agron Sustain Dev 29:43–62

McDougall WB (1916) The growth of forest tree roots. Am J Bot 3:384–392

Mulia R, Dupraz C (2006) Unusual fine root distributions of two deciduous tree species in southern France: what consequences for modelling of tree root dynamics? Plant Soil 281:71–85

Oldeman RAA (1974) L'architecture de la foret guyanaise. Memo n° 73, ORSTOM, Paris. France. 214 p.

Ozier-Lafontaine H, Lafolie F, Bruckler L, Tournebize R, Mollier A (1998) Modelling competition for water in intercrops: theory and comparison with field experiments. Plant Soil 204:183–201

Pagès L (2000) How to include organ interactions in models of the root system architecture? The concept of endogenous environment. Ann For Sci 57:535–541

Pagès L, Pellerin S (1994) Evaluation of parameters describing the root-system architecture of field-grown maize plants (Zea mays L) 2. Density, length, and branching of first-order lateral roots. Plant Soil 164:169–176

Passioura JB, Wetselaar R (1972) Consequences of banding nitrogen fertilizers in soil. II. Effects on the growth of wheat roots. Plant Soil 36:461–473

Pellerin S, Pagès L (1994) Evaluation of parameters describing the root-system architecture of field-grown maize plants (Zea mays L) 1. Elongation of seminal and nodal roots and extension of their branched zone. Plant Soil 164:155–167

Raynaud X, Jaillard B, Leadley PW (2008) Plants may alter competition by modifying nutrient bioavailability in rhizosphere: a modeling approach. Am Nat 171:44–58

Schenk HJ, Callaway RM, Mahall BE (1999) Spatial root segregation: are plants territorial? Adv Ecol Res 28:145–180

Souda AM, Toko K, Hayashi K, Fujiyoshi T, Ezaki S, Yamafuji K (1990) Relationship between growth and electric oscillations in bean roots. Plant Phys 93:532–536

Stone EL, Kalisz PJ (1991) On the maximum extent of tree roots. For Ecol Manag 46:59–102

Tang CS, Cai WF, Kohl K, Nishimoto RK (1995) Plant stress and allelopathy. In: Inderjit KM, Dakshini M, Einhellig FA (eds) Allelopathy: organisms, processes, and applications. American Chemical Society, Washington, pp 142–157

Thaler P, Pagès L (1996) Periodicity in the development of the root system of young rubber trees (Hevea brasiliensis Muell. Arg.): relationship with shoot development. Plant Cell Environ 19:56–64

Weaver JE, Clements FE (1938) Plant ecology. McGraw-Hill, New York, 601 p

Withington JM, Elkin A, Bulai B (2003) The impact of material used for minirhizotron tubes for root research. New Phytol 160:533–544

Zhang H, Forde BG (1998) An Arabidopsis MADS box gene that controls nutrient-induced changes in root architecture. Science 279:407–409
Acknowledgements
The authors are grateful to the Faculty of Agriculture, Khon Kaen University, Thailand, for providing access to their experimental facility and help from support staff. This work was financially supported by the Royal Thai Government and the French Government, under the Thai-French Cooperation Program on Higher Education and Research (2005–2008), Khon Kaen University (40-years fund of Khon Kaen University) (2006–2008) and the Egide-PHC programme "Soil biology and carbon balance in rubber tree agro-ecosystems" (2009–2010). The authors would like to acknowledge Khon Kaen University, the French Institute of Research for Development (IRD), the French National Institute for Agronomic Research (INRA) and the International Water Management Institute (IWMI) for their continued support and assistance with this work. The authors are much indebted to the two anonymous referees for their valuable insight into this work and their diligent assistance with providing guidelines used to improve this paper's original manuscript.
Additional information
Responsible Editor: Philippe Hinsinger.
About this article
Cite this article
Gonkhamdee, S., Pierret, A., Maeght, JL. et al. Effects of corn (Zea mays L.) on the local and overall root development of young rubber tree (Hevea brasiliensis Muel. Arg). Plant Soil 334, 335–351 (2010). https://doi.org/10.1007/s11104-010-0386-2
Received:

Accepted:

Published:

Issue Date:
Keywords
Below-ground interactions

Root architecture

Trajectories

Inter-cropping

Root development