Abstract
Symbiotic interactions have been shown to facilitate shifts in the structure and function of host plant communities. For example, parasitic plants can induce changes in plant diversity through the suppression of competitive community dominants. Arbuscular mycorrhizal (AM) fungi have also be shown to induce shifts in host communities by increasing host plant nutrient uptake and growth while suppressing non-mycorrhizal species. AM fungi can therefore function as ecosystem engineers facilitating shifts in host plant communities though the presumed physiological suppression of non-contributing or non-mycorrhizal plant species. This dichotomy in plant response to AM fungi has been suggested as a tool to suppress weed species (many of which are non-mycorrhizal) in agro-ecosystems where mycorrhizal crop species are cultivated. Rinaudo et al. (2010), this issue, have demonstrated that AM fungi can suppress pernicious non-mycorrhizal weed species including Chenopodium album (fat hen) while benefiting the crop plant Helianthus annuus (sunflower). These findings now suggest a future for harnessing AM fungi as agro-ecosystem engineers representing potential alternatives to costly and environmentally damaging herbicides.
This is a preview of subscription content,
to check access.
Access this article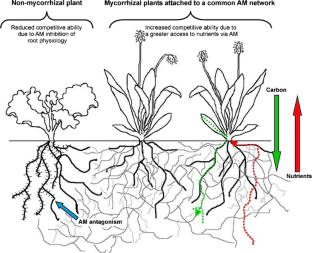 Similar content being viewed by others
References
Abourghiba TY (2005) Comparative analysis of the impacts of AMF on 'host' and 'non-host' plants. PhD thesis, University of Sheffield, UK

Callaway RM, Pennings SC (1998) Impact of a parasitic plant on the zonation of two salt marsh perennials. Oecologia 114:100–105

Cameron DD, Coats AM, Seel WE (2006) Differential resistance among host and non-host species underlies the variable success of the hemi-parasitic plant Rhinanthus minor. Ann Bot, London 98:1289–1299

Cameron DD, White A, Antonovics J (2009) Parasite-grass-forb interactions and rock-paper-scissor dynamics: predicting the effects of the parasitic plant Rhinanthus minor on host plant communities. J Ecol 97:1311–1319

de Bary A (1879) Die erscheinung der symbiose. Trubner, Strasbourg

Deguchi S, Shimazaki Y, Uozumi S, Tawaraya K, Kawamoto H, Tanaka O (2007) White clover living mulch increases the yield of silage corn via arbuscular mycorrhizal fungus colonization. Plant Soil 291:291–299

Francis R, Read DJ (1994a) The contributions of mycorrhizal fungi to the determination of plant community structure. Plant Soil 159:11–25

Francis R, Read DJ (1994b) Mutualism and antagonism in the mycorrhizal symbiosis, with special reference to impact on plant community structure. Can J Bot 73(suppl 1):S1301–S1309

Gibson CC, Watkinson AR (1992) The role of the hemiparasitic annual Rhinanthus minor in determining grassland community structure. Oecologia 89:62–68

Giovannetti M, Avio L, Fortuna P, Pellegrino E, Sbrana C, Strani P (2006) At the root of the wood wide web: self recognition and non-self incompatibility in mycorrhizal networks. Plant Signal Behav 1:1–5

Gosling P, Hodge A, Goodlass G, Bending GD (2006) Arbuscular mycorrhizal fungi and organic farming. Agr Ecosyst Environ 113:17–35

Helgason T, Daniell TJ, Husband R, Fitter AH, Young JPW (1998) Ploughing up the wood-wide web? Nature 394:431

Irving LJ, Cameron DD (2009) You are what you eat: interactions between root parasitic plants and their hosts. Adv Bot Res 50:87–138

Jordan NR, Zhang J, Huerd S (2000) Arbuscular-mycorrhizal fungi: potential roles in weed management. Weed Res 40:397–410

Kabir Z, Koide RT (2002) Effect of autumn and winter mycorrhizal cover crops on soil properties, nutrient uptake and yield of sweet corn in Pennsylvania, USA. Plant Soil 238:205–215

Leake JR (1994) The biology of myco-heterotrophic ('saprophytic') plants. New Phytol 127:171–216

Leake JR (2005) Plants parasitic on fungi: unearthing the fungi in myco-heterotrophs and debunking the 'saprophytic' plant myth. Mycologist 19:113–120

Leake JR, Cameron DD (2010) Physiological ecology of mycoheterotrophy. New Phytol 185:601–605

Phoenix GK, Press MC (2005) Linking physiological traits to impacts on community structure and function: the role of root hemiparasitic Orobanchaceae (ex-Scrophulariaceae). J Ecol 93:67–78

Press MC, Phoenix GK (2005) Impacts of parasitic plants on natural communities. New Phytol 166:737–751

Read DJ (1997) The ties that bind. Nature 388:517

Rinaudo V, Bàrberi B, Giovannetti M, van der Heijden M (2010) Mycorrhizal fungi suppress aggressive agricultural weeds. Plant Soil. doi:10.1007/s11104-009-0202-z

Smith SE, Read DJ (2008) Mycorrhizal symbiosis, 3rd edn. Academic, London

Tiwari P, Adholeya A, Prakash A (2004) Commercialization of Arbuscular Mycorrhiza bio fertilizer. In: Arora DK (ed) Fungal biotechnology in agricultural, food, and environmental applications. Dekker, New York, pp 195–204
Acknowledgements
DDC would like to thank Natural Environment Research Council UK for financial support (independent research fellowship: NE/E014070/1) and Dr Jonathan Leake and Prof. Sir David Read FRS (University of Sheffield) for valuable discussions and Dr Katie Field (University of Sheffield) for assistance with preparing Fig. 1.
Additional information
Responsible Editor: Angela Hodge.
About this article
Cite this article
Cameron, D.D. Arbuscular mycorrhizal fungi as (agro)ecosystem engineers. Plant Soil 333, 1–5 (2010). https://doi.org/10.1007/s11104-010-0361-y
Received:

Accepted:

Published:

Issue Date:

DOI: https://doi.org/10.1007/s11104-010-0361-y
Keywords