Abstract
It is well known that agricultural practices change the physical and chemical characteristics of soil. As a result, microbial populations can also be affected. The aim of this study was to analyze the effect on soil bacterial communities of zero tillage (ZT) under maize monoculture (MM) with crop residue removal (-R) (MM/-R treatment), compared to a ZT system under wheat monoculture (WW) with crop retention (+R) (WW/+R treatment). Phylogenetic analysis was used to characterize soil bacterial communities. Phylogenetic groups found exclusively in MM/-R were Caldilineales, Chromatiales, Oscillatoriales, Legionellales, Nitrosomonadales and unclassified ∂-Proteobacteria, while Bacillales, Burkholderiales, Pseudomonadales and Rubrobacteriales were found only in WW/+R. Sequences of bacteria related to fluorescent Pseudomonas sp. were detected only in WW/+R. Acidobacteria, a largely unknown group of bacteria, were the dominant group in both treatments with a relative proportion of 0.703 and 0.517 for MM/+R and WW/-R respectively. It was found that zero tillage with removal of crop residue in soil cultivated with a monoculture of maize strongly reduced microbial diversity (H = 3.30; D = 0.9040) compared to soil where crop residue was retained in a wheat zero tillage situation (H = 4.15; D = 0.9848).
Access options
Buy single article
Instant access to the full article PDF.
USD 39.95
Price includes VAT (USA)
Tax calculation will be finalised during checkout.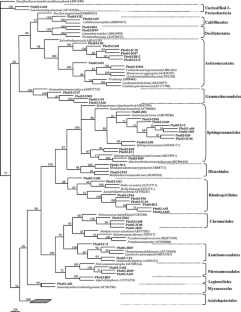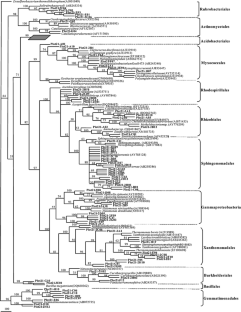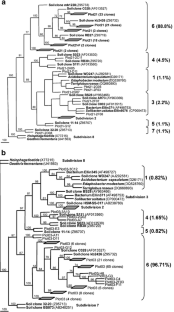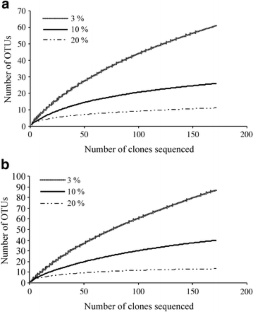 References
Alfano JR, Collmer A (1996) Bacterial pathogens in plants: Life up against the wall. Plant Cell 8:1683–1698

Altschul SF, Gish W, Miller W, Myers E, Lipman DJ (1990) Basic local alignment search tool. J Mol Biol 215:403–410

Alvear M, Rosas A, Rouanet JL, Borie F (2005) Effects of three soil tillage systems on some biological activities in an Ultisol from Southerm Chile. Soil Till Res 82:195–202

Bernard L, Mougel C, Maron PA, Nowak V, Lévêque J, Henault C (2007) Dynamics and identification of soil microbial populations actively assimilating carbon from 13C-labelled wheat residue as estimated by DNA- and RNA-SIP techniques. Environ Microbiol 9:752–764

Braid MD, Daniels LM, Kitts CL (2003) Removal of PCR inhibitors from soil DNA by chemical flocculation. J Microbiol Meth 52:389–393

Brons JK, van Elsas JD (2008) Analysis of bacterial communities in soil by use of denaturing gradient gel electrophoresis and clone libraries, as influenced by different reverse primers. Appl Environ Microbiol 74:2717–2727

Brussaard L, de Ruiter PC, Brown GG (2007) Soil biodiversity for agricultural sustainability. Agr Ecosyst Environ 121:233–244

Camargo JA (1992) Can dominance influence stability in competitive interactions? Oikos 64:605–609

Edwards U, Rogall T, Blöcker H, Emde M, Böttger EC (1989) Isolation and direct complete nucleotide determination of entire genes. Characterization of a gene coding for 16 S ribosomal RNA. Nucl Acids Res 17:7843–7853

El Banna N, Winkelmann G (1998) Pyrrolnitrin from Burkholderia cepacia: antibiotic activity against fungi and novel activities against streptomycetes. J Appl Microbiol 85:69–78

Erb RW, Wagner-Dobler I (1993) Detection of polychlorinated biphenyl degradation genes in polluted sediments by direct DNA extraction and polymerase chain reaction. Appl Environ Microbiol 59:4065–4073

FAO (1978) Report on the agro-ecological zones project (Vol. 1, Methodology and results for Africa). FAO World Resource Report 48. Food and Agricultural Organization of the United Nations, Rome, Italy, pp. 158

Felske A, de Vos WM, Akkermans ADL (2000) Spatial distribution of 16 S rRNA levels from uncultured acidobacteria in soil. Lett Appl Microbiol 31:118–122

Fischer RA, Santiveri F, Vidal IR (2002) Crop rotation, tillage and crop residue management for wheat and maize in the sub-humid tropical highlands II. Maize and system performance. Field Crops Res 79:123–137

Govaerts B, Sayre KD, Deckers J (2005) Stable high yields with zero tillage and permanent bed planting? Field Crops Res 94:33–42

Govaerts B, Sayre KD, Deckers J (2006a) A minimum data set for soil quality assessment of wheat and maize cropping in the highlands of Mexico. Soil Tillage Res 87:163–174

Govaerts B, Mezzalama M, Sayre KD, Crosa J, Nicol JM, Deckers J (2006b) Long-term consequences of tillage, residue management, and crop residue on maize/wheat root rot and nematode populations. Appl Soil Ecol 32:305–315

Govaerts B, Mezzalama M, Sayre KD, Crossa J, Lichter K, Troch V et al (2008) Long-term consequences of tillage, residue management, and crop rotation on selected soil micro-flora groups in the subtropical highlands. Appl Soil Ecol 38:197–210

Hall GEM, Vaive JE, MacLaurin AI (1996) Analytical aspects of the application of sodium pyrophosphate reagent in the specific extraction of the labile organic component of humus and soils. J Geochem Explor 56:23–36

Hobbs PR, Sayre K, Gupta R (2008) The role of conservation agriculture in sustainable agriculture. Phil Trans R Soc B 363:543–555

Hugenholtz P, Goebel BM, Pace RN (1998) Impact of culture-independent studies on the emerging phylogenetic view of bacterial diversity. J Bacteriol 180:4765–4774

Huss-Danell K (1997) Tansley review no. 93. Actinorhizal symbioses and their N-2 fixation. New Phytol 136:375–405

IUSS Working Group WRB, World Reference Base For Soil Resources (2006) FAO. Rome, Italy, pp 128

Karlen DL, Wollenhaupt NC, Erbach DC, Berry EC, Swan JB, Eash NS et al (1994) Crop residue effects on soil quality following 10-years of no-till corn. Soil Till Res 31:149–167

Lupwayi NZ, Rice WA, Clayton GW (1998) Soil microbial diversity and community structure under wheat as influenced by tillage and crop rotation. Soil Biol Biochem 30:1733–1741

O'Sullivan DJ, O'Gara F (1992) Traits of fluorescent Pseudomonas spp. involved in suppression of plant root pathogens. Microbiol Rev 56:662–676

Patiño-Zúñiga L, Ceja-Navarro JA, Govaerts B, Luna-Guido M, Sayre KD, Dendooven L (2009) The effect of different tillage and residue management practices on soil characteristics, inorganic N dynamics and emissions of N2O, CO2 and CH4 in the central highlands of Mexico: a laboratory study. Plant Soil 314:231–241

Posada D (2008) jModelTest: Phylogenetic model averaging. Mol Biol Evol 25:1253–1256

Raaijmakers JM, Weller DM (1998) Natural plant protection by 2, 4-diacetylphloroglucinol-producing Pseudomonas spp., in take-all decline soils. Mol Plant Microbe In 11:144–152

Ranjard L, Lejon DPH, Mougel C, Schehrer L, Merdinogu D, Chaussod R (2003) Sampling strategy in molecular microbial ecology: influence of soil sample size on DNa fingerprinting analysis of fungal and bacterial communities. Environ Microbiol 5:1111–1120

Roselló-Mora R, Amann R (2001) The species concept for prokaryotes. FEMS Microbiol Rev 25:39–67

Schloss PD, Handelsman J (2005) Introducing DOTUR, a computer program for defining operational taxonomic units and estimating species richness. Appl Environ Microbiol 71:1501–1506

Singleton DR, Furlong MA, Rathbun SL, Whitman WB (2001) Quantitative comparisons of 16 S rRNA gene sequence libraries from environmental samples. Appl Environ Microbiol 67:4374–4376

Six J, Ogle SM, Breidt FJ, Conant RT, Mosier A, Paustian K (2004) The potential to mitigate global warming with no-tillage management is only realized when practiced in the long term. Global Change Biol 10:155–160

Sogin ML, Morrison HG, Huber JA, Welch DM, Huse SM, Neal PR et al (2006) Microbial diversity in the deep sea and the underexplored "rare biosphere". Proc Natl Acad Sci USA 103:12115–12120

Soil Survey Staff (1998) Keys to Soil Taxonomy. United States Department of Agriculture, Natural Resources Conservation Service, Washington, DC, USA, pp 328

Swofford DL (1998) PAUP*: Phylogenetic Analysis Using Parsimony, ver. 4.0b10. Sinauer Associates, Sunderland, Massachusetts

Thompson JD, Gibson TJ, Plewniak F, Jeanmougin F, Higgins DG (1997) The ClustalX windows interface: flexible strategies for multiple sequence alignment aided by quality analysis tools. Nucleic Acids Res 24:4876–4882

Trân Van V, Berge O, Ke SN, Balandreau J, Heulin T (2000) Repeated beneficial effects of rice inoculation with a strain of Burkholderia vietnamiensis on early and late yield components in low fertility sulphate acid soils of Vietnam. Plant Soil 218:273–284

Tsai YL, Olson BH (1991) Rapid method for extraction of DNA from soil and sediments. Appl Environ Microb 57:1070–1074

Wardle DA (1992) A comparative assessment of factors which influence microbial biomass carbon and nitrogen levels in soil. Biol Rev 67:321–358

Yu Z, Morrison M (2004) Comparisons of different hypervariable regions of rrs genes for use in fingerprinting of microbial communities by PCR-denaturing gradient gel electrophoresis. Appl Environ Microbiol 70:4800–4806

Zhou J, Brunis MA, Tiedje JM (1995) DNA recovery from soils of diverse composition. Appl Environ Microbiol 62:316–322
Acknowledgements
We thank the International Maize and Wheat Improvement Center (CIMMYT, Int.) for soil samples. The research was funded by the Department of Biotechnology and Bioengineering (Cinvestav, México). J. C.-N. received grant-aided support from 'Consejo Nacional de Ciencia y Tecnología' (CONACyT, Mexico) scholarship No. 172766.
Additional information
Responsible Editor: Petra Marschner.
About this article
Cite this article
Ceja-Navarro, J.A., Rivera, F.N., Patiño-Zúñiga, L. et al. Molecular characterization of soil bacterial communities in contrasting zero tillage systems. Plant Soil 329, 127–137 (2010). https://doi.org/10.1007/s11104-009-0140-9
Received:

Accepted:

Published:

Issue Date:
Keywords
Zero tillage

Residues management

16S rDNA

Phylogenetic analysis