Abstract
Forage radish (Raphanus sativus L. var. longipinnatus) is being used by increasing numbers of farmers as a winter cover crop in the Mid-Atlantic USA. It is a non-host to arbuscular mycorrhizal fungi (AMF) and releases anti-fungal isothiocyanates (ITCs) upon decomposition in the winter. Field experiments were conducted to determine the effect of forage radish and cereal rye (Secale cereale L.) cover crops on arbuscular mycorrhizal fungus colonization of and P acquisition by a subsequent maize (Zea mays L.) silage crop. Cover crop treatments included forage radish, rye, a mix of forage radish and rye, and no cover crop. Mycorrhizal fungus colonization of maize roots at the V4 stage following forage radish cover crops was not significantly different from that in the no cover crop treatment. In 3 out of 6 site-years, a rye cover crop increased AMF colonization of V4 stage maize roots compared to no cover crop. These findings suggest that forage radish cover crops do not have a negative effect on AMF colonization of subsequent crops.
Access options
Buy single article
Instant access to the full article PDF.
USD 39.95
Price excludes VAT (USA)
Tax calculation will be finalised during checkout.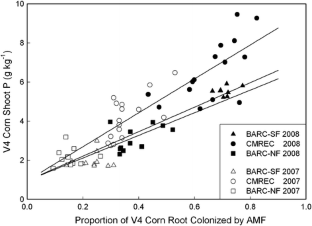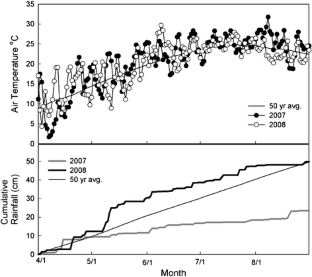 Abbreviations
AMF:

arbuscular mycorrhizal fungi

P:

phosphorus

ITC:

isothiocyanate
References
Black R, Tinker PB (1979) The development of endomycorrhizal root systems. II. Effect of agronomic factors and soil conditions on the development of vesicular-arbuscular Mycorrhizal infection in Barley and on the endophyte spore density. New Phytol 83:401–413

Boswell EP, Koide RT, Shumway DL, Addy HD (1998) Winter wheat cover cropping, VA mycorrhizal fungi and maize growth and yield. Agr Ecosyst Environ 67:55–65

Brundrett M (2004) Diversity and classification of mycorrhizal associations. Biol Rev 79:473–495

Brundrett MC (2002) Tansley review no. 134. Coevolution of roots and mycorrhizas of land plants. New Phytol 154:275–304

Deguchi S, Shimazaki Y, Uozumi S, Tawaraya K, Kawamoto H, Tanaka O (2007) White clover living mulch increases the yield of silage corn via arbuscular mycorrhizal fungus colonization. Plant Soil 291:291–299

Duiker SW, Curran WS (2005) Rye cover crop management for corn production in the northern Mid-Atlantic region. Agron J 97:1413–1418

Evans DG, Miller MH (1990) The role of the external mycelial network in the effect of soil disturbance upon vesicular-arbuscular Mycorrhizal colonization of maize. New Phytol 114:65–71

Fontenla S, García-Romera I, Ocampo JA (1999) Negative influence of non-host plants on the colonization of Pisum sativum by the arbuscular mycorrhizal fungus Glomus mosseae. Soil Biol Biochem 31:1591–1597

Galvez L, Douds DD, Drinkwater LE, Wagoner P (2001) Effect of tillage and farming system upon VAM fungus populations and mycorrhizas and nutrient uptake of maize. Plant Soil 228:299–308

Galvez L, Douds DD, Wagoner P, Longnecker LR, Drinkwater LE, Janke RR (1995) An overwintering cover crop increases inoculum of VAM fungi in agricultural soil. Am J Altern Agr 10:152–156

Garcia JP, Wortmann CS, Mamo M, Drijber R, Tarkalson D (2007) One-time tillage of no-till: effects on nutrients, mycorrhizae, and phosphorus uptake. Agron J 99:1093–1103

Gardiner JB, Morra NJ, Eberlein CV, Brown PD, Borek V (1999) Allelochemicals released in soil following incorporation of rapeseed (Brassica napus) green manures. J Agric Food Chem 47:3837–3842

Gavito ME, Miller MH (1998a) Changes in mycorrhiza development in maize induced by crop management practices. Plant Soil 198:185–192

Gavito ME, Miller MH (1998b) Early phosphorus nutrition, mycorrhizae development, dry matter partitioning and yield of maize. Plant Soil 199:177–186

Gimsing AL, Kirkegaard JA (2006) Glucosinolate and isothiocyanate concentration in soil following incorporation of Brassica biofumigants. Soil Biol Biochem 38:2255–2264

Giovannetti M, Mosse B (1980) An evaluation of techniques for measuring vesicular arbuscular mycorrhizal infection in roots. New Phytol 84:489–500

Giovannetti M, Sbrana C, Logi C (1994) early processes involved in host recognition by arbuscular Mycorrhizal fungi. New Phytol 127:703–709

Glenn MG, Chew FS, Williams PH (1988) Influence of glucosinolate content of brassica (cruciferae) roots on growth of vesicular-arbuscular mycorrhizal fungi. New Phytol 110:217–225

Kabir Z, Koide RT (2000) The effect of dandelion or a cover crop on mycorrhiza inoculum potential, soil aggregation and yield of maize. Agr Ecosyst Environ 78:167–174

Kabir Z, Koide RT (2002) Effect of autumn and winter mycorrhizal cover crops on soil properties, nutrient uptake and yield of sweet corn in Pennsylvania, USA. Plant Soil 238:205–215

Kabir Z, O'Halloran IP, Hamel C (1999) Combined effects of soil disturbance and fallowing on plant and fungal components of mycorrhizal corn (Zea mays L.). Soil Biol Biochem 31:307–314

Karasawa T, Kasahara Y, Takebe M (2001) Variable response of growth and arbuscular mycorrhizal colonization of maize plants to preceding crops in various types of soils. Biol Fertil Soils 33:286–293

Kirkegaard JA, Sarwar M, Wong PTW, Mead A, Howe G, Newell M (2000) Field studies on the biofumigation of take-all by Brassica break crops. Aust J Agr Res 51:445–456

Koide RT, Li M (1990) On host regulation of the vesicular-arbuscular mycorrhizal symbiosis. New Phytol 114:59–64

Koske RE, Gemma JN (1989) A modified procedure for staining roots to detect VA-Mycorrhizas. Mycol Res 92:486–505

Kuo S (1996) Phosphorus. In: Sparks DL, Page AL, Helmke PA, Loeppert RH, Soltanpour PN, Tabatabai MA, Johnston CT, Summer ME (eds) Methods of Soil Analysis: Part 3, Chemical Methods. Soil Science Society of America and American Society of Agronomy, Madison

Lekberg Y, Koide RT (2008) Effect of soil moisture and temperature during fallow on survival of contrasting isolates of arbuscular mycorrhizal fungi. Botany 86:1117–1124

Matthiessen JN, Shackleton MA (2005) Biofumigation: environmental impacts on the biological activity of diverse pure and plant-derived isothiocyanates. Pest Manag Sci 61:1043–1051

McGonigle TP, Evans DG, Miller MH (1990) Effect of degree of soil disturbance on mycorrhizal colonization and phosphorus absorption by maize in growth chamber and field experiments. New Phytol 116:629–636

McGonigle TP, Miller MH (1993) Mycorrhizal development and phosphorus absorption in maize under conventional and reduced tillage. Soil Sci Soc Am J 57:1002–1006

McGonigle TP, Miller MH (1999) Winter survival of extraradical hyphae and spores of arbuscular mycorrhizal fungi in the field. Appl Soil Ecol 12:41–50

Menge JA, Steirle D, Bagyaraj DJ, Johnson ELV, Leonard RT (1978) phosphorus concentrations in plants responsible for inhibition of mycorrhizal infection. New Phytol 80:575–578

Morra MJ, Kirkegaard JA (2002) Isothiocyanate release from soil-incorporated Brassica tissues. Soil Biol Biochem 34:1683–1690

Nadian H, Smith SE, Alston AM, Murray RS (1996) The effect of soil compaction on growth and P uptake by Trifolium subterraneum: interactions with mycorrhizal colonisation. Plant Soil 182:39–49

Ocampo JA, Hayman DS (1981) Influence of plant interactions on vesicular-arbuscular mycorrhizal infections. II. Crop rotations and residual effects of non-host plants. New Phytol 87:333–343

Ocampo JA, Martin J, Hayman DS (1980) Influence of plant interactions on vesicular-arbuscular mycorrhizal infections. I. Host and non-host plants grown together. New Phytol 84:27–35

Pellerin S, Mollier A, Morel C, Plenchette C (2007) Effect of incorporation of Brassica napus L. residues in soils on mycorrhizal fungus colonisation of roots and phosphorus uptake by maize (Zea mays L.). Eur J Agron 26:113–120

Rumberger A, Marschner P (2003) 2-Phenylethylisothiocyanate concentration and microbial community composition in the rhizosphere of canola. Soil Biol Biochem 35:445–452

Ryan MH, Angus JF (2003) Arbuscular mycorrhizae in wheat and field pea crops on a low P soil: increased Zn-uptake but no increase in P-uptake or yield. Plant Soil 250:225–239

Schreiner RP, Koide RT (1993a) Antifungal compounds from the roots of mycotrophic and non-mycotrophic plant species. New Phytol 123:99–105

Schreiner RP, Koide RT (1993b) Mustards, mustard oils and mycorrhizas. New Phytol 123:107–113

Sorensen JN, Larsen J, Jakobsen I (2005) Mycorrhiza formation and nutrient concentration in leeks (Allium porrum) in relation to previous crop and cover crop management on high P soils. Plant Soil 273:101–114

Vierheilig H, Bennett R, Kiddle G, Kaldorf M, Ludwig-Muller J (2000) Differences in glucosinolate patterns and arbuscular mycorrhizal status of glucosinolate-containing plant species. New Phytol 146:343–352

Vierheilig H, Ocampo JA (1990a) Effect of isothiocyanates on germination of spores of G. mosseae. Soil Biol Biochem 22:1161–1162

Vierheilig H, Ocampo JA (1990b) Role of root extract and volatile substances on non-host plants on vesicular-arbuscular mycorrhizal spore germination. Symbiosis 9:199–202

Weil R, Kremen A (2007) Thinking across and beyond disciplines to make cover crops pay. J Sci Food Agric 87:551–557

Williams SM, Weil RR (2004) Crop cover root channels may alleviate soil compaction effects on soybean crop. Soil Sci Soc Am J 68:1403–1409
Acknowledgements
Partial support for this work was provided by the USDA Northeast Sustainable Agriculture Research and Education Program (grants LNE03-192, LNE06-235). The authors would like to thank Julie Wolf for technical assistance and two anonymous reviewers for constructive feedback.
Additional information
Responsible Editor: Angela Hodge.
About this article
Cite this article
White, C.M., Weil, R.R. Forage radish and cereal rye cover crop effects on mycorrhizal fungus colonization of maize roots. Plant Soil 328, 507–521 (2010). https://doi.org/10.1007/s11104-009-0131-x
Received:

Accepted:

Published:

Issue Date:

DOI: https://doi.org/10.1007/s11104-009-0131-x
Keywords
Arbuscular mycorrhizal fungi

Forage radish

Cereal rye

Phosphorus

Isothiocyanate