Abstract
Grain protein concentration of durum wheat is often too low, particularly in low-N-input systems. The aim of our study was to test whether a durum wheat-winter pea intercrop can improve relative yield and durum wheat grain protein concentration in low-N-input systems. A 2-year field experiment was carried out in SW France with different fertilizer-N levels to compare wheat (Triticum turgidum L., cv. Nefer) and pea (winter pea, Pisum sativum L., cv. Lucy) grown as sole crops or intercrops in a row-substitutive design. Without N fertilization or when N was applied late (N available until pea flowering less than about 120 kg N ha−1), intercrops were up to 19% more efficient than sole crops for yield and up to 32% for accumulated N, but were less efficient with large fertilizer N applications. Wheat grain protein concentration was significantly higher in intercrops than in sole crops (14% on average) because more N was remobilized into wheat grain due to: i) fewer ears per square metre in intercrops and ii) a similar amount of available soil N as in sole crops due to the high pea N2 fixation rate in intercrops (88% compared to 58% in sole crops).
Access options
Buy single article
Instant access to the full article PDF.
USD 39.95
Price excludes VAT (USA)
Tax calculation will be finalised during checkout.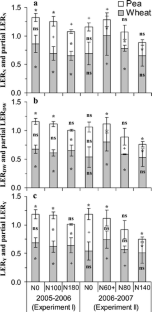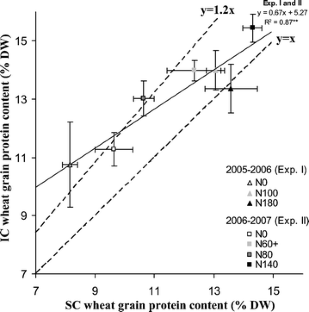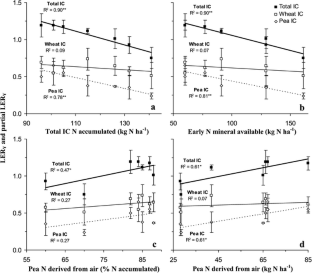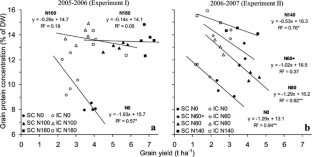 References
Abad A, Lloveras J, Michelena A (2004) Nitrogen fertilization and foliar urea effects on durum wheat yield and quality and on residual soil nitrate in irrigated Mediterranean conditions. Field Crops Res 87:257–269

AGRESTE (2008) Statistique agricole annuelle provisoire—Région Midi-Pyrénées. Ministère français de l'agriculture et de la pêche. http://agreste.agriculture.gouv.fr/IMG/pdf/R7308A03.pdf. Accessed 18 Dec 2008

Altieri M (1999) The ecological role of biodiversity in agroecosystems. Agric Ecosyst Environ 74:19–31

Amarger N, Mariotti A, Mariotti F, Durr J, Bourguignon C, Lagacherie B (1979) Estimate of symbiotically fixed nitrogen in field grown soybeans using variations in 15N Natural abundance. Plant Soil 52:269–280

Andersen MK, Hauggaard-Nielsen H, Ambus P, Jensen ES (2004) Biomass production, symbiotic nitrogen fixation and inorganic N use in dual and tri-component annual intercrops. Plant Soil 266:273–287

Anil L, Park J, Phipps RH, Miller FA (1998) Temperate intercropping of cereals for forage: a review of the potential for growth and utilization with particular reference to the UK. Grass Forage Sci 53:301–317

Brisson N, Launay M, Mary B, Beaudoin N (2008) Conceptual basis, formalisations and parameterization of the STICS crop model. Quae, Versailles

Corre-Hellou G (2005) Acquisition de l′azote dans des associations pois-orge (Pisum sativum L.–Hordeum vulgare L.) en relation avec le fonctionnement du peuplement. Thèse de doctorat en sciences agronomiques de l'école doctorale d'Angers

Corre-Hellou G, Crozat Y (2004) N2 fixation and N supply in organic pea (Pisum sativum L.) cropping systems as affected by weeds and peaweevil (Sitona lineatus L.). Eur J Agron 22:449–458

Corre-Hellou G, Crozat Y (2005) Assessment of root system dynamics of species grown in mixtures under field conditions using herbicide injection and N-15 natural abundance methods: a case study with pea, barley and mustard. Plant Soil 276:177–192

Crozat Y, Aveline A, Coste F, Gillet J, Domenach A (1994) Yield performance and seed production pattern of field-grown pea and soybean in relation to N nutrition. Eur J Agron 3:135–144

De Wit CT, Van Den Bergh JP (1965) Competition between herbage plants. Neth J Agric Sci 13:212–221

Fisher RA, Yates F (1938) Statistical tables for biological, agricultural and medical research. Oliver and Boyd, Edinburg

Fujita K, Ofosubudu KG, Ogata S (1992) Biological nitrogen fixation in mixed legume-cereal cropping systems. Plant Soil 141:155–175

Fukai S, Trenbath B (1993) Processes determining intercrop productivity and yields of component crops. Field Crops Res 34:247–271

Garrido-Lestache E, López-bellido RJ, López-bellido L (2004) Effect of N rate, timing and splitting and N type on bread-making quality in hard red spring wheat under rainfed Mediterranean conditions. Field Crops Res 85:213–236

Gate P (1995) Ecophysiologie du blé de la plante à la culture. Lavoisier, Paris

Ghaley BB, Hauggaard-Nielsen H, Høgh-Jensen H, Jensen ES (2005) Intercropping of wheat and pea as influenced by nitrogen fertilization. Nutr Cycl Agroecosyst 73:201–212

Griffon M (2006) Nourrir la planète. Odile Jacob, Paris

Hauggaard-Nielsen H, Jensen ES (2001) Evaluating pea and barley cultivars for complementarity in intercropping at different levels of soil N availability. Field Crops Res 72:185–196

Hauggaard-Nielsen H, Ambus P, Jensen ES (2001a) Temporal and spatial distribution of roots and competition for nitrogen in pea-barley intercrops—a field study employing P-32 technique. Plant Soil 236:63–74

Hauggaard-Nielsen H, Ambus P, Jensen ES (2001b) Interspecific competition, N use and interference with weeds in pea-barley intercropping. Field Crops Res 70:101–109

Hauggaard-Nielsen H, Ambus P, Jensen ES (2003) The comparison of nitrogen use and leaching in sole cropped versus intercropped pea and barley. Nutr Cycl Agroecosyst 65:289–300

Hauggaard-Nielsen H, Andersen MK, Jørnsgaard B, Jensen ES (2006) Density and relative frequency effects on competitive interactions and resource use in pea-barley intercrops. Field Crops Res 95:256–267

Jackson W, Piper J (1989) The necessary marriage between ecology and agriculture. Ecology 70:1591–1593

Jensen E (1996) Grain yield, symbiotic N2 fixation and interspecific competition for inorganic N in pea-barley intercrops. Plant Soil 182:25–38

Jeuffroy MH, Bouchard C (1999) Intensity and duration of nitrogen deficiency on wheat grain number. Crop Sci 39:1385–1393

Justes E, Mary B, Nicolardot B (2009) Quantifying and modelling C and N mineralization kinetics of catch crop residues in soil: parameterization of the residue decomposition module of STICS model for mature and non mature residues. Plant Soil . doi:10.1007/s1110400999664

Le Bail M, Meynard J (2003) Yield and protein concentration of spring malting barley: the effects of cropping systems in the Paris Basin (France). Agronomie 23:13–27

Li YY, Yu CB, Cheng X, Li CJ, Sun JH, Zhang FS, Lambers H, Li L (2008) Intercropping alleviates the inhibitory effect of N fertilization on nodulation and symbiotic N2 fixation of faba bean. Plant Soil . doi:10.1007/s1110400999388

Limaux F, Recous S, Meynard JM, Guckert A (1999) Relationship between rate of crop growth at date of fertiliser N application and fate of fertiliser N applied to winter wheat. Plant Soil 214:49–59

Malézieux E, Crozat Y, Dupraz C, Laurans M, Makowski D, Ozier-Lafontaine H, Rapidel B, de Tourdonnet S, Valantin-Morison M (2008) Mixing plant species in cropping systems: concepts, tools and models. A review. Agron Sustain Dev 29:43–62

Ofori F, Stern WR (1987) Cereal-legume intercropping systems. Adv Agron 41:41–90

Peoples MB, Bowman AM, Gault RR, Herridge DF, McCallum MH, McCormick KM, Norton RM, Rochester IJ, Scammell GJ, Schwenke GD (2001) Factors regulating the contributions of fixed nitrogen by pasture and crop legumes to different farming systems of eastern Australia. Plant Soil 228:29–41

R Development Core Team (2007) A language and environment for statistical computing. R Foundation for Statistical Computing, Vienna

Samaan J, El-Khayat GH, Manthey FA, Fuller MP, Brennan CS (2006) Durum wheat quality II: the relationship of kernel physicochemical composition to semolina quality and end product utilisation. Int J Food Sci Technol 41:47–55

Shearer G, Kohl DH (1986) N-2-fixation in field settings—Estimations based on natural N-15 abundance. Aust J Plant Physiol 13:699–756

Sheskin DJ (2004) Handbook of parametric and nonparametric statistical procedures, 3rd edn. Chapman and Hall/CRC, Boca Raton

Snaydon RW, Satorre EH (1989) Bivariate diagrams for plant competition data—Modifications and interpretation. J Appl Ecol 26:1043–1057

Unkovich M, Herridge D, Peoples M, Cadisch G, Boddey R, Giller K, Alves B, Chalk P (2008) Measuring plant-associated nitrogen fixation in agricultural systems. Clarus design, Canberra

Vandermeer J (1989) The ecology of intercropping. Cambridge university press, Cambridge

Vandermeer J, van Noordwijk M, Anderson J, Ong C, Perfecto I (1998) Global change and multi-species agroecosystems: concepts and issues. Agric Ecosyst Environ 67:1–22

Vocanson A, Munier-Jolain N, Voisin A S, Ney B (2005) Nutrition azotée. In: Agrophysiologie du pois protéagineux. INRA-ARVALIS-UNIP-ENSAM, Paris, pp 81–106

Voisin AS, Salon C, Munier-Jolain NG, Ney B (2002) Quantitative effects of soil nitrate, growth potential and phenology on symbiotic nitrogen fixation of pea (Pisum sativum L.). Plant Soil 243:31–42

Willey R (1979a) Intercropping—its importance and research needs. 1. Competition and yield advantages. Field Crop Abstr 32:1–10

Willey R (1979b) Intercropping—its importance and research needs. 2. Agronomy and research needs. Field Crop Abstr 32:73–85

Willey RW (1990) Resource use in intercropping systems. Agric Water Manag 17:215–231

Zadoks JC, Chang TT, Knozak CF (1974) A decimal code for the growth stages of cereals. Weed Res 14:415–421
Acknowledgements
This study was supported by the Compte d'Affectation Spéciale du Développement Agricole et Rural (invitation to tender 2005 n°431) coordinated by l'Union Nationale Interprofessionnelle des Plantes riches en protéines. The authors would like to thank Alan Scaife and Daniel Wallach for their helpful comments and for English revision. We are also very grateful to the two anonymous reviewers and to Hans Lambers (Editor in chief of Plant and Soil) for their valuable comments on the manuscript.
Additional information
Responsible Editor: Hans Lambers.
About this article
Cite this article
Bedoussac, L., Justes, E. The efficiency of a durum wheat-winter pea intercrop to improve yield and wheat grain protein concentration depends on N availability during early growth. Plant Soil 330, 19–35 (2010). https://doi.org/10.1007/s11104-009-0082-2
Received:

Accepted:

Published:

Issue Date:

DOI: https://doi.org/10.1007/s11104-009-0082-2
Keywords
Complementary resource use

Grain protein concentration

Land equivalent ratio (LER)

Nitrogen acquisition

Nitrogen fixation

Plant competition