Abstract
Understanding native communities is a crucial step for the management of biological nitrogen fixation, since they may be either a source of efficient strains or a limiting factor when efficient strains need to be introduced. This work aimed to evaluate the density, diversity and efficiency of Leguminosae nodulating bacterial (LNB) communities and their component strains in soils under various land use systems (LUSs): pristine forest, agriculture, pasture, agroforestry, young secondary forest, and old secondary forest,. The LNB communities were trapped from these soils by using the promiscuous host siratro under controlled conditions. We also studied their relationships with physical and chemical attributes of the soil. Agroforestry and agriculture soil samples induced the highest number of nodules in siratro, while forest soil samples induced the lowest number of nodules. No relationship was found between LNB and Leguminosae species diversity in the LUSs. The soil chemical variables that were most related to differences in nodule number and shoot dry matter weight of plants inoculated with soil suspensions of the LUSs were, respectively: Ca2+, Mg2+, base saturation, exchangeable bases and Cu2+; and pH, cation exchange capacity, B, Cu2+ and clay. Although, LNB communities from all LUSs were efficient under controlled and similar conditions, they were found to be composed of strains with variable efficiency: inefficient, efficient, highly efficient and superior efficiency. Efficient strains occurred at the highest frequency in all LUSs. The isolated strains presented similar and new sequences that were phylogenetically related to well known LNB genera in α-and β-Proteobacteria. Unusual genera in these branches, as well as in other branches, which are probably endophytic bacteria, were also isolated from nodules. These data support siratro as a useful trap species to study the LNB biodiversity of diverse ecosystems in tropical soils. The fact that the highest diversity and nodulation were seen in managed systems such as agriculture and agroforestry suggests a high resilience of LNB communities to changes in land use after deforestation in a region where large forest areas are still preserved and can be a source of propagules.
Access options
Buy single article
Instant access to the full article PDF.
USD 39.95
Price excludes VAT (USA)
Tax calculation will be finalised during checkout.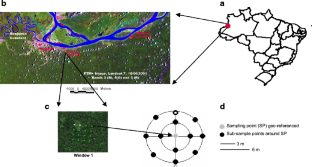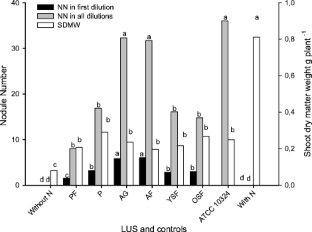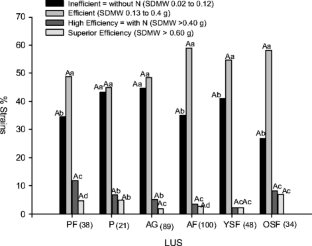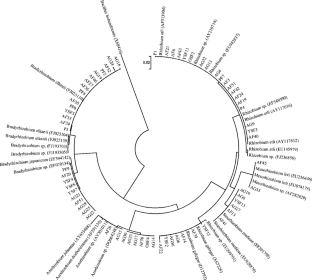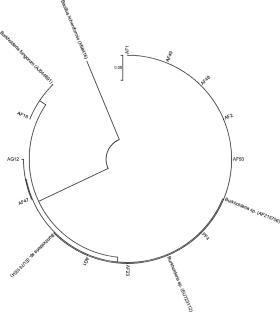 References
Alves JR, Boddey RM, Urquiaga S (2003) The success of BNF in soybean in Brazil. Plant Soil 249:237–245. doi:10.1023/A:1022848329303

Andrade DS, Murphy PJ, Giller KE (2002) The diversity of Phaseolus-nodulating rhizobial populations is altered by limiting of acid soils planted with Phaseolus vulgaris L. in Brasil. Appl Environ Microbiol 68:4025–4034. doi:10.1128/AEM.68.8.4025-4034.2002

Bala A, Murphy P, Giller KE (2002) Occurrence and genetic diversity of rhizobia noduling Sesbania sesban in African soils. Soil Biol Biochem 34:1759–1768. doi:10.1016/S0038-0717(02)00163-3

Bennett JE, Woomer PL, Yost RS (1990) User manual for MPNES most-probable-number enumeration system ver. 1. 0. NifTAL project and University of Hawaii

Bolaños L, Brewin J, Bonilla I (1996) Effects of boron on Rhizobium-legume cell-surface Interact Nodule Dev. Plant Physiol 110:1249–1256

Bonetti R, Oliveira LA, Magalhães FMM (1984) Rhizobium spp. populations and mycorrhizal associations in some plantations of forest tree species. Pesquisa Agropecu Bras 19:139–150

BRASIL (1977) Departamento Nacional de Produção Mineral. Projeto RADAMBRASIL. Folha SB. 19—Juruá: geologia, geomorfologia, pedologia, vegetação e uso potencial da terra. Rio de Janeiro, (Levantamento de Recursos Minerais, 15) p 436

Bromfield ESP, Barran LR (1990) Promiscuous nodulation of Phaseolus vulgaris, Macroptilium atropurpureum, and Leucaena leucocephala by indigenous Rhizobium meliloti. Can J Microbiol 36:369–372

Chaberrie O, Laval K, Pudget P, Desaire S, Alard D (2003) Relationship between plant and soil communities along a successional gradient in a chalk grassland in north-western France. Appl Soil Ecol 24:43–56. doi:10.1016/S0929-1393(03)00062-3

Coelho MR, Fidalgo ECC, Araújo FO, Santos HG, Santos MLM, Pérez DV, Moreira FMS (2005a) Solos das áreas-piloto do Projeto BiosBrasil (Conservation and Sustainable Management of Below-Ground Biodiversity: Phase I), Município de Benjamin Constant, Estado do Amazonas (Soil of pilot areas of Conservation and Sustainable Management of Below-Ground Biodiversity project: Phase I, Benjamin Constant County, Amazonas sate). Boletim de Pesquisa e Desenvolvimento 67, Rio de Janeiro: Embrapa Solos 159 p. http://www.biosbrasil.ufla.br

Coelho MR, Fidalgo ECC, Araújo FO, Santos HG, Santos MLM, Pérez DV, Moreira FMS (2005b) Levantamento Pedológico de uma Área-Piloto Relacionada ao Projeto BiosBrasil (Conservation and Sustainable Management of Below-Ground Biodiversity: Phase I), Município de Benjamin Constant (AM): Janela 6 (Soil survey of a pilot area related to Conservation and sustainable management of below-ground biodiversity project: phase I, Benjamin Constant county, Amazonas state:window 6) Boletim de Pesquisa e Desenvolvimento 68, Rio de Janeiro: Embrapa Solos. 95 p. http://www.biosbrasil.ufla.br

Coutinho HLC, Oliveira VM, Lovato A, Maia AHN, Manfio GP (1999) Evaluation of the diversity of rhizobia em Brazilian agricultural soils cultivated with soybeans. Appl Soil Ecol 13:159–167. doi:10.1016/S0929-1393(99)00031-1

DeSantis TZ, Hugenholtz P, Keller K, Brodie EL, Larsen N, Piceno YM, Phan R, Andersen GL (2006) NAST: a multiple sequence alignment server for comparative analysis of 16S rRNA genes. Nucleic Acids Res 34:W394–W399. doi:10.1093/nar/gkl244

Fening JO, Danso SKA (2002) Variation in symbiotic effectiveness of cowpea bradyrhizobia indigenous to Ghanaian soils. Appl Environ Microbiol 21:23–29

Ferreira DF (2000) Análises estatísticas por meio do SISVAR para Windows versão 4. 0. In: REUNIÃO ANUAL DA REGIÃO BRASILEIRA DA SOCIEDADE INTERNACIONAL DE BIOMETRIA, 45., 2000, São Carlos, SP. Programa e Resumos.. São Carlos: UFSCar, pp. 235.

Fidalgo EC, Coelho MR, Araújo FO, Moreira FMS, Santos HG, Santos MLM, Huising J (2005) Levantamento do uso e cobertura da terra de seis áreas amostrais relacionadas ao projeto "Conservation and sustainable management of below-ground biodiversity:phase1", município de Benjamin Constant, (AM)(Land use and land cover survey in benchmark área of CSM-BGBD/BiosBrasil project:phase 1, Benjamin Constant (AM). Boletim de Pesquisa e Desenvolvimento 71, Embrapa Solos. http://www.bisobrasil.ufla.br, p 54

Fred EB, Waksman SA (1928) Laboratory manual of general microbiology. McGraw-Hill Book, New York, p 143

Gonçalves M, Moreira FMS (2004) Specificity of the Legume Sesbania virgata (Caz.)Pers. and its nodule isolates Azorhizobium johannae with other legume hosts and rhizobia. I Symbiosis. Rehovot 36:57–68

Grewal HS, Williams R (2003) Liming and cultivars affect root growth, nodulation, leaf to stem ratio, Herbage yield, and elemental composition of Alfalfa on an acid soil. J Plant Nutr 26:1683–1696. doi:10.1081/PLN-120022381

Handelsman J, Brill WJ (1985) Erwinia herbicola isolates from alfafa plants may play a role in nodulation of alfafa by Rhizobium meliloti. Appl Environ Microbiol 49:818–821

He X-Y, Wang K-L, Zhang W, Chen Z-H, Chen Y-G (2008) Positive correlation between soil bacteria metabolic and plant species diversity and bacterial and fungal diversity in a vegetation succession on Karst. Plant Soil 307:123–134. doi:10.1007/s11104-008-9590-8

Huising EJ, Coe R, van Noordwijk M, Huang SP, Cares J, Louzada J, Zanetti R, Moreira FMS, Susilo F, Konate S (2008) Chapter 2: sampling strategy and design to evaluate below-ground biodiversity. In: Handbook of tropical soil biology: Sampling & characterisation of below-ground biodiversity. F M S Moreira, D Bignell and J Huising (eds). Earthscan, 17–42

Janzen DH (1980) Ecologia vegetal nos trópicos São Paulo. EPU, Editora da Universidade de São Paulo

Jensen HL (1942) Nitrogen fixation in leguminous plants. I General characters of root-nodule bacteria isolated from species of Medicago and Trifolium in Australia. Proc Linn Soc N S W 66:98–1058

Jesus E Da C, Florentino LA, Rodrigues MID, Oliveira MS De, Moreira FM de S (2005) Leguminosae nodulating bactéria diversity from three land use systems in Brazilian Western Amazon. Pesqui Agropecu Bras 40:769–776

Johnson RA, Wichern DW (1998) Applied multivariate statistical analysis. 4th edition. Prentice Hall, New Jersey

Jordan DC (1984) Rhizobiaceae Conn. In: (ed) Bergey's manual of systematic bacteriology. Williams & Wilkins, Baltimore, MD, pp 242–244

Kahindi JHP, Woomer P, George T, Moreira FMS, Karanja NK, Giller KE (1997) Agricultural intensification, soil biodiversity end ecosystem function en the tropics: the role of nitrogen-fixing-bacteria. Appl Soil Ecol 6:55–76. doi:10.1016/S0929-1393(96)00151-5

Kimura M (1980) A simple method for estimating evolutionary rate of base substitution through comparative studies of nucleotide sequences. J Mol Evol 16:111–120. doi:10.1007/BF01731581

Lacerda AM, Moreira FMS, Andrade MJB, Soares ALL (2004) Yield and nodulation of cowpea inoculated with selected rhizobia strains. Revista Ceres 51:67–82

Li JH, Wang ET, Chen WF, Chen WX (2008) Genetic diversity and potential for promotion of plant growth detected in nodule endophytic bacteria of soybean grown in Heilongjiang province of China. Soil Biol Biochem 40:238–246. doi:10.1016/j.soilbio.2007.08.014

Lima AS, Pereira JPAR, Moreira FMS (2005) Phenotipic diversity and symbiotic efficiency of Bradyrhizobium spp. strains from Amazonian soils. Pesquisa Agropecu Bras 40:1095–1104. doi:10.1590/S0100-204X2005001100007

Magalhães FMS, Magalhães LMS, Oliveira LA, Dobereiner J (1982) Ocorrência de nodulação em leguminosas florestais nativas da região de Manaus-AM. Acta Amazon 12:509–514

Martins LMV, Neves MCP, Rumjanek NG (1997) Growth characteristics and symbiotic efficiency of rhizobia isolated from cowpea nodules of the north-east region of Brazil. Soil Biol Biochem 29:1005–1010. doi:10.1016/S0038-0717(96)00215-5

Matsuda A, Moreira FMS, Siqueira JO (2002) Tolerance of rhizobia genera from different origins to zinc, Cooper and cadmium. Pesqui Agropecu Bras 37:343–355

Moreira FMS (2008) Nitrogen fixing Leguminosae nodulating bacteria. In: Handbook of tropical soil biology; sampling & characterisation of below-ground biodiversity. F M S Moreira, D Bignell and J Huising (eds). Earthscan, 107–129

Moreira FMS, Franco AA (1994) Rhizobia—Host interactions in tropical ecosystems in Brazil. In: Sprent JI, Mckey D (eds) Advances in legume systematic 5: The nitrogen factor. Royal Botanic Garden, Kew, Inglaterra, pp 63–74

Moreira FMS, Haukka K, Young JPW (1998) Biodiversity of rhizobia isolated from a wide range of forest legumes in Brazil. Mol Ecol 7:889–895. doi:10.1046/j.1365-294x.1998.00411.x

Moreira FMS, Silva MF, Faria SM (1992) Ocurrence of nodulation in legume species in the Amazon region of Brazil. New Phytol 121:563–570. doi:10.1111/j.1469-8137.1992.tb01126.x

Moreira FMS, Gillis M, Pot B, Kersters K, Franco AA (1993) Characterization of rhizobia isolated from different divergence groups of tropical Leguminosae by comparative polyacrylamide gel eletrophoresis of their total proteins. Syst Appl Microbiol 16:135–146

Moreira FMS, Siqueira JO, Brussaard L (eds) (2006a) Soil biodiversity in Amazonian and other Brazilian ecosystems. CABI, pp 280

Moreira FMS, Cruz LM, Faria SM, Marsh T, Martinez-Romero E, Pedrosa FO, Pitard R, Young PJW (2006b) Azorhizobium doebereinerae sp nov. microsymbiont of Sesbania virgata (Caz.)Pers. Syst Appl Microbiol 29:197–206. doi:10.1016/j.syapm.2005.09.004

Moulin L, Munive A, Dreyfus B, Bolvin-Masson C (2001) Nodulation of legumes by members of beta sub-class of Proteobacteria. Nature 411:948–950. doi:10.1038/35082070

Nóbrega RSA (2006) Effects of Amazonian land use systems on soil attributes, occurrence, efficiency and diversity of bacteria nodulating cowpea [Vigna unguiculata (L.) Walp]. PhD thesis Universidade Federal de Lavras, Lavras, MG, Brazil, p 188

Oliveira VM, Coutinho HLC, Sobral BWS, Guimarães CT, Elsas JD, Manfio GP (1999) Discrimination of Rhizobium tropici and R. leguminosarum strains by PCR-specific amplification of 16 S-23 S rDNA fragments and denaturing gradient gel electrophoresis. Lett Appl Microbiol 28:137–141. doi:10.1046/j.1365-2672.1999.00480.x

Paul EA, Clark FE (1989) Soil microbiology and biochemistry. Academic, CA, San Diego

Poolpipatana S, Hue NV (1994) Differential acidity tolerance of tropical legumes grown for green manure in acid sulfate soils. Plant Soil 163:31–139

Pugashetti BK, Angle JS, Wagner GH (1982) Soils microorganisms antagonist towards Rhizobium japonicum. Soil Biol Biochem 14:45–49. doi:10.1016/0038-0717(82)90075-X

Reid WS (1996) Influence of lime and calcium:magnesium ratio on alfalfa and birdsfoot trifoil yields. Commun Soil Sci Plann 27:1885–1900. doi:10.1080/00103629609369676

Soares ALL, Pereira JPAR, Ferreira PAA, Vale HMM, Lima AS, Andrade MJB, Moreira FMS (2006) Eficiência agronômica de rizóbios selecionados e diversidade de populações nativas nodulíferas em Perdões (MG). ICaupi Rev Bras Cienc Solo 30:795–802

Stotzky G (1972) Activity, ecology and population dynamics of microorganisms in soil. Crit Rev Microbiol 1:59–137. doi:10.3109/10408417209108383

Sylvester-Bradley R, Oliveira LA, Podestá Filho JA, John TV (1980) Nodulations of legumes, nitrogen activity of roots and occurrence of nitrogen-fixing Azospirillum spp. in representative soils of Central Amazonia. Agro-ecosyst 6:249–266. doi:10.1016/0304-3746(80)90025-6

Tamura K, Dudley J, Nei M, Kumar S (2007) MEGA4: molecular evolutionary genetics analysis (MEGA) software version 4.0. Mol Biol Evol 24:1596–1599. doi:10.1093/molbev/msm092, Publication PDF at http://www.kumarlab.net/publications

Thies JE et al (1991) Subgroups of de Cowpea miscellany: symbiotic specificity within Bradyrhizobium spp. for Vigna unguiculata, Phaseolus lunatus, Arachis hypogaea and Macroptilium atropurpureum. Appl Environ Microbiol 57:1540–1545

Trannin ICB, Moreira FMS, Siqueira JO, Lima A (2001) Tolerance of Bradyrhizobium and Azorhizobium strains and isolates to zinc, cadmium and cooper "in vitro". Rev Bras Cienc Do Solo 25:305–316

Trinick MJ, Miller C, Hadobas PA (1991) Formation and structure of root nodules induced on Macroptilium atropurpureum inoculated with various species of Rhizobium. Can J Bot 69:1520–1532

Venkateswarlu B, Hari K, Katyal JC (1997) Influence of soil and crop factors on the native rhizobial populations in soils under dryland farming. Appl Soil Ecol 7:1–10. doi:10.1016/S0929-1393(97)00030-9

Vincent JM (1970) A manual for the practical study of root-nodule bacteria. Blackwell Scientific Publications (International Biological Programme Handbook, n. 15), Oxford

Vincent JM (1980) Factors controlling the legume-Rhizobium symbiosis. In: Newton WE, Orme-Johnson WH (eds) Nitrogen fixation. University Press, Baltimore, pp 103–129

Woomer PL Most Probable Number Counts (1994) In: Weaver RW, Angle S, Bottomley P, Bezdicek D, Smith S, Tabatabai A, Wollum A (eds) Methods of soil analysis. Part 2. Microbiological and biochemical properties. Soil Science Society of America, Madison, (SSSA Book Series, 5), pp 59–79
Acknowledgements
We thank CAPES and CNPq for student fellowships, CNPq for a research fellowship and grant, and project GEF/UNEP-GF2715-02 (CSM-BGBD) for financial support. This publication presents part of the findings of the international project "Conservation and Management of Below-Ground Biodiversity" implemented in seven tropical countries—Brazil, Cote d'Ivoire, India, Indonesia, Kenya, Mexico, and Uganda. This project is coordinated by the Tropical Soil Biology and Fertility Institute of CIAT (TSBF-CIAT with co-financing from the Global Environmental Facility (GEF), and implementation support from the United Nations Environment Program (UNEP). Views expressed in this publication are those of their authors and do not necessary reflect those of the authors' organization, the United Nations Environment Programme and the Global Environmental Facility.
Additional information
Responsible Editor: Euan K. James.
About this article
Cite this article
Lima, A.S., Nóbrega, R.S.A., Barberi, A. et al. Nitrogen-fixing bacteria communities occurring in soils under different uses in the Western Amazon Region as indicated by nodulation of siratro (Macroptilium atropurpureum). Plant Soil 319, 127–145 (2009). https://doi.org/10.1007/s11104-008-9855-2
Received:

Accepted:

Published:

Issue Date:

DOI: https://doi.org/10.1007/s11104-008-9855-2
Keywords