Abstract
The potential use of a layered double hydroxide (LDH) to act as a nitrate buffer system in soil in order to reduce the movement of nitrate was investigated. Long-term plant and soil experiments were carried out under greenhouse conditions with the following objectives: (i) evaluate the nitrate adsorption capacity of the LDH during crop growth, and its influence on N uptake, (ii) study the ability of the LDH to adsorb nitrate mineralized during fallow periods, and its influence on nitrate leaching, (iii) evaluate the reversibility for nitrate exchange of the LDH under cultivation conditions, and (iv) determine the nitrate buffer capacity of the soil after LDH application. The LDH adsorbed nitrate from the soil solution during the growth period without affecting plant N uptake. As a result of the adsorption of nitrate on the LDH, the nitrate-N concentration in the soil solution at harvest was reduced by a factor of ten compared to a soil without LDH. The LDH efficiently adsorbed nitrate that was mineralized in the soil during periods without cultivation, reduced nitrate-N leaching losses by about 80%, and kept this nitrate available for a following crop. The nitrate buffer capacity of the soil after 15months increased from 0.3 (without LDH) to 2.7 with the application of 10g LDH kg−1 soil. It is concluded that the LDH has a potential to be used as a long-term nitrate exchanger to control the movement of nitrate in soil, and thereby reduce risks of nitrate leaching in crop production in sensible areas.
This is a preview of subscription content,
to check access.
Access this article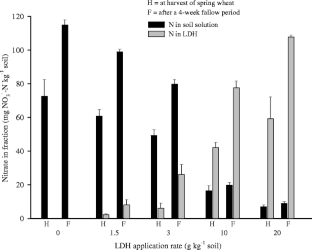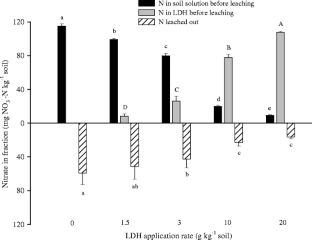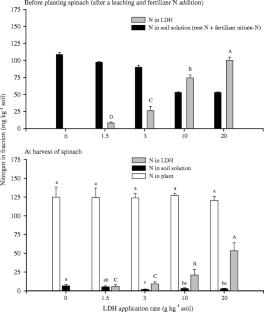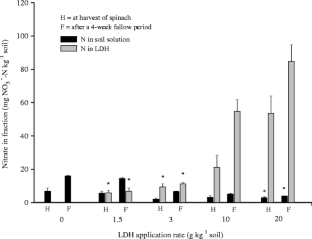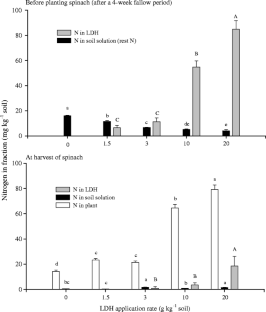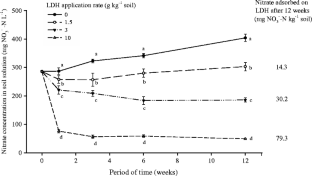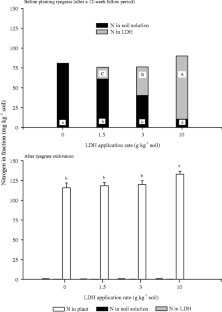 References
Adams M (1995) Fundamentos de química de suelos. Consejo de Desarrollo Científico y Humanístico, Universidad Central de Venezuela, Caracas

Adams F, Burmester C, Hue N, Long F (1980) A comparison of column-displacement and centrifuge methods for obtaining soil solutions. Soil Sci Soc Am J 44:733–735

Addiscott T (2005) Nitrate, agriculture and the environment. CABI, Wallingford

Addiscott T, Whitmore A, Powlson D (1991) Farming, fertilizers and the nitrate problem. CAB International, Wallingford

Amberger A (2006) Soil fertility and plant nutrition in the tropics and subtropics. International Fertilizer Industry Association/International Potash Institute, Paris, France/Horgen, Switzerland

Bataglia O, Quaggio J, Ferreira de Abreu M, Ronchini-Boaventura P (2005) Nutrient uptake and leaching on citrus nursery production in substrate with two fertilizer management programs. Acta Hortic 697:281–284

Beavers K (1999) A crystal chemical study on layered double hydroxides (LDHs): an approach to develop an anion exchanger. Ph.D. thesis, University of Hannover, Germany

Blankenau K, Kuhlmann H, Olfs H-W (2000a) Effect of increasing rates of 15N-labelled fertilizer on recovery of fertilizer N in plant and soil N pools in a pot experiment with winter wheat. J Plant Nutr Soil Sci 163:475–480 doi:10.1002/1522-2624(200010)163:5<475::AID-JPLN475>3.0.CO;2-W

Blankenau K, Olfs H-W, Kuhlmann H (2000b) Effect of microbial nitrogen immobilization during the growth period on the availability of nitrogen fertilizer for winter cereals. Biol Fertil Soils 32:157–165 doi:10.1007/s003740000230

Borchardt G (1989) Smectites. In: Dixon J, Weed S (eds) Minerals in soil environments. SSSA Book Series No. 1. SSSA, Madison, pp 675–728

Bull C (2001) Development and evaluation of layered double hydroxides (LDHs) for nitrate exchange in soil. Cuvillier, Göttingen

Claassen N, Steingrobe B (1999) Mechanistic simulation models for a better understanding of nutrient uptake from soil. In: Rengel Z (ed) Mineral nutrition of crops: fundamental mechanisms and implications. Haworth, New York, pp 327–367

Colangelo D, Brand M (2001) Nitrate leaching beneath a containerized nursery crop receiving Trickle or Overhead Irrigation. J Environ Qual 30:1564–1574

de Roy A, Forano C, Besse J (2001) Layered double hydroxides: synthesis and post-synthesis modification. In: Rives V (ed) Layered double hydroxides: present and future. Nova Science, New York, pp 1–38

Douglas L (1989) Vermiculites. In: Dixon J, Weed S (eds) Minerals in soil environments. SSSA Book Series No. 1. SSSA, Madison, pp 635–674

Drits V, Bookin A (2001) Crystal structure and X-ray identification of layered double hydroxides. In: Rives V (ed) Layered double hydroxides: present and future. Nova Science, New York, pp 39–92

EU—European Union (2000) Directive 2000/60/EC of the European parliament and of the council of 23 October 2000 establishing a framework for community action in the field of water policy. Official Journal of the European Union, L 327. Brussels, pp 1–72

EU—European Union (2006) Directive 2006/118/EC of the European parliament and of the council of 22 December 2006 on the protection of groundwater against pollution and deterioration. Official Journal of the European Union, L 372. Brussels, pp 19–31

Feder F, Trolard F, Klingerlhöfer G, Bourrié G (2005) In situ Mössbauer spectroscopy: evidence of green rust (fougerite) in a gleysol and its mineralogical transformations with time and depth. Geochim Cosmochim Acta 69:4463–4483 doi:10.1016/j.gca.2005.03.042

Fernández-Escobar R, Benlloch M, Herrera E, García-Novelo J (2004) Effect of traditional and slow-release N fertilizers on growth of olive nursery plants and N losses by leaching. Sci Hortic (Amsterdam) 101:39–49 doi:10.1016/j.scienta.2003.09.008

Francis G, Bartley K, Tabley F (1998) The effect of winter cover crop management on nitrate leaching losses and crop growth. J Agric Sci Camb 131:299–308 doi:10.1017/S0021859698005899

Gillman G (1976) A centrifuge method for obtaining soil solution. Division of soils divisional report No 16. CSIRO, Australia

Gillman G, Noble A (2005) Environmentally manageable fertilizers: a new approach. Environ Qual Manag 366:926–931

Holz F (1971) Die automatische Bestimmung des Stickstoffs als Indophenolgrün in Böden und Pflanzen. Landw Forsch 26:177–191

Huang Z, Petrovic M (1994) Clinoptilolite zeolite influence on nitrate leaching and nitrogen use efficiency in simulated sand based golf greens. J Environ Qual 23:1190–1194

IFA—Task force on reactive nitrogen (2007) Sustainable management of the nitrogen cycle in agriculture and mitigation of reactive nitrogen side effects, 1st edn. International Fertilizer Industry, Paris

IUSS Working Group WRB (2006) World reference base for soil resources 2006. World soil resources reports 103. FAO, Rome

Jungk A, Claassen N (1997) Ion diffusion in the soil-root system. Adv Agron 61:53–110 doi:10.1016/S0065-2113(08)60662-8

Khan A, O'hare D (2002) Intercalation chemistry of layered double hydroxides: recent developments and applications. J Mater Chem 12:3191–3198 doi:10.1039/b204076j

Knappe S, Haferkorn U, Meissner R (2002) Influence of different agricultural management systems on nitrogen leaching: results of lysimeter studies. J Plant Nutr Soil Sci 165:73–77 doi:10.1002/1522-2624(200202)165:1<73::AID-JPLN73>3.0.CO;2-O

Köhler K, Duijnisveld W, Böttcher J (2006) Nitrogen fertilization and nitrate leaching into groundwater on arable sandy soils. J Plant Nutr Soil Sci 169:185–195 doi:10.1002/jpln.200521765

Komarneni S, Newalkar B, Li D, Gheyi T, Lopano C, Heaney P et al (2003) Anionic clays as potential slow-release fertilizers: nitrate ion exchange. J Porous Mater 10:243–248 doi:10.1023/B:JOPO.0000011385.19108.49

Navone R (1964) Proposed method for nitrate in potable waters. J Am Water Works Assoc 56:781–783

Neeteson J, Carton O (2001) The environmental impact of nitrogen in field vegetable production. Acta Hortic 563:21–28

Olness A (1999) A Description of the general effect of the pH on formation of nitrate in soils. J Plant Nutr Soil Sci 162:549–556 doi:10.1002/(SICI)1522-2624(199910)162:5<549::AID-JPLN549>3.0.CO;2-K

Petrovic A (2004) Nitrogen source and timing impact on nitrate leaching from turf. Acta Hortic 661:427–432

Qian C, Cai Z (2007) Leaching of nitrogen from subtropical soils as affected by nitrification potential and base cations. Plant Soil 300:197–205 doi:10.1007/s11104-007-9404-4

Riley H (2002) Nitrogen contribution of various vegetables residues to succeeding barley and potato crops. Eur J Hortic Sci 67:17–22

Ryan M, Sherwood M, Fanning A (2001) Leaching of nitrate-N (NO3-N) from cropped and fallow soil - a lysimeter study with ambient and imposed rainfall regimes. Ir Geogr 43:34–49

Schmidt E (1982) Nitrification in soil. In: Stevenson F (ed) Nitrogen in agricultural soils. ASA–CSSA–SSSA, Madison, Wisconsin, pp 253–288

Shepherd M, Lord E (2004) Controlling losses to water. In: Hatch D, Chadwick D, Jarvis S, Roker J (eds) Controlling nitrogen flows and losses. Wageningen Academic, Wageningen, pp 381–388

Shuman L (2006) Normal and flush irrigation effects on nitrogen leaching from simulated golf greens in the greenhouse. Commun Soil Sci Plant Anal 37:605–619 doi:10.1080/00103620500449484

Smolders E, Merckx R (1992) Growth and shoot:root partitioning of spinach plants as affected by nitrogen supply. Plant Cell Environ 15:795–807 doi:10.1111/j.1365-3040.1992.tb02147.x

Strebel O, Duijnisveld W, Böttcher J (1989) Nitrate pollution of groundwater in western Europe. Agric Ecosyst Environ 26:189–214 doi:10.1016/0167-8809(89)90013-3

Thorup-Kristensen K (2001) Are differences in root growth of nitrogen catch crops important for their ability to reduce soil nitrate-N content, and how can this be measured? Plant Soil 230:185–195 doi:10.1023/A:1010306425468

Torres-Dorante L (2007) Evaluation of a layered double hydroxide (LDH) mineral as a long-term nitrate exchanger in soil. Cuvillier, Göttingen

Torres-Dorante L, Lammel J, Kuhlmann H, Witzke T (2006) Plant availability of nitrate adsorbed on a mineral anion exchanger. In: Proceedings of the first joint conference of the German Society for Plant Nutrition (Annual meeting) and the Research Centre Biotechnology & Plant Breeding (21st Colloquium). University of Hohenheim. Institute of Plant Nutrition. September 26–28th, Stuttgart-Hohenheim, Germany

Trindade H, Coutinho J, van Beusichem M, Scholefield D, Moreira N (1997) Nitrate leaching from sandy loam soils under a double-cropping forage system estimated from suction-probe measurements. Plant Soil 195:247–256 doi:10.1023/A:1004289814201

Wehrmann J, Scharpf H-C (1986) The Nmin-method—an aid to integrating various objectives of nitrate fertilization. J Plant Nutr Soil Sci 149:428–440 doi:10.1002/jpln.19861490407

Wehrmann J, Scharpf H-C (1989) Reduction of nitrate leaching in a vegetable farm—fertilization, crop rotation, plant residues. In: Germon J (ed) Management systems to reduce impact of nitrates. Elsevier, London–New York, pp 147–157

Zornoza P, González M (1998) Varietal specificity in growth, nitrogen uptake, and distribution under contrasting forms of nitrogen supply in spinach. J Plant Nutr 21:837–847
Additional information
Responsible Editor: Hans Lambers.
About this article
Cite this article
Torres-Dorante, L.O., Lammel, J. & Kuhlmann, H. Use of a layered double hydroxide (LDH) to buffer nitrate in soil: long-term nitrate exchange properties under cropping and fallow conditions. Plant Soil 315, 257–272 (2009). https://doi.org/10.1007/s11104-008-9748-4
Received:

Accepted:

Published:

Issue Date:

DOI: https://doi.org/10.1007/s11104-008-9748-4
Keywords