Abstract
Soil properties (i.e. soil organic carbon, SOC; soil organic nitrogen, SON; and soil C/N ratio) and vegetation in a semiarid grassland of Inner Mongolia, northern China, were studied with the method of geostatistical analysis. We examined the spatial heterogeneity of soil and plants, and possible impacts of land use on their heterogeneity and on the relationship between soil resources and plant richness. Land use affected small scale spatial heterogeneity in plants and soil. SOC, SON and C/N ratio displayed autocorrelation over a range of ∼2 m under most circumstances on sites where livestock grazing had been excluded. The uncontrolled grazing site (UG, i.e. unregulated grazing by excessive livestock) displayed an increased range of spatial autocorrelation and the total amount of variability in soil nitrogen over the other land use types. Plant life forms and plant species exhibited spatial autocorrelation over a range of about 2 m on the grazing exclusion (GE) and mowed (MW) sites, while pattern of spatial autocorrelation for several less common species on the UG site were difficult to predict. Plant species richness was positively related with spatial heterogeneity of SOC, SON and C/N on both GE and MW sites, and with only SOC heterogeneity on the UG site. These suggest that spatial soil heterogeneity plays an active role in maintaining plant species richness. However, we call for caution in generalization of the control of spatial soil heterogeneity over plant richness when multiple modes of disturbances are present, as we found in this study that higher total amount of variation in soil nitrogen and C/N ratio on the over-grazed UG site did not lead to increased plant species richness, and that land use had apparent effects on the patterns of spatial heterogeneity in both vegetation and soil.
Access options
Buy single article
Instant access to the full article PDF.
USD 39.95
Price excludes VAT (USA)
Tax calculation will be finalised during checkout.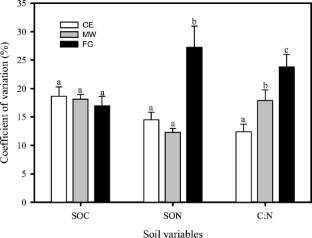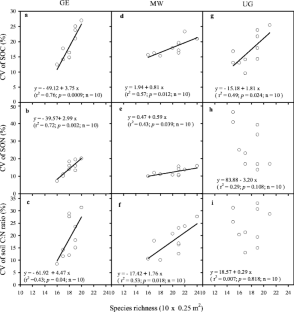 Abbreviations
AB:

annuals and biennials

UG:

uncontrolled grazing

GE:

grazing exclusion

MW:

mowed

PR:

perennial rhizomatous grasses

PB:

perennial bunchgrasses

PF:

perennial forbs

SS:

shrubs and semi-shrubs

MSH:

the magnitude of spatial heterogeneity
References
Anderson TM, McNaughton SJ, Ritchie ME (2004) Scale-dependent relationships between the spatial distribution of a limiting resource and plant species diversity in an African grassland ecosystem. Oecologia 139:277–287

Augustine DJ, Frank DA (2001) Effects of migratory grazers on spatial heterogeneity of soil nitrogen properties in a grassland ecosystem. Ecology 82:3149–3162

Bai YF, Xu ZX, Li DX (2002) On the small scale spatial heterogeneity of soil moisture, carbon and nitrogen in Stipa communities of the Inner Mongolia Plateau. Act Ecol Sin 22:1215–1223 (in Chinese with English abstract)

Bakker C, Blair JM, Knapp AK (2003) Does resource availability, resource heterogeneity or species turnover mediate changes in plant species richness in grazed grasslands? Oecologia 137:385–391

Cheng X, An S, Chen J, Li B, Liu Y, Liu S (2007) Spatial relationships among species, above-ground biomass, N, and P in degraded grasslands in Ordos Plateau, northwestern China. J Arid Environ 68:652–667

Collins SL, Barber SC (1985) Effects of disturbance on diversity in mixed-grass prairie. Vegetatio 64:87–94

Collins SL, Glenn SM (1990) A hierarchical analysis of species abundance patterns in grassland vegetation. Am Nat 135:633–648

Davies KF, Chesson P, Harrison S, Inouye BD, Melbourne BA, Rice KJ (2005) Spatial heterogeneity explains the scale dependence of the native-exotic diversity relationship. Ecology 86:1602–1610

Einsmann JC, Jones RH, Pu M, Mitchell RJ (1999) Nutrient foraging traits in 10 co-occurring plant species of contrasting life forms. J Ecol 87:609–619

FAO-UNESCO (1974) Soil map of the world at 1 : 5 000 000, I. Legend. UNESCO, Paris

Gallaher RN, Weldon CO, Boswell FC (1976) A semiautomated procedure for total nitrogen in plant and soil samples. Soil Sci Soc Am J 40:887–889

Gamma Design Software (1992) GS+: geostatistics for the environmental sciences, version 2.1. Gamma Design, Plainwell

Gross K, Pregitzer K, Burton AJ (1995) Spatial variation in nitrogen availability in three successional plant communities. J Ecol 83:357–367

Harpole WS, Tilman D (2007) Grassland species loss resulting from reduced niche dimension. Nature 446:791–793

Hawkins BA, Field R, Cornell HV, Currie DJ, Guegan JF, Kaufman DM, Kerr JT, Mittelbach GG, Oberdorff T, O'Brien EM, Porter EE, Turner JRG (2003) Energy, water, and broad-scale geographic patterns of species richness. Ecology 84:3105–3117

Holland JD, Bert DG, Fahrig L (2004) Determining the spatial scale of species' response to habitat. BioScience 54:227–233

Howe H (1999) Dominance, diversity and grazing in tallgrass prairie restoration. Ecol Restor 17:59–64

Hutchings MJ, John EA, Wijesinghe DK (2003) Toward understanding the consequences of soil heterogeneity fro plant populations and communities. Ecology 84:2322–2334

Kang L, Han X, Zhang Z, Sun OJ (2007) Grassland ecosystems in China: review of current knowledge and research advancement. Phil. Trans. R. Soc. B 362:997–1008

Kleb HR, Wilson SD (1997) Vegetation effects on soil resource heterogeneity in prairie and forest. Am Nat 150:283–293

Kumar S, Stohlgern TJ, Chong GW (2006) Spatial heterogeneity influences native and nonnative species richness. Ecology 87:3186–3199

Lane DR, BassiriRad H (2005) Diminishing spatial heterogeneity in soil organic matter across a prairie restoration chronosequence. Restor Ecol 13:403–412

Levine JM, D'Antonio CM (1999) Elton revisited: a review of evidence linking diversity and invasibility. Oikos 87:15–26

Milchunas DG, Lauenroth WK (1995) Inertia in plant community structure: state changes after cessation of nutrient-enrichment stress. Ecol Appl 5:452–458

Milne BT (1991) Heterogeneity as a multiscale characteristic of landscape. In: Kolasa J, Pickett STA (eds) Ecological heterogeneity. Springer, New York, pp 69–84

Nelson DW, Sommers LE (1982) Total carbon, organic carbon, and organic matter. In: Page AL, Miller RH, Keeney DR (eds) Methods of soil analysis. American Society of Agronomy and Soil Science Society of American, Madison, pp 101–129

Palmer MW (1990) Spatial scale and patterns of species–environment relationships in hardwood forest of the North Carolina piedmont. Coenoses 5:79–87

Palmer TM (2003) Spatial habitat heterogeneity influences competition and coexistence in an african acacia ant guild. Ecology 84:2843–2855

Pastor J, Dewey B, Moen R, Mladenoff DJ, White M, Cohen Y (1998) Spatial patterns in the moose–forest–soil ecosystem on Isle Royale, Michigan, USA. Ecol Appl 8:411–424

Reynolds HL, Mittelbach GG, Darcy-Hall TL, Houseman RH, Gross KL (2007) No effect of varying soil resource heterogeneity on plant species richness in a low fertility grassland. J Ecol 95:723–733

Robertson GP (1987) Geostatistics in ecology: interpolating with known variance. Ecology 68:744–748

Robertson GP, Crum JR, Ellis BG (1993) The spatial variability of soil resources following long-term disturbance. Oecologia 96:451–456

Schlesinger WH, Raikes JA, Hartley AE, Cross AF (1996) On the spatial pattern of soil nutrients in desert ecosystems. Ecology 77:364–374

Tilman D, Downing JA (1994) Biodiversity and stability in grasslands. Nature 367:363–365

Vinton MA, Burke IC (1995) Interactions between individual plant species and soil nutrient status in short-grass steppe. Ecology 76:1116–1133

Wagner HH, Fortin MJ (2005) Spatial analysis of landscapes: concepts and statisitics. Ecology 86:1975–1987

Wang QB, Li LH, Liu XH, He JS (1998) Spatial heterogeneity of soil organic carbon and total nitrogen in a XiLin riber basin grassland, Inner Mongolia. Act Phytoecol Sin 22:409–414 (in Chinese with English abstract)

Wardle DA, Bonner KI, Barker GM et al (1999) Plant removals in perennial grassland: vegetation dynamics, decomposers, soil biodiversity, and ecosystem properties. Ecol Monogr 69:535–568

Wijesinghe DK, John EA, Hutchings MJ (2005) Does pattern of soil resource heterogeneity determine plant community structure? An experimental investigation. J Ecol 93:99–112

Xiao CW, Janssens IA, Liu P, Zhou ZY, Sun OJ (2007) Irrigation and enhanced soil carbon input effects on below-ground carbon cycling in semiarid temperate grasslands. New Phytol 174:835–846

Zhou Z, Sun OJ, Huang J, Gao Y, Han X (2006) Land use affects the relationship between species diversity and productivity at the local scale in a semiarid steppe ecosystem. Funct Ecol 20:753–762

Zhou ZY, Sun OJ, Huang JH, Li LH, Liu P, Han XG (2007) Soil carbon and nitrogen store and storage potential as affected by land-use in an agro-pastoral ecotone of northern China. Biogeochem 82:127–138
Acknowledgements
Principle funding for this research was provided by the National Natural Science Foundation of China (grant no. 30521002). We gratefully acknowledge the field and laboratory assistance from Wenming Bai, Wenyan Yang, Wei Zhao, Ping Liu, Xuelin Zhang, Hongtao Zhao, Guangmei Wang, Yingzhi Gao, Jin Liu, Jiaqian Tian and Zhidan Yan. We thank Wenting Xu for helpful advice on data analysis and the Duolun Restoration Ecology Experimentation and Demonstration Station for permission to conduct this research on its experimental field sites. The constructive comments by two anonymous reviewers have helped to improve this paper over an earlier version.
Additional information
Responsible Editor: Tibor Kalapos.
About this article
Cite this article
Zhou, Z., Sun, O.J., Luo, Z. et al. Variation in small-scale spatial heterogeneity of soil properties and vegetation with different land use in semiarid grassland ecosystem. Plant Soil 310, 103–112 (2008). https://doi.org/10.1007/s11104-008-9633-1
Received:

Accepted:

Published:

Issue Date:

DOI: https://doi.org/10.1007/s11104-008-9633-1
Keywords
Geostatistics

Heterogeneity

Land use

Species richness

Soil resources

Semiarid grassland