Abstract
Aiming at investigating the species composition and the association between ribosomal/housekeeping genes and symbiotic genes of rhizobia nodulating with soybean grown in the subtropical and tropic regions of China, a total of 252 rhizobial strains isolated from five eco-regions was characterized. Four genomic groups, Bradyrhizobium japonicum complex (including B. liaoningense, B. japonicum and a B. japonicum related genomic species) and B. elkanii as the major groups, B. yuanmingense and Sinorhizobium fredii as the minor groups, were identified by the ribosomal/housekeeping gene analyses. The symbiotic gene phylogenies were coherent with those of the housekeeping genes in these four genomic groups, indicating that the symbiotic genes were mainly maintained by vertical transfer in the soybean rhizobia. In correspondence analysis, the Bradyrhizobium species were not significantly related to the eco-regions, possibly due to the similar climate and soil conditions in these regions.
Access options
Buy single article
Instant access to the full article PDF.
USD 39.95
Price excludes VAT (USA)
Tax calculation will be finalised during checkout.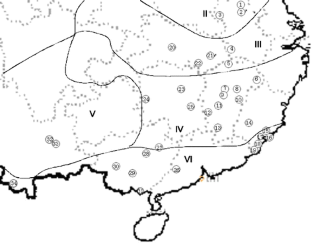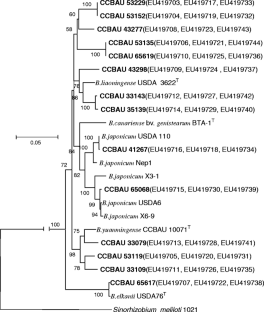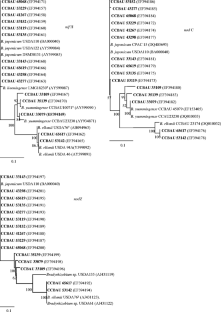 References
Abaidoo RC, Keyser HH, Singleton PW, Borthakur D (2002) Comparison of molecular and antibiotic resistance profile methods for the population analysis of Bradyrhizobium spp. (TGx) isolates that nodulate the new TGx soybean cultivars in Africa. J Appl Microbiol 92:109–117

Ando S, Yokoyama T (1999) Phylogenetic analyses of Bradyrhizobium strains nodulating soybean (Glycine max) in Thailand with reference to the USDA strains of Bradyrhizobium. Can J Microbiol 45:639–645

Barcellos FG, Menna P, da Silva Batista JS, Hungria M (2007) Evidence of horizontal transfer of symbiotic genes from a Bradyrhizobium japonicum inoculant strain to indigenous diazotrophs Sinorhizobium (Ensifer) fredii and Bradyrhizobium elkanii in a Brazilian Savannah soil. Appl Environ Microbiol 73:2635–2643

Camacho M, Santamaria C, Temprano F, Rodriguez–Navarro DN, Daza A, Espuny R, Bellogin R, Ollero FJ, de Lyra MC, Buendia–Claveria A, Zhou J, Li FD, Mateos C, Velazquez E, Vinardell JM, Ruiz–Sainz JE (2002) Soils of the Chinese Hubei province show a very high diversity of Sinorhizobium fredii strains. Syst Appl Microbiol 25:592–602

Chen WX, Yan GH, Li JL (1988) Numerical taxonomy study of fast-growing soybean rhizobia and a proposal that Rhizobium fredii be assigned to Sinorhizobium gen. nov. Int J Syst Bacteriol 38:392–397

Chen WX, Wang ET, Wang SY, Li YB, Chen XQ, Li Y (1995) Characteristics of Rhizobium tianshanense sp. nov. moderately and slowly growing nodule bacterium isolated from an acid saline environment in Xinjiang, People's Republic of China. Int J Syst Bacteriol 45:153–159

Chen LS, Figueredo A, Pedrosa FO, Hungria M (2000) Genetic characterization of soybean rhizobia in Paraguay. Appl Environ Microbiol 66:5099–5103

De Ley J, Cattoir H, Reynaerts A (1970) The quantitative measurement of DNA hybridization from renaturation rates. Eur J Biochem 12:133–142

Downie JA (1998) Functions of rhizobial nodulation genes. In: Spaink HP, Kondorosi A, Hooykaas PJJ (eds) The rhizobiaceae. Kluwer, Dordrecht, pp 387–402

Gao JL, Terefework Z, Chen WX, Lindström K (2001) Genetic diversity of rhizobia isolated from Astragalus adsurgens growing in different geographical regions of China. J Biotech 91:155–168

Han SZ, Wang ET, Chen WX (2005) Diverse bacteria isolated from root nodules of Phaseolus vulgaris and species within the genera Campylotropis and Cassia grown in China. Syst Appl Microbiol 28:265–276

Hurek T, Wagner B, Reinhold-Hurek B (1997) Identification of N2-fixing plant- and fungus-associated Azoarcus species by PCR–based genomic fingerprints. Appl Environ Microbiol 63:4331–4339

Jordan DC (1984) Family III. Rhizobiaceae Conn 1938. In: Krieg NR, Holt JG (eds) Bergey's manual of systematic bacteriology. Williams & Wilkins, Baltimore, pp 234–244

Kumar S, Tamura K, Nei M (2004) MEGA3: Integrated software for molecular evolutionary genetics analysis and sequence alignment. Brief Bioinform 5:150–163

Laguerre G, Nour SM, Macheret V, Sanjuan J, Drouin P, Amarger N (2001) Classification of rhizobia based on nodC and nifH gene analysis reveals a close phylogenetic relationship among Phaseolus vulgaris symbionts. Microbiology 147:981–993

Lie TA, Goktan D, Engin M, Pijnenborg J, Anlarsal E (1987) Co-evolution of the legume–Rhizobium association. Plant Soil 100:171–181

Liu XY, Wang ET, Li Y, Chen WX (2007) Diverse bacteria isolated from root nodules of Trifolium, Crotalaria and Mimosa grown in the subtropical regions of China. Arch Microbiol 188:1–14

Madrzak CJ, Golinska B, Kroliczak J, Pudelko K, Lazewska D, Lampka B, Sadowsky MJ (1995) Diversity among field Populations of Bradyrhizobium japonicum in Poland. Appl Environ Microbiol 61:1194–1200

Martens M, Dawyndt P, Coopman R, Gillis M, De Vos P, Willems A (2008) Advantages of multilocus sequence analysis for taxonomic studies: a case study using 10 housekeeping genes in the genus Ensifer (including former Sinorhizobium). Int J Syst Evol Microbiol 58:200–214

Mnasri B, Mrabet M, Laguerre G, Aouani ME, Mhamdi R (2007) Salt-tolerant rhizobia isolated from a Tunisian oasis that are highly effective for symbiotic N2-fixation with Phaseolus vulgaris constitute a novel biovar (bv. mediterranense) of Sinorhizobium meliloti. Arch Microbiol 187:79–85

Moulin L, Béna G, Boivin-Masson C, Stepkowski T (2004) Phylogenetic analyses of symbiotic nodulation genes support vertical and lateral gene co-transfer within the Bradyrhizobium genus. Mol Phylogenet Evol 30:720–732

Ormeño-Orrillo E, Vinuesa P, Zuñiga-Dávila D, Martínez-Romero E (2006) Molecular diversity of native bradyrhizobia isolated from lima bean (Phaseolus lunatus L.) in Peru. Syst Appl Microbiol 29:253–262

Perret X, Staehelin C, Broughton WJ (2000) Molecular basis of symbiotic promiscuity. Microbiol Mol Biol Rev 64:180–201

Rasolomampianina R, Bailly X, Fetiarison R, Rabevohitra R, Bena G, Ramaroson L, Raherimandimby M, Moulin L, De Lajudie P, Dreyfus B, Avarre JC (2005) Nitrogen-fixing nodules from rose wood legume trees (Dalbergia spp.) endemic to Madagascar host seven different genera belonging to alpha- and beta-Proteobacteria. Mol Ecol 14:4135–4146

Santos MA, Vargas MA, Hungria M (1999) Characterization of soybean Bradyrhizobium strains adapted to the Brazilian savannas. FEMS Microbiol Ecol 30:261–272

Tan ZY, Xu XD, Wang ET, Gao JL, Martínez–Romero E, Chen WX (1997) Phylogenetic and genetic relationships of Mesorhizobium tianshanense and related rhizobia. Int J Syst Bacteriol 47:874–879

Thompson JD, Gibson TJ, Plewniak F, Jeanmougin F, Higgins DG (1997) The ClustalX windows interface: flexible strategies for multiple sequence alignment aided by quality analysis tools. Nucleic Acids Res 25:4876–4882

Tian CF, Wang ET, Han TX, Sui XH, Chen WX (2007) Genetic diversity of rhizobia associated with Vicia faba in three ecological regions of China. Arch Microbiol 188:273–282

van Berkum P, Fuhrmann JJ (2001) Characterization of soybean bradyrhizobia for which serogroup affinities have not been identified. Can J Microbiol 47:519–525

Vincent JM (1970) A manual for the practical study of root–nodule bacteria. Blackwell Scientific, Oxford, UK

Vinuesa P, León-Barrios M, Silva C, Willems A, Jarabo-Lorenzo A, Pérez-Galdona R, Werner D, Martínez-Romero E (2005a) Bradyrhizobium canariense sp. nov., an acid-tolerant endosymbiont that nodulates endemic genistoid legumes (Papilionoideae: Genisteae) from the Canary Islands, along with Bradyrhizobium japonicum bv. genistearum, Bradyrhizobium genospecies alpha and Bradyrhizobium genospecies beta. Int J Syst Evol Microbiol 55:569–575

Vinuesa P, Silva C, Lorite MJ, Izaguirre-Mayoral ML, Bedmar EJ, Martínez-Romero E (2005b) Molecular systematics of rhizobia based on maximum likelihood and Bayesian phylogenies inferred from rrs, atpD, recA and nifH sequences, and their use in the classification of Sesbania microsymbionts from Venezuelan wetlands. Syst Appl Microbiol 28:702–216

Wang YK, Gai JY (2002) Study on the ecological regions of soybean in China (II). Ecological environment and representative varieties. Chin J Appl Ecol 13:71–75

Wang ET, Rogel MA, García-de los Santos A, Martínez-Romero J, Cevallos MA, Martínez-Romero E (1999) Rhizobium etli bv. mimosae, a novel biovar isolated from Mimosa affinis. Int J Syst Bacteriol 49:1479–1491

Wayne L, Brenner DJ, Colwell RR, Grimont PAD, Kandler O, Krichevsky MI, Moore LH, Moore WEC, Murray RGE, Stackebrandt E, Starr MP, Trüper HG (1987) Report of the Ad Hoc Committee on reconciliation of approaches to bacterial systematics. Int J Syst Bacteriol 37:463–464

Willems A, Coopman R, Gillis M (2001) Comparison of sequence analysis of 16S-23S rDNA spacer regions, AFLP analysis and DNA-DNA hybridizations in Bradyrhizobium. Int J Syst Evol Microbiol 51:623–632

Xu LM, Ge C, Cui Z, Li J, Fan H (1995) Bradyrhizobium liaoningense sp. nov., isolated from the root nodules of soybean. Int J Syst Bacteriol 45:706–711

Yang JK, Zhang WT, Yuan TY, Zhou JC (2006) Genotypic characteristics of the rrn operon and genome of indigenous soybean bradyrhizobia in cropping zones of China. Can J Microbiol 52:968–976
Acknowledgements
This work was financial supported by the foundation of the State Key Basic Research and Development Plan of China (grant 2006CB100206), National Natural Science Foundation of China (grant 30670001), and by National Project for Basic S&T Platform Construction (grant 2005DKA21201-10). ETW was supported by the project of SIP 20070538 and 20080322.
Additional information
Responsible Editor: Euan K. James.
Electronic supplementary material
Below is the link to the electronic supplementary material.
About this article
Cite this article
Man, C.X., Wang, H., Chen, W.F. et al. Diverse rhizobia associated with soybean grown in the subtropical and tropical regions of China. Plant Soil 310, 77–87 (2008). https://doi.org/10.1007/s11104-008-9631-3
Received:

Accepted:

Published:

Issue Date:

DOI: https://doi.org/10.1007/s11104-008-9631-3
Keywords
Bradyrhizobia

Soybean

House-keeping gene sequence

Symbiotic gene phylogeny

Correlation