Abstract
Soil and hydroponic culture experiments were conducted to investigate the effects of phosphite (Phi) as phosphorus (P) fertilizer via root and foliar applications on the growth and P supply of komatsuna. In both experiments, root P treatments were combinations of Phi and phosphate (Pi) at different Pi:Phi ratios, for a total of high P level (92 mg P pot−1; the soil experiment) or low P level (0.05 mM P; the hydroponic experiment). Foliar P treatments were deionized water (control), a Pi solution and a Phi solution at low concentration of 0.05% P2O5. In both experiments, shoot dry weight of plants significantly decreased as Pi:Phi ratio decreased. In the soil experiment, plants grew abnormally at a Pi:Phi ratio of 25:75 and died when P was applied to soil entirely as Phi form (0:100 treatment). In the hydroponic experiment, no visible damage was found in shoot but root growth was strongly inhibited with severe damage symptoms at low Pi:Phi ratios. Total P concentration in plant decreased significantly with decreasing Pi:Phi ratio, especially in the hydroponic experiment. Foliar application of Phi although greatly increased total P of plants compared to that of Pi in both experiments, it did not improve but further decreased plant growth at low Pi:Phi ratios in the soil experiment and at all Pi:Phi ratios in the hydroponic experiment. The results of this study clearly indicated that Phi could not be used as P fertilizer by komatsuna plants via both application methods and could not substitute P at any rate at either low or high level. No beneficial effect of Phi was detected even when it was applied at low rate or applied in combination with Pi at different ratios. The effects of Phi were strongly dependent on the P nutrition status of plants; and plants that were not sufficiently fertilized with Pi may become vulnerable to Phi even at low levels.
This is a preview of subscription content, log in to check access.
Access options
Buy single article
Instant access to the full article PDF.
US$ 39.95
Price includes VAT for USA
Subscribe to journal
Immediate online access to all issues from 2019. Subscription will auto renew annually.
US$ 199
This is the net price. Taxes to be calculated in checkout.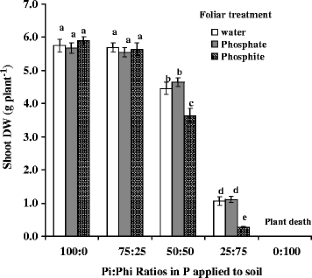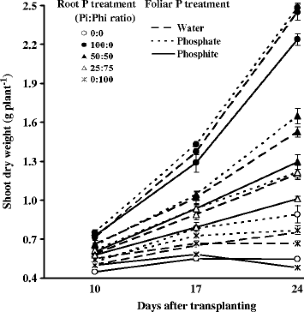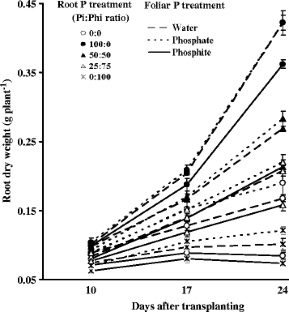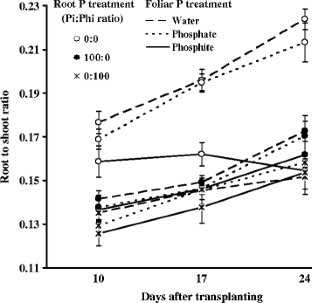 Abbreviations
P:

phosphorus

Pi:

phosphate

Phi:

phosphite

N:

nitrogen
References
Abel S, Ticconi CA, Delatorre CA (2002) Phosphate sensing in higher plants. Physiol Plant 115:1–8

Bray RH, Kurtz LT (1945) Determination of total, organic and available forms of phosphorus in soils. Soil Sci 59:39–45

Carswell MC, Grant BR, Theodorou ME, Harris J, Niere JO, Plaxton WC (1996) The fungicide phosphonate disrupts the phosphate-starvation response in Brassica nigra seedlings. Plant Physiol 110:105–110

Carswell MC, Grant BR, Plaxton WC (1997) Disruption of the phosphate-starvation response of oilseed rape suspension cells by the fungicide phosphonate. Planta 203:67–74

Date N (1986) 13. Lime requirement [buffering curve method]. In: Editorial Committee of Standard Soil Analysis and Measurement (ed) Standard soil analysis and measurement. Hakuyusya, Tokyo, Japan, pp 72–74 (in Japanese)

Forster H, Adaskaveg JE, Kim DH, Stanghellini ME (1998) Effect of phosphite on tomato and pepper plants and on susceptibility of peppers to Phytophthora root and crown rot in hydroponic culture. Plant Dis 82:1165–1170

Guest D, Grant BR (1991) The complex action of phosphonates as antifungal agents. Biol Rev 66:159–187

Japanese Society of Pedologist (1984) In: Soil survey handbook. Hakuyusha, Tokyo, p 156 (in Japanese)

Lovatt CJ (1990) A definitive test to determine whether phosphite fertilization can replace phosphate fertilization to supply P in the metabolism of 'Hass' on 'Duke 7'. A preliminary report, California Avocado Society Yearbook 74:61–64

Lovatt CJ, Mikkelsen RL (2006) Phosphite fertilizers: what are they? Can you use them? What can they do? Better crops 90:11–13

Murphy J, Riley J (1962) A modified single solution for the determination of phosphate in natural waters. Anal Chim Acta 27:31–36

Nanjo M (1986) Phosphate sorption capacity [ammonium phosphate solution method]. In: Editorial Committee of Standard Soil Analysis and Measurement (ed) Standard soil analysis and measurement. Hakuyusya, Tokyo, Japan, pp 124–127 (in Japanese)

Ohyama T, Ito M, Kobayashi K, Araki S, Yasuyoshi S, Sasaki O, Yamazaki T, Soyama K, Tanemura R, Mizuno Y, Ikarashi T (1991) Analytical procedures of N, P, K contents in plant and manure materials using H2SO4-H2O2 Kjeldahl digestion method. Jpn. Bulletin of the faculty of Agriculture, Niiagata University 43:110–120 (In Japanese with English summary)

Ouimette DG, Coffey MD (1990) Symplastic entry and phloem translocation of phosphonate. Pestic Biochem Physiol 38:18–25

Rickard DA (2000) Review of phosphorus acid and its salts as fertilizer materials. J Plant Nutr 23:161–180

Schroetter S, Angeles-Wedler D, Kreuzig R, Schnug E (2006) Effects of phosphite on phosphorus supply and growth of corn (Zea mays). Landbauforsch Völkenrode, 3/4, 56:87–99

Ticconi CA, Delatorre CA, Abel S (2001) Attenuation of phosphate starvation responses by phosphite in Arabidopsis. Plant Physiol 127:963–972

Varadarajan DK, Karthikeyan AS, Matilda PD, Raghothama KG (2002) Phosphite, an analog of phosphate, suppresses the coordinated expression of genes under phosphate starvation. Plant Physiol 129:1232–1240

Watanabe K (2005) A new fertilizer for foliar application, phosphite fertilizer. Fertilizer 101:91–96 (In Japanese)

Young DC (2004) Ammonium phosphate/phosphite fertilizer compound. U.S. patent no. 6824584
Acknowledgements
We greatly appreciate the valuable comments from editor and reviewers on the manuscript. We also would like to thank to Dr. Brenda S. Tubaña for her correcting the manuscript.
Additional information
Responsible Editor: Hans Lambers.
About this article
Cite this article
Thao, H.T.B., Yamakawa, T., Shibata, K. et al. Growth response of komatsuna (Brassica rapa var. peruviridis) to root and foliar applications of phosphite. Plant Soil 308, 1 (2008). https://doi.org/10.1007/s11104-008-9598-0
Received:

Accepted:

Published:
Keywords
Komatsuna

Phosphate

Phosphite

Plant growth

Pi:Phi ratio