Abstract
Nitrogen (N) loss is a worldwide problem in crop production. Apart from reasonable N fertilizer application, breeding N efficient cultivars provides an alternative way. Root architecture is an important factor determining N acquisition. However, little is known about the molecular genetic basis for root growth in relation to N supply. In the present study, an F8 maize (Zea may L.) recombinant inbred (RI) population consisting of 94 lines was used to identify the QTLs for root traits under different nitrate levels. The lateral root length (LRL), axial root length (ARL), maximal axial root length (MARL), axial root number (ARN) and average axial root length (AARL) were evaluated under low N (LN) and high N (HN) conditions in a hydroponics system. A total of 17 QTLs were detected among which 14 loci are located on the same chromosome region as published QTLs for root traits. A major QTL on chromosome 1 (between bnlg1025 and umc2029) for the AARL under LN could explain 43.7% of the phenotypic variation. This QTL co-localizes with previously reported QTLs that associate with root traits, grain yield, and N uptake. Our results indicate that longer axial roots are important for efficient N acquisition and the major QTL for AARL may be used as a marker in breeding N efficient maize genotypes.
Access options
Buy single article
Instant access to the full article PDF.
USD 39.95
Price includes VAT (USA)
Tax calculation will be finalised during checkout.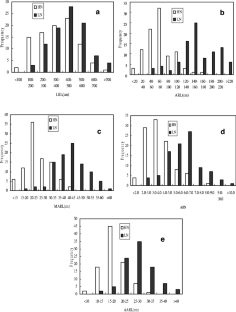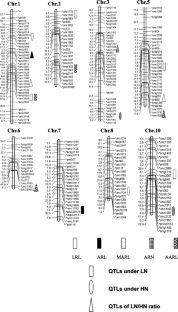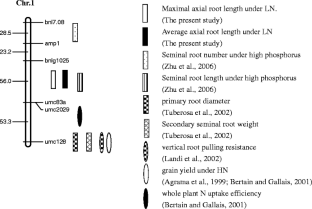 References
Agrama HAS, Zakaria AG, Said FB, Tuinstra M (1999) Identification of quantitative trait loci for nitrogen use efficiency in maize. Mol Breed 5:187–195

An DG, Su JY, Liu QY, Zhu YG, Tong YP, Li JM, Jing RL, Lin B, Li ZS (2006) Mapping QTLs for nitrogen uptake in relation to the early growth of wheat (Triticum aestivum L.). Plant Soil 284:73–84

Beebe SE, Rojas-Pierce M, Yan X, Blair MW, Pedraza F, Muñoz F, Tohme J, Lynch JP (2006) Quantitative trait loci for root architecture traits correlated with phosphorus acquisition in common Bean. Crop Sci 46:413–423

Bertin P, Gallais A (2001) Genetic variation for nitrogen use efficiency in a set of recombinant inbred lines: II. QTL detection and coincidences. Maydica 46:53–68

Chun L, Mi GH, Li JS, Chen FJ, Zhang FS (2005) Genetic analysis of maize root characteristics in response to low nitrogen stress. Plant Soil 276:369–382

Churchill GA, Doerge RW (1994) Empirical threshold values for quantitative trait mapping. Genetics 138:963–971

Dunbabin V, Diggle A, Rengel Z (2003) Is there an optimal root architecture for nitrate capture in leaching environments? Plant Cell Environ 26:835–844

Gallais A, Hirel B (2004) An approach to the genetics of nitrogen use efficiency in maize. J Exp Bot 55:295–306

Guingo E, Hébert Y, Charcosset A (1998) Genetic analysis of root traits in maize. Agronomie 18:225–235

Hirel B, Bertin P, Quillere I, Bourdoncle W, Attagnant C, Dellay C, Gouy A, Cadiou S, Retailliau C, Falque M, Gallais A (2001) Towards a better understanding of the genetic and physiological basis for nitrogen use efficiency in maize. Plant Physiol 125:1258–1270

Hochholdinger F, Woll K, Sauer M, Dembinsky D (2004) Genetic dissection of root formation in maize (Zea mays) reveals root-type specific developmental programmes. Ann Bot 93:359–368

Horst WJ, Behrens T, Heuberger H, Kamh M, Reidenbach G, Wiesler F (2003) Genotypic differences in nitrogen use efficiency in crop plants. In: Lynch JM, Schepers JS, Ünver I (eds) Innovative soil–plant systems for sustainable agricultural production. OECD, pp. 75–92

Huang G, Yi KK, Wu YR, Zhu L, Mao CZ, Wu P (2004) QTLs for nitrate induced elongation and initiation of lateral roots in rice (Oryza sativa L.). Plant Soil 263:229–237

Hund A, Fracheboud Y, Soldati A, Frascaroli E, Salvi S, Stamp P (2004) QTL controlling root and shoot traits of maize seedlings under cold stress. Theor Appl Genet 109:618–629

Jordan WR, Douglas PR, JR Shouse PJ (1983) Strategies for crop improvement for drought-prone regions. Agr Water Manage 7:281–299

Kamara AY, Kling JG, Menkir A, Ibikunle O (2003) Association of vertical root-pulling resistance with root lodging and grain yield in selected S1 maize lines derived from a tropical low-nitrogen population. J Agron Crop Sci 189:129–135

Landi P, Sanguineti MC, Darrah LL, Giuliani MM, Salvi S, Conti S, Tuberosa R (2002) Detection of QTLs for vertical root pulling resistance in maize and overlap with QTLs for root traits in hydroponics and for grain yield under different water regimes. Maydica 47:233–243

Lawlor DW (2002) Carbon and nitrogen assimilation in relation to yield: mechanisms are the key to understanding production system. J Exp Bot 53:773–787

Lebreton C, Lazic-Jancic V, Steed A, Pekic S, Quarrie SA (1995) Identification of QTL for drought responses in maize and their use in testing causal relationships between traits. J Exp Bot 46:853–865

Lian XM, Xing YZ, Yan H, Xu CG, Li XH, Zhang QF (2005) QTLs for low nitrogen tolerance at seedling stage identified using a recombinant inbred line population derived from an elite rice hybrid. Theor Appl Genet 112:85–96

Liu Y, Mi G, Chen F, Zhang J, Zhang F (2004) Rhizosphere effect and root growth of two maize (Zea mays L.) genotypes with contrasting P efficiency at low P availability. Plant Sci 167:217–223

Lynch JP (1995) Root architecture and plant productivity. Plant Physiol 109:7–13

Lynch JP, Brown KM (2001) Topsoil foraging—an architectural adaptation of plants to low phosphorus availability. Plant Soil 237:225–237

Ma XQ, Tang JH, Teng WT, Yan JB, Meng YJ, Li JS (2007) Epistatic interaction is an important genetic basis of grain yield and its components in maize. Mol Breed 20:41–51

Mackay AD, Barber SA (1986) Effect of nitrogen on root growth of two corn genotypes in the field. Agron J 77:699–703

Mano Y, Omori F, Muraki M, Takamizo T (2005) QTL mapping of adventitious formation under flooding conditions in tropical maize (Zea mays L.) seedlings. Breed Sci 55:343–347

Reymond M, Svistoonoff S, Loudet O, Nussaume L, Desnos T (2006) Identification of QTL controlling root growth response to phosphate starvation in Arabidopsis thaliana. Plant Cell Environ 29:115–125

Ribaut JM, Frachebond Y, Monneveux P, Banziger M, Vargas M, Jiang CJ (2007) Quantitative trait loci for yield and correlated traits under high and low soil nitrogen conditions in tropical maize. Mol Breed 20:15–29

Sattelmacher B, Klotz F, Marschner H (1990) Influence of the nitrogen level on root growth and morphology of two potato varieties differing in nitrogen acquisition. Plant Soil 123:131–137

Shimizu A, Yanagihara S, Kawasaki S, Ikehashi H (2004) Phosphorus deficiency-induced root elongation and its QTL in rice (Oryza sativa L.). Theor Appl Genet 109:1361–1368

Steele KA, Price AH, Shashidhar HE, Witcombe JR (2006) Marker-assisted to introgress rice QTLs controlling root traits into an Indian upland rice variety. Theor Appl Genet 112:208–221

Tian QY, Chen FJ, Zhang FS, Mi GH (2005) Possible involvement of cytokinin in nitrate-mediated root growth in maize. Plant Soil 277:185–196

Tian QY, Chen FJ, Zhang FS, Mi GH (2006) Genotypic difference in nitrogen acquisition ability in maize plants is related to the coordination of leaf and root growth. J Plant Nutr 29:317–330

Tuberosa R, Salvi S (2007) From QTLs to genes controlling root traits in maize. In: Spiertz JHJ, Struik PC, van Laar HH (eds) Scale and complexity in plant systems research: gene–plant–crop relations. Springer, pp. 13–22

Tuberosa R, Sanguineti MC, Landi P, Giuliani MM, Salvi S, Conti S (2002) Identification of QTLs for root characteristics in maize grown in hydroponics and analysis of their overlap with QTLs for grain yield in the field at two water regimes. Plant Mol Biol 48:697–712

van Beem J, Smith ME (1996) Variation in nitrogen use efficiency and root system size in temperate maize genotypes. In: Edmeades GO, Bänziger M, Mickelson HR , Valdivia CBP, Developing drought and low N-tolerant maize, Proceedings of a Symposium, March 25–29, 1996. CIMMYT, pp. 241–244

Wang Y, Mi GH, Chen FJ, Zhang JH, Zhang FS (2004) Response of root morphology of nitrate supply and its contribution to nitrogen accumulation in maize. J Plant Nutr 27:2189–2202

Wang SC, Basten CJ, Zeng ZB (2005) Windows QTL Cartographer 2.5. Department of Statistics. North Carolina State University, Raleigh, NC

Wiesler F, Horst WJ (1994) Root growth and nitrate utilization of maize cultivars under field conditions. Plant Soil 163:267–277

Zeng ZB (1994) Precision mapping of quantitative trait loci. Genetics 136:1457–1468

Zhu ZL, Chen DL (2002) Nitrogen fertilizer use in China—contributions to food production, impacts on the environment and best management strategies. Nutr Cycl Agroecosyst 63:117–127

Zhu JM, Kaeppler SM, Lynch JP (2005a) Mapping of QTL controlling root hair length in maize (Zea mays L.) under phosphorus deficiency. Plant Soil 270:299–310

Zhu JM, Kaeppler SM, Lynch JP (2005b) Mapping of QTLs for lateral root branching and length in maize (Zea mays L.) under differential phosphorus supply. Theor Appl Genet 111:688–695

Zhu JM, Mickelson SM, Kaeppler SM, Lynch JP (2006) Detection of quantitative trait loci for seminal root traits in maize (Zea mays L.) seedlings grown under differential phosphorus levels. Theor Appl Genet 113:1–10
Acknowledgements
This work is funded by the Ministry of Science and Technology of China (No. 2005CB120900) and NSF of China (No. 30600381, 30471032). FZ is supported by the Program for Changjiang Scholars and Innovative Research Team in University (IRT0511). The authors would greatly thank Prof A. D. M. Glass and Dr Yan Fu for their critical comments and improvement of the manuscript.
Additional information
Responsible Editor: Hans Lambers.
About this article
Cite this article
Liu, J., Li, J., Chen, F. et al. Mapping QTLs for root traits under different nitrate levels at the seedling stage in maize (Zea mays L.). Plant Soil 305, 253–265 (2008). https://doi.org/10.1007/s11104-008-9562-z
Received:

Accepted:

Published:

Issue Date:
Keywords
Maize (Zea may L.)

Nitrogen

Quantitative trait loci (QTLs)

Root