Abstract
It is essential to have an indication of the sustainability of an agricultural system in addition to the potential, immediate benefits well before the catastrophic consequences of non-sustainability become apparent. Long-term experiments are best suited to test sustainability of a given system. This paper has a dual objective: (1) evaluate the Greenseeker handheld NDVI sensor as a tool for measuring within plot spatial variability, (2) address the question whether different management practices affect spatial within-plot crop growth variability and what this spatial variability tells us about the cropping system performance. Therefore, spatial and time variability of crop performance were measured during the 2004 and 2005 crop cycle for all plots of the different management treatments of a long-term (started 1991) tillage and residue management trial. The NDVI readings measured with the handheld sensor correlated well with the visual scoring in the field. The hand-held sensor is time-efficient and gave reproducible results. The potential for using this tool to detect spatial crop variability, both within and between plots/treatments, is promising. The coefficient of variation (CV) for the NDVI measurement sequence in each plot was determined. The CV's throughout the crop season reflected the canopy expansion and senescence curve of maize and wheat. The CV was high at the beginning of the crop season, however, once the canopy began to close, leaves from larger plants covered the leaves and whorl of smaller plants, extending further into the linear row. Measurements to investigate spatial variability related to crop performance should thus be done after this initial stage at the end of the vegetative period when the vegetative biomass of the crops is fully established. Zero tillage systems without surface residue retention produced high CVs of the NDVI sequence and high spatial crop variability throughout the season, even after the vegetative period. As the only factors differing between the different plots are the tillage/residue/rotation practices and as similar patterns were found for all plots representing repetitions of the same management practice (zero tillage without residue retention), increased variability is an indicator of agronomic mismanagement or, conversely, of sound agriculturally production practices.
Access options
Buy single article
Instant access to the full article PDF.
US$ 39.95
Tax calculation will be finalised during checkout.
Subscribe to journal
Immediate online access to all issues from 2019. Subscription will auto renew annually.
US$ 119
Tax calculation will be finalised during checkout.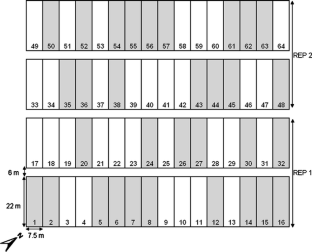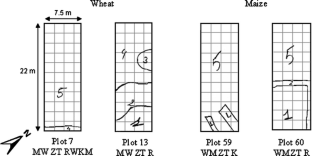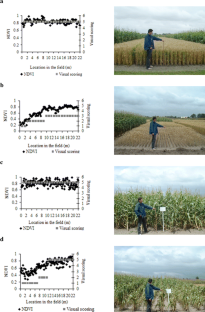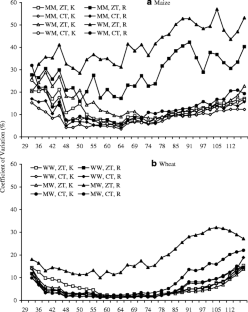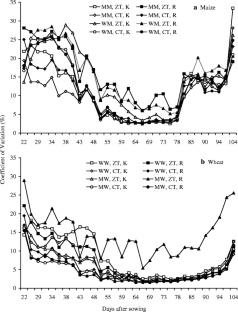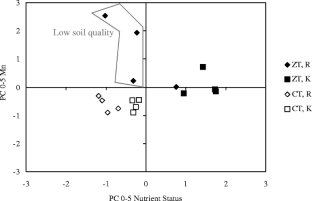 References
Adamsen FJ, Pinter PJ, Barnes EM, Lamorte RL, Wall GW, Leavitt SW, Kimball BA (1999) Measuring wheat senescence with a digital camera. Crop Sci 39:719–724

Chapman SC, Barreto HJ (1997) Using a chlorophyll meter to estimate specific leaf nitrogen of tropical maize during vegetative growth. Agron J 89:557–562

Edmeades GO, Daynard TB (1979) Development of plant-to-plant variability in maize at different planting densities. Can J Plant Sci 59:561–576

Evans JR (1989) Photosynthesis and nitrogen relationships in leaves of C-3 plants. Oecologia 78:9–19

Fischer RA, Santiveri F, Vidal IR (2002) Crop rotation, tillage and crop residue management for wheat and maize in the sub-humid tropical highlands I. Wheat and legume performance. Field Crop Res 79:107–122

Gardner G (1997) Preserving global cropland. In: Starke L (ed) State of the world 1997: a worldwatch institute report on progress toward a sustainable society. W.W. Norton and Company, NY, USA, pp 42–59

Govaerts B, Sayre KD, Deckers J (2005) Stable high yields with zero tillage and permanent bed planting? Field Crop Res 94:33–42

Govaerts B, Sayre KD, Deckers J (2006a) A minimum data set for soil quality assessment of wheat and maize cropping in the highlands of Mexico. Soil Tillage Res 87:163–174

Govaerts B, Mezzalama M, Sayre KD, Crossa J, Nicol JM, Deckers J (2006b) Long-term consequences of tillage, residue management, and crop rotation on maize/wheat root rot and nematode populations. Appl Soil Ecol 32(3):305–315

Govaerts B, Fuentes M, Sayre KD, Mezzalama M, Nicol JM, Deckers J, Etchevers J Figueroa-Sandoval B (2007a) Infiltration, soil moisture, root rot and nematode populations after 12 years of different tillage, residue and crop rotation managements. Soil Tillage Res 94:209–219

Govaerts B, Mezzalama M, Sayre KD, Crossa J, Lichter K, Troch V, Vanherck K, De Corte P, Deckers J (2007b) Long-term consequences of tillage, residue management, and crop rotation on selected soil micro-flora groups in the subtropical highlands. Appl Soil Ecol (in press)

Govaerts B, Mezzalama M, Unno Y, Sayre KD, Luna-Guido M, Vanherck K, Dendooven L, Deckers J (2007c) Influence of tillage, residue management, and crop rotation on soil microbial biomass, and catabolic diversity. Applied Soil Ecology (in press)

Herrick JE, Brown JR, Tugel AJ, Shaver PL, Havstad KM (2002) Application of soil quality to monitoring and management: paradigms from rangeland ecology. Agron J 94:3–11

Holben BN (1986) Characteristics of maximum-value composite images from temporal AVHRR data. Int J Remote Sens 7:1395–1416

IUSS Working Group WRB (2006) World reference base for soil resources. FAO, Rome, Italy, p 128

Justice CO, Eck TF, Tanré D, Holben BN (1991) The effect of water vapour on the NDVI derived for the Sahelian region from NOAA AVHRR data. Int J Remote Sens 12:1165–1188

Kumar R, Silva L (1973) Light ray tracing through a leaf cross-section. Appl Opt 12:2950–2954

Kravchenko AN, Robertson GP, Thelen KD, Harwood RR (2005) Management, topographical en weather effects on spatial variability of crop grain yields. Agron J 97:514–523

Lopez-Noverola U (1995) El C, N y P de la biomasa microbiana en suelos con diversos manejos. Tesis de maestria en ciencias. Colegio de postgraduados en ciencias agrícolas. Instituto de recursos naturales. Programa Edafología. Montecillo, Estado de Mexico, Mexico, p 150

Lukina EV, Freeman KW, Wynn KJ, Thomason WE, Mullen RW, Stone ML, Solie J B, Klatt AR, Johnson GV, Elliott RL, Raun WR (2001) Nitrogen fertilization optimization algorithm based on in-season estimates of yield and plant nitrogen uptake. J Plant Nutr 24:885–898

Ma BL, Dwyer LM, Costa C, Cober ER, Morrison MJ (2001) Early prediction of soybean yield from canopy reflectance measurements. Agron J 93:1227–1234

Maddonni GA, Otegui ME (2004) Intra-specific competition in maize: early establishment of hierarchies among plants affects final kernel set. Field Crops Res 85:1–13

Martin KL, Hodgen PJ, Freeman KW, Melchiori R, Arnall DB, Teal RK, Mullen RW, Desta K, Phillips SB, Solie JB, Stone, ML, Caviglia O, Solari F, Bianchini A, Francis DI, Schepers JS, Hatfield J, Raun WR (2005) Plant-to-plant variability in corn production. Agron J 97:1603–1611

Piekielek WP, Fox RH (1992) Use of a chlorophyll meter to predict sidedress nitrogen requirements for maize. Agron J 84:59–65

Pinter PJ (1993) Solar angle independence in the relationship between absorbed PAR and remotely sensed data for alfalfa. Remote Sens Environ 46:19–25

Powlson DS, Johnston AE (1994) Long-term field experiments: their importance in understanding sustainable land use. In: Greenland DJ, Szabolcs I (eds) Soil resilience and sustainable land use. CAB International, pp 367–394

Raimbault BA, Vyn TJ (1991) Crop-rotation and tillage effects on corn growth and soil structural stability. Agron J 83:979–985

Raun WR, Solie JB, Martin KL, Freeman KW, Stone ML, Johnson GV, Mullen RW (2005) Growth stage, development, and spatial variability in corn evaluated using optical sensor readings. J Plant Nutr 28:173–182

Riley HCF (1998) Soil mineral-N and N-fertilizer requirements of spring cereals in two long-term tillage trials on loam soil in southeast Norway. Soil Tillage Res 48:265–274

Ritchie SW, Hanway JJ (1984) How a corn plant develops. Special Report no. 48, Cooperative Extension Service, Ames, Iowa

SAS Institute (1994) SAS user's guide. SAS Institute, Cary, NC, USA

Scotford IM, Miller PCH (2004a) Combination of spectral reflectance and ultrasonic sensing to monitor the growth of winter wheat. Biosyst Eng 87:27–38

Scotford IM, Miller PCH (2004b) Estimating tiller density and leaf area index of winter wheat using spectral reflectance and ultrasonic sensing techniques. Biosyst Eng 89:395–408

Soil Survey Staff (1998) Keys to soil taxonomy. United States Department of Agriculture, Natural Resources Conservation Service. Washington, DC, USA

Soufflet V, Tanré D, Begue A, Podaire A, Deschamps PY (1991) Atmospheric effects on NOAA AVHRR data over Sahelian regions. Int J Remote Sens 12:1189–1204

Steel RGD, Torrie JH, Dickey DA (1997) Principles and procedures of statistics, a biometrical approach, 3rd edn. McGraw-Hill, New York, NY

Tollenaar M, Wu J (1999) Yield improvement in temperate maize is attributable to greater stress tolerance. Crop Sci 39:1597–1604

Vyn TJ, Raimbault BA (1993) Long-term effect of 5 tillage systems on corn response and soil-structure. Agron J 85:1074–1079

Washmon CN, Solie JB, Raun WR, Itenfisu DD (2002) Within field variability in wheat grain yields over nine years in Oklahoma. J Plant Nutr 25:2655–2662

Zadoks JC, Chang TT, Konzak CF (1974) A decimal code for the growth stages of cereals. Weed Res 14:415–421
Acknowledgement
B.G. received grant aided support from the Flemish Interuniversity Council (VLIR-UOS) Belgium. K.L. received support form the DRICOT Foundation. We thank A. Martinez, M. Martinez and M. Perez for technical assistance; F. Crombez, M. Listman and J. Baker for editing drafts. The research was funded by the International Maize and Wheat Improvement Centre (CIMMYT).
Additional information
Responsible Editor: Len Wade.
About this article
Cite this article
Govaerts, B., Verhulst, N., Sayre, K.D. et al. Evaluating spatial within plot crop variability for different management practices with an optical sensor?. Plant Soil 299, 29–42 (2007). https://doi.org/10.1007/s11104-007-9358-6
Received:

Accepted:

Published:

Issue Date:
Keywords
Production sustainability

Conservation agriculture

Crop spectral reflectance

NDVI

Plant-to-plant variability