Abstract
This study compared litter production, litter decomposition and nutrient return in pure and mixed species plantations. Dry weight and N, P, K, Ca, Mg quantities in the litterfall were measured in one pure Cunninghamia lanceolata plantation (PC) and two mixed-species plantations of C. lanceolata with Alnus cremastogyne (MCA) and Kalopanax septemlobus (MCK) in subtropical China. Covering 6 years of observations, mean annual litter production of MCA (4.97 Mg·ha−1) and MCK (3.97 Mg·ha−1) was significantly higher than that of PC (3.46 Mg·ha−1). Broadleaved trees contributed 42% of the total litter production in MCA and 31% in MCK. Introduction of broadleaved tree species had no significant effect on litterfall pattern. Total litterfall was greatest in the dry season from November to March. Nutrient returns to the forest floor through leaf litter were significantly higher in both MCA and MCK than in PC (P < 0.05). The amounts of N, K, and Mg returned to the forest floor through leaf litter were highest in the MCA, and P and Ca returns were highest in the MCK. Percent contribution of broadleaf litter to total nutrient returns ranged from 41.7% to 86.9% in MCA and from 49.3% to 74.8% in MCK. The decomposition rate of individual leaf litter increased in the order: C. lanceolata < K. septemlobus < A. cremastogyne. Litter mixing had a positive effect on decomposition rate of the more recalcitrant litter and promoted nutrient return. Relative to mass loss of A. cremastogyne decomposing alone, higher mass loss of the mixture of C. lanceolata and A. cremastogyne was observed after 330 days of decomposition. These results indicate that mixed plantations of different tree species have advantages over monospecific plantations with regards to nutrient fluxes and these advantages have relevance to restoration of degraded sites.
Access options
Buy single article
Instant access to the full article PDF.
USD 39.95
Price excludes VAT (USA)
Tax calculation will be finalised during checkout.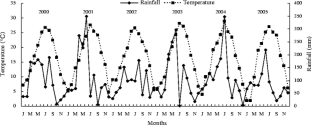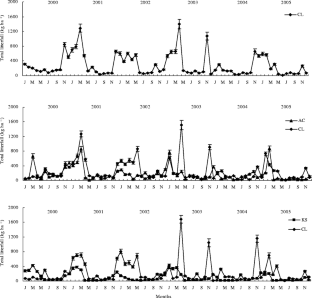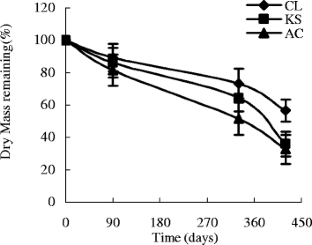 References
Bardgett RD, Shine A (1999) Linkages between plant litter diversity, soil microbial biomass and ecosystem function in temperate grasslands. Soil Biol Biochem 31:317–321

Berg B (2000) Litter decomposition and organic matter turnover in northern forest soils. For Ecol Manage 133:13–22

Binkley D (1992) Mixtures of nitrogen-fixing and non-nitrogen-fixing tree species. In: Cannell MGR, Malcolm DC, Robertson PA (eds) The ecology of mixed species stands of trees. Blackwell Scientific, London, pp 99–123

Binkley D, Ryan MG (1998) Net primary production and nutrient cycling in replicated stands of Eucalyptus saligna and Albizia facaltaria. For Ecol Manage 112:79–85

Binkley D, Dunkin KA, DeBell D, Ryan MG (1992) Production and nutrient cycling in mixed plantations of Eucalyptus and Albizia in Hawaii. For Sci 38:393–408

Boardman R (1978) Productivity under successive rotations of radiata pine. Aust For 41(3):177–179

Briones MJI, Ineson P (1996) Decomposition of eucalyptus leaves in litter mixtures. Soil Biol Biochem 28:1381–1383

Chen CY, Zahng JW, Zhou CL, Zheng HY (1990) Researches on improving the quality of forest land and the productivity of artificial Cunninghamia lanceolata stands. J Appl Ecol 1(2):97–106 (in Chinese with an English abstract)

Conn C, Dighton J (2000) Litter quality influences on decomposition, ectomycorrhizal community structure and mycorrhizal root surface acid phosphatase activity. Soil Biol Biochem 32:489–496

Falconer GJ, Wright JW, Beall HW (1933) The decomposition of certain types of fresh litter under field conditions. Amer J Bot 20:196–203

FAO (2001) Global forest resources assessment 2000 main report. FAO Forestry Paper 140, Food and Agriculture Organization of the United Nations, Rome, pp 479

Feng ZW, Chen CY, Zhang JW (1988) A coniferous broad-leaved mixed forest with higher productivity and ecological harmony in subtropics—study on mixed forest of Cunninghamia lanceolata and Michelia macclurei. Acta Phytoecl Geobot Sin 12(3):165–180 (in Chinese with an English abstract)

Forrester DI, Bauhus J, Cowie AL (2005) Nutrient cycling in a mixed-species plantation of Eucalyptus globulus and Acacia mearnsii. Can J For Res 35(12):2942–2950

Hector A, Beale AJ, Minns A, Otway SJ, Lawton JH (2000) Consequences of the reduction of plant diversity for litter decomposition: effects through litter quality and microenvironment. Oikos 90:357–371

Jones JB, Case VW (1990) Sampling, handling, and analyzing plant tissue samples. In: Westerman RL (ed) Soil testing and plant analysis. Soil Science Society of America, Inc., Madison, WI, pp 390–428

Kelty MJ (2006) The role of species mixtures in plantation forestry. For Ecol Manage 233:195–204

Lei JF (2005) Forest resource of China. Chinese Forestry Science and Technology Press, Beijing, pp 171–173 (in Chinese)

Liao LP, Lindley DK, Yang YH (1997) Decomposition o mixed foliar litter. I. A microcosm study. Chin J Appl Ecol 8(5):459–464 (in Chinese with an English abstract)

Liao LP, Wang SL, Chen CY (2000a) Dynamics of litterfall in the mixed plantation of Cunninghamia lanceolata and Michelia macclurei: a ten-year's observation. Chin J Appl Ecol 11(Supp):131–136 (in Chinese with an English abstract)

Liao LP, Wang SL, Goa H, Yu XJ, Huang ZQ (2000b) Foliar litter decomposition of Chinese fir and main broad-leaved plantation species in subtropics. Chin J Appl Ecol 11(Supp):141–145 (in Chinese with an English abstract)

Liao JH, Wang HH, Tsai CC, Hseu ZY (2006) Litter production, decomposition and nutrient return of uplifted coral reef tropical forest. For Ecol Manage 235:174–185

Lin KM, Hong W, Yu XT, Huang BL (2001) Decomposition interaction of mixed litter between Chinese fir and various accompanying plant species. Chin J Appl Ecol 12(3):321–325 (in Chinese with an English abstract)

Miller HG (1984) Dynamics of nutrient cycling in plantation ecosystems. In: Boven GD, Nambiar EKS (eds) Nutrition of plantation forest. Academic, London, pp 53–78

Nelson DW, Sommers LE (1982) Total carbon, OC, and organic matter. In: Page AL, Miller RH, Keeney DR (eds) Methods of soil analysis, Part 2. Agronomy Society of America and Soil Science Society of America, Madison, WI, pp 539–577

Nilsson MC, Wardle DA, Dahlberg A (1999) Effects of plant litter species composition and diversity on the boreal forest plant–soil system. Oikos 86:16–26

Olsen SR, Sommers LE (1982) Phosphorus. In: Page AL, Miller RH, Keeney DR (eds) Methods of soil analysis, part 2. Agronomy Society of America and Soil Science Society of America, Madison, WI, pp 403–430

Pandey RR, Sharma G, Tripathi SK, Singh AK (2007) Litterfall, litter decomposition and nutrient dynamics in a subtropical natural oak forest and managed plantation in northeastern India. For Ecol Manage 240:96–104

Parrotta JA (1999) Productivity, nutrient cycling, and succession in single- and mixed-species plantations of Casuarina equisetifolia, Eucalyptus robusta, and Leucaena leucocephala in Puerto Rico. For Ecol Manage 124:45–77

Rao KS, Maikhuri RK, Saxena KG (1999) Participatory approach to rehabilitation of degraded forest land: a case study in high altitude village of Indian Himalaya. Inter Tree Crops J 10:1–17

Sundarapandian SM, Swamy PS (1999) Litter production and leaf-litter decomposition of selected tree species in tropical forests at Kodayar in the Western Ghats, India. For Ecol Manage 123:231–244

Tanner EVJ (1981) The decomposition of leaf litter in Jamaican montane rainforest. J Ecol 69:263–273

Taylor BR, Parkinson D, Parsons WJ (1989) A microcosm test of nitrogen and lignin content as predictor of litter decay rates. Ecology 70:97–104

Wang SL, Liao LP, Ma YQ (1997) Nutrient return and productivity of mixed Cunninghamia lanceolata and Michelia macclurei plantations. Chin J Appl Ecol 8(4):347–352 (in Chinese with an English abstract)

Wardle DA, Bonner KI, Nicholson KS (1997) Biodiversity and plant litter: experimental evidence which does not support the view that enhanced species richness improves ecosystem function. Oikos 79:247–258

Wardle DA, Nilsson MC, Zackrisson O, Gallet C (2003) Determinants of litter mixing effects in a Swedish boreal forest. Soil Biol Biochem 35:827–835

Yang YS, Xie JS, Chen YX, He ZM (2001) Amount, composition and seasonal dynamics of litterfall in mixed forest of Cunninghamia lanceolata and Tsoongidendron odorum. Scien Sil Sin 37(Special):30–34 (in Chinese with an English abstract)

Yang YS, Guo JF, Chen GS, Xie JS, Cai LP, Lin P (2004) Litterfall, nutrient return, and leaf-litter decomposition in four plantations compared with a natural forest in subtropical China. Ann For Sci 61:465–476

Zhang JW, Liao LP, Li JF, Su Y (1993) Litter dynamics of Pinus massoniana and Michelia macclurei mixed forest and its effect on soil nutrients. Chin J Appl Ecol 4(4):359–363 (in Chinese with an English abstract)
Acknowledgements
This study was supported by Chinese Academy of Sciences Program (KZCX2-YW-405) and the National Natural Science Foundation of China (30470303 and 30590381-07). We are grateful to Xiuyong Zhang for help in collecting samples. We also thank J. A. Helms from University of California at Berkeley for professionally editing this manuscript, and Rachel Standish from Murdoch University, Western Australia, and other two anonymous reviewers for their helpful comments and suggestions for improving this manuscript.
Additional information
Responsible Editor: Alfonso Escudero.
About this article
Cite this article
Wang, Q., Wang, S., Fan, B. et al. Litter production, leaf litter decomposition and nutrient return in Cunninghamia lanceolata plantations in south China: effect of planting conifers with broadleaved species. Plant Soil 297, 201–211 (2007). https://doi.org/10.1007/s11104-007-9333-2
Received:

Accepted:

Published:

Issue Date:

DOI: https://doi.org/10.1007/s11104-007-9333-2
Keywords