Abstract
Azospirillum species are free-living nitrogen-fixing bacteria commonly found in soil and in association with roots of different plant species. For their capacity to stimulate growth they are known as plant growth-promoting bacteria (PGPB). In this work, we demonstrate the natural occurrence and colonization of different parts of strawberry plants by Azospirillum brasilense in the cropping area of Tucumán, Argentina. Although bacteria isolations were carried out from two strawberry cultivars, e.g., Camarosa and Pájaro, attempts were successful only with the cultivar Camarosa. Whereas different strains of Azospirillum were isolated from the root surface and inner tissues of roots and stolons of the cultivar Camarosa, we have not obtained Azospirillum isolates from the cultivar Pájaro. After microbiological and molecular characterization (ARDRA) we determined that the isolates belonged to the species A. brasilense. All isolates showed to have the capacity to fix nitrogen, to produce siderophores and indoles. Local isolates exhibited different yields of indoles production when growing in N-free NFb semisolid media supplemented or not with tryptophan (0.1 mg ml−1). This is the first report on the natural occurrence of A. brasilense in strawberry plants, especially colonizing inner tissues of stolons, as well as roots. The local isolates showed three important characteristics within the PGPB group: N2-fixation, siderophores, and indoles production.
Access options
Buy single article
Instant access to the full article PDF.
USD 39.95
Price excludes VAT (USA)
Tax calculation will be finalised during checkout.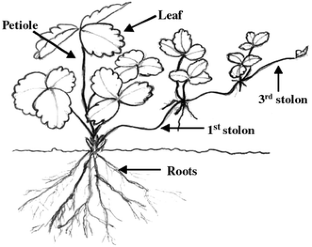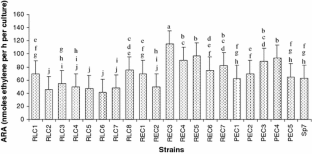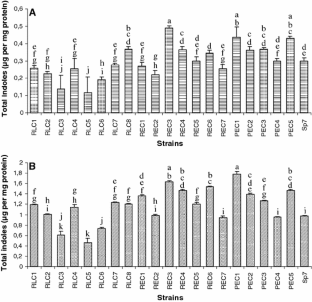 References
Baca BE, Soto Urzúa L, Xochihua Corona YG , Cuervo García A (1994) Characterization of two aromatic amino acid aminotransferases and production of indoleacetic acid in Azospirillum strains. Soil Biol Biochem 26:57–63

Baldani VLD, Alvarez MA de B, Baldani JI, Döbereiner J (1986) Establishment of inoculated Azospirillum spp. in the rhizosphere and in roots of field grown wheat and sorghum. Plant Soil 90:35–46

Baldani VLD, Baldani JI, Döbereiner J (1983) Effects of Azospirillum inoculation on root infection and nitrogen incorporation in wheat. Can J Microbiol 29:924–929

Bashan Y (1998). Azospirillum plant growth-promoting strains are nonpathogenic on tomato, pepper, cotton, and wheat. Can J Microbiol 44:168–174

Bahan Y, de-Bashan LE (2002) Protection of tomato seedlings against infection by Pseudomonas syringae pv. tomato by using the plant growth-promoting bacterium Azospirillum brasilense. Appl Environ Microbiol 68:2637–2643

Bashan Y, Holguin G (1997) Azospirillum-plant relationships: environmental and physiological advances (1990–1996). Can J Microbiol 43:103–121

Bashan Y, Levanony H (1989) Wheat root tips as a vector for passive vertical transfer of Azospirillum Cd. J G Microbiol 135:2899–2908

Bashan Y, Levanony H (1990) Current status of Azospirillum inoculation technology: Azospirillum as a challenge for agriculture. Can J Microbiol 36:591–608

Bashan Y, Holguin G, de-Bashan LE (2004) Azospirillum-plant relationships: physiological, molecular, and environmental advances (1997–2003). Can J Microbiol 50:521–577

Bradford MM (1976) A rapid and sensitive method for the quantification of microgram quantities of protein utilizing the principle of protein-dye binding. Anal Biochem 72:248–264

Burdman S, Kigel J, Okon Y (1997) Effects of Azospirillum brasilense on nodulation and growth of common bean (Phaseolus vulgaris L.). Soil Biol Biochem 29:923–929

Dobbelaere S, Croonenborghs A, Thys A, Ptacek D, Vanderleyden J, Dutto P, Labandera-González C, Caballero-Mellado J, Aguirre JF, Kapulnik Y, Brener S, Burdman S, Kadouri D, Sarig S, Okon Y (2001) Responses of agronomically important crops to inoculation with Azospirillum. Aust J Plant Physiol 28:871–879

Dobbelaere S, Croonenborghs A, Thys A, Vande Brock A, Vanderleyden J (1999). Phytostimulatory effect of Azospirillum brasilense wild type and mutant strains altered in IAA production on wheat. Plant Soil 212:155–164

Döbereiner J, Baldani VLD, Baldani JI (1995) Como isolar e identificar bacterias diazotróficas de plantas não-leguminosas. Brasilia-DF: EMBRAPA-SPI

Ghai SK, Thomas GV (1989) Occurrence of Azospirillum spp. in coconut-based farming systems. Plant Soil 114:235–241

Glickmann E, Dessaux Y (1995) A critical examination of the specificity of the Salkowski reagent for indolic compounds produced by phytopathogenic bacteria. Appl Environ Microbiol 61:793–796

Grifoni A, Bazzicalupo M, Di Serio C, Fancelli S, Fani R (1995) Identification of Azospirillum strains by restriction fragment length polymorphism of the 16S rDNA and of the histidine operon. FEMS Microbiol Lett 127:85–91

Hartmann A, Singh M, Klingmüller W (1983) Isolation and characterization of Azospirillum mutants excreting high amounts of indoleacetic acid. Can J Microbiol 29:916–923

Martínez-Morales LJ, Soto-Urzúa L, Baca BE, Sánchez-Ahédo JA (2003) Indole-3-butyric acid (IBA) production in culture medium by wild strain Azospirillum brasilense. FEMS Microbiol Lett 228:167–173

Pacovsky RS (1990) Development and growth effects in the sorghum-Azospirillum association. J Appl Bacteriol 68:555–563

Pedraza RO, Díaz Ricci JC (2000) Azospirillum amazonense: su presencia en el área canera de la provincia a Tucumán. Rev Argent Microbiol 32:199–201

Pedraza RO, Díaz Ricci JC (2003) Genetic stability of Azospirillum brasilense after passing through the root interior of sugarcane. Symbiosis 34:69–83

Pedraza RO, Ramírez-Mata A, Xiqui ML, Baca BE (2004) Aromatic amino acid aminotransferase activity and indole-3-acetic acid production by associative nitrogen-fixing bacteria. FEMS Microbiol Lett 233:15–21

Pérez D, Mazzone L (2004) La actividad frutillera en la provincial de Tucumán y Argentina. EEAOC Publicación Especial N 26, pp 100

Potrich DP, Passaglia LMP, Schrank IS (2001) Partial characterization of nif genes from the bacterium Azospirillum amazonense. Braz J Med Biol Res 34:1105–1113

Radwan T El S El D, Mohamed ZK, Reis VM (2002) Production of indole-3-acetic acid by different strains of Azospirillum and Herbaspirillum spp. Symbiosis 32:39–54

Reynders L, Vlassak K (1979) Conversion of tryptophan to indole acetic acid by Azospirillum sp. Soil Biol Biochem 11:547–548

Rodríguez H, Mendoza A, Cruz MA, Holguin G, Glick BR, Bashan Y (2006) Pleiotropic physiological effects in the plant growth-promoting bacterium Azospirillum brasilense following chromosomal labeling in the clpX gene. FEMS Microbiol Ecol 57:217–225

Sambrook J, Fritsch EF, Maniatis T (1989) Molecular Cloning. In: Ford N (ed) A laboratory manual, 2nd edn. Cold Spring Harbor Laboratory Press, Cold Spring Harbor, NY

Saubidet MI, Fatta N, Barneix AJ (2002) The effect of inoculation with Azospirillum brasilense on growth and nitrogen utilization by wheat plants. Plant Soil 245:215–222

Schwyn B, Neilands (1987) Universal chemical assay for the detection and determination of siderophores. Anal Biochem 160:47–56

Shah S, Karkhanis V, Desai A (1992) Isolation and characterization of siderophore, with antimocrobial activity, from Azospirillum lipoferum. M.Curr Microbiol 25:347–351

Subba Rao NS (1983) Nitrogen-fixing bacteria associated with plantation and orchard plants. Can J Microbiol 29:863–866

Tarrand JJ, Krieg NR, Döbereiner J (1978) A taxonomic study of the Spirillum lipoferum group, with descriptions of a new genus, Azospirillum gen. nov. and two species, Azospirillum lipoferum (Beijerinck) comb. nov. and Azospirillum brasilense sp. nov. Can J Microbiol 8:967–980

Tien TM, Gaskins MH, Hubbell DH (1979) Plant growth substances produced by Azospirillum brasilense and their effect on the growth of pearl millet (Pennisetum americanum). Appl Environm Microbiol 37:1016–1024

Umali García M, Hubbell DH, Gaskins MH, Dazzo FB (1980) Association of Azospirilum with grass roots. Appl Environ Microbiol 39:219–226

Vande Broek A, Michiels J, Van Gool A, Vanderleyden J (1993) Spatial-temporal colonization patterns of Azospirillum brasilense on the wheat root surface and expression of the bacterial nifH gene during association. Mol Plant Microbe Interact 6:592–600

Weber OB, Baldani VLD, Teixeira KRS, Kirchhof G, Baldani JI, Döbereiner J (1999) Isolation and characterization of diazotrophic bacteria from banana and pineapple plants. Plant Soil 210:103–113
Acknowledgments
We are grateful to Dr. Carlos H. Bellone for his help in the ARA and to Marcos A. Acosta for technical assistance. This work was supported by Consejo de Investigación de la Universidad Nacional de Tucumán (CIUNT) Program 26/A331 and Agencia Nacional de Promoción Científica y Tecnológica, BID1728/OC-AR-PICTO 2004-860. JCDR is researcher of CONICET.
About this article
Cite this article
Pedraza, R.O., Motok, J., Tortora, M.L. et al. Natural occurrence of Azospirillum brasilense in strawberry plants. Plant Soil 295, 169–178 (2007). https://doi.org/10.1007/s11104-007-9273-x
Received:

Accepted:

Published:

Issue Date:

DOI: https://doi.org/10.1007/s11104-007-9273-x
Keywords
nifD-gene
N2-fixation

Phytohormones

Plant growth-promoting bacteria

Siderophores