Abstract
Using a combination of bioinformatics and synthetic promoters, novel elicitor-responsive cis-sequences were discovered in promoters of pathogen-upregulated genes from Arabidopsis thaliana. One group of functional sequences contains the conserved core sequence GACTTTT. This core sequence and adjacent nucleotides are essential for elicitor-responsive gene expression in a parsley protoplast system. By yeast one-hybrid screening, WRKY70 was selected with a cis-sequence harbouring the core sequence GACTTTT but no known WRKY binding site (W-box). Transactivation experiments, mutation analyses, and electrophoretic mobility shift assays demonstrate that the sequence CGACTTTT is the binding site for WRKY70 in the investigated cis-sequence and is required for WRKY70-activated gene expression. Using several cis-sequences in transactivation experiments and binding studies, the CGACTTTT sequence can be extended to propose YGACTTTT as WRKY70 binding site. This binding site, designated WT-box, is enriched in promoters of genes upregulated in a WRKY70 overexpressing line. Interestingly, functional WRKY70 binding sites are present in the promoter of WRKY30, supporting recent evidence that both factors play a role in the same regulatory network.
This is a preview of subscription content,
to check access.
Access this article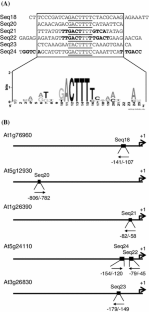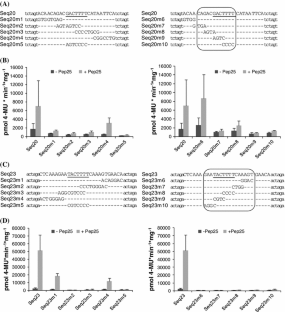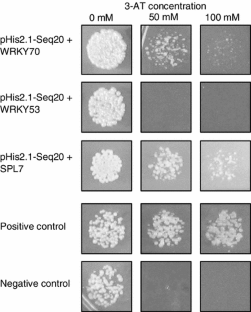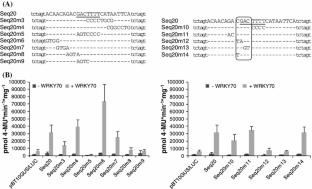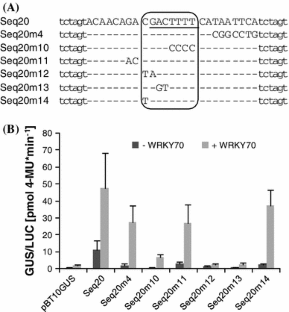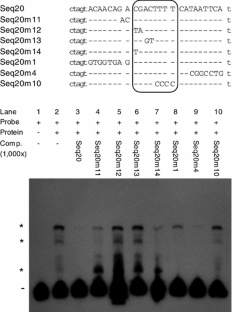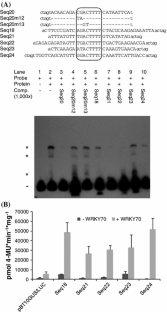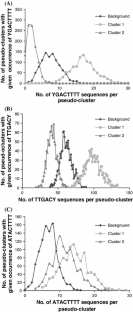 Similar content being viewed by others
References
Bailey TL (2008) Discovering sequence motifs. Methods Mol Biol 452:231–251

Besseau S, Li J, Palva ET (2012) WRKY54 and WRKY70 co-operate as negative regulators of leaf senescence in Arabidopsis thaliana. J Exp Bot 63:2667–2679

Birkenbihl RP, Jach G, Saedler H, Huijser P (2005) Functional dissection of the plant-specific SBP-domain: overlap of the DNA-binding and nuclear localization domains. J Mol Biol 352:585–596

Boller T, Felix G (2009) A renaissance of elicitors: perception of microbe-associated molecular patterns and danger signals by pattern-recognition receptors. Annu Rev Plant Biol 60:379–406

Brady SM, Provart NJ (2009) Web-queryable large-scale data sets for hypothesis generation in plant biology. Plant Cell 21:1034–1051

Brand LH, Kirchler T, Hummel S, Chaban C, Wanke D (2010) DPI-ELISA: a fast and versatile method to specify the binding of plant transcription factors to DNA in vitro. Plant Methods 6:25

Bülow L, Schindler M, Choi C, Hehl R (2004) PathoPlant: a database on plant-pathogen interactions. In Silico Biol 4:529–536

Bülow L, Steffens NO, Galuschka C, Schindler M, Hehl R (2006) AthaMap: from in silico data to real transcription factor binding sites. In Silico Biol 6:243–252

Bülow L, Schindler M, Hehl R (2007) PathoPlant: a platform for microarray expression data to analyze co-regulated genes involved in plant defense responses. Nucleic Acids Res 35:D841–D845

Cai YH, Huang H (2012) Advances in the study of protein-DNA interaction. Amino Acids 43(3):1141–1146

Cai M, Qiu D, Yuan T, Ding X, Li H, Duan L, Xu C, Li X, Wang S (2008) Identification of novel pathogen-responsive cis-elements and their binding proteins in the promoter of OsWRKY13, a gene regulating rice disease resistance. Plant Cell Environ 31(1):86–96

Che D, Jensen S, Cai L, Liu JS (2005) BEST: binding-site estimation suite of tools. Bioinformatics 21(12):2909–2911

Ciolkowski I, Wanke D, Birkenbihl RP, Somssich IE (2008) Studies on DNA-binding selectivity of WRKY transcription factors lend structural clues into WRKY-domain function. Plant Mol Biol 68:81–92

Coutu C, Brandle J, Brown D, Brown K, Miki B, Simmonds J, Hegedus DD (2007) pORE: a modular binary vector series suited for both monocot and dicot plant transformation. Transgenic Res 16:771–781

Crooks GE, Hon G, Chandonia JM, Brenner SE (2004) WebLogo: a sequence logo generator. Genome Res 14:1188–1190

Davuluri RV, Sun H, Palaniswamy SK, Matthews N, Molina C, Kurtz M, Grotewold E (2003) AGRIS: Arabidopsis Gene Regulatory Information Server, an information resource of Arabidopsis cis-regulatory elements and transcription factors. BMC Bioinformatics 4:25

de Pater S, Greco V, Pham K, Memelink J, Kijne J (1996) Characterization of a zinc-dependent transcriptional activator from Arabidopsis. Nucleic Acids Res 24:4624–4631

Eulgem T, Rushton PJ, Schmelzer E, Hahlbrock K, Somssich IE (1999) Early nuclear events in plant defence signalling: rapid gene activation by WRKY transcription factors. EMBO J 18:4689–4699

Eulgem T, Rushton PJ, Robatzek S, Somssich IE (2000) The WRKY superfamily of plant transcription factors. Trends Plant Sci 5:199–206

Galuschka C, Schindler M, Bülow L, Hehl R (2007) AthaMap web-tools for the analysis and identification of co-regulated genes. Nucleic Acids Res 35:D857–D862

Gietz RD, Schiestl RH (2007) High-efficiency yeast transformation using the LiAc/SS carrier DNA/PEG method. Nat Protoc 2:31–34

Glazebrook J, Ausubel FM (1994) Isolation of phytoalexin-deficient mutants of Arabidopsis thaliana and characterization of their interactions with bacterial pathogens. Proc Natl Acad Sci USA 91:8955–8959

Hahlbrock K, Scheel D, Logemann E, Nürnberger T, Parniske M, Reinold S, Sacks W, Schmelzer E (1995) Oligopeptide elicitor-mediated defense gene activation in cultured parsley cells. Proc Natl Acad Sci USA 92:4150–4157

Hehl R, Bülow L (2008) Internet resources for gene expression analysis in Arabidopsis thaliana. Curr Genomics 9:375–380

Hehl R, Wingender E (2001) Database-assisted promoter analysis. Trends Plant Sci 6:251–255

Higo K, Ugawa Y, Iwamoto M, Korenaga T (1999) Plant cis-acting regulatory DNA elements (PLACE) database: 1999. Nucleic Acids Res 27:297–300

Jones JD, Dangl JL (2006) The plant immune system. Nature 444:323–329

Kalde M, Barth M, Somssich IE, Lippok B (2003) Members of the Arabidopsis WRKY group III transcription factors are part of different plant defense signaling pathways. Mol Plant Microbe Interact 16:295–305

Kankainen M, Holm L (2004) POBO, transcription factor binding site verification with bootstrapping. Nucleic Acids Res 32:W222–W229

Koeck M, Hardham AR, Dodds PN (2011) The role of effectors of biotrophic and hemibiotrophic fungi in infection. Cell Microbiol 13:1849–1857

Koschmann J, Machens F, Becker M, Niemeyer J, Schulze J, Bülow L, Stahl DJ, Hehl R (2012) Integration of bioinformatics and synthetic promoters leads to the discovery of novel elicitor-responsive cis-regulatory sequences in Arabidopsis. Plant Physiol 160:178–191

Li J, Brader G, Palva ET (2004) The WRKY70 transcription factor: a node of convergence for jasmonate-mediated and salicylate-mediated signals in plant defense. Plant Cell 16:319–331

Li J, Brader G, Kariola T, Palva ET (2006) WRKY70 modulates the selection of signaling pathways in plant defense. Plant J 46:477–491

Maas C, Laufs J, Grant S, Korfhage C, Werr W (1991) The combination of a novel stimulatory element in the first exon of the maize ShrunkenI gene with the following intron 1 enhances reporter gene expression up to 1000-fold. Plant Mol Biol 16:199–207

Mahony S, Benos PV (2007) STAMP: a web tool for exploring DNA-binding motif similarities. Nucleic Acids Res 35:W253–W258

Mengiste T (2012) Plant immunity to necrotrophs. Annu Rev Phytopathol 50:267–294

Mitsuda N, Ikeda M, Takada S, Takiguchi Y, Kondou Y, Yoshizumi T, Fujita M, Shinozaki K, Matsui M, Ohme-Takagi M (2010) Efficient yeast one-/two-hybrid screening using a library composed only of transcription factors in Arabidopsis thaliana. Plant Cell Physiol 51:2145–2151

Nürnberger T, Nennstiel D, Jabs T, Sacks WR, Hahlbrock K, Scheel D (1994) High affinity binding of a fungal oligopeptide elicitor to parsley plasma membranes triggers multiple defense responses. Cell 78:449–460

Palaniswamy SK, James S, Sun H, Lamb RS, Davuluri RV, Grotewold E (2006) AGRIS and AtRegNet. A platform to link cis-regulatory elements and transcription factors into regulatory networks. Plant Physiol 140:818–829

Priest HD, Filichkin SA, Mockler TC (2009) cis-Regulatory elements in plant cell signaling. Curr Opin Plant Biol 12:643–649

Rushton PJ, Torres JT, Parniske M, Wernert P, Hahlbrock K, Somssich IE (1996) Interaction of elicitor-induced DNA-binding proteins with elicitor response elements in the promoters of parsley PR1 genes. EMBO J 15:5690–5700

Rushton PJ, Reinstadler A, Lipka V, Lippok B, Somssich IE (2002) Synthetic plant promoters containing defined regulatory elements provide novel insights into pathogen- and wound-induced signaling. Plant Cell 14:749–762

Rushton PJ, Somssich IE, Ringler P, Shen QJ (2010) WRKY transcription factors. Trends Plant Sci 15:247–258

Sambrook J, Russell DW (2001) Molecular cloning. A laboratory manual, 3rd edn. Cold Spring Harbor Laboratory Press, New York

Scarpeci TE, Zanor MI, Carrillo N, Mueller-Roeber B, Valle EM (2008) Generation of superoxide anion in chloroplasts of Arabidopsis thaliana during active photosynthesis: a focus on rapidly induced genes. Plant Mol Biol 66:361–378

Scarpeci T, Zanor M, Mueller-Roeber B, Valle E (2013) Overexpression of AtWRKY30 enhances abiotic stress tolerance during early growth stages in Arabidopsis thaliana. Plant Mol Biol 83:265–277

Shim JS, Jung C, Lee S, Min K, Lee YW, Choi Y, Lee JS, Song JT, Kim JK, Choi YD (2013) AtMYB44 regulates WRKY70 expression and modulates antagonistic interaction between salicylic acid and jasmonic acid signaling. Plant J 73:483–495

Sprenger-Haussels M, Weisshaar B (2000) Transactivation properties of parsley proline-rich bZIP transcription factors. Plant J 22:1–8

Stahl DJ, Kloos DU, Hehl R (2004) A sugar beet chlorophyll a/b binding protein promoter void of G-box like elements confers strong and leaf specific reporter gene expression in transgenic sugar beet. BMC Biotechnol 4:31

Steffens NO, Galuschka C, Schindler M, Bülow L, Hehl R (2004) AthaMap: an online resource for in silico transcription factor binding sites in the Arabidopsis thaliana genome. Nucleic Acids Res 32:D368–D372

Sun C, Palmqvist S, Olsson H, Boren M, Ahlandsberg S, Jansson C (2003) A novel WRKY transcription factor, SUSIBA2, participates in sugar signaling in barley by binding to the sugar-responsive elements of the iso1 promoter. Plant Cell 15:2076–2092

Ulker B, Shahid Mukhtar M, Somssich IE (2007) The WRKY70 transcription factor of Arabidopsis influences both the plant senescence and defense signaling pathways. Planta 226:125–137

Usadel B, Obayashi T, Mutwil M, Giorgi FM, Bassel GW, Tanimoto M, Chow A, Steinhauser D, Persson S, Provart NJ (2009) Co-expression tools for plant biology: opportunities for hypothesis generation and caveats. Plant Cell Environ 32:1633–1651

van Verk MC, Pappaioannou D, Neeleman L, Bol JF, Linthorst HJM (2008) A novel WRKY transcription factor is required for induction of PR-1a gene expression by salicylic acid and bacterial elicitors. Plant Physiol 146:1983–1995

Wu FH, Shen SC, Lee LY, Lee SH, Chan MT, Lin CS (2009) Tape-Arabidopsis Sandwich—a simpler Arabidopsis protoplast isolation method. Plant Methods 5:16

Yoo SD, Cho YH, Sheen J (2007) Arabidopsis mesophyll protoplasts: a versatile cell system for transient gene expression analysis. Nat Protoc 2:1565–1572

Zou C, Sun K, Mackaluso JD, Seddon AE, Jin R, Thomashow MF, Shiu SH (2011) Cis-regulatory code of stress-responsive transcription in Arabidopsis thaliana. Proc Natl Acad Sci USA 108:14992–14997
Acknowledgments
We are grateful to Philipp Lissek and Lilith Christaler for plasmid constructs and for performing some of the transient reporter gene assays. David Havlik is gratefully acknowledged for advice in expressing WRKY70 in E. coli and Erik Hanko and Kai Zwara helped with greenhouse work. We also thank Norbert F. Käufer for critically reading the manuscript and Dietmar Stahl and Fridtjof Weltmeier for stimulating discussions. The TF-only yeast one-hybrid library of A. thaliana was obtained from the National Institute of Advanced Industrial Science and Technology (AIST), Japan. This work was supported by the Federal Ministry of Education and Research (BMBF) of Germany.
Conflict of interest
The authors declare that they have no conflict of interest.
Electronic supplementary material
Below is the link to the electronic supplementary material.
About this article
Cite this article
Machens, F., Becker, M., Umrath, F. et al. Identification of a novel type of WRKY transcription factor binding site in elicitor-responsive cis-sequences from Arabidopsis thaliana . Plant Mol Biol 84, 371–385 (2014). https://doi.org/10.1007/s11103-013-0136-y
Received:

Accepted:

Published:

Issue Date:

DOI: https://doi.org/10.1007/s11103-013-0136-y
Keywords