Abstract
AtWRKY30 belongs to a higher plant transcription factor superfamily, which responds to pathogen attack. In previous studies, the AtWRKY30 gene was found to be highly and rapidly induced in Arabidopsis thaliana leaves after oxidative stress treatment. In this study, electrophoretic mobility shift assays showed that AtWRKY30 binds with high specificity and affinity to the WRKY consensus sequence (W-box), and also to its own promoter. Analysis of the AtWRKY30 expression pattern by qPCR and using transgenic Arabidopsis lines carrying AtWRKY30 promoter-β-glucuronidase fusions showed transcriptional activity in leaves subjected to biotic or abiotic stress. Transgenic Arabidopsis plants constitutively overexpressing AtWRKY30 (35S::W30 lines) were more tolerant than wild-type plants to oxidative and salinity stresses during seed germination. The results presented here show that AtWRKY30 is responsive to several stress conditions either from abiotic or biotic origin, suggesting that AtWRKY30 could have a role in the activation of defence responses at early stages of Arabidopsis growth by binding to W-boxes found in promoters of many stress/developmentally regulated genes.
Access options
Buy single article
Instant access to the full article PDF.
US$ 39.95
Tax calculation will be finalised during checkout.
Subscribe to journal
Immediate online access to all issues from 2019. Subscription will auto renew annually.
US$ 119
Tax calculation will be finalised during checkout.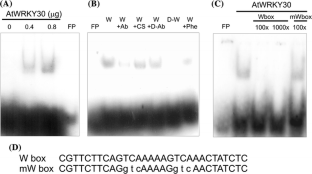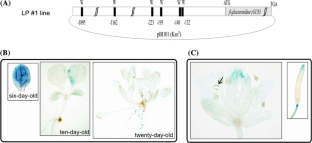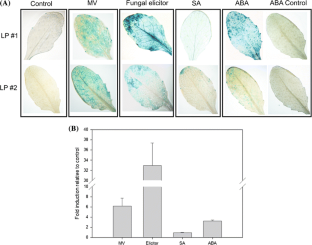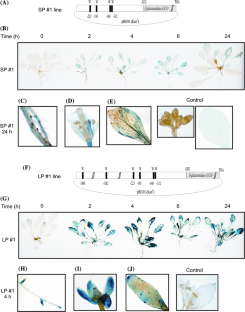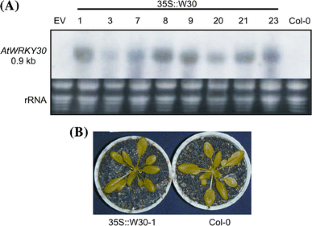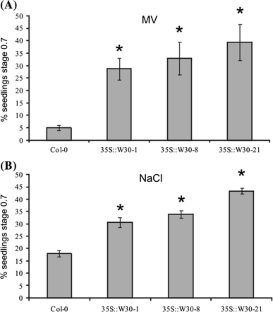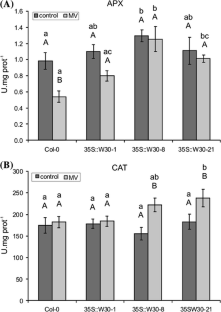 References
Boyes DC, Zayed AM, Ascenzi R, McCaskill AJ, Hoffman NE, Davis KR, Gorlach J (2001) Growth stage-based phenotypic analysis of Arabidopsis: a model for high throughput functional genomics in plants. Plant Cell 13:1499–1510

Chen C, Chen Z (2000) Isolation and characterization of two pathogen- and salicylic acid-induced genes encoding WRKY DNA-binding proteins from tobacco. Plant Mol Biol 42:387–396

Ciolkowski I, Wanke D, Birkenbihl RP, Somssich IE (2008) Studies on DNA-binding selectivity of WRKY transcription factors lend structural clues into WRKY-domain function. Plant Mol Biol 68:81–92

Clough SJ, Bent AF (1998) Floral dip: a simplified method for Agrobacterium-mediated transformation of Arabidopsis thaliana. Plant J 16:735–743

Cormack RS, Eulgem T, Rushton PJ, Kochner P, Hahlbrock K, Somssich IE (2002) Leucine zipper-containing WRKY proteins widen the spectrum of immediate early elicitor-induced WRKY transcription factors in parsley. Biochim Biophys Acta 1576:92–100

Czechowski T, Stitt M, Altmann T, Udvardi MK, Scheible WR (2005) Genome-wide identification and testing of superior reference genes for transcript normalization in Arabidopsis. Plant Physiol 139:5–17

Dong J, Chen C, Chen Z (2003) Expression profiles of the Arabidopsis WRKY gene superfamily during plant defense response. Plant Mol Biol 51:21–37

Du L, Chen Z (2000) Identification of genes encoding receptor-like protein kinases as possible targets of pathogen- and salicylic acid-induced WRKY DNA-binding proteins in Arabidopsis. Plant J 24:837–847

Eulgem T, Somssich IE (2007) Networks of WRKY transcription factors in defense signalling. Curr Opin Plant Biol 10:366–371

Eulgem T, Rushton PJ, Robatzek S, Somssich IE (2000) The WRKY superfamily of plant transcription factors. Trends Plant Sci 5:199–206

Fahnenstich H, Scarpeci TE, Valle EM, Flugge UI, Maurino VG (2008) Generation of hydrogen peroxide in chloroplasts of Arabidopsis overexpressing glycolate oxidase as an inducible system to study oxidative stress. Plant Physiol 148:719–729

Fujita M, Fujita Y, Noutoshi Y, Takahashi F, Narusaka Y, Yamaguchi-Shinozaki K, Shinozaki K (2006) Crosstalk between abiotic and biotic stress responses: a current view from the points of convergence in the stress signalling networks. Curr Opin Plant Biol 9:436–442

Gapper C, Dolan L (2006) Control of plant development by reactive oxygen species. Plant Physiol 141:341–345

Heslop-Harrison J, Heslop-Harrison Y (1985) Germination of stress-tolerant Eucalyptus pollen. J Cell Sci 73:135–157

Higo K, Ugawa Y, Iwamoto M, Korenaga T (1999) Plant cis-acting regulatory DNA elements (PLACE) database. Nucleic Acids Res 27:297–300

Jiang M, Zhang J (2003) Cross-talk between calcium and reactive oxygen species originated from NADPH oxidase in abscisic acid-induced antioxidant defence in leaves of maize seedlings. Plant, Cell Environ 26:929–939

Journot-Catalino N, Somssich IE, Roby D, Kroj T (2006) The transcription factors WRKY11 and WRKY17 act as negative regulators of basal resistance in Arabidopsis thaliana. Plant Cell 18:3289–3302

Kalde M, Barth M, Somssich IE, Lippok B (2003) Members of the Arabidopsis WRKY group III transcription factors are part of different plant defense signalling pathways. Mol Plant Microbe Interact 16:295–305

Koschmann J, Machens F, Becker M, Niemeyer J, Schulze J, Bülow L, Stahl DJ, Hehl R (2012) Integration of bioinformatics and synthetic promoters leads to discovery of novel elicitor-responsive cis-regulatory sequences in Arabidopsis thaliana. Plant Physiol. doi:10.1104/pp.112.198259

Lippok B, Birkenbihl RP, Rivory G, Brümmer J, Schmelzer E, Logemann E, Somssich IE (2007) Expression of AtWRKY33 encoding a pathogen- or PAMP-responsive WRKY transcription factor is regulated by a composite DNA motif containing W box elements. Mol Plant Microbe Interact 20:420–429

Livak KJ, Schmittgen TD (2001) Analysis of relative gene expression data using real-time quantitative PCR and the 2(-Delta Delta C(T)) Method. Methods 25:402–408

Lu D, Lin W, Gao X, Wu S, Cheng C, Avila J, Heese A, Devarenne TP, He P, Shan L (2011) Direct ubiquitination of pattern recognition receptor FLS2 attenuates plant innate immunity. Science 332:1439–1442

Mao G, Meng X, Liu Y, Zheng Z, Chen Z, Zhang S (2011) Phosphorylation of a WRKY transcription factor by two pathogen-responsive MAPKs drives phytoalexin biosynthesis in Arabidopsis. Plant Cell 23(4):1639–1653

McInnis SM, Desikan R, Hancock JT, Hiscock SJ (2006) Production of reactive oxygen species and reactive nitrogen species by angiosperm stigmas and pollen: potential signalling crosstalk? New Phytol 172:221–228

Murata Y, Pei ZM, Mori IC, Schroeder J (2001) Abscisic acid activation of plasma membrane Ca(2 +) channels in guard cells requires cytosolic NAD(P)H and is differentially disrupted upstream and downstream of reactive oxygen species production in abi1-1 and abi2-1 protein phosphatase 2C mutants. Plant Cell 13:2513–2523

Nylander M, Svensson J, Palva ET, Welin BV (2001) Stress-induced accumulation and tissue-specific localization of dehydrins in Arabidopsis thaliana. Plant Mol Biol 45:263–279

Park HC, Kim ML, Kang YH, Jeon JM, Yoo JH, Kim MC, Park CY, Jeong JC, Moon BC, Lee JH, Yoon HW, Lee SH, Chung WS, Lim CO, Lee SY, Hong JC, Cho MJ (2004) Pathogen- and NaCl-induced expression of the SCaM-4 promoter is mediated in part by a GT-1 box that interacts with a GT-1-like transcription factor. Plant Physiol 135:2150–2161

Pei ZM, Murata Y, Benning G, Thomine S, Klusener B, Allen GJ, Grill E, Schroeder JI (2000) Calcium channels activated by hydrogen peroxide mediate abscisic acid signalling in guard cells. Nature 406:731–734

Rober M, Geider K, Muller-Rober B, Willmitzer L (1996) Synthesis of fructans in tubers of transgenic starch-deficient potato plants does not result in an increased allocation of carbohydrates. Planta 199:528–536

Rushton PJ, Torres JT, Parniske M, Wernert P, Hahlbrock K, Somssich IE (1996) Interaction of elicitor-induced DNA-binding proteins with elicitor response elements in the promoters of parsley PR1 genes. EMBO J 15:5690–5700

Salinas-Mondragon RE, Garciduenas-Pina C, Guzman P (1999) Early elicitor induction in members of a novel multigene family coding for highly related RING-H2 proteins in Arabidopsis thaliana. Plant Mol Biol 40:579–590

Sambrook J, Russell DW (2001) Molecular cloning: a laboratory manual. CSHL Press, Cold Spring Harbor, New York

Scarpeci TE, Marro ML, Bortolotti S, Boggio SB, Valle EM (2007) Plant nutritional status modulates glutamine synthetase levels in ripe tomatoes (Solanum lycopersicum cv. Micro-Tom). J Plant Physiol 164:137–145

Scarpeci TE, Zanor MI, Carrillo N, Mueller-Roeber B, Valle EM (2008) Generation of superoxide anion in chloroplasts of Arabidopsis thaliana during active photosynthesis: a focus on rapidly induced genes. Plant Mol Biol 66:361–378

Sgro G, Ficarra F, Dunger G, Scarpeci T, Valle EM, Orellano E, Gottig N, Ottado J (2012) Contribution of a harpin protein from Xanthomonas axonopodis pv. citri to pathogen virulence. Mol Plant Pathol 13:1047–1059

Smale ST, Kadonaga JT (2003) The RNA polymerase II core promoter. Annu Rev Biochem 72:449–479

Wildermuth MC, Dewdney J, Wu G, Ausubel FM (2001) Isochorismate synthase is required to synthesize salicylic acid for plant defence. Nature 414:562–565

Yamamoto YY, Ichida H, Matsui M, Obokata J, Sakurai T, Satou M, Seki M, Shinozaki K, Abe T (2007) Identification of plant promoter constituents by analysis of local distribution of short sequences. BMC Genomics 8:67

Yamasaki K, Kigawa T, Inoue M, Tateno M, Yamasaki T, Yabuki T, Aoki M, Seki E, Matsuda T, Tomo Y, Hayami N, Terada T, Shirouzu M, Tanaka A, Seki M, Shinozaki K, Yokoyama S (2005) Solution structure of an Arabidopsis WRKY DNA binding domain. Plant Cell 17:944–956

Yu D, Chen C, Chen Z (2001) Evidence for an important role of WRKY DNA binding proteins in the regulation of NPR1 gene expression. Plant Cell 13:1527–1540

Zhang X, Zhang L, Dong F, Gao J, Galbraith DW, Song CP (2001) Hydrogen peroxide is involved in abscisic acid-induced stomatal closure in Vicia faba. Plant Physiol 126:1438–1448

Zou C, Sun K, Mackaluso JD, Seddon AE, Jin R, Thomashow MF, Shiu SH (2011) Cis-regulatory code of stress-responsive transcription in Arabidopsis thaliana. Proc Natl Acad Sci USA 108:14992–14997
Acknowledgments
The work described in this article was performed with the financial support of the Agencia Nacional de Promoción Científica y Tecnológica (ANPCyT) and the Consejo Nacional de Investigaciones Científicas y Técnicas (CONICET) from Argentina. Bernd Mueller-Roeber thanks the Fond der Chemischen Industrie for funding (No. 0164389).
Electronic supplementary material
Below is the link to the electronic supplementary material.
About this article
Cite this article
Scarpeci, T.E., Zanor, M.I., Mueller-Roeber, B. et al. Overexpression of AtWRKY30 enhances abiotic stress tolerance during early growth stages in Arabidopsis thaliana . Plant Mol Biol 83, 265–277 (2013). https://doi.org/10.1007/s11103-013-0090-8
Received:

Accepted:

Published:

Issue Date:
Keywords
Antioxidant response

Chloroplast

Germination

Oxidative stress

Stress signaling