Abstract
ATP-binding cassette transporters are involved in the active transport of a wide variety of metabolites in prokaryotes and eukaryotes. One subfamily, the Pleiotropic Drug Resistance (PDR) transporters, or full-size ABCG transporters, are found only in fungi and plants. NtPDR1 was originally identified in Nicotiana tabacum suspension cells (BY2), in which its expression was induced by microbial elicitors. To obtain information on its expression in plants, we generated NtPDR1-specific antibodies and, using Western blotting, found that this transporter is localized in roots, leaves, and flowers and this was confirmed in transgenic plants expressing the ß-glucuronidase reporter gene fused to the NtPDR1 promoter region. Expression was seen in the lateral roots and in the long glandular trichomes of the leaves, stem, and flowers. Western blot analysis and in situ immunolocalization showed NtPDR1 to be localized in the plasma membrane. Induction of NtPDR1 expression by various compounds was tested in N. tabacum BY2 cells. Induction of expression was observed with the hormones methyl jasmonate and naphthalene acetic acid and diterpenes. Constitutive ectopic expression of NtPDR1 in N. tabacum BY2 cells resulted in increased resistance to several diterpenes. Transport tests directly demonstrated the ability of NtPDR1 to transport diterpenes. These data suggest that NtPDR1 is involved in plant defense through diterpene transport.
Access options
Buy single article
Instant access to the full article PDF.
USD 39.95
Price includes VAT (USA)
Tax calculation will be finalised during checkout.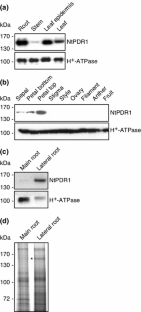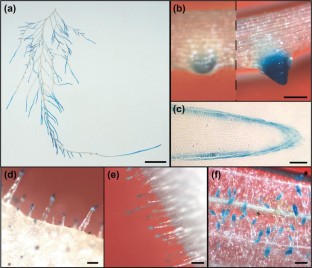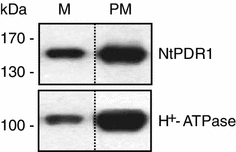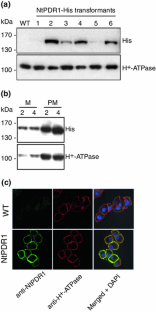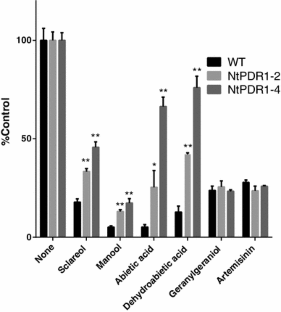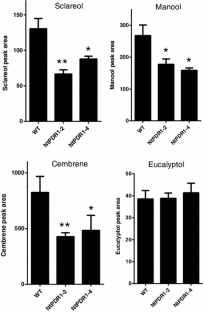 References
Aller SG, Yu J, Ward A, Weng Y, Chittaboina S, Zhuo R, Harrell PM, Trinh YT, Zhang Q, Urbatsch IL, Chang G (2009) Structure of P-glycoprotein reveals a molecular basis for poly-specific drug binding. Science 323:1718–1722

Bienert MD, Gerlitz Siegmund SE, Drozak A, Trombik T, Bultreys A, Baldwin IT, Boutry M (2012) A pleiotropic drug resistance transporter in Nicotiana tabacum is involved in defense against the herbivore Manduca sexta. Plant J 72:745–757

Bradford MM (1976) A rapid and sensitive method for the quantitation of microgram quantities of protein utilizing the principle of protein-dye binding. Anal Biochem 72:248–254

Bultreys A, Trombik T, Drozak A, Boutry M (2009) Nicotiana plumbaginifolia plants silenced for the ATP-binding cassette transporter gene NpPDR1 show increased susceptibility to a group of fungal and oomycete pathogens. Mol Plant Pathol 10:651–663

Campbell EJ, Schenk PM, Kazan K, Penninckx IA, Anderson JP, Maclean DJ, Cammue BP, Ebert PR, Manners JM (2003) Pathogen-responsive expression of a putative ATP-binding cassette transporter gene conferring resistance to the diterpenoid sclareol is regulated by multiple defense signaling pathways in Arabidopsis. Plant Physiol 133:1272–1284

Crouzet J, Trombik T, Fraysse AS, Boutry M (2006) Organization and function of the plant pleiotropic drug resistance ABC transporter family. FEBS Lett 580:1123–1130

De Muynck B, Navarre C, Nizet Y, Stadlmann J, Boutry M (2009) Different subcellular localization and glycosylation for a functional antibody expressed in Nicotiana tabacum plants and suspension cells. Transgenic Res 18:467–482

Duby G, Degand H, Faber AM, Boutry M (2010) The proteome complement of Nicotiana tabacum Bright-Yellow-2 (BY2) culture cells. Proteomics 10:2545–2550

Ducos E, Fraysse S, Boutry M (2005) NtPDR3, an iron-deficiency inducible ABC transporter in Nicotiana tabacum. FEBS Lett 579:6791–6795

Eichhorn H, Klinghammer M, Becht P, Tenhaken R (2006) Isolation of a novel ABC-transporter gene from soybean induced by salicylic acid. J Exp Bot 57:2193–2201

Goderis IJ, De Bolle MF, Francois IE, Wouters PF, Broekaert WF, Cammue BP (2002) A set of modular plant transformation vectors allowing flexible insertion of up to six expression units. Plant Mol Biol 50:17–27

Grec S, Vanham D, de Ribaucourt JC, Purnelle B, Boutry M (2003) Identification of regulatory sequence elements within the transcription promoter region of NpABC1, a gene encoding a plant ABC transporter induced by diterpenes. Plant J 35:237–250

Hakes DJ, Dixon JE (1991) New vectors for high level expression of recombinant proteins in bacteria. Anal Biochem 202:293–298

Higgins CF (2001) ABC transporters: physiology, structure and mechanism—an overview. Res Microbiol 152:205–210

Horsch RB, Fry JE, Hoffman NL, Eichholtz D, Rogers SG, Fraley RT (1985) A simple and general method for transferring genes into plants. Science 227:1229–1231

Jasinski M, Stukkens Y, Degand H, Purnelle B, Marchand-Brynaert J, Boutry M (2001) A plant plasma membrane ATP binding cassette-transporter is involved in antifungal terpenoid secretion. Plant Cell 13:1095–1107

Jasinski M, Ducos E, Martinoia E, Boutry M (2003) The ATP-binding cassette transporters: structure, function, and gene family comparison between rice and Arabidopsis. Plant Physiol 131:1169–1177

Jasinski M, Banasiak J, Radom M, Kalitkiewicz A, Figlerowicz M (2009) Full-size ABC transporters from the ABCG subfamily in Medicago truncatula. Mol Plant Microbe Interact 22:921–931

Kobae Y, Sekino T, Yoshioka H, Nakagawa T, Martinoia E, Maeshima M (2006) Loss of AtPDR8, a plasma membrane ABC transporter of Arabidopsis thaliana, causes hypersensitive cell death upon pathogen infection. Plant Cell Physiol 47:309–318

Krattinger SG, Lagudah ES, Spielmeyer W, Singh RP, Huerta-Espino J, McFadden H, Bossolini E, Selter LL, Keller B (2009) A putative ABC transporter confers durable resistance to multiple fungal pathogens in wheat. Science 323:1360–1363

Kretzschmar T, Burla B, Lee Y, Martinoia E, Nagy R (2011) Functions of ABC transporters in plants. Essays Biochem 50:145–160

Kretzschmar T, Kohlen W, Sasse J, Borghi L, Schlegel M, Bachelier JB, Reinhardt D, Bours R, Bouwmeester HJ, Martinoia E (2012) A petunia ABC protein controls strigolactone-dependent symbiotic signaling and branching. Nature 483:341–344

Krumpochova P, Sapthu S, Brouwers JF, de Haas M, de Vos R, Borst P, van de Wetering K (2012) Transportomics: screening for substrates of ABC transporters in body fluids using vesicular transport assays. FASEB J 26:738–747

Lamping E, Baret PV, Homes AR, Monk BC, Goffeau A, Cannon RD (2010) Fungal PDR transporters: phylogeny, topology, motifs and function. Fungal Genet Biol 47:127–142

Larsson C, Widell S, Kjellbom P (1987) Preparation of high-purity plasma membranes. Methods Enzymol 148:558–568

Moons A (2008) Transcriptional profiling of the PDR gene family in rice roots in response to plant growth regulators, redox perturbations and weak organic acid stresses. Planta 229:53–71

Nagata T, Nemoto Y, Hasezawa S (1992) Tobacco BY2 cell line as the "HeLa" cell in the cell biology of higher plants. Int Rev Cytol 132:1–30

Navarre C, Delannoy M, Lefebvre B, Nader J, Vanham D, Boutry M (2006) Expression and secretion of recombinant outer-surface protein A from the Lyme disease agent, Borrelia burgdorferi, in Nicotiana tabacum suspension cells. Transgenic Res 15(3):325–335

Rea PA (2007) Plant ATP-binding cassette transporters. Annu Rev Plant Biol 58:347–375

Sanchez-Fernandez R, Davies TG, Coleman JO, Rea PA (2001) The Arabidopsis thaliana ABC protein superfamily, a complete inventory. J Biol Chem 276:30231–30244

Sasabe M, Toyoda K, Shiraishi T, Inagaki Y, Ichinose Y (2002) cDNA cloning and characterization of tobacco ABC transporter: NtPDR1 is a novel elicitor-responsive gene. FEBS Lett 518:164–168

Schenke D, Sasabe M, Toyoda K, Inagaki YS, Shiraishi T, Ichinose Y (2003) Genomic structure of the NtPDR1 gene, harboring the two miniature inverted-repeat transposable elements, NtToya1 and NtStowaway101. Genes Genet Syst 78:409–418

Seo S, Gomi K, Kaku H, Abe H, Seto H, Nakatsu S, Neya M, Kobayashi M, Nakato K, Ichinose Y, Mitsuhaha I, Ohashi Y (2012) Identification of natural diterpenes that inhibit bacterial wilt disease in tobacco, tomato and Arabidopsis. Plant Cell Physiol 53:1432–1444

Stein M, Dittgen J, Sanchez-Rodriguez C, Hou BH, Molina A, Schulze-Lefert P, Lipka V, Somerville S (2006) Arabidopsis PEN3/PDR8, an ATP binding cassette transporter, contributes to nonhost resistance to inappropriate pathogens that enter by direct penetration. Plant Cell 18:731–746

Stukkens Y, Bultreys A, Grec S, Trombik T, Vanham D, Boutry M (2005) NpPDR1, a pleiotropic drug resistance-type ATP-binding cassette transporter from Nicotiana plumbaginifolia, plays a major role in plant pathogen defense. Plant Physiol 139:341–352

Trombik T, Jasinski M, Crouzet J, Boutry M (2008) Identification of a cluster IV pleiotropic drug resistance transporter gene expressed in the style of Nicotiana plumbaginifolia. Plant Mol Biol 66:165–175

Van Cutsem E, Simonart G, Degand H, Faber AM, Morsomme P, Boutry M (2011) Gel-based and gel-free proteomic analysis of Nicotiana tabacum trichomes identifies proteins involved in secondary metabolism and in the (a)biotic stress response. Proteomics 11(3):440–454

van den Brûle S, Smart CC (2002) The plant PDR family of ABC transporters. Planta 216:95–106

van der Fits L, Deakin EA, Hoge JHC, Memelink J (2000) The ternary transformation system: constitutive virG on a compatible plasmid dramatically increases Agrobacterium-mediated plant transformation. Plant Mol Biol 43:495–502

Verrier PJ, Bird D, Burla B, Dassa E, Forestier C, Geisler M, Klein M, Kolukisaoglu U, Lee Y, Martinoia E, Murphy A, Rea PA, Samuels L, Schulz B, Spalding EJ, Yazaki K, Theodoulou FL (2008) Plant ABC proteins-a unified nomenclature and updated inventory. Trends Plant Sci 13:151–159

Wagner GJ (1991) Secreting glandular trichomes: more than just hairs. Plant Physiol 96:675–679

Yazaki K, Shitan N, Sugiyama A, Takanashi K (2009) Cell and molecular biology of ATP-binding cassette proteins in plants. Int Rev Cell Mol Biol 276:263–299
Acknowledgments
This work was supported by the Interuniversity Poles of Attraction Program (Belgian State, Scientific, Technical, and Cultural Services), the "Communauté française de Belgique–Actions de Recherches Concertées" and the Belgian National Fund for Scientific Research.
Additional information
Jérôme Crouzet and Julien Roland contributed equally to this work.
Electronic supplementary material
Below is the link to the electronic supplementary material.
About this article
Cite this article
Crouzet, J., Roland, J., Peeters, E. et al. NtPDR1, a plasma membrane ABC transporter from Nicotiana tabacum, is involved in diterpene transport. Plant Mol Biol 82, 181–192 (2013). https://doi.org/10.1007/s11103-013-0053-0
Received:

Accepted:

Published:

Issue Date:
Keywords
ABC transporter

Diterpenes

Sclareol

Trichome

Pleiotropic drug resistance