Abstract
Gametophytic apomictic plants form non-reduced embryo sacs that generate clonal embryos by parthenogenesis, in the absence of both meiosis and egg-cell fertilization. Here we report the sequence and expression analysis of a lorelei-like Paspalum notatum gene, n20gap-1, which encodes a GPI-anchored protein previously associated with apomixis in this species. Phylogeny trees showed that n20gap-1 was evolutionary related to the Arabidopsis thaliana lorelei genes At4g26466 and At5g56170. The lorelei At4g26466 disruption was shown to be detrimental to sperm cell release in arabidopsis. RFLP (Restriction Fragment Length Polymorphism) analysis revealed the occurrence of several homologous sequences in the Paspalum notatum genome, exhibiting polymorphisms genetically linked to apomixis. Real-time PCR showed that lorelei-family genes present a minor activity peak at pre-meiosis and a major one at anthesis. The apomictic genotype analyzed showed a significantly increased activity at pre-meiosis, post-meiosis and anthesis with respect to a sexual genotype. In situ hybridization assays revealed expression in integuments, nucellus and the egg-cell apparatus. Several n20gap-1 alleles differing mainly at the 3′ UTR sequence were identified. Allele-specific real-time PCR experiments showed that allele 28 was significantly induced in reproductive tissues of the apomictic genotype with respect to the sexual genotype at anthesis. Our results indicate that P. notatum lorelei-like genes are differentially expressed in representative sexual (Q4188) and apomictic (Q4117) genotypes, and might play a role in the final stages of the apomixis developmental cascade. However, the association of n20gap-1 expression with the trait should be confirmed in significant number of sexual and apomictic genotypes.
This is a preview of subscription content, log in to check access.
Access options
Buy single article
Instant access to the full article PDF.
US$ 39.95
Price includes VAT for USA
Subscribe to journal
Immediate online access to all issues from 2019. Subscription will auto renew annually.
US$ 199
This is the net price. Taxes to be calculated in checkout.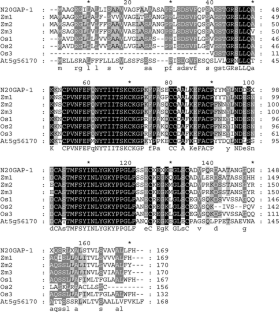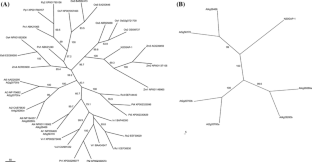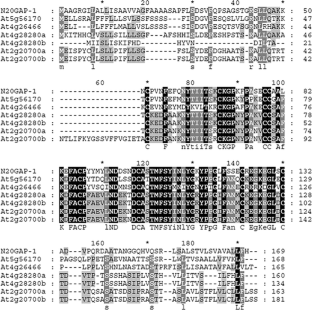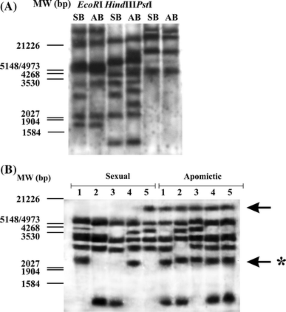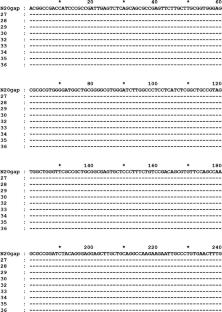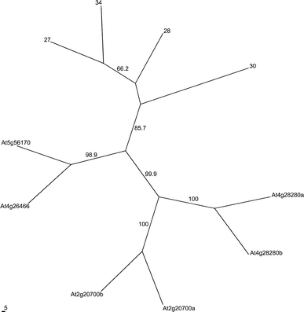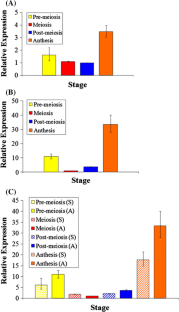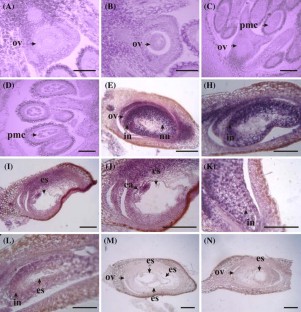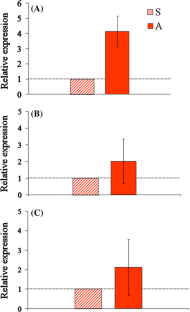 References
Acosta-Garcia G, Vielle-Calzada JP (2004) A classical arabinogalactan protein is essential for the initiation of female gametogenesis in Arabidopsis. Plant Cell 16:2614–2628

Akiyama Y, Hanna WW, Ozias-Akins P (2005) High-resolution physical mapping reveals that the apospory-specific genomic region (ASGR) in Cenchrus ciliaris is located on a heterochromatic and hemizygous region of a single chromosome. Theor Appl Genet 111:1042–1051

Albertini E, Marconi G, Barcaccia G, Raggi L, Falcinelli M (2004) Isolation of candidate genes for apomixis in Poa pratensis. Plant Mol Biol 56:879–894

Albertini E, Marconi G, Reale L, Barcaccia G, Proceddu A, Ferranti F, Falcinelli M (2005) SERK and APOSTART. Candidates genes for apomixis in Poa pratensis. Plant Physiol 138:2185–2199

Bendtsen JD, Nielsen H, von Heijne G, Brunak S (2004) Improved prediction of signal peptides-SignalP 3.0. J Mol Biol 340:783–795

Boisson-Dernier A, Frietsch S, Kim TH, Dizon MB, Schroeder JI (2008) The peroxin loss-of-function mutation abstinence by mutual consent disrupts male-female gametophyte recognition. Curr Biol 18:63–68

Capron A, Gourgues M, Neiva LS, Faure J-E, Berger F, Pagnussat G, Krishnan A, Alvarez-Mejia C, Vielle-Calzada J-P, Lee Y-R, Liu B, Sundaresan V (2008) Maternal control of male-gamete delivery in Arabidopsis involves a putative GPI-anchored protein encoded by the LORELEI Gene. Plant Cell 20:3038–3049

Cervigni GDL, Paniego N, Pessino S, Selva JP, Díaz M, Spangenberg G, Echenique V (2008) Gene expression in diplosporous and sexual Eragrostis curvula genotypes with differing ploidy levels. Plant Mol Biol 67:11–23

Chenchik A, Mogadam F, Siebert P (1996) A new method for full-length cDNA cloning by PCR. In: Krieg PA (ed) A laboratory guide to RNA: isolation, analisis and synthesis. Wiley-Liss, Inc., New York, pp 273–321

Coppinger P, Repetti PP, Day B, Dahlbeck D, Mehlert A, Staskawicz BJ (2004) Overexpression of the plasma membrane localized NDR1 protein results in enhanced bacterial disease resistance in Arabidopsis thaliana. Plant J 40:225–237

Crane C (2001) Classification of apomictic mechanisms. In: Savidan Y, Carman G, Dresselhaus T (eds) Flowering of Apomixis: From Mechanisms to Genetic Engineering. CIMMYT, IRD, European Commission DG VI, Mexico, pp 24–43

Eisenhaber B, Wildpaner M, Schultz CJ, Borner GHH, Dupree P, Eisenhaber F (2003) Glycosylphosphatidylinositol lipid anchoring of plant proteins. Sensitive prediction from sequence- and genome-wide studies for arabidopsis and rice. Plant Physiol 133:1691–1701

Felsenstein J (2005) PHYLIP (phylogeny inference package) version 3.6. Department of Genome Sciences, University of Washington, Seattle

Gates RN, Quarin CL, Pedreira CGS (2004) Bahiagrass. In: Moser LE, Burson BL, Sollenberger LE (eds) Warm-season (C4) grasses, Agron. Monogr. 45. ASA, CSSA, SSSA, Madison, WI, pp 651–680

Grewal SI, Elgin SC (2002) Heterochromatin: new possibilities for inheritance of structure. Curr Opin Genet Dev 12:178–187

Grossniklaus U (2001) From sexuality to apomixis: molecular and genetic approaches. In: Savidan Y, Carman JG, Dresselhaus T (eds) The flowering of apomixis: from mechanisms to genetic engineering. Centro Internacional de Mejoramiento de Maíz y Trigo (CIMMYT), Mexico, pp 168–211

Hee-Ju Y, Hogan P, Sundaresan V (2005) Analysis of the female gametophyte transcriptome of Arabidopsis by comparative expression profiling. Plant Physiol 139:1853–1869

Larkin MA, Blackshields G, Brown NP, Chenna R, McGettigan PA, McWilliam H, Valentin F, Wallace IM, Wilm A, Lopez R, Thompson JD, Gibson TJ, Higgins DG (2007) Clustal W and Clustal X version 2.0. Bioinformatics 23:2947–2948

Laspina NV, Vega T, Seijo JG, Gonzalez AM, Martelotto LG, Stein J, Podio M, Ortiz JPA, Echenique VC, Quarin CL, Pessino SC (2008) Gene expression analysis at the onset of aposporous apomixis in Paspalum notatum. Plant Mol Biol 67:615–628

Livak KJ, Schmittgen TD (2001) Analysis of relative gene expression data using real-time quantitative PCR and the 2-DDCt method. Methods 25:402–408

Martínez EJ, Hopp E, Stein J, Ortiz JPA, Quarin CL (2003) Genetic characterization of apospory in tetraploid Paspalum notatum based on the identification of linked molecular markers. Mol Breed 12(4):319–327

Murray MG, Thompson WF (1980) Rapid isolation of high molecular weight plant DNA. Nucleic Acids Res 8:4321–4325

Nogler GA (1984) Gametophytic apomixis. In: Johri BM (ed) Embryology of angiosperms. Springer, Berlin, pp 475–518

Nosjean O, Briolay A, Roux B (1997) Mammalian GPI proteins: sorting, membrane residence and functions. Biochim Biophys Acta 1331:153–186

Ortiz JPA, Pessino SC, Leblanc O, Hayward MD, Quarin CL (1997) Genetic fingerprinting for determining the mode of reproduction in Paspalum notatum, a subtropical apomictic forage grass. Theor Appl Genet 95:850–856

Ortiz JPA, Pessino SC, Bhat V, Hayward MD, Quarin CL (2001) A genetic linkage map of diploid Paspalum notatum. Crop Sci 41:823–830

Ozias-Akins P (2006) Apomixis: developmental characteristics and genetics. Crit Rev Plant Sci 25:199–214

Ozias-Akins P, Roche D, Hanna WW (1998) Tight clustering and hemizygosity of apomixis-linked molecular markers in Pennisetum squamulatum implies genetic control of apospory by divergent locus that may have no allelic form in sexual gentypes. Proc Natl Acad Sci USA 95:5127–5132

Pagnussat GC, Yu HJ, Ngo QA, Rajani S, Mayalagu S, Johnson CS, Capron A, Xie LF, Ye D, Sundaresan V (2005) Genetic and molecular identification of genes required for female gametophyte development and function in Arabidopsis. Development 132:603–614

Paulick MG, Bertozzi CR (2008) The glycosylphosphatidylinositol anchor: a complex membrane-anchoring structure for proteins. Biochemistry 47:6991–7000

Pupilli F, Lambobarda P, Cáceres ME, Quarin CL, Arcioni S (2001) The chromosome segment related to apomixis in Paspalum simplex is homoeologous to the telomeric region of the long arm of rice chromosome 12. Mol Breed 8:53–61

Pupilli F, Martínez EJ, Busti A, Calderini O, Quarin CL, Arcioni S (2004) Comparative mapping reveals partial conservation of synteny at the apomixis locus in Paspalum spp. Mol Genet Genomics 270:539–548

Quarin CL (1992) The nature of apomixis and its origin in Panicoid grasses. Apomixis Newsl 5:8–15

Quarin CL, Espinoza F, Martínez EJ, Pessino SC, Bovo OA (2001) A rise of ploidy level induces the expression of apomixis in Paspalum notatum. Sex Plant Reprod 13:243–249

Quarin CL, Urbani MH, Blount AR, Martínez EJ, Hack CM, Burton GW, Quesenberry KH (2003) Registration of Q4188 and Q4205, sexual tetraploid germplasm lines of Bahiagrass. Crop Sci 43:745–746

Quevillon E, Silventoinen V, Pillai S, Harte N, Mulder N, Apweiler R, Lopez R (2005) InterProScan: protein domains identifier. Nucleic Acids Res 33:W116–W120

Richards AJ (2003) Apomixis in flowering plants: an overview. Philos Trans R Soc Lond B 358:1085–1093

Rodrigues JC, Cabral GB, Dusi DMA, Mello LV, Rinden D, Carneiro VT (2003) Identification of differentially expressed cDNA sequences in ovaries of sexual and apomictic plants of Brachiaria brizantha. Plant Mol Biol 53:745–757

Sambrook J, Russell DW (2001) Molecular cloning: a laboratory manual. Cold Spring Harbor Laboratory Press, Cold Spring Harbor

Schindelman G, Morikami A, Jung J, Baskin TI, Carpita NC, Derbyshire P, McCann MC, Benfey PN (2001) COBRA encodes a putative GPI-anchored protein, which is polarly localized and necessary for oriented cell expansion in Arabidopsis. Genes Dev 15:1115–1127

Sharbel T, Voigt M-L, Corral JM, Thiel T, Varshney A, Kumlehn J, Vogel H, Rotter B (2009) Molecular signatures of apomictic and sexual ovules in the Boechera holboellii complex. Plant J 58:870–882

Spillane C, Curtis MD, Grossniklaus U (2004) Apomixis technology development-virgin birth in farmers' fields. Nat Biotechnol 22(6):687–691

Steffen JG, Kang I, MacFarlane J, Drews GN (2007) Identification of genes expressed in the Arabidopsis female gametophyte. Plant J 51:281–292

Stein J, Quarin CL, Martínez EJ, Pessino SC, Ortiz JPA (2004) Tetraploid races of Paspalum notatum show polysomic inheritance with preferential chromosome pairing and suppression of recombination around the apospory-controlling locus. Theoret Appl Genet 109:186–191

Stein J, Pessino SC, Martínez EJ, Rodríguez MP, Siena LA, Quarin CL, Ortiz JPA (2007) A genetic map of tetraploid Paspalum notatum Flügge (bahiagrass) based on single-dose molecular markers. Mol Breed 20:153–166

Tsukamoto T, Qin Y, Huang Y, Dunatunga D, Palanivelu R (2010) A role for LORELEI, a putative glycosylphosphatidylinositol anchored protein, in Arabidopsis thaliana double fertilization and early seed development. Plant J 62:571–588

Yamada-Akiyama H, Akiyama Y, Ebina M, Xu Q, Tsuruta S, Yazaki J, Kishimoto N, Kikuchi S, Takahara M, Takamizo T, Sugita S, Nakagawa H (2009) Analysis of expressed sequence tags in apomictic guineagrass (Panicum maximum). J Plant Physiol 166:750–761
Acknowledgments
Thanks are due to Prof. Camilo Quarin for kindly providing the plant material used in this work. We thank Dr. Michael Hayward, Dr. Peggy Ozias-Akins and Dr. Marta Bianchi for valuable corrections and suggestions that helped to improve the manuscript. This work was funded by Agencia Nacional de Promoción Científica y Tecnológica, Argentina (ANPCyT PICT 2003 13578, PICT 2007 00476 and PME 2006 03083); Consejo Nacional de Investigaciones Científicas y Técnicas Argentina (CONICET, PIP 2008 6805); Centro Argentino Brasileño de Biotecnología (CABBIO Proy. 2004 012). Podio M, Laspina N and Siena L received a fellowship from CONICET (Consejo Nacional de Investigaciones Científicas y Técnicas, Argentina). Felitti SA, Seijo JG., González AM, Ortiz JPA and Pessino SC are career members of CONICET (Consejo Nacional de Investigaciones Científicas y Técnicas, Argentina).
About this article
Cite this article
Felitti, S.A., Seijo, J.G., González, A.M. et al. Expression of lorelei-like genes in aposporous and sexual Paspalum notatum plants. Plant Mol Biol 77, 337 (2011). https://doi.org/10.1007/s11103-011-9814-9
Received:

Accepted:

Published:
Keywords
Apomixis

Apospory

Lorelei
Paspalum notatum

Plant reproduction