Abstract
Geminiviruses are ssDNA viruses that infect a range of economically important crop species. We have developed a pathogen-derived transgenic approach to generate high levels of resistance against these pathogens in a susceptible cultivar of cassava (Manihot esculenta). Integration of the AC1 gene (which encodes the replication-associated protein) from African cassava mosaic virus imparted resistance against the homologous virus and provided strong cross-protection against two heterologous species of cassava-infecting geminiviruses. Short-interfering RNAs specific to the AC1 transgene were identified in the two most resistant transgenic plant lines prior to virus challenge. Levels of AC1 mRNA were suppressed in these plants. When challenged with geminiviruses, accumulation of viral DNA was reduced by up to 98% compared to controls, providing evidence that integration of AC1 initiates protection against viral infection via a post-transcriptional gene silencing mechanism. The robust cross-resistance reported has important implications for field deployment of transgenic strategies to control geminiviruses.
This is a preview of subscription content, log in to check access.
Access options
Buy single article
Instant access to the full article PDF.
US$ 39.95
Price includes VAT for USA
Subscribe to journal
Immediate online access to all issues from 2019. Subscription will auto renew annually.
US$ 199
This is the net price. Taxes to be calculated in checkout.
References
S. Asad W.A. Haris A. Bashir Y. Zafar K.A. Malik N.N. Malik C.P. Lichtenstein (2003) ArticleTitleTransgenic tobacco expressing geminiviral RNAs are resistant to the serious viral pathogen causing cotton leaf curl disease Arch. Virol. 148 2341–2352 Occurrence Handle10.1007/s00705-003-0179-5 Occurrence Handle1:CAS:528:DC%2BD3sXptleks7w%3D Occurrence Handle14648290

R.N. Beachy (1997) ArticleTitleMechanisms and applications of pathogen-derived resistance in transgenic plants Curr. Opin. Biotechnol. 8 215–220 Occurrence Handle1:CAS:528:DyaK2sXisVyqurY%3D Occurrence Handle9079736

E. Bernstein A.A. Caudy S.M. Hammond G.J. Hannon (2001) ArticleTitleRole for a bidentate ribonuclease in the initiation step of RNA interference Nature 409 363–366 Occurrence Handle10.1038/35053110 Occurrence Handle1:CAS:528:DC%2BD3MXms12ksA%3D%3D Occurrence Handle11201747

A. Brunetti M. Tavazza E. Noris R. Tavazza P. Caciagli G. Ancora S. Crespi G.P. Accotto (1997) ArticleTitleHigh expression of truncated viral rep protein confers resistance to tomato yellow leaf curl virus in transgenic tomato plants Mol. Plant-Microb. Interact. 10 571–579 Occurrence Handle1:CAS:528:DyaK2sXjvFOktrk%3D

L. Calvert J.M. Thresh (2002) The viruses and virus diseases of cassava R.J. Hillocks J.M. Thresh A. Bellotti (Eds) Cassava: Biology, Production, and Utilization CAB International Wallingford, UK 237–260

A. Chatterji R.N. Beachy C.M. Fauquet (2001) ArticleTitleExpression of the oligomerization domain of the replication-associated protein (Rep) of Tomato leaf curl New Delhi virus interferes with DNA accumulation of heterologous geminiviruses J. Biol. Chem. 276 25631–25638 Occurrence Handle10.1074/jbc.M100030200 Occurrence Handle1:CAS:528:DC%2BD3MXlt1ant70%3D Occurrence Handle11342533

P. Chellappan R. Vanitharani C.M. Fauquet (2004) ArticleTitlesiRNA accumulation correlates with host recovery in DNA virus infected hosts and gene silencing targets specific viral sequences J. Virol. 78 7465–7477 Occurrence Handle10.1128/JVI.78.14.7465-7477.2004 Occurrence Handle1:CAS:528:DC%2BD2cXlvFShtbY%3D Occurrence Handle15220420

T. Dalmay A. Hamilton S. Rudd S. Angell D.C. Baulcombe (2000) ArticleTitleAn RNA-dependent RNA polymerase gene in Arabidopsis is required for posttranscriptional gene silencing mediated by a transgene but not by a virus Cell (Cambridge) 101 543–553 Occurrence Handle1:CAS:528:DC%2BD3cXjvFWntLY%3D

S.L. Dellaporta J. Wood J.B. Hicks (1983) ArticleTitleA plant DNA minipreparation: version II Plant Mol. Biol. Rep. 1 19–21 Occurrence Handle1:CAS:528:DyaL2cXksFWhtrk%3D

A. Depicker M.V. Montagu (1997) ArticleTitlePost-transcriptional gene silencing in plants Curr. Opin. Cell Biol. 9 373–382 Occurrence Handle10.1016/S0955-0674(97)80010-5 Occurrence Handle9159078

C.M. Fauquet D. Fargette (1988) Proceedings of the International Seminar: African Cassava Mosaic Disease and its Control CTA/ORSTOM, Ede Holland

C.M. Fauquet J. Stanley (2003) ArticleTitleGeminivirus classification and nomenclature: progress and problems Ann. Appl. Biol. 142 165–189 Occurrence Handle1:CAS:528:DC%2BD3sXktF2ltb4%3D

V.N. Fondong J.S. Pita M.E. Rey A. de Kochko R.N. Beachy C.M. Fauquet (2000) ArticleTitleEvidence of synergism between African cassava mosaic virus and a new double-recombinant geminivirus infecting cassava in Cameroon J.Gen. Virol. 81 287–297 Occurrence Handle1:CAS:528:DC%2BD3cXjvVOjtA%3D%3D Occurrence Handle10640569

J. Goodwin K. Chapman S. Swaney T.D. Parks E.A. Wernsman W.G. Dougherty (1996) ArticleTitleGenetic and biochemical dissection of transgenic RNA-mediated virus resistance Plant Cell 8 95–105 Occurrence Handle10.1105/tpc.8.1.95 Occurrence Handle1:CAS:528:DyaK28Xnslylsw%3D%3D Occurrence Handle8597662

A. Hamilton O. Voinnet L. Chappell D. Baulcombe (2002) ArticleTitleTwo classes of short interfering RNA in RNA silencing EMBO J. 21 4671–4679 Occurrence Handle10.1093/emboj/cdf464 Occurrence Handle1:CAS:528:DC%2BD38Xms1KmsrY%3D Occurrence Handle12198169

A.J. Hamilton D.C. Baulcombe (1999) ArticleTitleA species of small antisense RNA in posttranscriptional gene silencing in plants Science 286 950–952 Occurrence Handle10.1126/science.286.5441.950 Occurrence Handle1:CAS:528:DyaK1MXntFaktbY%3D Occurrence Handle10542148

S.M. Hammond E. Bernstein D. Beach G.J. Hannon (2000) ArticleTitleAn RNA-directed nuclease mediates post-transcriptional gene silencing in Drosophila cells Nature 404 293–296 Occurrence Handle1:CAS:528:DC%2BD3cXit1agtrw%3D Occurrence Handle10749213

L. Hanley-Bowdoin S.B. Settlage B.M. Orozco S. Nagar D. Robertson (1999) ArticleTitleGeminiviruses: models for plant DNA replication, transcription, and cell cycle regulation Crit. Rev. Plant Sci. 18 71–106 Occurrence Handle1:CAS:528:DyaK1MXht12qtL8%3D

B.D. Harrison X. Zhou G.W. Otim-Nape Y. Liu D.J. Robinson (1997) ArticleTitleRole of a novel type of double infection in the geminivirus-induced epidemic of severe cassava mosaic in Uganda Ann. Appl. Biol. 131 437–448

Y. Hong J. Stanley (1996) ArticleTitleVirus resistance in Nicotiana benthamiana conferred by African cassava mosaic virus replication-associated protein (AC1) transgene Mol. Plant-Microbe Interact. 9 219–225 Occurrence Handle1:CAS:528:DyaK28XivVaisbk%3D

H. Li W.X. Li S.W. Ding (2002) ArticleTitleInduction and suppression of RNA silencing by an animal virus Science 296 1319–1321 Occurrence Handle1:CAS:528:DC%2BD38Xjsl2qurg%3D Occurrence Handle12016316

A. Lucioli E. Noris A. Brunetti R. Tavazza V. Ruzza A.G. Castillo E.R. Bejarano G.P. Accotto M. Tavazza (2003) ArticleTitleTomato yellow leaf curl Sardinia virus rep-derived resistance to homologous and heterologous geminiviruses occurs by different mechanisms and is overcome if virus-mediated transgene silencing is activated J. Virol. 77 6785–6798 Occurrence Handle10.1128/JVI.77.12.6785-6798.2003 Occurrence Handle1:CAS:528:DC%2BD3sXksFGhsrk%3D Occurrence Handle12767999

E. Noris G.P. Accotto R. Tavazza A. Brunetti S. Crespi M. Tavazza (1996) ArticleTitleResistance to tomato yellow leaf curl geminivirus in Nicotiana benthamiana plants transformed with a truncated viral C1 gene Virology 224 130–138 Occurrence Handle10.1006/viro.1996.0514 Occurrence Handle1:CAS:528:DyaK28XmsVSkur8%3D Occurrence Handle8862407

Y.M. Pinto R.A. Kok D.C. Baulcombe (1999) ArticleTitleResistance to rice yellow mottle virus (RYMV) in cultivated African rice varieties containing RYMV transgenes Nature Biotechnol. 17 702–707 Occurrence Handle1:CAS:528:DyaK1MXksFehtrk%3D

J.S. Pita V.N. Fondong A. Sangare G.W. Otim-Nape S. Ogwal C.M. Fauquet (2001) ArticleTitleRecombination, pseudorecombination and synergism of geminiviruses are determinant keys to the epidemic of severe cassava mosaic disease in Uganda J. Gen. Virol. 82 655–665 Occurrence Handle1:CAS:528:DC%2BD3MXhs1Sjtrs%3D Occurrence Handle11172108

R.H. Plasterk (2002) ArticleTitleRNA silencing: the genome's immune system Science 296 1263–1265 Occurrence Handle10.1126/science.1072148 Occurrence Handle1:CAS:528:DC%2BD38Xjsl2qt7w%3D Occurrence Handle12016302

M. Pooggin P.V. Shivaprasad K. Veluthambi T. Hohn (2003) ArticleTitleRNAi targeting of DNA virus in plants Nature Biotechnol. 21 131–132 Occurrence Handle10.1038/nbt0203-131b Occurrence Handle1:CAS:528:DC%2BD3sXnsFSqtg%3D%3D

F. Ratcliff B.D. Harrison D.C. Baulcombe (1997) ArticleTitleA similarity between viral defense and gene silencing in plants Science 276 1558–1560 Occurrence Handle10.1126/science.276.5318.1558 Occurrence Handle1:CAS:528:DyaK2sXjslGktr8%3D

J. Sambrook D.W. Russell (2001) Molecular Cloining: A Laboratory Manual, Ed 3rd Ed Cold Spring Harbor Lab. Press Plainview, NY

A. Sangare D. Deng C.M. Fauquet R.N. Beachy (1999) ArticleTitleResistance to African cassava mosaic virus conferred by a mutant of the putative NTP-binding domain of the Rep gene (AC1) in Nicotiana benthamiana Mol. Breed. 5 95–102 Occurrence Handle1:CAS:528:DyaK1MXitl2ku74%3D

K. Saunders N. Salim V.R. Mali V.G. Malathi R. Briddon P.G. Markham J. Stanley (2002) ArticleTitleCharacterisation of Sri Lankan Cassava Mosaic Virus and Indian Cassava Mosaic Virus: evidence for acquisition of a DNA B component by a Monopartite Begomovirus Virology 293 63–74 Occurrence Handle10.1006/viro.2001.1251 Occurrence Handle1:CAS:528:DC%2BD38XhtlSns7w%3D Occurrence Handle11853400

C. Schöpke N. Taylor R. Carcamo K.K. N'Da P. Marmey G.G Henshaw R.N. Beachy C.M. Fauquet (1996) ArticleTitleRegeneration of transgenic cassava plants (Manihot esculenta Crantz) from microbombarded embryogenic suspension cultures Nature Biotechnol. 14 731–735 Occurrence Handle10.1038/nbt0696-731

T. Sijen J. Fleenor F. Simmer K.L. Thijssen S. Parrish L. Timmons R.H.A. Plasterk A. Fire (2001) ArticleTitleOn the Role of RNA Amplification in dsRNA-Triggered Gene Silencing Cell 107 465–476 Occurrence Handle10.1016/S0092-8674(01)00576-1 Occurrence Handle1:CAS:528:DC%2BD3MXovVCns7k%3D Occurrence Handle11719187

G. Tang B.J. Reinhart D.P. Bartel P.D. Zamore (2003) ArticleTitleA biochemical framework for RNA silencing in plants Genes Develop. 17 49–63 Occurrence Handle1:CAS:528:DC%2BD3sXktlKrug%3D%3D Occurrence Handle12514099

N.J. Taylor C.M. Fauquet (2002) ArticleTitleMicroparticle bombardment as a tool in plant science and agricultural biotechnology DNA Cell Biol. 21 963–977 Occurrence Handle10.1089/104454902762053891 Occurrence Handle1:CAS:528:DC%2BD3sXhtFahsbw%3D Occurrence Handle12573053

N.J. Taylor M.V. Masona R. Carcamo T. Ho C. Schöpke C.M. Fauquet (2001) ArticleTitleProduction of embryogenic tissues and regeneration of transgenic plants in cassava (Manihot esculenta Crantz) Euphytica 120 25–34 Occurrence Handle10.1023/A:1017526814789 Occurrence Handle1:CAS:528:DC%2BD3MXms1Shsbc%3D

F.E. Vaistij L. Jones D.C. Baulcombe (2002) ArticleTitleSpreading of RNA targeting and DNA methylation in RNA silencing␣requires transcription of the target gene and a putative RNA-dependent RNA polymerase Plant Cell 14 857–867 Occurrence Handle10.1105/tpc.010480 Occurrence Handle1:CAS:528:DC%2BD38XjsFWktr8%3D Occurrence Handle11971140

V. Vance H. Vaucheret (2001) ArticleTitleRNA silencing in plants-defense and counterdefense Science 292 2277–2280 Occurrence Handle10.1126/science.1061334 Occurrence Handle1:CAS:528:DC%2BD3MXks1yrtr8%3D Occurrence Handle11423650

R. Vanitharani P. Chellappan C.M. Fauquet (2003) ArticleTitleShort interfering RNA-mediated interference of gene expression and viral DNA accumulation in cultured plant cells Proc. Natl. Acad. Sci. USA 100 9632–9636 Occurrence Handle10.1073/pnas.1733874100 Occurrence Handle1:CAS:528:DC%2BD3sXmtlyrs74%3D Occurrence Handle12886005

B. Verdaguer A. de Kochko R.N. Beachy C.M. Fauquet (1996) ArticleTitleIsolation and expression in transgenic tobacco and rice plants, of the Cassava Vein Mosaic Virus (CVMV) promoter Plant Mol. Biol. 31 1129–1139 Occurrence Handle10.1007/BF00040830 Occurrence Handle1:CAS:528:DyaK28XmvFWqt7s%3D Occurrence Handle8914529

P.M. Waterhouse M. Wang T. Lough (2001) ArticleTitleGene silencing as an adaptive defence against viruses Nature (London) 411 834–842 Occurrence Handle10.1038/35081168 Occurrence Handle1:CAS:528:DC%2BD3MXksF2gu7Y%3D
Electroni supplementary meaterial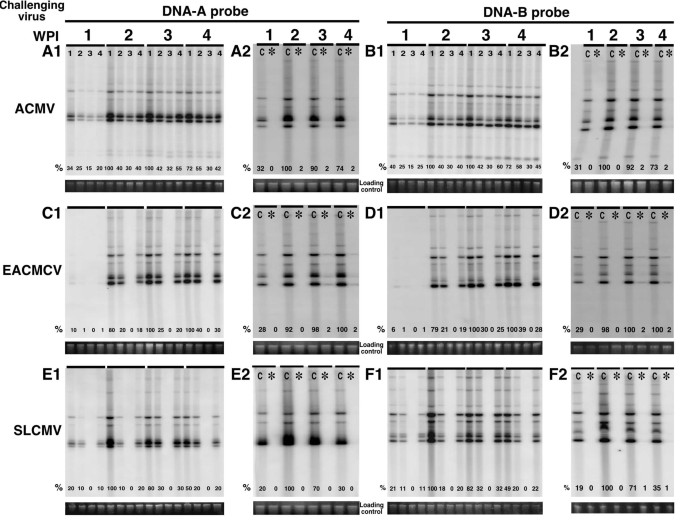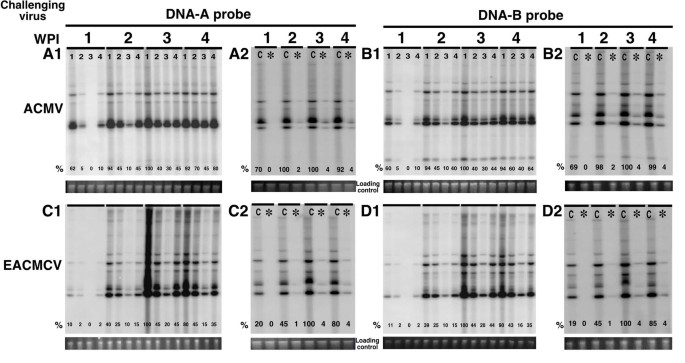 About this article
Cite this article
Chellappan, P., Masona, M.V., Vanitharani, R. et al. Broad Spectrum Resistance to ssDNA Viruses Associated with Transgene-Induced Gene Silencing in Cassava. Plant Mol Biol 56, 601–611 (2004). https://doi.org/10.1007/s11103-004-0147-9
Received:

Accepted:

Issue Date:
Keywords
Cassava

cassava mosaic disease

geminivirus

post-transcriptional gene silencing

siRNA

virus resistance