Abstract
Purpose
To report our experience of endoscopic endonasal obliteration of symptomatic sellar arachnoid cyst (SAC).
Methods
From 2002 to 2019, we retrospectively reported the data of 17 cases of SAC operated in Timone University Hospital, Marseille, France. Preoperative clinical findings were collected including main symptoms, visual function and endocrinological assessment. Surgical procedure was homogeneous and consisted in endonasal fully endoscopic surgical obliteration of the cyst cavity with fat graft. Post-operative outcomes, complication and follow-up was reported.
Results
Visual disorders and/or headaches were the main symptoms. Our technique provided improvement for 83.3% of the patients suffering from visual disturbance and for 87.5% of those suffering from headaches. We reported 2 cases of cerebrospinal fluid (CSF) leakage (11.8%), but no meningitis. One case of definitive diabetes insipidus occurred and one case of postoperative syndrome of inappropriate antidiuretic hormone secretion was temporary. There was one case of recurrence reported. The mean follow-up was 39 months.
Conclusion
Patients with symptomatic SAC can be treated successfully by endoscopic endonasal obliteration of the cyst. This simple technique offers true benefits for the patients without craniotomy, but the complication rate remains high especially with the risk of CSF leakage. Special attention to skull base opening and closing could reduce this risk.
Access options
Buy single article
Instant access to the full article PDF.
USD 39.95
Price includes VAT (USA)
Tax calculation will be finalised during checkout.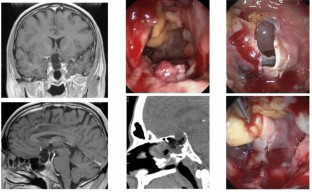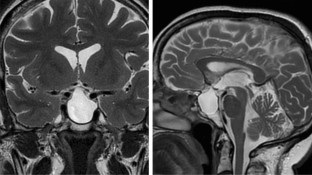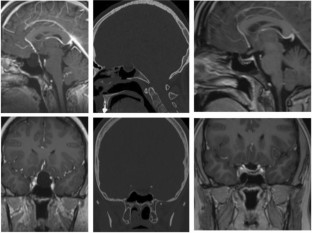 Funding
No funding was received for conducting this study.
Ethics declarations
Conflict of interest
The authors declare no conflict of interest.
Ethical approval
All procedures performed in studies involving human participants were in accordance with the ethical standards of the institutional and/or national research committee and with the 1964 Helsinki Declaration and its later amendments. The Human Investigation Committee (IRB) of College de Neurochirurgie approved this study. No. IRB00011687 Collège de neurochirurgie IRB #1: 2021/19.
Informed consent
Informed consent was obtained from the patients included in this study.
Additional information
Publisher's Note
Springer Nature remains neutral with regard to jurisdictional claims in published maps and institutional affiliations.
About this article
Cite this article
d'Artigues, J., Graillon, T., Boissonneau, S. et al. Fully endoscopic endonasal approach for the treatment of intrasellar arachnoid cysts. Pituitary (2021). https://doi.org/10.1007/s11102-021-01187-8
Keywords
Intrasellar cyst

Endoscopic surgery

Cyst obliteration

Endonasal approach

Skull base

Arachnoid cysts