Abstract
Purpose
RAS genes are among the most frequently mutated genes in cancer, where their mutation frequency varies according to the distinct RAS isoforms and tumour types. Despite occurring more prevalent in malignant tumours, RAS mutations were also observed in few benign tumours. Pituitary adenomas are examples of benign tumours which vary in size and aggressiveness. The present study was performed to investigate, via liquid biopsy and tissue analysis, the presence of K-RAS mutations in a pituitary macroadenoma.
Methods
Molecular analysis was performed to investigate K-RAS mutations using the droplet digital PCR (ddPCR) method by evaluating both plasma (liquid biopsy) and the solid tumour of a patient diagnosed with a giant clinically non-functioning pituitary tumour.
Results
The patient underwent surgical resection due to visual loss, and the histopathological analysis showed a gonadotrophic pituitary macroadenoma. The molecular analysis revealed the presence of mutant K-RAS both in the plasma and in the tumour tissue which, to our knowledge, has not been previously reported in the literature.
Conclusion
Our findings highlight the exceptional capacity of the digital PCR in detecting low frequency mutations (below 1%), since we detected, for the first time, K-RAS mutations in pituitary macroadenoma. The potential impact of K-RAS mutations in these tumours should be further investigated.
Access options
Buy single article
Instant access to the full article PDF.
USD 39.95
Price excludes VAT (USA)
Tax calculation will be finalised during checkout.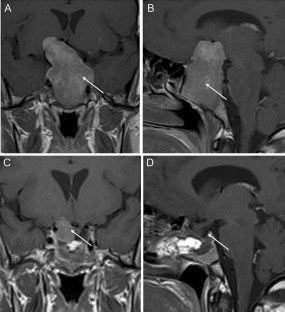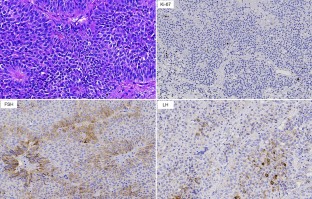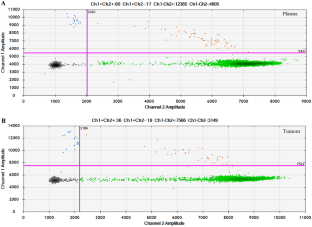 References
Zenonos K (2013) RAS signaling pathways, mutations and their role in colorectal cancer. World J Gastrointest Oncol. https://doi.org/10.4251/wjgo.v5.i5.97

Li S, Balmain A, Counter CM (2018) A model for RAS mutation patterns in cancers: finding the sweet spot. Nat Rev Cancer 18:767–777

Hobbs GA, Der CJ, Rossman KL (2016) RAS isoforms and mutations in cancer at a glance. J Cell Sci 129:1287–1292. https://doi.org/10.1242/jcs.182873

Gil Ferreira C, Aran V, Zalcberg-Renault I et al (2014) KRAS mutations: variable incidences in a Brazilian cohort of 8,234 metastatic colorectal cancer patients. BMC Gastroenterol 14:73. https://doi.org/10.1186/1471-230X-14-73

Aran V, Masson Domingues P, Carvalho de Macedo F et al (2018) A cross-sectional study examining the expression of splice variants K-RAS4A and K-RAS4B in advanced non-small-cell lung cancer patients. Lung Cancer 116:7–14. https://doi.org/10.1016/J.LUNGCAN.2017.12.005

Prior IA, Hood FE, Hartley JL (2020) The frequency of Ras mutations in cancer. Cancer Res 80:2969–2974

Kato S, Lippman SM, Flaherty KT, Kurzrock R (2016) The conundrum of genetic "Drivers" in benign conditions. J Natl Cancer Inst. https://doi.org/10.1093/jnci/djw036

Coura BP, Bernardes VF, de Sousa SF et al (2019) KRAS mutations drive adenomatoid odontogenic tumor and are independent of clinicopathological features. Mod Pathol. https://doi.org/10.1038/s41379-018-0194-4

Feng Y, Bommer GT, Zhao J et al (2011) Mutant kras promotes hyperplasia and alters differentiation in the colon epithelium but does not expand the presumptive stem cell pool. Gastroenterology. https://doi.org/10.1053/j.gastro.2011.05.007

Wittersheim M, Heydt C, Hoffmann F, Büttner R (2017) KRAS mutation in papillary fibroelastoma: a true cardiac neoplasm? J Pathol Clin Res. https://doi.org/10.1002/cjp2.66

Caimari F, Korbonits M (2016) Novel genetic causes of pituitary adenomas. Clin Cancer Res 22(20):5030–5042

Daly AF, Rixhon M, Adam C et al (2006) High prevalence of pituitary adenomas: A cross-sectional study in the province of Liège Belgium. J Clin Endocrinol Metab 91(12):4769–4775. https://doi.org/10.1210/jc.2006-1668

Ostrom QT, Cioffi G, Gittleman H et al (2019) CBTRUS statistical report: primary brain and other central nervous system tumors diagnosed in the United States in 2012–2016. Neuro Oncol 21:v1–v100. https://doi.org/10.1093/neuonc/noz150

Carneiro CC, Mendes BB, Bastos LG (2015) Adenoma hipofisário: correlação clínica, laboratorial e radiológiCA. Rev da Univ Val do Rio Verde 13:256–269. https://doi.org/10.5892/ruvrd.v13i1.1979

Potorac I, Petrossians P, Daly AF et al (2015) Pituitary MRI characteristics in 297 acromegaly patients based on T2-weighted sequences. Endocr Relat Cancer. https://doi.org/10.1530/ERC-14-0305

Kasuki L, Raverot G (2020) Definition and diagnosis of aggressive pituitary tumors. Rev Endocr Metab Disord 21:203–208

Chin SO (2020) Epidemiology of functioning pituitary adenomas. Endocrinol Metab 35:237–242. https://doi.org/10.3803/EnM.2020.35.2.237

Tatsi C, Stratakis CA (2019) The genetics of pituitary adenomas. J Clin Med 9:30. https://doi.org/10.3390/jcm9010030

Iacovazzo D, Korbonits M (2016) Gigantism: x-linked acrogigantism and GPR101 mutations. Growth Horm IGF Res 30–31:64–69

Pei L, Melmed S, Scheithauer B et al (1994) H-ras mutations in human pituitary carcinoma metastases. J Clin Endocrinol Metab 78:842–846. https://doi.org/10.1210/jcem.78.4.8157709

Karga HJ, Alexander JM, Hedley-Whyte ET et al (1992) Ras mutations in human pituitary tumors. J Clin Endocrinol Metab 74:914–919. https://doi.org/10.1210/jcem.74.4.1312542

Waters AM, Der CJ (2018) KRAS: the critical driver and therapeutic target for pancreatic cancer. Cold Spring Harb Perspect Med 8:a031435. https://doi.org/10.1101/cshperspect.a031435

Karachaliou N, Mayo-de-las-Casas C, Molina-Vila MA, Rosell R (2015) Real-time liquid biopsies become a reality in cancer treatment. Ann Transl Med 3(3):36

Haber DA, Velculescu VE (2014) Blood-based analyses of cancer: circulating tumor cells and circulating tumor DNA. Cancer Discov. 4(6):650–661

Diaz LA, Polyak K (2013) Tracking tumor resistance using 'liquid biopsies.' Nat Med. https://doi.org/10.1038/nm.3233

Mattox AK, Bettegowda C, Zhou S et al (2019) Applications of liquid biopsies for cancer. Sci Transl Med. https://doi.org/10.1126/scitranslmed.aay1984

Olmedillas-López S, García-Arranz M, García-Olmo D (2017) Current and emerging applications of droplet digital PCR in oncology. Mol Diagnosis Ther 21(5):493–510

Dong L, Wang S, Fu B, Wang J (2018) Evaluation of droplet digital PCR and next generation sequencing for characterizing DNA reference material for KRAS mutation detection. Sci Reports 8:9650. https://doi.org/10.1038/s41598-018-27368-3

Pender A, Garcia-Murillas I, Rana S et al (2015) Efficient genotyping of KRAS mutant non-small cell lung cancer using a multiplexed droplet digital PCR approach. PLoS ONE 10:e0139074. https://doi.org/10.1371/journal.pone.0139074

Denis JA, Patroni A, Guillerm E et al (2016) Droplet digital PCR of circulating tumor cells from colorectal cancer patients can predict KRAS mutations before surgery. Mol Oncol 10:1221–1231. https://doi.org/10.1016/j.molonc.2016.05.009

De Rubis G, Rajeev Krishnan S, Bebawy M (2019) Liquid biopsies in cancer diagnosis, monitoring, and prognosis. Trends Pharmacol Sci 40(3):172–186

Diaz LA, Bardelli A (2014) Liquid biopsies: genotyping circulating tumor DNA. J Clin Oncol 32(6):579–586

Myers MB, Mckim KL, Meng F, Parsons BL (2015) Low-frequency KRAS mutations are prevalent in lung adenocarcinomas. Per Med 12:83–98. https://doi.org/10.2217/pme.14.69

Tougeron D, Lecomte T, Pagès JC et al (2013) Effect of low-frequency KRAS mutations on the response to anti-EGFR therapy in metastatic colorectal cancer. Ann Oncol 24:1267–1273. https://doi.org/10.1093/annonc/mds620
Acknowledgements
We thank the funding agencies (CNPq and FAPERJ), the patient and the Associação Mahatma Gandhi for their support.
Funding
This study was funded by the Brazilian agencies: Conselho Nacional de Desenvolvimento Científico e Tecnológico (CNPq Universal 427912/2018–0) and Fundação de Amparo à Pesquisa do Rio de Janeiro (FAPERJ 25191).
Ethics declarations
Conflict of Interest
The authors have no relevant financial or non-financial interests to disclose.
Ethics approval
This study was performed in line with the principles of the Declaration of Helsinki. Approval was granted by the Ethics Committee of Instituto Estadual do Cérebro Paulo Niemeyer (Approval number: CAAE:90680218.6.1001.8110).
Additional information
Publisher's Note
Springer Nature remains neutral with regard to jurisdictional claims in published maps and institutional affiliations.
About this article
Cite this article
Aran, V., Heringer, M., da Mata, P.J. et al. Identification of mutant K-RAS in pituitary macroadenoma. Pituitary 24, 746–753 (2021). https://doi.org/10.1007/s11102-021-01151-6
Accepted:

Published:

Issue Date:

DOI: https://doi.org/10.1007/s11102-021-01151-6
Keywords
Pituitary adenoma

K-RAS

Macroadenoma

Digital PCR

Liquid biopsy