Abstract
Purpose
Endoscopic transsphenoidal surgery (ETSS) is a well-established treatment for patients with nonfunctioning pituitary adenomas (NFPAs). Data on the rates of pituitary dysfunction and recovery in a large cohort of NFPA patients undergoing ETSS and the predictors of endocrine function before and after ETSS are scarce. This study is purposed to analyze the comprehensive changes in hormonal function and identify factors that predict recovery or worsening of hormonal axes following ETSS for NFPA.
Methods
A retrospective review of 601 consecutive patients who underwent ETSS between 2010 and 2018 at one institution was performed. Recovery or development of new hypopituitarism was analyzed in 209 NFPA patients who underwent ETSS.
Results
Patients with preoperative endocrine deficits (59.8%) in one or more pituitary axes had larger tumor volumes (P = 0.001) than those without preoperative deficits. Recovery of preoperative pituitary deficit occurred in all four axes, with overall mean recovery of 29.7%. The cortisol axis showed the highest recovery whereas the thyroid axis showed the lowest, with 1-year cumulative recovery rates of 44.3% and 6.1%, respectively. Postoperative hypopituitarism occurred overall in 17.2%, most frequently in the thyroid axis (24.3%, 27/111) and least frequently in the cortisol axis (9.7%, 16/165). Axis-specific predictors of post-operative recovery and deficiency were identified.
Conclusions
Dynamic alterations in pituitary hormones were observed in a proportion of patients following ETSS in NFPA patients. Postoperative endocrine vulnerability, recovery, and factors that predicted recovery or loss of endocrine function depended on the hormonal system, necessitating an axis-specific surveillance strategy postoperatively.
Access options
Buy single article
Instant access to the full article PDF.
US$ 39.95
Tax calculation will be finalised during checkout.
Subscribe to journal
Immediate online access to all issues from 2019. Subscription will auto renew annually.
US$ 79
Tax calculation will be finalised during checkout.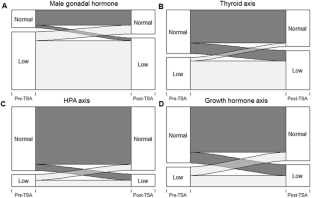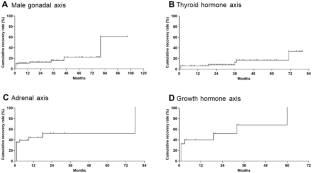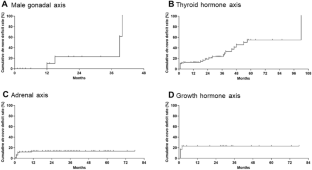 Data availability
The datasets generated during and analyzed during the current study are available from the corresponding author on reasonable request.
References
1.

Monson J (2000) The epidemiology of endocrine tumours. Endocr Relat Cancer 7(1):29–36

2.

Jaffe CA (2006) Clinically non-functioning pituitary adenoma. Pituitary 9(4):317–321. https://doi.org/10.1007/s11102-006-0412-9

3.

Molitch ME (2017) Diagnosis and treatment of pituitary adenomas: a review. JAMA 317(5):516–524. https://doi.org/10.1001/jama.2016.19699

4.

Lucas JW, Bodach ME, Tumialan LM, Oyesiku NM, Patil CG, Litvack Z, Aghi MK, Zada G (2016) Congress of neurological surgeons systematic review and evidence-based guideline on primary management of patients with nonfunctioning pituitary adenomas. Neurosurgery 79(4):E533–535. https://doi.org/10.1227/neu.0000000000001389

5.

Ebersold MJ, Quast LM, Laws ER Jr, Scheithauer B, Randall RV (1986) Long-term results in transsphenoidal removal of nonfunctioning pituitary adenomas. J Neurosurg 64(5):713–719. https://doi.org/10.3171/jns.1986.64.5.0713

6.

Solari D, Pivonello R, Caggiano C, Guadagno E, Chiaramonte C, Miccoli G, Cavallo LM, Del Basso De Caro M, Colao A, Cappabianca P (2019) Pituitary adenomas: what are the key features? What are the current treatments? Where is the future taking us? World Neurosurg 127:695–709. https://doi.org/10.1016/j.wneu.2019.03.049

7.

Swearingen B (2012) Update on pituitary surgery. J Clin Endocrinol Metab 97(4):1073–1081. https://doi.org/10.1210/jc.2011-3237

8.

Elhadi AM, Hardesty DA, Zaidi HA, Kalani MY, Nakaji P, White WL, Preul MC, Little AS (2015) Evaluation of surgical freedom for microscopic and endoscopic transsphenoidal approaches to the sella. Neurosurgery 11(Suppl 2):69–78. https://doi.org/10.1227/neu.0000000000000601discussion 78-69

9.

Quinones-Hinojosa A (2012) Schmidek and sweet: operative neurosurgical techniques 2-volume set: indications, methods and results (Expert Consult-Online and Print), vol 2. Elsevier Health Sciences, Amsterdam

10.

Fatemi N, Dusick JR, Mattozo C, McArthur DL, Cohan P, Boscardin J, Wang C, Swerdloff RS, Kelly DF (2008) Pituitary hormonal loss and recovery after transsphenoidal adenoma removal. Neurosurgery 63(4):709–718. https://doi.org/10.1227/01.Neu.0000325725.77132.90discussion 718-709

11.

Jahangiri A, Wagner JR, Han SW, Tran MT, Miller LM, Chen R, Tom MW, Ostling LR, Kunwar S, Blevins L, Aghi MK (2016) Improved versus worsened endocrine function after transsphenoidal surgery for nonfunctional pituitary adenomas: rate, time course, and radiological analysis. J Neurosurg 124(3):589–595. https://doi.org/10.3171/2015.1.Jns141543

12.

Vargas G, Gonzalez B, Ramirez C, Ferreira A, Espinosa E, Mendoza V, Guinto G, Lopez-Felix B, Zepeda E, Mercado M (2015) Clinical characteristics and treatment outcome of 485 patients with nonfunctioning pituitary macroadenomas. Int J Endocrinol 2015:756069. https://doi.org/10.1155/2015/756069

13.

Little AS, Gardner PA, Fernandez-Miranda JC, Chicoine MR, Barkhoudarian G, Prevedello DM, Yuen KCJ, Kelly DF (2019) Pituitary gland recovery following fully endoscopic transsphenoidal surgery for nonfunctioning pituitary adenoma: results of a prospective multicenter study. J Neurosurg. https://doi.org/10.3171/2019.8.Jns191012

14.

Webb SM, Rigla M, Wagner A, Oliver B, Bartumeus F (1999) Recovery of hypopituitarism after neurosurgical treatment of pituitary adenomas. J Clin Endocrinol Metab 84(10):3696–3700. https://doi.org/10.1210/jcem.84.10.6019

15.

Nomikos P, Ladar C, Fahlbusch R, Buchfelder M (2004) Impact of primary surgery on pituitary function in patients with non-functioning pituitary adenomas–a study on 721 patients. Acta Neurochir 146(1):27–35

16.

Harary M, DiRisio AC, Dawood HY, Kim J, Lamba N, Cho CH, Smith TR, Zaidi HA, Laws ER (2018) Endocrine function and gland volume after endoscopic transsphenoidal surgery for nonfunctional pituitary macroadenomas. J Neurosurg. https://doi.org/10.3171/2018.5.Jns181054

17.

May ME, Carey RM (1985) Rapid adrenocorticotropic hormone test in practice. Retrospective review. Am J Med 79(6):679–684. https://doi.org/10.1016/0002-9343(85)90517-0

18.

Deutschbein T, Unger N, Mann K, Petersenn S (2009) Diagnosis of secondary adrenal insufficiency: unstimulated early morning cortisol in saliva and serum in comparison with the insulin tolerance test. Hormone Metab Res 41(11):834–839. https://doi.org/10.1055/s-0029-1225630

19.

Sterl K, Thompson B, Goss CW, Dacey RG, Rich KM, Zipfel GJ, Chicoine MR, Kim AH, Silverstein JM (2019) Withholding perioperative steroids in patients undergoing transsphenoidal resection for pituitary disease: randomized prospective clinical trial to assess safety. Neurosurgery 85(2):E226–e232. https://doi.org/10.1093/neuros/nyy479

20.

Manuylova E, Calvi LM, Vates GE, Hastings C, Shafiq I (2015) Morning serum cortisol level after transsphenoidal surgery for pituitary adenoma predicts hypothalamic-pituitary-adrenal function despite intraoperative dexamethasone use. Endocr Pract 21(8):897–902. https://doi.org/10.4158/ep15652.Or

21.

Hagg E, Asplund K, Lithner F (1987) Value of basal plasma cortisol assays in the assessment of pituitary-adrenal insufficiency. Clin Endocrinol (Oxf) 26(2):221–226. https://doi.org/10.1111/j.1365-2265.1987.tb00780.x

22.

Jenkins D, Forsham PH, Laidlaw JC, Reddy WJ, Thorn GW (1955) Use of ACTH in the diagnosis of adrenal cortical insufficiency. Am J Med 18(1):3–14. https://doi.org/10.1016/0002-9343(55)90200-x

23.

Chuang C-C, Lin S-Y, Pai P-C, Yan J-L, Toh C-H, Lee S-T, Wei K-C, Liu Z-H, Chen C-M, Wang Y-C, Lee C-C (2017) Different volumetric measurement methods for pituitary adenomas and their crucial clinical significance. Sci Rep 7:40792–40792. https://doi.org/10.1038/srep40792

24.

Marazuela M, Astigarraga B, Vicente A, Estrada J, Cuerda C, Garcia-Uria J, Lucas T (1994) Recovery of visual and endocrine function following transsphenoidal surgery of large nonfunctioning pituitary adenomas. J Endocrinol Investig 17(9):703–707

25.

Arafah BM, Kailani SH, Nekl KE, Gold RS, Selman WR (1994) Immediate recovery of pituitary function after transsphenoidal resection of pituitary macroadenomas. J Clin Endocrinol Metab 79(2):348–354. https://doi.org/10.1210/jcem.79.2.8045946

26.

Comtois R, Beauregard H, Somma M, Serri O, Aris-Jilwan N, Hardy J (1991) The clinical and endocrine outcome to trans-sphenoidal microsurgery of nonsecreting pituitary adenomas. Cancer 68(4):860–866

27.

Briet C, Salenave S, Bonneville JF, Laws ER, Chanson P (2015) Pituitary Apoplexy. Endocr Rev 36(6):622–645. https://doi.org/10.1210/er.2015-1042

28.

Laws ER Jr, Iuliano SL, Cote DJ, Woodmansee W, Hsu L, Cho CH (2016) A benchmark for preservation of normal pituitary function after endoscopic transsphenoidal surgery for pituitary macroadenomas. World neurosurgery 91:371–375. https://doi.org/10.1016/j.wneu.2016.04.059

29.

Cho CH, Barkhoudarian G, Hsu L, Bi WL, Zamani AA, Laws ER (2013) Magnetic resonance imaging validation of pituitary gland compression and distortion by typical sellar pathology. J Neurosurg 119(6):1461–1466. https://doi.org/10.3171/2013.8.Jns13496

30.

Arafah BM, Prunty D, Ybarra J, Hlavin ML, Selman WR (2000) The dominant role of increased intrasellar pressure in the pathogenesis of hypopituitarism, hyperprolactinemia, and headaches in patients with pituitary adenomas. J Clin Endocrinol Metab 85(5):1789–1793. https://doi.org/10.1210/jcem.85.5.6611

31.

Iglesias P, Arcano K, Trivino V, Garcia-Sancho P, Diez JJ, Cordido F, Villabona C (2017) Non-functioning pituitary adenoma underwent surgery: A multicenter retrospective study over the last four decades (1977–2015). Eur J Intern Med 41:62–67. https://doi.org/10.1016/j.ejim.2017.03.023

32.

Chen L, White WL, Spetzler RF, Xu B (2011) A prospective study of nonfunctioning pituitary adenomas: presentation, management, and clinical outcome. J Neurooncol 102(1):129–138. https://doi.org/10.1007/s11060-010-0302-x

33.

Freda PU, Beckers AM, Katznelson L, Molitch ME, Montori VM, Post KD, Vance ML (2011) Pituitary incidentaloma: an endocrine society clinical practice guideline. J Clin Endocrinol Metab 96(4):894–904. https://doi.org/10.1210/jc.2010-1048

34.

Biller BM, Samuels MH, Zagar A, Cook DM, Arafah BM, Bonert V, Stavrou S, Kleinberg DL, Chipman JJ, Hartman ML (2002) Sensitivity and specificity of six tests for the diagnosis of adult GH deficiency. J Clin Endocrinol Metab 87(5):2067–2079. https://doi.org/10.1210/jcem.87.5.8509

35.

Allahabadia A, Weetman AP (2003) Dynamic thyroid stimulating hormone tests: do they still have a role? J Endocrinol Investig 26(7 Suppl):31–38
Funding
This study did not receive any specific grant from any funding agency in the public, commercial, or not-for-profit sector.
Ethics declarations
Conflicts of interest
AHK is a consultant for Monteris Medical and has received research grants from Monteris Medical and Stryker, regarding a clinical outcomes study for a dural substitute, which has no direct relation to this study. JMS is a primary investigator for clinical studies with Chiasma, Corcept, and StrongBridge, none of which has direct relation to this study. CKC is a consultant for Medtronitcs, which has no direct relation to this study. JSS is a consultant for Medtronics, Olympus, Optinose, and a Speaker's Bureau for Optinose, which are not directly related to this study. MRC received funding from 1) IMRIS Inc. for unrestricted educational grant to support an iMRI database and outcomes analysis project, the IMRIS Muliticenter intraoperative MRI Neurosurgery Database (I-MiND), 2) The Head for the Cure Foundation, and 3) Mrs. Carol Rossfeld and The Alex & Alice Aboussie Family Charitable Foundation, which have no direct relation to this study. Other authors declare no conflicts of interest.
Ethical approval
Approval was obtained from the ethics committee of Washington University in Saint Louis. The procedures and evaluations used in this study adhere to the tenets of the Declaration of Helsinki.
Additional information
Publisher's Note
Springer Nature remains neutral with regard to jurisdictional claims in published maps and institutional affiliations.
Electronic supplementary material
Below is the link to the electronic supplementary material.
About this article
Cite this article
Hwang, J.Y., Aum, D.J., Chicoine, M.R. et al. Axis-specific analysis and predictors of endocrine recovery and deficits for non-functioning pituitary adenomas undergoing endoscopic transsphenoidal surgery. Pituitary 23, 389–399 (2020). https://doi.org/10.1007/s11102-020-01045-z
Keywords
Nonfunctioning pituitary adenomas

Endoscopic transsphenoidal surgery

Endoscopic endonasal surgery

Endocrine status