Abstract
Purpose
Patients who undergo transsphenoidal surgery can experience hormonal, electrolyte, and fluid disturbances in the postoperative period leading to outpatient readmissions for medical management. Our goal was to determine whether use of a wrist-mounted physiologic tracking device is feasible in this setting and whether changes or trends in these parameters after discharge can help predict aberrant physiology in these patients.
Methods
Wrist-mounted physiologic tracking devices that transmit data via Bluetooth to a mobile device were used to monitor patients. Preoperative baseline data and postoperative data were aggregated daily to compare within-patient and between-patient trends.
Results
Of 11 patients enrolled in the study, 1 was readmitted for symptomatic hyponatremia. Device data completeness ranged from 78 to 93% with the exception of oxygen saturation (25% completeness). The patient with hyponatremia had a significantly lower baseline level of activity compared with other patients. Nonreadmitted patient activity variables (steps, calories, and distance) decreased by 48–52% after the operation (P < 0.001). The activity variables for the patient with hyponatremia were statistically unchanged after the operation; however, the patient did experience a significant decrease in heart rate compared with baseline.
Conclusion
Deployment of a wrist-based physiologic tracking device is feasible for surgical patients in elective clinical practice. Overall, the device was associated with good patient adherence and high patient satisfaction. Patient activity significantly decreased after surgery. A significant decrease in heart rate was detected in a patient with hyponatremia who required readmission, which reflects the known intravascular volume expansion in this state.
Access options
Buy single article
Instant access to the full article PDF.
US$ 39.95
Tax calculation will be finalised during checkout.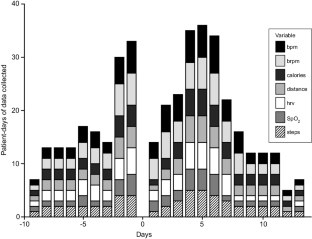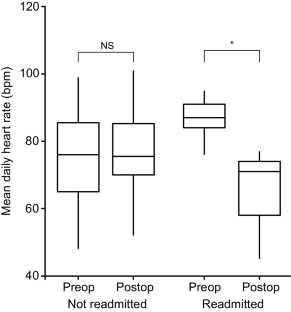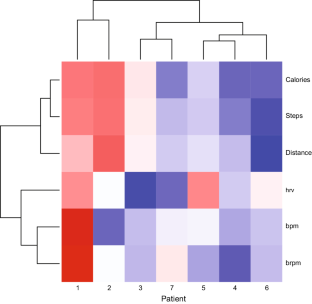 Abbreviations
bpm:

Beats per minute

brpm:

Breaths per minute

hrv:

Heart rate variation

SIADH:

Syndrome of inappropriate antidiuretic hormone secretion

SpO2 :

Oxygen saturation
Acknowledgements
The authors thank the staff of Neuroscience Publications at Barrow Neurological Institute for assistance with manuscript preparation.
Funding
We acknowledge the Lisa Family Foundation and Barrow Neurological Foundation for funding of this project. There was no contribution financially from the device manufacturer at any point during this study; however, the devices were provided free of charge for pilot study evaluation. All data analysis was performed independently from the device manufacturer.
Ethics declarations
Conflict of interest
Dr. Little is an investor in Kogent and has received stock options in Spiway. Dr. Nakaji has stock ownership in GT Medical Technologies and stock options in SpiWay. The other authors declare that they have no conflict of interest.
Additional information
Publisher's Note
Springer Nature remains neutral with regard to jurisdictional claims in published maps and institutional affiliations.
About this article
Cite this article
Cole, T.S., Jahnke, H., Godzik, J. et al. Use of a wrist-mounted device for continuous outpatient physiologic monitoring after transsphenoidal surgery: a pilot study. Pituitary 22, 156–162 (2019). https://doi.org/10.1007/s11102-019-00946-y
Keywords
Hyponatremia

Outpatient

Physiologic monitoring

Pituitary adenoma

Transsphenoidal surgery