Abstract
Purpose
Guidelines on pituitary incidentalomas evaluation and management are limited to adults since there are no data on this matter in the paediatric population. We aim to analyse the morphologic characteristics, hormonal profile and follow-up of these lesions in children.
Methods
We have searched for pituitary incidentalomas in the neuroimaging reports and electronic medical records of the Paediatric Endocrinology Clinic of our centre. Patients with 18 years-old or less were included.
Results
Forty-one incidentalomas were identified, 25 of them (62.4%) in females. The mean age at diagnosis was 12.0 ± 4.96 years-old. Headaches were the main reason that led to image acquisition (51.2%) and MRI was the imaging method that detected the majority of the incidentalomas (70.7%). The most prevalent lesion was pituitary hypertrophy (29.3%), which was mainly diagnosed in female adolescents (91.7%), followed by arachnoid cysts (17.1%), pituitary adenomas (14.6%) and Rathke's cleft cysts (12.2%). Most patients (90.2%) did not present clinical or laboratorial findings of hypopituitarism or hormonal hypersecretion. Four patients presented endocrine dysfunction: three had growth hormone deficiency and one had a central precocious puberty. Twenty-three patients (56.1%) underwent imagiological revaluation during a median follow-up time of 24.6 months (interquartile range 5.07). None of them presented dimensional progression.
Conclusions
To the best of our knowledge, this is the first series of pituitary incidentalomas in pediatric age. Comparing our series with those conducted in adults, we have observed a higher preponderance of pituitary hypertrophy over adenomas, a lower prevalence of hormonal hyper/hyposecretion and lower risk of dimensional progression during follow-up.
Access options
Buy single article
Instant access to the full article PDF.
US$ 39.95
Tax calculation will be finalised during checkout.
Subscribe to journal
Immediate online access to all issues from 2019. Subscription will auto renew annually.
US$ 79
Tax calculation will be finalised during checkout.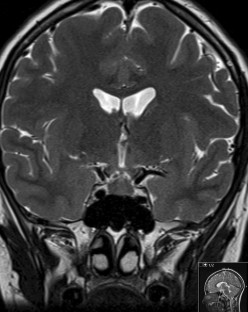 References
1.

Freda PU, Beckers AM, Katznelson L, Molitch ME, Montori VM, Post KD, Vance ML (2011) Pituitary incidentaloma: an endocrine Society Clinical Practice Guideline. J Clin Endocrinol Metab 96(4):894–904

2.

O'Sullivan JW, Muntinga T, Grigg S, Ioannidis JPA (2018) Prevalence and outcomes of incidental imaging findings: umbrella review. BMJ 361:k2387

3.

Molitch ME (2009) Pituitary tumours: pituitary incidentalomas. Best practice & research. Clin Endocrinol Metab 23(5):667–675

4.

Esteves C, Neves C, Augusto L, Menezes J, Pereira J, Bernardes I, Fonseca J, Carvalho D (2015) Pituitary incidentalomas: analysis of a neuroradiological cohort. Pituitary 18(6):777–781

5.

Sanno N, Oyama K, Tahara S, Teramoto A, Kato Y (2003) A survey of pituitary incidentaloma in Japan. Eur J Endocrinol 149(2):123–127

6.

Vaninetti NM, Clarke DB, Zwicker DA, Yip CE, Tugwell B, Doucette S, Theriault C, Aldahmani K, Imran SA (2018) A comparative, population-based analysis of pituitary incidentalomas vs clinically manifesting sellar masses. Endocr Connect 7(5):768–776

7.

Goldberg AS, Stein R, Merritt NH, Inculet R, Van Uum S (2014) A pediatric patient with Cushing syndrome caused by ectopic ACTH syndrome and concomitant pituitary incidentalomas. J Pediatr Endocrinol Metab 27(1–2):123–128

8.

Paragliola RM, Locantore P, Pontecorvi A, Corsello SM (2014) Pediatric Cushing's disease and pituitary incidentaloma: is this a real challenge? Case Rep Endocrinol https://doi.org/10.1155/2014/851942

9.

Jagannathan J, Dumont AS, Jane JA Jr (2006) Diagnosis and management of pediatric sellar lesions. Front Horm Res 34:83–104

10.

Kruis RWJ, Schouten-van Meeteren AYN, Finken MJJ, Oostdijk W, van Trotsenburg ASP, Boot AM, Claahsen-van der Grinten HL, van Lindert EJ, Han KS, Hoving EW, Michiels EMC, van Santen HM (2018) Management and consequences of postoperative fluctuations in plasma sodium concentration after pediatric brain tumor surgery in the sellar region: a national cohort analysis. Pituitary 21(4):384–392

11.

Unsinn C, Neidert MC, Burkhardt JK, Holzmann D, Grotzer M, Bozinov O (2014) Sellar and parasellar lesions: clinical outcome in 61 children. Clin Neurol Neurosurg 123:102–108

12.

Jane JA Jr, Laws ER (2006) Craniopharyngioma. Pituitary 9(4):323–326

13.

Barkovich A, Raybaud C (2012) Pediatric neuroimaging, 5th ed. Wolters Kluwer, Philadelphia

14.

Osborn A, Hedlung G, Salzman K (2017) Osborn's brain: imaging, pathology, and anatomy, 2nd edn. Elsevier, Salt Lake City

15.

Imran SA, Yip CE, Papneja N, Aldahmani K, Mohammad S, Imran F, Zwicker DA, Theriault C, Thompson K, Clarke DB, Van Uum S (2016) Analysis and natural history of pituitary incidentalomas. Eur J Endocrinol 175(1):1–9

16.

Day PF, Guitelman M, Artese R, Fiszledjer L, Chervin A, Vitale NM, Stalldecker G, De Miguel V, Cornalo D, Alfieri A, Susana M, Gil M (2004) Retrospective multicentric study of pituitary incidentalomas. Pituitary 7(3):145–148

17.

Anagnostis P, Adamidou F, Polyzos SA, Efstathiadou Z, Panagiotou A, Kita M (2011) Pituitary incidentalomas: a single-centre experience. Int J Clin Pract 65(2):172–177

18.

Gondim JA, de Almeida JPC, de Albuquerque LAF, Schops M, Gomes É, Ferraz T (2009) Headache associated with pituitary tumors. J Headache Pain 10(1):15–20

19.

Wolf A, Goncalves S, Salehi F, Bird J, Cooper P, Uum SV, Lee DH, Rotenberg BW, Duggal N (2016) Quantitative evaluation of headache severity before and after endoscopic transsphenoidal surgery for pituitary adenoma. J Neurosurg 124(6):1627

20.

Cain MR, Arkilo D, Linabery AM, Kharbanda AB (2018) Emergency department use of neuroimaging in children and adolescents presenting with headache. J Pediatr 201:196–201

21.

Elster AD, Chen MY, Williams DW III, Key LL (1990) Pituitary gland: MR imaging of physiologic hypertrophy in adolescence. Radiology 174(3 Pt 1):681–685

22.

Tsunoda A, Okuda O, Sato K (1997) MR height of the pituitary gland as a function of age and sex: especially physiological hypertrophy in adolescence and in climacterium. Am J Neuroradiol 18(3):551–554

23.

Vasilev V, Rostomyan L, Daly AF, Potorac I, Zacharieva S, Bonneville JF, Beckers A (2016) Management of endocrine disease: pituitary 'incidentaloma': neuroradiological assessment and differential diagnosis. Eur J Endocrinol 175(4):R171–R184

24.

Chanson P, Daujat F, Young J, Bellucci A, Kujas M, Doyon D, Schaison G (2001) Normal pituitary hypertrophy as a frequent cause of pituitary incidentaloma: a follow-up study. J Clin Endocrinol Metabol 86(7):3009–3015

25.

Al-Holou WN, Yew AY, Boomsaad ZE, Garton HJ, Muraszko KM, Maher CO (2010) Prevalence and natural history of arachnoid cysts in children. J Neurosurg Pediatr 5(6):578–585

26.

Fernandez-Balsells MM, Murad MH, Barwise A, Gallegos-Orozco JF, Paul A, Lane MA, Lampropulos JF, Natividad I, Perestelo-Perez L, de Leon-Lovaton PG, Erwin PJ (2011) Natural history of nonfunctioning pituitary adenomas and incidentalomas: a systematic review and metaanalysis. J Clin Endocrinol Metab 96(4):905–912

27.

Rousseau-Nepton I, Kaduri S, Garfield N, Krishnamoorthy P (2014) Hypothalamic hamartoma associated with central precocious puberty and growth hormone deficiency. J Pediatr Endocrinol Metab 27(1–2):117–121

28.

Martin DD, Seeger U, Ranke MB, Grodd W (2003) MR imaging and spectroscopy of a tuber cinereum hamartoma in a patient with growth hormone deficiency and hypogonadotropic hypogonadism. Am J Neuroradiol 24(6):1177–1180

29.

Maghnie M, Lindberg A, Koltowska-Haggstrom M, Ranke MB (2013) Magnetic resonance imaging of CNS in 15,043 children with GH deficiency in KIGS (Pfizer International Growth Database). Eur J Endocrinol 168(2):211–217

30.

Pedicelli S, Alessio P, Scire G, Cappa M, Cianfarani S (2014) Routine screening by brain magnetic resonance imaging is not indicated in every girl with onset of puberty between the ages of 6 and 8 years. J Clin Endocrinol Metab 99(12):4455–4461
Ethics declarations
Conflict of interest
The authors declare that they have no conflicts of interest.
Human and animal rights
All procedures performed in this study involving human participants were in accordance with the ethical standards of the institutional and/or national research committee and with the 1964 Helsinki declaration and its later amendments or comparable ethical standards.
About this article
Cite this article
Souteiro, P., Maia, R., Santos-Silva, R. et al. Pituitary incidentalomas in paediatric age are different from those described in adulthood. Pituitary 22, 124–128 (2019). https://doi.org/10.1007/s11102-019-00940-4
Keywords
Pituitary gland

Incidentaloma

Pediatrics

Neuroimaging