Abstract
Purpose
Oxytocin is a hypothalamus derived, posterior pituitary stored nonapeptide which has gained recent interest as an important neuropsychiatric and metabolic hormone beyond its classic role in lactation and parturition. Hypopituitarism is a heterogenous disorder of derangement in one or more anterior or posterior pituitary hormones. Diagnosis of deficiency and hormone replacement exists to address all relevant axes except for oxytocin. Our study aims to define derangements in oxytocin in a unique population of patients with hypopituitarism and correlate levels with measures of emotional health and quality of life.
Methods
A cross-sectional, single day study was completed to measure plasma oxytocin levels in a diverse population of patients with hypopituitarism compared to controls. Subjects also completed depression, quality of life and stress-related questionnaires, and emotion recognition tasks.
Results
Thirty-eight subjects completed the study, 18 with hypopituitarism (9 with diabetes insipidus) and 20 controls. After controlling for differences in age, weight and gender, plasma oxytocin levels were highest in subjects with diabetes insipidus compared to control [mean, IQR: 44.3 pg/ml (29.8–78.2) vs. 20.6 (17–31.3), p = 0.032]. Amongst hypopituitary subjects, those with duration of disease greater than 1 year had higher oxytocin levels. No significant differences were observed for psychosocial measures including emotion recognition tasks.
Conclusions
Plasma oxytocin levels were found higher in patients with hypopituitarism compared to controls and highest in those with diabetes insipidus. Longer duration of hypopituitarism was also associated with higher plasma levels of oxytocin. Further study is needed to better define oxytocin deficiency and investigate response to treatment.
Access options
Buy single article
Instant access to the full article PDF.
USD 39.95
Price excludes VAT (USA)
Tax calculation will be finalised during checkout.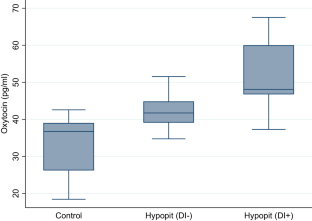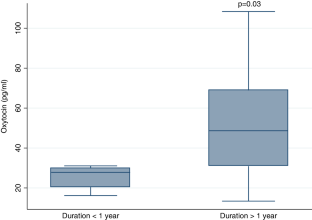 References
Robinson AG, Verbalis JG (2011) Posterior pituitary gland. Williams textbook of endocrinology, 12th edn. Elsevier Inc., Philadelphia

Lawson EA (2017) The effects of oxytocin on eating behaviour and metabolism in humans. Nat Rev Endocrinol 13:700–709

Blevins JE, Baskin DG (2015) Translational and therapeutic potential of oxytocin as an anti-obesity strategy: Insights from rodents, nonhuman primates and humans. Physiol Behav 152:438–449

Zhang H, Wu C, Chen Q, Chen X, Xu Z, Wu J et al (2013) Treatment of obesity and diabetes using oxytocin or analogs in patients and mouse models. PLoS ONE 8:1–11

Lawson E, Marengi D, Desanti RL, Holmes TM, Schoenfeld D, Tolley CJ (2015) Oxytocin reduces caloric intake in men. Obesity 23:950–956

MacDonald K, MacDonald TM (2010) The peptide that binds. Harv Rev Psychiatry 18:1–21

Kosfeld M, Heinrichs M, Zak PJ, Fischbacher U, Fehr E (2005) Oxytocin increases trust in humans. Nature 435:673–677

Guastella AJ, Carson DS, Dadds MR, Mitchell PB, Cox RE (2009) Does oxytocin influence the early detection of angry and happy faces? Psychoneuroendocrinology 34:220–225

Cochran DMC, Fallon D, Hill M, Frazier J (2013) The role of oxytocin in psychiatric disorders: a review of biological and therapeutic research findings. Harv Rev Psychiatry 21:219–247

Romano A, Tempesta B, Di Bonaventura MVM, Gaetani S (2016) From autism to eating disorders and more: the role of oxytocin in neuropsychiatric disorders. Front Neurosci 9:1–19

Modabbernia A, Rezaei F, Salehi B, Jafarinia M, Ashrafi M, Tabrizi M et al (2013) Intranasal oxytocin as an adjunct to risperidone in patients with schizophrenia: an 8-week, randomized, double-blind, placebo-controlled study. CNS Drugs 27:57–65

Lee MR, Wehring HJ, McMahon RP, Liu F, Linthicum J, Verbalis JG et al (2015) Relationship of plasma oxytocin levels to baseline symptoms and symptom changes during three weeks of daily oxytocin administration in people with schizophrenia. Schizophr Res 172:165–168

Mo D, Blum WF, Rosilio M, Webb SM, Qi R, Strasburger CJ (2014) Ten-year change in quality of life in adults on growth hormone replacement for growth hormone deficiency: an analysis of the hypopituitary control and complications study. J Clin Endocrinol Metab 99:4581–4588

Crespo I, Santos A, Webb SM (2015) Quality of life in patients with hypopituitarism. Curr Opin Endocrinol Diabetes Obes 22:306–312

Hartman ML, Xu R, Crowe BJ, Robison LL, Erfurth EM, Kleinberg DL et al (2013) Prospective safety surveillance of GH-deficient adults: comparison of GH-treated vs. untreated patients. J Clin Endocrinol Metab 98:980–988

Blum WF, Shavrikova EP, Edwards DJ, Rosilio M, Hartman ML, Marín F et al (2003) Decreased quality of life in adult patients with growth hormone deficiency compared with general populations using the new, validated, self-weighted questionnaire, Questions on Life Satisfaction Hypopituitarism Module. J Clin Endocrinol Metab 88:4158–4167

Daubenbüchel AMM, Hoffmann A, Eveslage M, Özyurt J, Lohle K, Reichel J et al (2016) Oxytocin in survivors of childhood-onset craniopharyngioma. Endocrine 54:524–531

Hoffmann A, Özyurt J, Lohle K, Reichel J, Thiel CM, Müller HL (2017) First experiences with neuropsychological effects of oxytocin administration in childhood-onset craniopharyngioma. Endocrine 56:175–185

Daughters K, Manstead ASR, Rees DA (2017) Hypopituitarism is associated with lower oxytocin concentrations and reduced empathic ability. Endocrine 57:166–174

Gebert D, Auer MK, Stieg MR, Freitag MT, Lahne M, Fuss J et al (2018) De-masking oxytocin-deficiency in craniopharyngioma and assessing its link with affective function. Psychoneuroendocrinology 88:61–69

Gur RC, Sara R, Hagendoorn M, Marom O, Hughett P, Macy L et al (2002) A method for obtaining 3-dimensional facial expressions and its standardization for use in neurocognitive studies. J Neurosci Methods 115:137–143

Kanade T, Cohn J, Tian Y (2000) Comprehensive database for facial expression analysis. In: Proceedings of the international conference on automatic face and gesture recognition, pp 46–53

Porges SW, Cohn JF, Bal E, Lamb D, Lewis GF (2016) The dynamic affect recognition evaluation software v2. Brain-Body Center for Psychophysiology and Bioengineering

Eaton W, Muntaner C, Smith C, Tien A, Ybarra M (2004) Center for Epidemiologic Studies Depression Scale: review and revision (CESD and CESD-R). In: Maruish M (ed) The use of psychological testing for treatment planning and outcomes assessment, 3rd edn. Lawrence Erlbaum, Mahwah, pp 363–377

Cohen S, Kamarck T, Mermelstein R, Health J, Behavior S, Dec N (1983) A global measure of perceived stress a global measure of perceived stress. J Health Soc Behav 24:385–396

Ruggiero KJ, Del Ben K, Scotti JR, Rabalais AE (2003) Psychometric properties of the PTSD checklist—Civilian version. J Trauma Stress 16:495–502

Herdman M, Gudex C, Lloyd A, Janssen M, Kind P, Parkin D et al (2011) Development and preliminary testing of the new five-level version of EQ-5D (EQ-5D-5L). Qual Life Res 20:1727–1736

Seltzer LJ, Ziegler TE, Pollak SD (2010) Social vocalizations can release oxytocin in humans. Proc Biol Sci 277:2661–2666

Leng G, Caquineau C, Sabatier N (2005) Regulation of oxytocin secretion. Vitam Horm 71:27–58

Villar MJ, Meister B, Cortés R, Schalling M, Morris M, Hökfelt T (1990) Neuropeptide gene expression in hypothalamic magnocellular neurons of normal and hypophysectomized rats: a combined immunohistochemical and in situ hybridization study. Neuroscience 36:181–199

Kawamoto K, Kawashima S (1987) Regeneration of neurohypophyseal hormone-producing neurons in hypophysectomized immature rats. Brain Res 422:106–117

Wetsel WC, Fernstrom JD (1987) In vivo biosynthesis of arginine vasopressin and oxytocin in hypothalami from intact and hypophysectomized rats. Endocrinology 120:2562–2568

Dogterom J, Van Wiersma T, Greidansu W, Swaab D (1977) Evidence for the release of vasopressin and oxytocin into cerebrospinal fluid: measurements in plasma and CSF of intact and hypophysectomized rats. Neuroendocrinology 24:108–118

Dyball R, Henry J (1975) Relatively greater increase of oxytocin than vasopressin in the supraoptic nucleus of rats after hypophysectomy. J Endocrinol 64:125–131

Sheward W, Fink G (1991) Effects of corticosterone on the secretion of corticotriphin-releasing factor, arginine vasopressin and oxytocin into hypophysial portal blood in long-term hypophysectomized rats. J Endocrinol 129:91–98

Carter CS, Pournajafi-Nazarloo H, Kramer KM, Ziegler TE, White-Traut R, Bello D et al (2007) Oxytocin: behavioral associations and potential as a salivary biomarker. Ann N Y Acad Sci 1098:312–322

Zeigler TE, Scheffler G, Snowdon CT (1995) The relationship of cortisol levels to social environment and reproductive functioning in female cotton-top tamarin, saguinus oedipus. Horm Behav 29:407–424

Martin J, Kagerbauer SM, Gempt J, Podtschaske A, Hapfelmeier A, Schneider G (2018) Oxytocin levels in saliva correlate better than plasma levels with concentrations in the cerebrospinal fluid of patients in neurocritical care. J Neuroendocrinol 30:e1–e19

Leng G, Sabatier N (2016) Measuring oxytocin and vasopressin: bioassays, immunoassays and random numbers. J Neuroendocrinol. https://doi.org/10.1111/jne.12413

Francis SM, Kirkpatrick MG, de Wit H, Jacob S (2016) Urinary and plasma oxytocin changes in response to MDMA or intranasal oxytocin administration. Psychoneuroendocrinology. 74:92–100

Oxytocin ELISA, Kit, Enzo Life Sciences Inc. [Internet]. 2018 [Cited 8 Feb 2018]. http://www.enzolifesciences.com/ADI-901-153A/oxytocin-elisa-kit/

Cook N, Miller J, Hart J (2016) Parent observed neuro-behavioral and pro-social improvements with oxytocin following surgical resection of craniopharyngioma. J Pediatr Endocrinol Metab 29:995–1000

Hsu EA, Miller JL, Perez FA, Roth CL (2018) Oxytocin and naltrexone successfully treat hypothalamic obesity in a boy post-craniopharyngioma resection. J Clin Endocrinol Metab 103:370–375
Acknowledgements
We would also like to acknowledge Dr. Toni Zeigler and her laboratory for assisting in oxytocin measures. Grant support: BTL was supported by the National Institutes of Health under award number, R01DK104927-01A1 and Department of Veterans Affairs, Veterans Health Administration, Office of Research and Development, VA merit (Grant No. 1I01BX003382).
Ethics declarations
Disclosure
The authors have nothing to declare.
Electronic supplementary material
Below is the link to the electronic supplementary material.
About this article
Cite this article
Eisenberg, Y., Murad, S., Casagrande, A. et al. Oxytocin alterations and neurocognitive domains in patients with hypopituitarism. Pituitary 22, 105–112 (2019). https://doi.org/10.1007/s11102-019-00936-0
Published:

Issue Date:

DOI: https://doi.org/10.1007/s11102-019-00936-0
Keywords