Abstract
Purpose
Parasellar plasmacytomas are rare tumors localized to the sellar region arising from plasma cells. Knowledge of clinical, imaging, surgical, and pathological characteristics is limited to single case reports.
Methods
A retrospective analysis of five primary cases was conducted, followed by systematic review of English language articles using PubMed in accordance with PRISMA guidelines.
Results
Five primary case patients include four men and one woman, ages 60–77, followed up to 3 years. A systematic review identified 65 additional patients, of whom 65% presented with cranial nerve palsies and 15% with hypopituitarism. Sixteen percent had history of known multiple myeloma (MM) while 37% were diagnosed concurrently with MM on presentation of parasellar plasmacytoma. Imaging showed median tumor size of 38 mm (range, 4–70 mm), with MRI intensity similar to that of other sellar masses. Surgical biopsy with immunohistochemical studies confirmed plasmacytoma diagnosis. Eighty-one percent underwent parasellar radiotherapy, and chemotherapy initiated in 59% of the 69 patients with MM. Overall survival rate was 74% at follow-up (median 12 months), with 18% having parasellar recurrences and 38% progressing to systemic MM after presentation of a solitary plasmacytoma (median 3 months).
Conclusions
Parasellar plasmacytomas are rare tumors that should be considered in the differential diagnosis for lesions involving the sella and arising from the clivus, especially when cranial nerve paresis is apparent, even in the absence of known MM. Although recurrence rates for parasellar plasmacytoma is low, patients should be monitored for progression to MM. Treatment depends on the presence of systemic disease at diagnosis.
Access options
Buy single article
Instant access to the full article PDF.
USD 39.95
Price excludes VAT (USA)
Tax calculation will be finalised during checkout.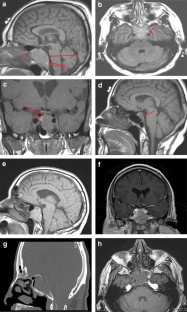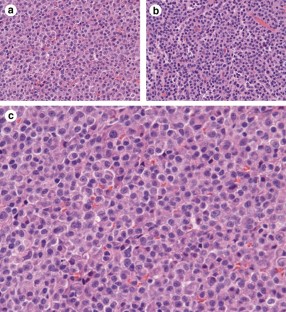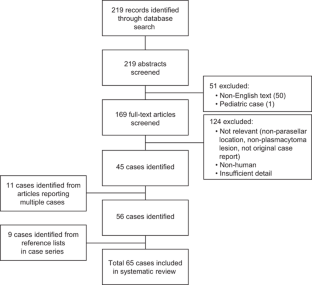 References
Rajkumar SV (2016) Multiple myeloma: 2016 update on diagnosis, risk-stratification, and management. Am J Hematol 91(7):719–734. doi:10.1002/ajh.24402

Soutar R, Lucraft H, Jackson G, Reece A, Bird J, Low E, Samson D (2004) Guidelines on the diagnosis and management of solitary plasmacytoma of bone and solitary extramedullary plasmacytoma. Clin Oncol 16(6):405–413

Chang MY, Shih LY, Dunn P, Leung WM, Chen WJ (1994) Solitary plasmacytoma of bone. J Formos Med Assoc 93(5):397–402

Clarke E (1954) Cranial and intracranial myelomas. Brain 77(1):61–81

Sautner D, Saeger W, Ludecke DK (1993) Tumors of the sellar region mimicking pituitary adenomas. Exp Clin Endocrinol 101(5):283–289. doi:10.1055/s-0029-1211245

Famini P, Maya MM, Melmed S (2011) Pituitary magnetic resonance imaging for sellar and parasellar masses: ten-year experience in 2598 patients. J Clin Endocrinol Metab 96(6):1633–1641. doi:10.1210/jc.2011-0168

Wein RO, Popat SR, Doerr TD, Dutcher PO (2002) Plasma cell tumors of the skull base: four case reports and literature review. Skull Base 12(2):77–86

Sinnott BP, Hatipoglu B, Sarne DH (2006) Intrasellar plasmacytoma presenting as a non-functional invasive pituitary macro-adenoma: case report & literature review. Pituitary 9(1):65–72. doi:10.1007/s11102-006-8281-9

McLaughlin DM, Gray WJ, Jones FG, Mirakhur M, McCance DR, Sheridan B, Atkinson AB (2004) Plasmacytoma: an unusual cause of a pituitary mass lesion. A case report and a review of the literature. Pituitary 7(3):179–181. doi:10.1007/s11102-005-1758-0

Gagliardi F, Losa M, Boari N, Spina A, Reni M, Terreni MR, Mortini P (2013) Solitary clival plasmocytomas: misleading clinical and radiological features of a rare pathology with a specific biological behaviour. Acta Neurochir 155(10):1849–1856. doi:10.1007/s00701-013-1845-3

Moher D, Liberati A, Tetzlaff J, Altman DG (2009) Preferred reporting items for systematic reviews and meta-analyses: the PRISMA statement. J Clin Epidemiol 62(10):1006–1012. doi:10.1016/j.jclinepi.2009.06.005

Kashyap R, Kumar R, Kumar S (2010) Cranial nerve palsy in multiple myeloma and solitary plasmacytoma. Asia Pac J Clin Oncol 6(4):251–255. doi:10.1111/j.1743-7563.2010.01327.x

Sanchez JA, Rahman S, Strauss RA, Kaye GI (1977) Multiple myeloma masquerading as a pituitary tumor. Arch Pathol Lab Med 101(1):55–56

Poon MC, Prchal JT, Murad TM, Galbraith JG (1979) Multiple myeloma masquerading as chromophobe adenoma. Cancer 43(4):1513–1515

Urbanski SJ, Bilbao JM, Horvath E, Kovacs K, So W, Ward JV (1980) Intrasellar solitary plasmacytoma terminating in multiple myeloma: a report of a case including electron microscopical study. Surg Neurol 14(3):233–236

Vera CL, Kempe LG, Powers JM (1980) Plasmacytoma of the clivus presenting with an unusual combination of symptoms: case report. J Neurosurg 52(6):857–861. doi:10.3171/jns.1980.52.6.0857

Vaquero J, Areitio E, Martinez R (1982) Intracranial parasellar plasmacytoma. Arch Neurol 39(11):738

Kerty E, Nakstad PH (1984) Plasmocytoma masquerading as a pituitary tumour. J Neurol Neurosurg Psychiatry 47(1):99–100

Evans PJ, Jones MK, Hall R, Scanlon MF (1985) Pituitary function with a solitary intrasellar plasmacytoma. Postgrad Med J 61(716):513–514

Bitterman P, Ariza A, Black RA, Allen WE 3rd, Lee SH (1986) Multiple myeloma mimicking pituitary adenoma. Comput Radiol 10(4):201–205

Harrison LB, Schnall S, Cardinale FS, Farber LR (1987) Multiple myeloma presenting as a pituitary tumor. Int J Radiat Oncol Biol Phys 13(4):653–654

Juneau P, Schoene WC, Black P (1992) Malignant tumors in the pituitary gland. Arch Neurol 49(5):555–558

Losa M, Terreni MR, Tresoldi M, Marcatti M, Campi A, Triulzi F, Scotti G, Giovanelli M (1992) Solitary plasmacytoma of the sphenoid sinus involving the pituitary fossa: a case report and review of the literature. Surg Neurol 37(5):388–393

Case records of the Massachusetts General Hospital (1992) Weekly clinicopathological exercises. Case 21-1992. A 65-year-old man with a mass that involved the base of the skull. N Engl J Med 326(21):1417–1424. doi:10.1056/NEJM199205213262108

Bindal AK, Bindal RK, van Loveren H, Sawaya R (1995) Management of intracranial plasmacytoma. J Neurosurg 83(2):218–221. doi:10.3171/jns.1995.83.2.0218

Nofsinger YC, Mirza N, Rowan PT, Lanza D, Weinstein G (1997) Head and neck manifestations of plasma cell neoplasms. Laryngoscope 107(6):741–746

Mandagere KA, Schimke RN, Kyner JL, Bhatia PS (1998) An unusual sellar mass—solitary plasmacytoma. Endocr Pract 4(6):382–386. doi:10.4158/EP.4.6.382

Weber J, Jaksche H (1999) Solitary plasmacytoma of the pituitary area. Acta Neurochir 141(2):219–220

Movsas TZ, Balcer LJ, Eggenberger ER, Hess JL, Galetta SL (2000) Sixth nerve palsy as a presenting sign of intracranial plasmacytoma and multiple myeloma. J Neuroophthalmol 20(4):242–245

Schwartz TH, Rhiew R, Isaacson SR, Orazi A, Bruce JN (2001) Association between intracranial plasmacytoma and multiple myeloma: clinicopathological outcome study. Neurosurgery 49(5):1039–1044 (discussion 1044–1035)

Ustuner Z, Basaran M, Kiris T, Bilgic B, Sencer S, Sakar B, Dizdar Y, Bavbek S, Onat H (2003) Skull base plasmacytoma in a patient with light chain myeloma. Skull Base 13(3):167–171. doi:10.1055/s-2003-43327

Higurashi M, Yagishita S, Fujitsu K, Kitsuta Y, Takemoto Y, Osano S (2004) Plasma cell myeloma of the skull base: report of two cases. Brain Tumor Pathol 21(3):135–141

Weilbaecher C, Patwardhan RV, Fowler M, Willis BK, Nanda A (2004) Metastatic lesions involving the sella: report of three cases and review of the literature. Neurol India 52(3):365–368

Chim CS, Ooi GC (2005) Bulbar palsy in multiple myeloma. Haematologica 90(12 Suppl):ECR42

Singh AD, Chacko AG, Chacko G, Rajshekhar V (2005) Plasma cell tumors of the skull. Surg Neurol 64(5):434–438. doi:10.1016/j.surneu.2005.02.014 (discussion 438–439)

Goyal R, Gupta R, Radotra BD (2006) Plasmacytoma of the clivus: a case report. Indian J Pathol Microbiol 49(4):568–570

Wong ET, Lu XQ, Devulapalli J, Mahadevan A (2006) Cyberknife radiosurgery for basal skull plasmacytoma. J Neuroimaging 16(4):361–363. doi:10.1111/j.1552-6569.2006.00062.x

Gozzetti A, Cerase A, Tarantino A, Fabbri A, Bocchia M, Pirrotta MT, Lauria F (2007) Multiple myeloma involving the cavernous sinus: a report of 3 cases and response to bortezomib. Clin Lymphoma Myeloma 7(5):376–378. doi:10.3816/CLM.2007.n.017

Kloecker GH, Kannan CR, Laber DA, Rezazadeh A (2008) Brain stem and clivus plasmacytoma. Am J Med Sci 336(6):503. doi:10.1097/MAJ.0b013e31817f5ca6

Pitini V, Arrigo C, Alafaci C, Altavilla G (2008) Extramedullary plasmacytoma presented as a non-functional invasive pituitary macro-adenoma. J Neurooncol 88(2):227–229. doi:10.1007/s11060-008-9558-9

Yamaguchi S, Terasaka S, Ando S, Shinohara T, Iwasaki Y (2008) Neoadjuvant therapy in a patient with clival plasmacytoma associated with multiple myeloma: a case report. Surg Neurol 70(4):403–407. doi:10.1016/j.surneu.2007.10.020

Yaman E, Benekli M, Coskun U, Sezer K, Ozturk B, Kaya AO, Yildiz R, Uluoglu O, Buyukberber S (2008) Intrasellar plasmacytoma: an unusual presentation of multiple myeloma. Acta Neurochir 150(9):921–924. doi:10.1007/s00701-008-0012-8 (discussion 924)

Cistaro A, Durando S, Paze F, Limberti A, Cogoni M, Juenemann C, Morra I, Valentini MC (2009) Expansive masses arising from the clivus: the role of FDG-PET/CT in the metabolic assessment of skeletal lesions. J Radiol Case Rep 3(11):33–40. doi:10.3941/jrcr.v3i11.170

Cao X, Luan S, Sun L, Yang B, Shen C, Bao W (2010) Impaired vision associated with a solitary intracranial plasmacytoma. J Clin Neurosci 17(9):1215–1217. doi:10.1016/j.jocn.2009.12.023

De Larrea CF, Rosinol L, Cibeira MT, Rozman M, Rovira M, Blade J (2010) Extensive soft-tissue involvement by plasmablastic myeloma arising from displaced humeral fractures. Eur J Haematol 85(5):448–451. doi:10.1111/j.1600-0609.2010.01504.x

Fukai J, Nohgawa M, Uematsu Y, Itakura T, Kamei I (2010) Immunoglobulin D multiple myeloma involving the sella manifesting as oculomotor palsy: case report. Neurosurgery 67(2):E505–E506. doi:10.1227/01.NEU.0000371985.32844.B7

Liu ZY, Qi XQ, Wu XJ, Luo C, Lu YC (2010) Solitary intracranial plasmacytoma located in the spheno-clival region mimicking chordoma: a case report. J Int Med Res 38(5):1868–1875

Rivera J, Alves S, Bianchi CC, Al-Mutawa N, Guiot MC, Zeitouni A (2010) An unusual collision tumor comprising a prolactinoma and a plasmocytoma originating from the sellar region. Pituitary 13(2):189–193. doi:10.1007/s11102-008-0145-z

Shenoy K, Boloor A, Pai S, Suddharsan DS (2010) Unusual presentation of multiple myeloma. Indian J Cancer 47(3):347–348. doi:10.4103/0019-509X.64709

Azarpira N, Vasei M, Rasekhi A (2012) Plasma cell tumors with neurologic symptoms: cytological findings. Diagn Cytopathol 40(3):248–251. doi:10.1002/dc.21623

Joukhadar R, Chiu K (2012) Sellar plasmacytomas: a concise review. Pituitary 15(2):146–149. doi:10.1007/s11102-011-0352-x

Khan IS, Javalkar V, Thakur JD, Nanda A (2012) Intrasellar plasmacytoma: an illustrative case and literature review. J Clin Neurosci 19(2):210–213. doi:10.1016/j.jocn.2011.07.009

Udiawar M, Bejnariu C, Davies S (2012) Metastatic haematological malignancy presenting as a sellar mass. BMJ Case Rep. doi:10.1136/bcr-03-2012-6050

Alafaci C, Grasso G, Conti A, Caffo M, Salpietro FM, Tomasello F (2014) Cyberknife radiosurgery for cranial plasma cell tumor. Turk Neurosurg 24(2):272–275. doi:10.5137/1019-5149.JTN.7049-12.0

Jiang CZ, Lin QS, Wu XY, Wang CY, Kang DZ (2014) Sellar solitary plasmacytoma progressing to multiple myeloma: a case report and literature review. Medicine 93(11):e58. doi:10.1097/MD.0000000000000058

Kalwani N, Remenschneider AK, Faquin W, Ferry J, Holbrook EH (2015) Plasmacytoma of the clivus presenting as bilateral sixth nerve palsy. J Neurol Surg Rep 76(1):e156–e159. doi:10.1055/s-0035-1554930

Rahman EZ, Barros Palau AE, Morgan ML, Lee AG (2016) Neuro-ophthalmic presentations of clival plasmacytoma. Can J Ophthalmol 51(2):e49–e53. doi:10.1016/j.jcjo.2015.10.017

Soejbjerg A, Dyve S, Baerentzen S, Thorsell G, Poulsen PL, Jorgensen JO, Kampmann U (2016) The solitary sellar plasmacytoma: a diagnostic challenge. Endocrinol Diabetes Metab Case Rep 2016:160031. doi:10.1530/EDM-16-0031

Terasaka T, Inagaki K, Otsuka F (2016) Invasive intrasellar plasmacytoma mimicking pituitary adenoma. Intern Med 55(11):1501–1502. doi:10.2169/internalmedicine.55.6414

Melmed S, Kleinberg D (2016) Pituitary masses and tumors. In: Melmed S, Polonsky KS, Larsen PR, Kronenberg HM (eds) Williams textbook of endocrinology. Elsevier Inc., Philadelphia, pp 232–299

Dekkers OM, Pereira AM, Romijn JA (2008) Treatment and follow-up of clinically nonfunctioning pituitary macroadenomas. J Clin Endocrinol Metab 93(10):3717–3726. doi:10.1210/jc.2008-0643

Karavitaki N, Thanabalasingham G, Shore HC, Trifanescu R, Ansorge O, Meston N, Turner HE, Wass JA (2006) Do the limits of serum prolactin in disconnection hyperprolactinaemia need re-definition? A study of 226 patients with histologically verified non-functioning pituitary macroadenoma. Clin Endocrinol 65(4):524–529. doi:10.1111/j.1365-2265.2006.02627.x

Cerase A, Tarantino A, Gozzetti A, Muccio CF, Gennari P, Monti L, Di Blasi A, Venturi, C (2008) Intracranial involvement in plasmacytomas and multiple myeloma: a pictorial essay. Neuroradiology 50(8):665–674. doi:10.1007/s00234-008-0390-x

Maya M, Pressman BD (2011) Pituitary imaging. In: Melmed S (ed) The pituitary. Academic Press, Burlington, pp 677–702
Acknowledgements
We thank Dr. John Carmichael for his advice and support. We thank Shira Berman for her assistance in manuscript preparation.
Funding
This work was supported by the NIH (grant R21 DK105405 awarded to O. Cooper).
Ethics declarations
Conflict of interest
All the authors declare that they have no conflict of interest.
Ethical approval
All procedures performed in studies involving human participants were in accordance with the ethical standards of the institutional and/or national research committee and with the 1964 Helsinki declaration and its later amendments or comparable ethical standards.
Informed consent
Informed consent was obtained from all individual participants included in the study.
Additional information
Jane Lee and Edwin Kulubya shared first authorship.
Gabriel Zada and Odelia Cooper shared senior authorship.
Electronic supplementary material
Below is the link to the electronic supplementary material.
About this article
Cite this article
Lee, J., Kulubya, E., Pressman, B.D. et al. Sellar and clival plasmacytomas: case series of 5 patients with systematic review of 65 published cases. Pituitary 20, 381–392 (2017). https://doi.org/10.1007/s11102-017-0799-5
Published:

Issue Date:

DOI: https://doi.org/10.1007/s11102-017-0799-5
Keywords
Pituitary adenoma

Sellar plasmacytoma

Multiple myeloma

Parasellar mass

Plasmacytoma of clivus