Abstract
Purpose
Cholesterol granulomas in the sella are rare and can mimic the appearance of craniopharyngioma or Rathke's cleft cysts. Information regarding the clinical presentation, imaging characteristics, and clinical course of sellar cholesterol granulomas can help clinicians to differentiate these lesions from other sellar cystic lesions.
Methods
We present three cases of sellar cholesterol granulomas. A literature review was performed for all cases of sellar cholesterol granulomas with individual patient data reported.
Results
We identified 24 previously reported cases in addition to our three cases. Mean age was 36.6 years (range 5–68). There were 16 (59%) females. The most common (74%) presenting symptom was endocrinological deficits, typically either isolated diabetes insipidus (DI) or panhypopituitarism. Location was intrasellar in 3 (11%), suprasellar in 6 (22%), and intrasellar/suprasellar in 18 (67%) patients. Lesions were most commonly (83%) T1 hyperintense. Gross total resection was achieved in 16 (64%) and subtotal resection in 9 (36%) patients. Of the seventeen (63%) patients presenting with varying degrees of bitemporal hemianopsia, all had improvement in vision postoperatively. It is worth noting that no cases of preoperative hypopituitarism or DI improved postoperatively. Even though gross total resection was only achieved in 64%, there was only one recurrence reported.
Conclusion
Sellar cholesterol granulomas are characterized by T1 hyperintensity, younger age, and more frequent and severe endocrinological deficits on presentation. Our review demonstrates high rates of improvement of visual deficits, but poor rates of endocrine function recovery. Recurrence is uncommon even in cases of subtotal resection.
Access options
Buy single article
Instant access to the full article PDF.
USD 39.95
Price excludes VAT (USA)
Tax calculation will be finalised during checkout.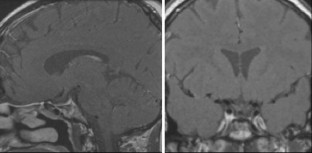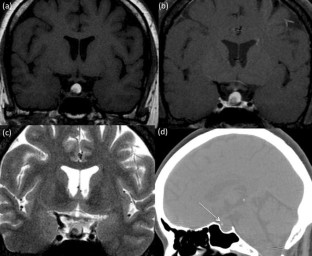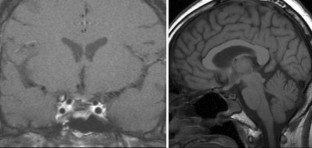 References
Yonezawa K, Shirataki K, Sakagami Y, Kohmura E (2003) Panhypopituitarism induced by cholesterol granuloma in the sellar region–case report. Neurol Med Chir (Tokyo) 43(5):259–262

Eytan DF, Kshettry VR, Sindwani R, Woodard TD, Recinos PF (2014) Surgical outcomes after endoscopic management of cholesterol granulomas of the petrous apex: a systematic review. Neurosurg Focus 37(4):E14. doi:10.3171/2014.7.FOCUS14344

Farrior B, Kampsen E, Farrior JB (1981) The positive pressure of cholesterol granuloma idiopathic blue eardrum. differential diagnosis. Laryngoscope 91(8):1286–1297

Graham MD, Kemink JL, Latack JT, Kartush JM (1985) The giant cholesterol cyst of the petrous apex: a distinct clinical entity. Laryngoscope 95(11):1401–1406

Jackler RK, Cho M (2003) A new theory to explain the genesis of petrous apex cholesterol granuloma. Otol Neurotol 24(1):96–106 discussion 106

Shirataki K, Okada S, Matsumoto S (1988) Histopathological study of the "cholesterol granuloma reaction" in the sellar and juxta-sellar tumors. No To Shinkei 40(2):133–139

Paulus W, Honegger J, Keyvani K, Fahlbusch R (1999) Xanthogranuloma of the sellar region: a clinicopathological entity different from adamantinomatous craniopharyngioma. Acta Neuropathol 97(4):377–382

Zada G, Lin N, Ojerholm E, Ramkissoon S, Laws ER (2010) Craniopharyngioma and other cystic epithelial lesions of the sellar region: a review of clinical, imaging, and histopathological relationships. Neurosurg Focus 28(4):E4. doi:10.3171/2010.2.FOCUS09318

Jung CS, Schanzer A, Hattingen E, Plate KH, Seifert V (2006) Xanthogranuloma of the sellar region. Acta Neurochir (Wien) 148(4):473–477. doi:10.1007/s00701-005-0700-6

Kamoshima Y, Sawamura Y, Motegi H, Kubota K, Houkin K (2011) Xanthogranuloma of the sellar region of children: series of five cases and literature review. Neurol Med Chir (Tokyo) 51(10):689–693

Luginbuhl AJ, Campbell PG, Evans J, Rosen M (2010) Endoscopic repair of high-flow cranial base defects using a bilayer button. Laryngoscope 120(5):876–880. doi:10.1002/lary.20861

Eisenberg MB, Haddad G, Al-Mefty O (1997) Petrous apex cholesterol granulomas: evolution and management. J Neurosurg 86(5):822–829. doi:10.3171/jns.1997.86.5.0822

Arai A, Nishihara M, Sasayama T, Aihara H, Hosoda K, Itoh T, Sakagami Y, Kuwamura K, Kohmura E (2010) Xanthogranuloma of the sellar region–case report. Neurol Med Chir (Tokyo) 50(6):488–491

Rahmani R, Sukumaran M, Donaldson AM, Akselrod O, Lavi E, Schwartz TH (2015) Parasellar xanthogranulomas. J Neurosurg 122(4):812–817. doi:10.3171/2014.12.JNS14542

Teramoto A, Hirakawa K, Sanno N, Osamura Y (1994) Incidental pituitary lesions in 1,000 unselected autopsy specimens. Radiology 193(1):161–164. doi:10.1148/radiology.193.1.8090885

Louis DN, Ohgaki H, Wiestler OD, Cavenee WK, Burger PC, Jouvet A, Scheithauer BW, Kleihues P (2007) The 2007 WHO classification of tumours of the central nervous system. Acta Neuropathol 114(2):97–109. doi:10.1007/s00401-007-0243-4

Amano K, Kubo O, Komori T, Tanaka M, Kawamata T, Hori T, Okada Y (2013) Clinicopathological features of sellar region xanthogranuloma: correlation with Rathke's cleft cyst. Brain Tumor Pathol 30(4):233–241. doi:10.1007/s10014-012-0130-0

Rennert J, Doerfler A (2007) Imaging of sellar and parasellar lesions. Clin Neurol Neurosurg 109(2):111–124. doi:10.1016/j.clineuro.2006.11.001

Miyajima Y, Oka H, Utsuki S, Fujii K (2011) Rathke's cleft cyst with xanthogranulomatous change–case report. Neurol Med Chir (Tokyo) 51(10):740–742

Nakasu Y, Nakasu S, Nakajima M, Itoh R, Matsuda M (1999) Atypical Rathke's cleft cyst associated with ossification. AJNR Am J Neuroradiol 20(7):1287–1289

Nishiuchi T, Murao K, Imachi H, Kushida Y, Haba R, Kawai N, Tamiya T, Ishida T (2012) Xanthogranuloma of the intrasellar region presenting in pituitary dysfunction: a case report. J Med Case Rep 6:119. doi:10.1186/1752-1947-6-119

Sugata S, Hirano H, Yatsushiro K, Yunoue S, Nakamura K, Arita K (2009) Xanthogranuloma in the suprasellar region. Neurol Med Chir (Tokyo) 49(3):124–127
Ethics declarations
Conflict of interest
Varun R. Kshettry (Consultant for Medprin), James J. Evans (Consultant for Stryker, Royalties from Mizuho for surgical instrument development).
About this article
Cite this article
Hernández-Estrada, R.A., Kshettry, V.R., Vogel, A.N. et al. Cholesterol granulomas presenting as sellar masses: a similar, but clinically distinct entity from craniopharyngioma and Rathke's cleft cyst. Pituitary 20, 325–332 (2017). https://doi.org/10.1007/s11102-016-0775-5
Published:

Issue Date:

DOI: https://doi.org/10.1007/s11102-016-0775-5
Keywords
Sella

Endoscopic

Endonasal

Transsphenoidal

Xanthogranuloma