Abstract
Purpose
Surgical extraction of as much tumour mass as possible is considered the first step of treatment in acromegaly in many centers. In this article the potential benefits, disadvantages and limitations of operative acromegaly treatment are reviewed.
Methods
Pertinent literature was selected to provide a review covering current indications, techniques and results of operations for acromegaly.
Results
The rapid reduction of tumour volume is an asset of surgery. To date, in almost all patients, minimally invasive, transsphenoidal microscopic or endoscopic approaches are employed. Whether a curative approach is feasible or a debulking procedure is planned, can be anticipated on the basis of preoperative magnetic resonance imaging. The radicality of adenoma resection essentially depends on localization, size and invasive character of the tumour. The normalization rates of growth hormone and IGF-1 secretion, respectively, depend on tumour-related factors such as size, extension, the presence or absence of invasion and the magnitude of IGF-1 and growth hormone oversecretion. However, also surgeon-related factors such as experience and patient load of the centers have been shown to strongly affect surgical results and the rate of complications. As compared to most medical treatments, surgery is relatively cheap since the costs occur only once and not repeatedly. There are several new technical gadgets which aid in the surgical procedure: navigation and variants of intraoperative imaging.
Conclusions
For the mentioned reasons, current algorithms of acromegaly management suggest an initial operation, unless the patients are unfit for surgery, refuse an operation or only an unsatisfactory resection is anticipated. A few suggestions are made when a re-operation could be considered.
Access options
Buy single article
Instant access to the full article PDF.
USD 39.95
Price includes VAT (USA)
Tax calculation will be finalised during checkout.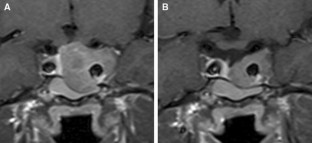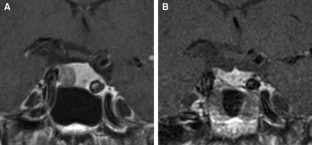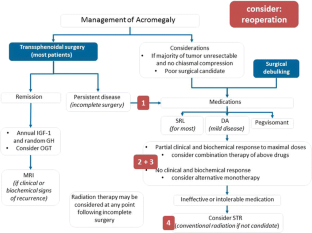 References
1.

Katznelson L, Atkinson JL, Cook DM, Ezzat SZ, Hamrahian AH, Miller KK (2011) American Association of Clinical Endocrinologists medical guidelines for clinical practice for the diagnosis and treatment of acromegaly–2011 update: executive summary. Endocrine Pract 17(4):636–646

2.

Katznelson L, Laws ER Jr, Melmed S, Molitch ME, Murad MH, Utz A, Wass JA (2014) Acromegaly: an endocrine society clinical practice guideline. J Clin Endocrinol Metab 99(11):3933–3951

3.

Melmed S, Casanueva FF, Cavagnini F, Chanson P, Frohman L, Grossman A, Ho K, Kleinberg D, Lamberts S, Laws E, Lombardi G, Vance ML, Werder KV, Wass J, Giustina A (2002) Guidelines for acromegaly management. J Clin Endocrinol Metab 87(9):4054–4058

4.

Buchfelder M, Schlaffer S (2009) Surgical treatment of pituitary tumours. Best practice & research. Clin Endocrinol Metab 23(5):677–692

5.

Cappabianca P, Cavallo LM, de Divitiis E (2004) Endoscopic endonasal transsphenoidal surgery. Neurosurgery 55(4):933–940 discussion 940-931

6.

Hardy J (1969) Transphenoidal microsurgery of the normal and pathological pituitary. Clin Neurosurg 16:185–217

7.

Couldwell WT (2004) Transsphenoidal and transcranial surgery for pituitary adenomas. J Neurooncol 69(1–3):237–256

8.

Nomikos P, Buchfelder M, Fahlbusch R (2005) The outcome of surgery in 668 patients with acromegaly using current criteria of biochemical 'cure'. Eur J Endocrinol 152(3):379–387

9.

Giustina A, Barkan A, Casanueva FF, Cavagnini F, Frohman L, Ho K, Veldhuis J, Wass J, Von Werder K, Melmed S (2000) Criteria for cure of acromegaly: a consensus statement. J Clin Endocrinol Metab 85(2):526–529

10.

Giustina A, Chanson P, Bronstein MD, Klibanski A, Lamberts S, Casanueva FF, Trainer P, Ghigo E, Ho K, Melmed S (2010) A consensus on criteria for cure of acromegaly. J Clin Endocrinol Metab 95(7):3141–3148

11.

Buchfelder M, Fahlbusch R (2002) The "classic" transsphenoidal approach for resection of pituitary tumors. Oper Techn Neurosurg 5(4):210–217

12.

Buchfelder M (2005) Treatment of pituitary tumors: surgery. Endocrine 28(1):67–75

13.

Rudnik A, Kos-Kudla B, Larysz D, Zawadzki T, Bazowski P (2007) Endoscopic transsphenoidal treatment of hormonally active pituitary adenomas. Neuro Endocrinol Lett 28(4):438–444

14.

Mortini P (2014) Cons: endoscopic endonasal transsphenoidal pituitary surgery is not superior to microscopic transsphenoidal surgery for pituitary adenomas. Endocrine 47(2):415–420

15.

Fahlbusch R, Honegger J, Buchfelder M (1992) Surgical management of acromegaly. Endocrinol Metab Clin N Am 21(3):669–692

16.

Mortini P, Losa M, Barzaghi R, Boari N, Giovanelli M (2005) Results of transsphenoidal surgery in a large series of patients with pituitary adenoma. Neurosurgery 56(6):1222–1233 discussion 1233

17.

Jane JA Jr, Starke RM, Elzoghby MA, Reames DL, Payne SC, Thorner MO, Marshall JC, Laws ER Jr, Vance ML (2011) Endoscopic transsphenoidal surgery for acromegaly: remission using modern criteria, complications, and predictors of outcome. J Clin Endocrinol Metab 96(9):2732–2740

18.

Rajasoorya C, Holdaway IM, Wrightson P, Scott DJ, Ibbertson HK (1994) Determinants of clinical outcome and survival in acromegaly. Clin Endocrinol 41(1):95–102

19.

Swearingen B, Barker FG 2nd, Katznelson L, Biller BM, Grinspoon S, Klibanski A, Moayeri N, Black PM, Zervas NT (1998) Long-term mortality after transsphenoidal surgery and adjunctive therapy for acromegaly. J Clin Endocrinol Metab 83(10):3419–3426

20.

Knosp E, Steiner E, Kitz K, Matula C (1993) Pituitary adenomas with invasion of the cavernous sinus space: a magnetic resonance imaging classification compared with surgical findings. Neurosurgery 33(4):610–617 discussion 617–618

21.

Micko AS, Wohrer A, Wolfsberger S, Knosp E (2015) Invasion of the cavernous sinus space in pituitary adenomas: endoscopic verification and its correlation with an MRI-based classification. J Neurosurg 122(4):803–811

22.

Starke RM, Raper DM, Payne SC, Vance ML, Oldfield EH, Jane JA Jr (2013) Endoscopic vs microsurgical transsphenoidal surgery for acromegaly: outcomes in a concurrent series of patients using modern criteria for remission. J Clin Endocrinol Metab 98(8):3190–3198

23.

Fathalla H, Cusimano MD, Di Ieva A, Lee J, Alsharif O, Goguen J, Zhang S, Smyth H (2015) Endoscopic versus microscopic approach for surgical treatment of acromegaly. Neurosurg Rev 38(3):541–548 discussion 548–549

24.

Junnila RK, Strasburger CJ, Bidlingmaier M (2015) Pitfalls of insulin-like growth factor-i and growth hormone assays. Endocrinol Metab Clin N Am 44(1):27–34

25.

Bates PR, Carson MN, Trainer PJ, Wass JA, Group, U.K.N.A.R.S. (2008) Wide variation in surgical outcomes for acromegaly in the UK. Clin Endocrinol 68(1):136–142

26.

Barker FG 2nd, Klibanski A, Swearingen B (2003) Transsphenoidal surgery for pituitary tumors in the United States, 1996–2000: mortality, morbidity, and the effects of hospital and surgeon volume. J Clin Endocrinol Metab 88(10):4709–4719

27.

Clayton RN, Stewart PM, Shalet SM, Wass JA (1999) Pituitary surgery for acromegaly. Should be done by specialists. BMJ 319(7210):588–589

28.

Institut für das Entgeltsystem im Krankenhaus (2016) G-DRG-Fallpauschalen-Katalog

29.

Rote Liste Service GmbH (2016) ROTE LISTE 2016. Rote Liste Service GmbH, Frankfurt (Main)

30.

Marko NF, LaSota E, Hamrahian AH, Weil RJ (2012) Comparative effectiveness review of treatment options for pituitary microadenomas in acromegaly. J Neurosurg 117(3):522–538

31.

Wass J (2005) Debulking of pituitary adenomas improves hormonal control of acromegaly by somatostatin analogues. Eur J Endocrinol 152(5):693–694

32.

Colao A, Attanasio R, Pivonello R, Cappabianca P, Cavallo LM, Lasio G, Lodrini A, Lombardi G, Cozzi R (2006) Partial surgical removal of growth hormone-secreting pituitary tumors enhances the response to somatostatin analogs in acromegaly. J Clin Endocrinol Metab 91(1):85–92

33.

Jallad RS, Musolino NR, Kodaira S, Cescato VA, Bronstein MD (2007) Does partial surgical tumour removal influence the response to octreotide-LAR in acromegalic patients previously resistant to the somatostatin analogue? Clin Endocrinol 67(2):310–315

34.

Karavitaki N, Turner HE, Adams CB, Cudlip S, Byrne JV, Fazal-Sanderson V, Rowlers S, Trainer PJ, Wass JA (2008) Surgical debulking of pituitary macroadenomas causing acromegaly improves control by lanreotide. Clin Endocrinol 68(6):970–975

35.

Petrossians P, Borges-Martins L, Espinoza C, Daly A, Betea D, Valdes-Socin H, Stevenaert A, Chanson P, Beckers A (2005) Gross total resection or debulking of pituitary adenomas improves hormonal control of acromegaly by somatostatin analogs. Eur J Endocrinol 152(1):61–66

36.

Schwyzer L, Starke RM, Jane JA Jr, Oldfield EH (2015) Percent reduction of growth hormone levels correlates closely with percent resected tumor volume in acromegaly. J Neurosurg 122(4):798–802

37.

Wilson TJ, McKean EL, Barkan AL, Chandler WF, Sullivan SE (2013) Repeat endoscopic transsphenoidal surgery for acromegaly: remission and complications. Pituitary 16(4):459–464

38.

Yamada S, Fukuhara N, Oyama K, Takeshita A, Takeuchi Y (2010) Repeat transsphenoidal surgery for the treatment of remaining or recurring pituitary tumors in acromegaly. Neurosurgery 67(4):949–956

39.

Jahangiri A, Wagner J, Han SW, Zygourakis CC, Han SJ, Tran MT, Miller LM, Tom MW, Kunwar S, Blevins LS Jr, Aghi MK (2014) Morbidity of repeat transsphenoidal surgery assessed in more than 1000 operations. J Neurosurg 121(1):67–74

40.

Biermasz NR, van Dulken H, Roelfsema F (1999) Direct postoperative and follow-up results of transsphenoidal surgery in 19 acromegalic patients pretreated with octreotide compared to those in untreated matched controls. J Clin Endocrinol Metab 84(10):3551–3555

41.

Buchfelder M, Schlaffer SM (2016) Novel techniques in the surgical treatment of acromegaly: applications and efficacy. Neuroendocrinology 103(1):32–41

42.

Colao A, Ferone D, Cappabianca P, del Basso De Caro ML, Marzullo P, Monticelli A, Alfieri A, Merola B, Cali A, de Divitiis E, Lombardi G (1997) Effect of octreotide pretreatment on surgical outcome in acromegaly. J Clin Endocrinol Metab 82(10):3308–3314

43.

Mao ZG, Zhu YH, Tang HL, Wang DY, Zhou J, He DS, Lan H, Luo BN, Wang HJ (2010) Preoperative lanreotide treatment in acromegalic patients with macroadenomas increases short-term postoperative cure rates: a prospective, randomised trial. Eur J Endocrinol 162(4):661–666

44.

Shen M, Shou X, Wang Y, Zhang Z, Wu J, Mao Y, Li S, Zhao Y (2010) Effect of presurgical long-acting octreotide treatment in acromegaly patients with invasive pituitary macroadenomas: a prospective randomized study. Endocr J 57(12):1035–1044

45.

Ezzat S, Horvath E, Harris AG, Kovacs K (1994) Morphological effects of octreotide on growth hormone-producing pituitary adenomas. J Clin Endocrinol Metab 79(1):113–118

46.

Buchfelder M, Schlaffer SM (2012) Intraoperative magnetic resonance imaging during surgery for pituitary adenomas: pros and cons. Endocrine 42(3):483–495

47.

Fahlbusch R, Keller B, Ganslandt O, Kreutzer J, Nimsky C (2005) Transsphenoidal surgery in acromegaly investigated by intraoperative high-field magnetic resonance imaging. Eur J Endocrinol 153(2):239–248

48.

Bellut D, Hlavica M, Schmid C, Bernays RL (2010) Intraoperative magnetic resonance imaging-assisted transsphenoidal pituitary surgery in patients with acromegaly. Neurosurg Focus 29(4):E9

49.

Tanei T, Nagatani T, Nakahara N, Watanabe T, Nishihata T, Nielsen ML, Takebayashi S, Hirano M, Wakabayashi T (2013) Use of high-field intraoperative magnetic resonance imaging during endoscopic transsphenoidal surgery for functioning pituitary microadenomas and small adenomas located in the intrasellar region. Neurol Med Chir 53(7):501–510

50.

Netuka D, Majovsky M, Masopust V, Belsan T, Marek J, Krsek M, Hana V, Jezkova J, Hana V Jr, Benes V (2016) Intraoperative magnetic resonance imaging during endoscopic transsphenoidal surgery of growth hormone-secreting pituitary adenomas. World Neurosurg 91:490–496

51.

Kaltsas GA, Isidori AM, Florakis D, Trainer PJ, Camacho-Hubner C, Afshar F, Sabin I, Jenkins JP, Chew SL, Monson JP, Besser GM, Grossman AB (2001) Predictors of the outcome of surgical treatment in acromegaly and the value of the mean growth hormone day curve in assessing postoperative disease activity. J Clin Endocrinol Metab 86(4):1645–1652

52.

Shimon I, Cohen ZR, Ram Z, Hadani M (2001) Transsphenoidal surgery for acromegaly: endocrinological follow-up of 98 patients. Neurosurgery 48(6):1239–1243 discussion 1244–1235

53.

Kreutzer J, Vance ML, Lopes MB, Laws ER Jr (2001) Surgical management of GH-secreting pituitary adenomas: an outcome study using modern remission criteria. J Clin Endocrinol Metab 86(9):4072–4077

54.

De P, Rees DA, Davies N, John R, Neal J, Mills RG, Vafidis J, Davies JS, Scanlon MF (2003) Transsphenoidal surgery for acromegaly in wales: results based on stringent criteria of remission. J Clin Endocrinol Metab 88(8):3567–3572

55.

Beauregard C, Truong U, Hardy J, Serri O (2003) Long-term outcome and mortality after transsphenoidal adenomectomy for acromegaly. Clin Endocrinol 58(1):86–91

56.

Esposito V, Santoro A, Minniti G, Salvati M, Innocenzi G, Lanzetta G, Cantore G (2004) Transsphenoidal adenomectomy for GH-, PRL- and ACTH-secreting pituitary tumours: outcome analysis in a series of 125 patients. Neurol Sci 25(5):251–256

57.

Trepp R, Stettler C, Zwahlen M, Seiler R, Diem P, Christ ER (2005) Treatment outcomes and mortality of 94 patients with acromegaly. Acta Neurochir 147(3):243–251 discussion 250–241

58.

Kabil MS, Eby JB, Shahinian HK (2005) Fully endoscopic endonasal vs. transseptal transsphenoidal pituitary surgery. Minim Invasive Neurosurg 48(6):348–354

59.

Ludecke DK, Abe T (2006) Transsphenoidal microsurgery for newly diagnosed acromegaly: a personal view after more than 1000 operations. Neuroendocrinology 83(3–4):230–239

60.

Frank G, Pasquini E (2006) Endoscopic endonasal cavernous sinus surgery, with special reference to pituitary adenomas. Front Horm Res 34:64–82

61.

Dehdashti AR, Ganna A, Karabatsou K, Gentili F (2008) Pure endoscopic endonasal approach for pituitary adenomas: early surgical results in 200 patients and comparison with previous microsurgical series. Neurosurgery 62(5):1006–1015 discussion 1015–1007

62.

Kim MS, Jang HD, Kim OL (2009) Surgical results of growth hormone-secreting pituitary adenoma. J Korean Neurosurg Soc 45(5):271–274

63.

Tabaee A, Anand VK, Barron Y, Hiltzik DH, Brown SM, Kacker A, Mazumdar M, Schwartz TH (2009) Endoscopic pituitary surgery: a systematic review and meta-analysis. J Neurosurg 111(3):545–554

64.

Yano S, Kawano T, Kudo M, Makino K, Nakamura H, Kai Y, Morioka M, Kuratsu J (2009) Endoscopic endonasal transsphenoidal approach through the bilateral nostrils for pituitary adenomas. Neurol Med Chir 49(1):1–7

65.

Hofstetter CP, Mannaa RH, Mubita L, Anand VK, Kennedy JW, Dehdashti AR, Schwartz TH (2010) Endoscopic endonasal transsphenoidal surgery for growth hormone-secreting pituitary adenomas. Neurosurg Focus 29(4):E6

66.

Gondim JA, Almeida JP, de Albuquerque LA, Gomes E, Schops M, Ferraz T (2010) Pure endoscopic transsphenoidal surgery for treatment of acromegaly: results of 67 cases treated in a pituitary center. Neurosurg Focus 29(4):E7

67.

Campbell PG, Kenning E, Andrews DW, Yadla S, Rosen M, Evans JJ (2010) Outcomes after a purely endoscopic transsphenoidal resection of growth hormone-secreting pituitary adenomas. Neurosurg Focus 29(4):E5

68.

Wang M, Mou C, Jiang M, Han L, Fan S, Huan C, Qu X, Han T, Qu Y, Xu G (2012) The characteristics of acromegalic patients with hyperprolactinemia and the differences in patients with merely GH-secreting adenomas: clinical analysis of 279 cases. Eur J Endocrinol 166(5):797–802

69.

Shin SS, Tormenti MJ, Paluzzi A, Rothfus WE, Chang YF, Zainah H, Fernandez-Miranda JC, Snyderman CH, Challinor SM, Gardner PA (2013) Endoscopic endonasal approach for growth hormone secreting pituitary adenomas: outcomes in 53 patients using 2010 consensus criteria for remission. Pituitary 16(4):435–444

70.

Hazer DB, Isik S, Berker D, Guler S, Gurlek A, Yucel T, Berker M (2013) Treatment of acromegaly by endoscopic transsphenoidal surgery: surgical experience in 214 cases and cure rates according to current consensus criteria. J Neurosurg 119(6):1467–1477

71.

Yildirim AE, Sahinoglu M, Divanlioglu D, Alagoz F, Gurcay AG, Daglioglu E, Okay HO, Belen AD (2014) Endoscopic endonasal transsphenoidal treatment for acromegaly: 2010 consensus criteria for remission and predictors of outcomes. Turk Neurosurg 24(6):906–912
About this article
Cite this article
Buchfelder, M., Schlaffer, SM. The surgical treatment of acromegaly. Pituitary 20, 76–83 (2017). https://doi.org/10.1007/s11102-016-0765-7
Keywords
Transsphenoidal surgery

Operation

Pituitary tumour

Acromegaly

Debulking

Complications