Abstract
Introduction
Cushing syndrome (CS) of any etiology (adrenal, pituitary or ectopic) impacts negatively on health-related quality of life (QoL), especially in active hypercortisolism but also after endocrine cure. Both generic questionnaires like the short-form 36 health survey -SF-36- and the derived SF-12, or the Hospital Anxiety and Depression Scale (HADS), and disease-specific measures like the CushingQoL and the Tuebingen CD-25 questionnaires have provided information on the impact of CS on patients perceived health.
Materials and methods
Studies published since January 2013 until November 2014 on QoL in patients with CS were identified, reviewed and summarized.
Conclusions
Treatment of CS improves patients perceived QoL, but it often takes many months and often never normalizes. In parallel to persistent QoL impairment in cured CS, brain and cerebellar volume are reduced. Depression, anxiety and cognitive dysfunction are common. Pediatric patients with CS also present worse QoL than normal children, as well as additional issues like delayed growth and pubertal development, next to abnormal body composition, psychological and cognitive maturation. Fluoxetine has been suggested as a neuroprotectant and antidepressant for patients with CS, although no prospective studies are yet available. The CushingQoL questionnaire has been mapped to well-validated instruments like SF-36 or EQ-5D, and therefore may be used in cost-utility and other health economy studies.
This is a preview of subscription content,
to check access.
Access this article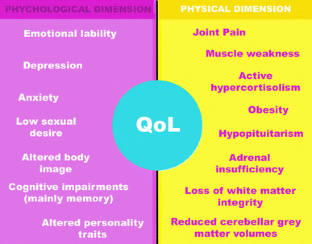 Similar content being viewed by others
References
Ragnarsson O, Johannsson G (2013) Cushing's syndrome: a structured short- and long-term management plan for patients in remission. Eur J Endocrinol 169:R139–R152

Aulinas A, Valassi E, Webb SM (2014) Prognosis of patients treated for Cushing syndrome. Endocrinol Nutr 61:52–61

Badia X, Valassi E, Roset M, Webb SM (2014) Disease-specific quality of life evaluation and its determinants in Cushing's syndrome: What have we learnt? Pituitary 17:187–195

Badia X, Roset M, Valassi E, Franz H, Forsythe A, Webb SM (2013) Mapping CushingQOL scores to EQ-5D utility values using data from the European Registry on Cushing's syndrome (ERCUSYN). Qual Life Res 22:2941–2950

Roset M, Badia B, Forsythe A, Webb SM (2013) CushingQoL Dev Grg. Mapping CushingQoL scores onto SF-6D utility values in patients with Cushing's syndrome. Patient Patient Cent Outcome Res 6:103–111

Nelson LM, Forsythe A, McLeod L, Pulgar S, Maldonado M, Coles T, Zhang Y, Webb SM, Badia X (2013) Psychometric evaluation of the Cushing's quality-of-life questionnaire. Patient Patient Cent Outcome Res 6:113–124

Milian M, Honegger J, Teufel P, Wolf A, Psaras T (2013) Tuebingen CD-25 is a sensitive tool to investigate health-related quality of life in Cushing's disease patients in the course of the disease. Neuroendocrinol 98:188–199

Abraham SB, Abel BS, Rubino D, Nansel T, Ramsey S, Nieman LK (2013) A direct comparison of quality of life in obese and Cushing's syndrome patients. Eur J Endocrinol 168:787–793

Arregger AL, Cardoso EML, Sandoval OB, Monardes Tumilasci EG, Sanchez R, Contreras LN (2014) Hormonal secretion and quality of life in Nelson syndrome and Cushing disease after long acting repeatable octreotide: a short series and update. Am J Ther 21:E110–E116

Webb SM, Ware JE, Forsythe A, Yang M, Badia X, Nelson LM, Signorovitch JE, McLeod L, Maldonado M, Zgliczynski W, de Block C, Portocarrero-Ortiz L, Gadelha M (2014) Treatment effectiveness of pasireotide on health-related quality of life in patients with Cushing's disease. Eur J Endocrinol 171:89–98

Santos A, Resmini E, Crespo I, Pires P, Vives-Gilabert Y, Granell E, Valassi E, Gómez-Anson B, Martínez-Momblán MA, Mataró M, Webb SM (2014) Small cerebellar cortex volume in patients with active Cushing's syndrome. Eur J Endocrinol 171:461–469

Andela CD, van der Werff SJA, Pannekoek JN, van den Berg SM, Meijer C, Buchem MA, Rombouts SARB, van der Mast RC, Romijn JA, Tiemensma J, Biermasz NR, van der Wee NJA, Pereira AM (2013) Smaller grey matter volumes in the anterior cingulate cortex and greater cerebellar volumes in patients with long-term remission of Cushing's disease: a case–control study. Eur J Endocrinol 169:811–819

Curto L, Ferrau F, Trimarchi F (2014) Health-related quality of life in patients with Cushing's syndrome. Minerva Endocrinol 39:75–77

Osswald A, Plomer E, Dimopoulou C, Milian M, Blaser R, Ritzel K, Mickisch A, Knerr F, Stanojevic M, Hallfeldt MK, Schopohl J, Kuhn KA, Stalla G, Beuschlein F, Reincke M (2014) Favorable long-term outcomes of bilateral adrenalectomy in Cushing's disease. Eur J Endocrinol 171:209–215

Alcalar N, Ozkan S, Kadioglu P, Celik O, Cagatay P, Kucukyuruk B, Gazioglu N (2013) Evaluation of depression, quality of life and body image in patients with Cushing's disease. Pituitary 16:333–340

Chen YF, Li YF, Chen X, Sun Q-F (2013) Neuropsychiatric disorders and cognitive dysfunction in patients with Cushing's disease. Chin Med J 126:3156–3160

Dimopoulou C, Ising M, Pfister H, Schopohl J, Stalla GK, Sievers C (2013) Increased prevalence of anxiety-associated personality traits in patients with Cushing's disease: a cross-sectional study. Neuroendocrinol 97:139–145

Tiemensma J, Biermasz NR, Middelkoop HA, van der Mast RC, Romijn JA, Pereira AM (2010) Increased prevalence of psychopathology and maladaptive personality traits after long-term cure of Cushing's disease. J Clin Endocrinol Metab 95:E129–E141

van der Pas R, de Bruin C, Pereira AM, Romijn JA, Netea-Maier RT, Hermus AR, Zelissen PM, de Jong FH, van der Lely AJ, de Herder WW, Webb SM, Lamberts SWJ, Hofland LJ, Feelders RA (2013) Cortisol diurnal rhythm and quality of life after successful medical treatment of Cushing's disease. Pituitary 16:536–544

Keil MF (2013) Quality of life and other outcomes in children treated for cushing syndrome. J Clin Endocrinol Metab 98:2667–2678

Malik O, Westphal B (2013) A role for selective serotonin reuptake inhibitors in the management of residual cognitive dysfunction in pediatric Cushing's disease. J Child Adolesc Psychopharm 23:65–69
Conflict of interest
The authors declare that they have no conflict of interest.
About this article
Cite this article
Santos, A., Crespo, I., Aulinas, A. et al. Quality of life in Cushing's syndrome. Pituitary 18, 195–200 (2015). https://doi.org/10.1007/s11102-015-0640-y
Published:

Issue Date:

DOI: https://doi.org/10.1007/s11102-015-0640-y
Keywords