Abstract
Introduction
Acromegaly is a disorder with increased morbidity which can involve many organs and the eye can be one of them which was investigated in few reports. Herein, we aimed to evaluate CCT, IOP and retinal thickness (RT), and their relationships with serum GH and IGF-1 levels and disease duration, in acromegaly patients. We compared the ocular parameters with those of a control group. This study included the largest number of patients of any comparable investigation to date.
Material and Method
We enrolled 30 acromegaly patients (15 male, 15 female and age: 48.4 ± 12.8 years) and 21 age and gender matched controls. All participants underwent complete hormonal and ophtalmological evaluation including central corneal thickness (CCT), retinal thickness (RT) and intraocular pressure (IOP) values.
Results
There were no significant differences in median right and left CCTs and mean CCT (p = 0.646, p = 0.667 and p = 0.384, respectively). Nor were there statistically significant differences in median right and left RT, or mean central RT, between the acromegaly and control groups (p = 0.977, p = 0.738 and p = 0.811, respectively). However median right, left and mean IOPs were found to be significantly higher in the acromegaly group, despite there being no difference in the CCT values (p = 0.011, p = 0.028 and p = 0.047, respectively). When we analyzed two subgroups of acromegaly patients (active/inactive), we found that the median right, left and mean CCTs and RTs, were not significantly different between the groups. Although there was a significant difference in IOP between the acromegaly and control groups, the two subgroups of acromegaly patients had similar IOPs (p = 0.400, p = 0.621 and p = 0.451 for right, left and mean IOPs, respectively). IOP was not found to be correlated with serum IGF-I, GH or disease duration in acromegaly patients.
Conclusion
Our study results suggest that acromegaly is associated with increased ocular pressures irrespective of disease activity. Therefore detailed ocular evaluation should be a routine component of the follow up visits of acromegaly patients.
This is a preview of subscription content, log in to check access.
Access options
Buy single article
Instant access to the full article PDF.
US$ 39.95
Price includes VAT for USA
Subscribe to journal
Immediate online access to all issues from 2019. Subscription will auto renew annually.
US$ 99
This is the net price. Taxes to be calculated in checkout.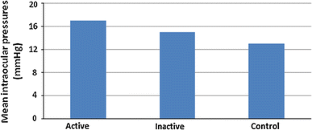 References
1.

Katznelson L, Atkinson JL, Cook DM, Ezzat SZ, Hamrahian AH, Miller KK (2011) American Association of Clinical Endocrinologists medical guidelines for clinical practice for the diagnosis and treatment of acromegaly–2011 update: executive summary. Endocr Pract 17(4):636–646

2.

Sober AJ, Gorden P, Roth J, AvRuskin TW (1994) Visceromegaly in acromegaly. Evidence that clinical hepatomegaly or splenomegaly (but not sialomegaly) are manifestations of a second disease. Arch Intern Med 134:415–417

3.

Harvey S, Kakebeeke M, Murphy AE, Sanders EJ (2003) Growth hormone in the nervous system: autocrine or paracrine roles in retinal function

4.

Bramsen T, Klauber A, Bjerre P (1980) Central corneal thickness and intraocular tension in patients with acromegaly. Acta Ophthalmol (Copenh) 58(6):971–974

5.

Ciresi A, Amato MC, Morreale D, Lodato G, Galluzzo A, Giordano C (2011) Cornea in acromegalic patients as a possible target of growth hormone action. J Endocrinol Invest 34(2):e30–e35

6.

Martin DM, Yee D, Feldman EL (1992) Gene expression of insulin like growth factors and their receptors in cultered human retinal pigment epithelial cells. Brain Res Mol Brain Res 12:181–186

7.

Hellström A, Svensson E, Carlsson B, Niklasson A, Albertsson-Wikland K (1999) Reduced retinal vascularization in children with growth hormone deficiency. J Clin Endocrinol Metab 84(2):795–798

8.

Collett-Solberg PF, Liu GT, Satin-Smith M, Katz LL, Moshang T Jr (1998) Pseudopapilledema and congenital disc anomalies in growth hormone deficiency. J Pediatr Endocrinol Metab 11(2):261–265

9.

Greco AV, Ricci B, Altomonte L, Rebuzzi AG, Manna R, Ghirlanda G (1979) GH secretion in open-angle glaucoma. Ophthalmologica 179:168–172

10.

Doughty MJ, Zaman ML (2000) Human corneal thickness and its impact on intraocular pressure measures: a review and meta-analysis approach. Surv Ophthalmol 44:367–408

11.

Ehlers N, Hansen FK (1974) Central corneal thickness in low-tension glaucoma. Acta Ophthalmol 52:740–746

12.

van Setten GB, Brismar K, Algvere P (2002) Elevated intraocular levels of insulin like growth factor 1 in a diabetic patient with acromegaly. Orbit 21:161–167

13.

Grant MB, Mames RN, Fitzgerald C, Ellis EA, Guy J, Aboufrieka M (1993) Insulin -like growth factor1 acts as an angiogenic agent in rabbit cornea and retina:comparative studies with basic fibroblast growth factor. Diabetologia 36:282–291

14.

Spencer EM, SkoverG HT (1988) Somotomedins: do they play a pivotal role in wound healing? Progr Clin Biol Res 266:103–116

15.

Algvere P (1979) Vitrectomy after intracapsular cataract extraction in diabetic sequela. Acta Ophthalmol (Copenh) 57:530–542

16.

Arciniegas A, Velasquey G, Viteri E (1986) Treating complications of diabetic retinopathy with pars plana vitrectomy. Ann Ophthalmol 18:223–235

17.

Ulbig MW, Wolfensberger TJ, Hiscott P, Ationu A, Carter ND, Gregor ZJ (1995) Insulin-like growth factor I (IGFI) receptor/binding protein in human epiretinal membranes. GerJ Ophtalmol 4:264–268

18.

Mukesh BN, McCarty CA, Rait JL, Taylor HR (2002) Five-year incidence of open-angle glaucoma: the visual impairment project. Ophthalmology 109:1047–1051

19.

Leske MC, Heijl A, Hyman L, Bengtsson B, Dong L, Yang Z, EMGT Group (2007) Predictors of long-term progression in the early manifest glaucoma trial. Ophthalmology 114:1965–1972

20.

Friedman DS, Wolfs RC, O'Colmain BJ, Klein BE, Taylor HR, West S et al (2004) Prevalence of open-angle glaucoma among adults in the United States. Arch Ophthalmol 122:532–538

21.

Xu L, Wang H, Wang Y, Jonas JB (2007) Intraocular pressure correlated with arterial blood pressure: the beijing eye study. Am J Ophthalmol 144:461–462

22.

Pasquale LR, Kang JH, Manson JE, Willett WC, Rosner BA (2006) Hankinson SE (2006) Prospective study of type 2 diabetes mellitus and risk of primary open-angle glaucoma in women. Ophthalmology 113(7):1081–1086
Conflict of interest
I (we) certify that there is no conflict of interest with any financial organization regarding the material discussed in the manuscript.
About this article
Cite this article
Polat, S.B., Ugurlu, N., Ersoy, R. et al. Evaluation of central corneal and central retinal thicknesses and intraocular pressure in acromegaly patients. Pituitary 17, 327–332 (2014). https://doi.org/10.1007/s11102-013-0505-1
Keywords
Acromegaly

Cornea thickness

Intraocular pressure