Abstract
Since 1997 there is an online National Registry of acromegalic patients in Spain (REA). We aimed to study changes in acromegaly treatment and outcomes over the last four decades in Spain. In REA clinical and biochemical data are collected at diagnosis and updated every one to 2 years. We analyzed the first treatment received and the different treatments administered according to decade of diagnosis of acromegaly: prior to 1980, 1980–1989, 1990–1999 and 2000–2009. Surgical cure rates according to pretreatment with long-acting somatostatin receptor ligands (SRLs) were also analyzed. 1,658 patients were included of which 698 had accurate follow-up data. Treatment of acromegaly changed over time. Surgery was the main treatment option (83.8 %) and medical treatment was widely used (74.7 %) both maintained over decades, while radiation therapy declined (62.8, 61.6, 42.2 and 11.9 % over decades, p < 0.001). First treatment type also changed: surgery was the first line option up until the last decade in which medical treatment was preferred (p < 0.001). Radiotherapy was barely used as first treatment. Treatment combinations changed over time (p < 0.001). The most common treatment combination (surgery plus medical therapy), was received by 24.4, 16.4, 25.3 and 56.5 % of patients over decades. Medical treatment alone was performed in 7.3, 6, 7.2 and 14.7 % over decades. Type of medical treatment also changed, SRLs becoming the first medical treatment modality in the last decades, whereas dopamine agonist use declined (p < 0.001). Surgical cure rates improved over decades (21, 21, 36 and 38 %, p = 0.002) and were not influenced by SRL pre-surgical use. Acromegaly treatment has changed in Spain in the last four decades. Surgery has been the main treatment option for decades; however, medical therapy has replaced surgery as first line in the last decade and radiotherapy rates have clearly declined. SRLs are the most used medical treatment.
Access options
Buy single article
Instant access to the full article PDF.
USD 39.95
Price includes VAT (USA)
Tax calculation will be finalised during checkout.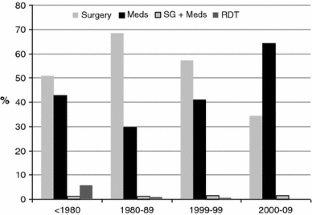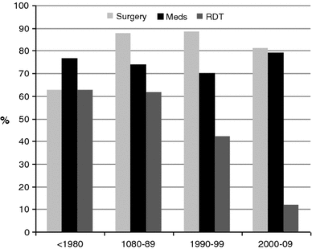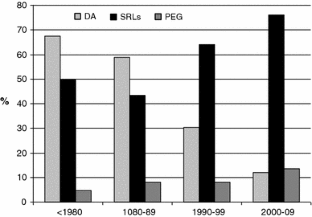 References
1.

Etxabe J, Gaztambide S, Latorre P, Vazquez JA (1993) Acromegaly: an epidemiological study. J Endocrinol Invest 16:181–187

2.

Mestron A, Webb SM, Astorga R, Benito P, Catala M, Gaztambide S, Gomez JM, Halperin I, Lucas-Morante T, Moreno B, Obiols G, de Pablos P, Paramo C, Pico A, Torres E, Varela C, Vazquez JA, Zamora J, Albareda M, Gilabert M (2004) Epidemiology, clinical characteristics, outcome, morbidity and mortality in acromegaly based on the Spanish Acromegaly Registry (Registro Espanol de Acromegalia, REA). Eur J Endocrinol 151:439–446

3.

Melmed S, Colao A, Barkan A, Molitch M, Grossman AB, Kleinberg D, Clemmons D, Chanson P, Laws E, Schlechte J, Vance ML, Ho K, Giustina A (2009) Guidelines for acromegaly management: an Update. J Clin Endocrinol Metab 94:1509–1517

4.

Trainer PJ, Drake WM, Katznelson L, Freda PU, Herman-Bonert V, van der Lely AJ, Dimaraki EV, Stewart PM, Friend KE, Vance ML, Besser GM, Scarlett JA, Thorner MO, Parkinson C, Klibanski A, Powell JS, Barkan AL, Sheppard MC, Malsonado M, Rose DR, Clemmons DR, Johannsson G, Bengtsson BA, Stavrou S, Kleinberg DL, Cook DM, Phillips LS, Bidlingmaier M, Strasburger CJ, Hackett S, Zib K, Bennett WF (2000) Davis RJ.T reatment of acromegaly with the growth hormone-receptor antagonist pegvisomant. N Engl J Med 342:1171–1177

5.

Johnson MR, Chowdrey HS, Thomas F, Grint C, Lightman SL (1994) Pharmacokinetics and efficacy of the long-acting somatostatin analogue somatuline in acromegaly. Eur J Endocrinol 130:229–234

6.

Hunter SJ, Shaw JA, Lee KO, Wood PJ, Atkinson AB, Bevan JS (1999) Comparison of monthly intramuscular injections of Sandostatin LAR with multiple subcutaneous injections of octreotide in the treatment of acromegaly; effects on growth hormone and other markers of growth hormone secretion. Clin Endocrinol 50:245–251

7.

Caron P, Bex M, Cullen DR, Feldt-Rasmussen U, Pico Alfonso AM, Pynka S, Racz K, Schopohl J, Tabarin A, Valimaki MJ (2004) One-year follow-up of patients with acromegaly treated with fixed or titrated doses of lanreotide Autogel. Clin Endocrinol 60:734–740

8.

Lucas T, Spanish-Portuguese Multicentre Autogel Study Group on Acromegaly (2006) Efficacy of lanreotide Autogel administered every 4–8 weeks in patients with acromegaly previously responsive to lanreotide microparticles 30 mg: a phase III trial. Clin Endocrinol (Oxf) 65(3):320–326

9.

Schopohl J, Strasburger CJ, Caird D, Badenhoop K, Beuschlein F, Droste M, Plöckinger U, German Lanreotide Study Group (2011) Efficacy and acceptability of lanreotide Autogel® 120 mg at different dose intervals in patients with acromegaly previously treated with octreotide LAR. Exp Clin Endocrinol Diabetes 119(3):156–162

10.

Biermasz NR, van den Oever NC, Frölich M, Arias AM, Smit JW, Romijn JA, Roelfsema F (2003) Sandostatin LAR in acromegaly: a 6-week injection interval suppresses GH secretion as effectively as a 4-week interval. Clin Endocrinol (Oxf) 58:288–295

11.

Giustina A, Bonadonna S, Bugari G, Colao A, Cozzi R, Cannavo S, de Marinis L (2009) Degli Uberti E, Bogazzi F, Mazziotti G, Minuto F, Montini M, Ghigo E. High-dose intramuscular octreotide in patients with acromegaly inadequately controlled on conventional somatostatin analogue therapy: a randomised controlled trial. Eur J Endocrinol 161:331–338

12.

Ben-Shlomo A, Melmed S (2007) Pasireotide—a somatostatin analog for the potential treatment of acromegaly, neuroendocrine tumors and Cushing's disease. IDrugs 10:885–895

13.

Frank G, Pasquini E (2006) Endoscopic cavernous sinus surgery with special reference to pituitary adenomas. In: Laws ER, Sheehan JP (eds) Pituitary surgery—a modern approach. Karger, Basel, pp 64–82

14.

Fahlbusch R, Keller B, Ganslandt O, Kreutzer J, Nimsky C (2005) Transsphenoidal surgery in acromegaly investigated by intraoperative high-field magnetic resonance imaging. Eur J Endocrinol 153:239–248

15.

Bex M, Abs R, T'Sjoen G, Mockel J, Velkeniers B, Muermans K, Maiter D (2007) AcroBel—the Belgian registry on acromegaly: a survey of the 'real-life' outcome in 418 acromegalic subjects. Eur J Endocrinol 157(4):399–409

16.

Jaquet P, Cortet-Rudelli Ch, Sassolas G, Morange-Ramos I, Chanson P, Brue T, Andrieu JM, Beckers A, Bertherat J, Borson-Chazot F, Brassier G, Caron P, Cogne M, Cottier JP, Delemer B, Dufour H, Enjalbert A, Figarella-Branger D, Gaillard R, Gueydan M, Jan M, Kuhn JM, Raingeard I, Regis J, Roger P, Rohmer V, Sadoul JL, Saveanu A, Tabarin A, Travers N, French Acromegly Registry (2003) Therapeutic strategies in somatotroph adenomas with extrasellar extension: role of the medical approach, a consensus study of the French Acromegaly Registry. Ann Endocrinol (Paris) 64(6):434–441

17.

Colao A, Ferone D, Cappabianca P, del Basso De Caro ML, Marzullo P, Monticelli A, Alfieri A, Merola B, Cali A, de Divitiis E, Lombardi G (1997) Effect of octreotide pretreatment on surgical outcome in acromegaly. J Clin Endocrinol Metab 82:3308–3314

18.

Losa M, Mortini P, Urbaz L, Ribotto P, Castrignano T, Giovanelli M (2006) Presurgical treatment with somatostatin analogs in patients with acromegaly: effects on the remission and complication rates. J Neurosurg 104:899–906

19.

Petersenn S, Buchfelder M, Reincke M, Strasburger CM, Franz H, Lohmann R, Quabbe HJ, Participants of the German Acromegaly Register (2008) Results of surgical and somatostatin analog therapies and their combination in acromegaly: a retrospective analysis of the German acromegaly register. Eur J Endocrinol 159(5):525–532

20.

Fieffe S, Morange I, Petrossians P, Chanson P, Rohmer V, Cortet C, Borson-Chazot F, Brue T, The French Acromegaly Registry (2011) Diabetes in acromegaly, prevalence, risk factors, and evolution: data from the French Acromegaly Registry. Eur J Endocrinol 164(6):877–884

21.

Biermasz NR, Roelfsema F, Pereira AM, Romijn JA (2009) Cost-effectiveness of lanreotide autogel in treatment algorithms of acromegaly. Expert Rev Pharmacoecon Outcomes Res 9:223–234

22.

Melmed S, Colao A, Barkan A, Molitch M, Grossman AB, Kleinberg D, Clemmons D, Chanson P, Laws E, Schlechte J, Vance ML, Ho K, Acromegaly Consensus Group (2009) Guidelines for acromegaly management: an update. J Clin Endocrinol Metab 94:1509–1517

23.

Mullan K, Sanabria C, Abram WP, McConnell EM, Courtney HC, Hunter SJ, McCance DR, Leslie H, Sheridan B, Atkinson AB (2009) Long term effect of external pituitary irradiation on IGF1 levels in patients with acromegaly free of adjunctive treatment. Eur J Endocrinol 161:547–551
Acknowledgments
We thank Novartis Oncology Spain for an unrestricted grant to support the REA database.
Conflict of interest
There is no conflict of interest that could be perceived as prejudicing the impartiality of the research reported.
Additional information
Dr. Varela recently passed away.
List of REA investigators in alphabetical order: Victoria Alcázar Lázaro, Hospital Severo Ochoa, Madrid, Javier Aller Pardo, Hospital Puerta de Hierro, Madrid, Cristina Álvarez Escolà, Hospital Universitario la Paz, Madrid, Paula Álvarez Vazquez, Complejo Hospitalario de Ourense, Orense, Ignacio Bernabeu Morón, Hospital Clínico Universitario de Santiago, Santiago de Compostela, Carmen Bernal González, Hospital 12 de Octubre, Madrid, Concepción Blanco Carrera, Hospital Principe de Asturias, Madrid, Alejandro Cámara Balda, Hospital San Pedro, Logroño, Rosa Cámara Gómez, Hospital La Fe, Valencia, Emilia Cáncer Minchot, Hospital de Fuenlabrada, Madrid, Ignasi Castells Fust, Hospital de Granollers, Barcelona, Carlos Del Pozo Picó, Hospital Mutua de Terrassa, Terrassa, Juan José Díez Gómez, Hospital Universitario la Paz, Madrid, Alberto Díez Hernández, Hospital del Bierzo, Ponferrada, León, Carmen Fajardo Montañana, Hospital de la Ribera, Alzira, Lluis Forga Llenas, Hospital de Navarra, Navarra, Rogelio García Centeno, Hospital Gregorio Marañón, Madrid, Honorato García Fernández, Hospital Son Dureta, Mallorca, Manuel Gargallo Fernandez, Hospital Virgen de la Torre, Madrid, Sonia Gaztambide Sáenz, Hospital de Cruces, Barakaldo, Irene Halperin Rabinovich, Hospital Clínic, Barcelona, Juan Angel Hernández Bayo, Hospital de la Palma, Tenerife, Miguel Angel Jaunsolo Barranechea, Hospital Severo Ochoa, Madrid, Manuel Luque Ramírez, Hospital de la Princesa, Madrid, Camelia Martí Ippoliti, Hospital de Sant Pau, Barcelona, Miguel Ángel Martínez Olmos, Hospital Clínico Universitario de Santiago, Santiago de Compostela, Francisca Mas, Hospital de Manacor, Mallorca, Alberto Moreno Carazo, Complejo Hospitalario de Jaen, Jaén, Basilio Moreno Esteban, Hospital Gregorio Marañón, Madrid, Jesus Moreno Fernandez, La Mancha Centro Endocrinología y Nutrición Ciudad Real, Gabriel Obiols Alfonso, Hospital Vall d'Hebrón, Barcelona, Herminia Pascual Saura, Hospital Morales Meseguer, Murcia, Antonio Pico Alfonso, Hospital General Universitario, Alicante, Elena Riquelme, Centro médico intergral de Henares, Madrid Mª Pilar Ruiz-Valdepeñas Herrero, Hospital 12 de Octubre, Madrid, Isabel Salinas i Vert, Hospital Germans Trias i Pujol, Barcelona, MªConcepción Sanabria Pérez, Complejo Hospitalario Ciudad Real, Ciudad Real, Piedad Santiago Fernández, Hospital General de Jaén, Jaén, Alicia Serraclara Pla, Hospital 12 de Octubre, Madrid, Gemma Sesmilo León, Institut Universitari Dexeus, Barcelona, Alfonso Soto Moreno, Hospital Universitario Virgen del Rocío, Sevilla, Elena Torres Vela, Hospital Universitario San Cecilio, Granada, César Varela, Hospital Infanta Sofía, Madrid, Eva Venegas Moreno, Hospital Universitario Virgen del Rocío, Sevilla, Almudena Vicente Delgado, Hospital Virgen de la Salud, Toledo, Carles Villabona Artero, Hospital de Bellvitge, Barcelona, Susan M Webb, Hospital de Sant Pau, Barcelona.
About this article
Cite this article
Sesmilo, G., Gaztambide, S., Venegas, E. et al. Changes in acromegaly treatment over four decades in Spain: analysis of the Spanish Acromegaly Registry (REA). Pituitary 16, 115–121 (2013). https://doi.org/10.1007/s11102-012-0384-x
Keywords
Acromegaly

Registry

Treatment