Abstract
Traumatic brain injury (TBI) has been recently recognized as a leading cause of pituitary dysfunction. Current data clearly demonstrated that sports related head trauma due to boxing, kickboxing, and soccer might results in pituitary hormone deficiencies, isolated growth hormone (GH) deficiency in particular. In the present report physiologic dose GH replacement therapy (GHRT) was performed in two GH deficient retired amateur boxers for the first time. The boxers received recombinant GH for 6 months. After 6 months of GHRT there were substantial improvements, but not complete normalization, in the body composition parameters, lipid profiles and quality of life scores in both boxers. These preliminary results suggest that GHRT may have beneficial effects in retired boxers with severe isolated GH deficiency due to sports related head trauma. But more data with higher number of boxers and longer GHRT duration are warranted.
Access options
Buy single article
Instant access to the full article PDF.
US$ 39.95
Tax calculation will be finalised during checkout.
Subscribe to journal
Immediate online access to all issues from 2019. Subscription will auto renew annually.
US$ 79
Tax calculation will be finalised during checkout.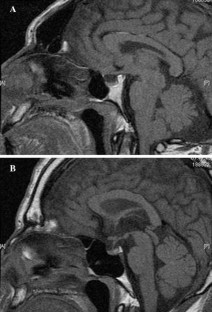 References
1.

Schneider HJ, Kreitschmann-Andermahr I, Ghigo E, Stalla GK, Agha A (2007) Hypothalamopituitary dysfunction following traumatic brain injury and aneurysmal subarachnoid hemorrhage: a systematic review. JAMA 298:1429–1438

2.

Ives JC, Alderman M, Stred SE (2007) Hypopituitarism after multiple concussions: a retrospective case study in an adolescent male. J Athl Train 42:431–439

3.

Kelestimur F, Tanriverdi F, Atmaca H, Unluhizarci K, Selcuklu A, Casanueva FF (2004) Boxing as a sport activity associated with isolated GH deficiency. J Endocrinol Invest 27:RC28–R32

4.

Tanriverdi F, Unluhizarci K, Coksevim B, Selcuklu A, Casanueva FF, Kelestimur F (2007) Kickboxing sport as a new cause of traumatic brain injury-mediated hypopituitarism. Clin Endocrinol (Oxf) 66:360–366

5.

Tanriverdi F, Unluhizarci K, Kocyigit I et al (2008) Brief communication: pituitary volume and function in competing and retired male boxers. Ann Intern Med 148:827–831

6.

Consensus guidelines for the diagnosis and treatment of adults with growth hormone deficiency: summary statement of the Growth Hormone Research Society Workshop on Adult Growth Hormone Deficiency (1998) J Clin Endocrinol Metab 83:379-381

7.

Burman P, Broman JE, Hetta J et al (1995) Quality of life in adults with growth hormone (GH) deficiency: response to treatment with recombinant human GH in a placebo-controlled 21-month trial. J Clin Endocrinol Metab 80:3585–3590

8.

Tanriverdi F, Unluhizarci K, Kelestimur F (2006) Growth hormone replacement therapy in adults with growth hormone deficiency: benefits and cost-effectiveness. Expert Rev Pharmacoeconomics Outcomes Res 6:131–138

9.

Tanriverdi F, Unluhizarci K, Kula M, Guven M, Bayram F, Kelestimur F (2005) Effects of 18-month of growth hormone (GH) replacement therapy in patients with Sheehan's syndrome. Growth Horm IGF Res 15:231–237

10.

Tanriverdi F, Kocyigit I, Unluhizarci K, Casanueva FF, Kelestimur F (2008) Body composition, serum IGF-I and leptin level changes in amateur boxers: retired boxers have risk factors for cardiovascular disorders. Obes Metab 4:118–123
About this article
Cite this article
Tanriverdi, F., Unluhizarci, K., Karaca, Z. et al. Hypopituitarism due to sports related head trauma and the effects of growth hormone replacement in retired amateur boxers. Pituitary 13, 111–114 (2010). https://doi.org/10.1007/s11102-009-0204-0
Keywords
Boxing

Traumatic brain injury

Growth hormone

Head trauma

Hypopituitarism