Abstract
The aim of this paper is to illustrate the origin and composition of a collection of 192 plant drugs, based on archival documents from 1932 to 1940. This unique collection was produced in 1937 by the pharmaceutical company "Carlo Erba" of Milan at the request of prof. Giuseppe Catalano, director of the Botanical Institute in Portici. The 192 plant drugs, coming from almost all continents, belong to 78 botanical families among which the Asteraceae with 17 species and the Fabaceae with 15 species are the most represented. Twenty-eight of them are classified as poisonous even if used for a long time in the Italian and European pharmacopoeia. One hundred eleven plant samples from the collection were already known as plant remedies and described in two ancient books in the Historical Library of the Orazio Comes Botanical Museum, dedicated to medicinal plants: the first dated 1585 and the second dated 1712. Among the many plant species that make it up, 13 of them have been selected for their anticancer effect which has either been known since long or is currently being studied.
Access options
Buy single article
Instant access to the full article PDF.
US$ 39.95
Tax calculation will be finalised during checkout.
Subscribe to journal
Immediate online access to all issues from 2019. Subscription will auto renew annually.
US$ 79
Tax calculation will be finalised during checkout.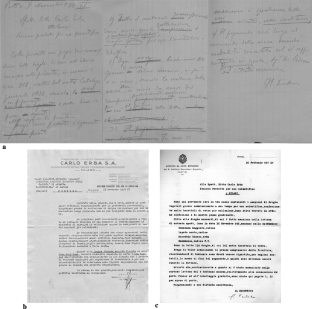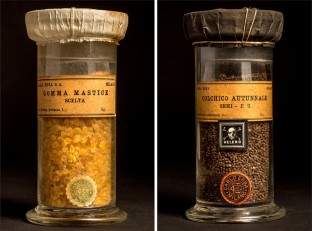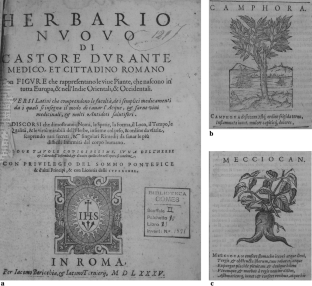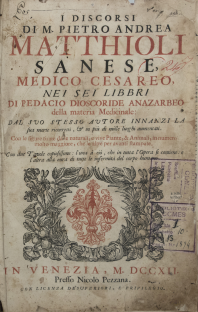 Notes
1.

Herbario nuouo di Castore Durante medico, & cittadino romano. Con figure, che rappresentano le viue piante, che nascono in tutta Europa, & nell'Indie orientali, & occidentali… Con discorsi, che dimostrano i nomi, le spetie, la forma, il loco, il tempo, le qualità, & le virtù mirabili dell'herbe… Con due tauole copiosissime, l'vna dell'herbe, & l'altra dell'infirmità, & di tutto quello che nell'opera si contiene, stampato In Roma: per Iacomo Bericchia, & Iacomo Tornierij, 1585.

2.

I Discorsi di M. Pietro Andrea Mattioli sanese, medico cesareo, ne' sei libbri di Pedacio Dioscoride anazarbeo della materia medicinale: dal suo stesso autore innanzi la sua morte ricorretti & in più di mille luoghi aumentati. Con le figure tirate dalle naturali e vive Piante, & animali in numero molto maggiore, che le altre per avanti stamnpate. Con due tavole copiosissime: l'una intorno a cio, che in tutta l'opera si contiene: e l'altra della cura di tutte le infermità del corpo umano, stampata in Venezia presso Niccolò Pezzana. 1712.
References
Ali EM (2013) Phytochemical composition, antifungal, antiaflatoxigenic, antioxidant, and anticancer activities of Glycyrrhiza glabra L. and Matricaria chamomilla L. essential oils. J Med Plants Res 7(29):2197–2207. https://doi.org/10.5897/jmpr2013.5134

Alippi Cappelletti M (1988) Catalano, Giuseppe. In: Treccani (ed) Dizionario Biografico degli Italiani, Enciclopedia Treccani, vol 34. www.treccani.i/enciclopedia/giuseppe-catalano

Al-Snafi AE (2015) The chemical constituents and pharmacological effects of Adiantum capillus-veneris—a review. Asian J Pharm Sci Technol 5(2):106–111

Aydın E, Türkez H, Keleş MS (2015) Potential anticancer activity of carvone in N2a neuroblastoma cell line. Toxicol Ind Health 31(2):764–772. https://doi.org/10.1177/0748233713484660

Bailon-Moscoso N, Romero-Benavides JC, Tinitana-Imaicela F, Ostrosky-Wegman P (2015) Medicinal plants of Ecuador: a review of plants with anticancer potential and their chemical composition. Med Chem Res 24:2283. https://doi.org/10.1007/s00044-015-1335-7

Bishayee K, Mondal J, Sikdar S, Khuda-Bukhsh AR (2015) Condurango (Gonolobus condurango)—extract activates fas receptor and depolarizes mitochondrial membrane potential to induce ROS-dependent apoptosis in cancer cells in vitro. J Pharmacopunct 18(3):32–41. https://doi.org/10.3831/2fkpi.2015.18.022

Bouyahya A, Assemian ICC, Mouzount H, Bourais I, Et-Touysa A, Fellah H, Benjouad A, Dakka N, Bakria Y (2019) Could volatile compounds from leaves and fruits of Pistacia lentiscus constitute a novel source of anticancer, antioxidant, antiparasitic and antibacterial drugs? Ind Crops Prod 128:62–69. https://doi.org/10.1016/j.indcrop.2018.11.001

Chellian R, Pandy V, Mohamed Z (2017) Pharmacology and toxicology of α- and β-Asarone: a review of preclinical evidence. Phytomedicine 32:41–58. https://doi.org/10.1016/j.phymed.2017.04.003

Chinoua I, Lioliosa C, Moreau D, Roussakis C (2007) Cytotoxic activity of Origanum dictamnus. Fitoterapia 78(5):342–344. https://doi.org/10.1016/j.fitote.2007.02.005

Cunningham, AB (2001) Applied ethnobotany. People, wild plant use & conservation. In: People and plants conservation manual. Earthscan From Routledge, London, 320 p. https://doi.org/10.4324/9781849776073

Dastagir G, Rizvi MA (2016) Glycyrrhiza glabra L. (Liquorice). Pak J Pharm Sci 29(5):1727–1733

Fontana S (2018) Mastic gum tears. www.farmalabor.it/schede/2018/1225

Funka JL, Frye J, Oyarzo JN, Chen J, Zhang H, Timmermann BN (2016) Anti-inflammatory effects of the essential oils of ginger (Zingiber officinale Roscoe) in experimental rheumatoid arthritis. PharmaNutrition 4(3):123–131. https://doi.org/10.1016/j.phanu.2016.02.004

Idolo M (2007) Collezione di piante officinali "Carlo Erba". In: Mazzoleni S, Pignattelli S (eds) L'evoluzione delle Wunderkammern. Università degli Studi di Napoli Federico II, Napoli, p 85

Idolo M, Motti R, Mazzoleni S (2010) Ethnobotanical and phytomedicinal knowledge in a long-history protected area, the Abruzzo, Lazio and Molise National Park (Italian Apennines). J Ethnopharmacol 127(2):379–395. https://doi.org/10.1016/j.jep.2009.10.027

Iyengar NM, Gucalp A, Danneberg AJ, Hudis CA (2016) Obesity and cancer mechanisms: tumor microenvironment and inflammation. J Clin Oncol 34(35):4270–4276. https://doi.org/10.1200/jco.2016.67.4283

Jeena K, Liju VB, Kuttan R (2015) Antitumor and cytotoxic activity of Ginger essential oil (Zingiber officinale Roscoe). Int J Pharm Pharm Sci 7(8):341–344

Jurjus A, Eid A, Al Kattar S, Zeenny MN, Gerges-Geagea A, Haydar H, Hilal A, Queidat D, Matar M, Tawilah J, Hussein IH, Schembri-Wismayer P, Cappello F, Tomasello G, Leone A, Jurjus RA (2015) Inflammatory bowel disease, colorectal cancer and type 2 diabetes mellitus: the links. BBA Clin 5(6):16–24. https://doi.org/10.1016/j.bbacli.2015.11.002

Lou C, Zhu Z, Zhao Y, Zhu R, Zhao H (2017) Arctigenin, a lignan from Arctium lappa L., inhibits metastasis of human breast cancer cells through the downregulation of MMP-2/-9 and heparanase in MDA-MB-231 cells. Oncol Rep 37(1):179–184. https://doi.org/10.3892/or.2016.5269

Marrelli M, Menichini F, Conforti F (2015) A comparative study of Zingiber officinale Roscoe pulp and peel: phytochemical composition and evaluation of antitumour activity. Nat Prod Res 29(21):2045–2049. https://doi.org/10.1080/14786419.2015.1020491

Marrelli M, Statti GA, Conforti F (2018) Origanum spp.: an update of their chemical and biological profiles. Phytochem Rev 17:873. https://doi.org/10.1007/s11101-018-9566-0

Mesquita LSSD, Luz TRSA, Mesquita JWCD, Coutinho DF, Amaral FMMD, Ribeiro MNDS, Malik S (2019) Exploring the anticancer properties of essential oils from family Lamiaceae. Food Rev Int 35(2):105–131. https://doi.org/10.1080/87559129.2018.1467443

Mondal J, Panigrahi AK, Khuda-Bukhsh AR (2014) Anticancer potential of Conium maculatum extract against cancer cells in vitro: drug-DNA interaction and its ability to induce apoptosis through ROS generation. Pharm Mag 10(Suppl 3):524–533. https://doi.org/10.4103/2f0973-1296.139792

Özenver N, Saeed M, Demirezer LÖ, Efferth T (2018) Aloe-emodin as drug candidate for cancer therapy. Oncotarget 9(25):17770–17796. https://doi.org/10.18632/2foncotarget.24880

Panth N, Manandhar B, Paudel KR (2017) Anticancer activity of Punica granatum (Pomegranate): a review. Phytother Res 31(4):568–578. https://doi.org/10.1002/ptr.5784

Pesenti T (1993) Durante, Castore. In: Treccani (ed) Dizionario Biografico degli Italiani. Enciclopedia Treccani, vol 42. www.treccani.it/enciclopedi/castore-durante

Prakash CVS, Prakash I (2011) Bioactive chemical constituents from pomegranate (Punica granatum) juice, seed and peel—a review. Int J Res Chem Environ 1(1):1–18

Rastogi S, Pandey MM, Rawat AKS (2018) Ethnopharmacological uses, phytochemistry and pharmacology of genus Adiantum: a comprehensive review. J Ethnopharmacol 215:101–119. https://doi.org/10.1016/j.jep.2017.12.034

Rautray S, Panikar S, Amutha T, Usha Rajananthini A (2018) Anticancer acrivity of Adiantum capillus-veneris and Pteris quadriureta L. in human breast cancer cell lines. Mol Biol Rep 45:1897. https://doi.org/10.1007/s11033-018-4337-y

Remila S, Atmani-Kilani D, Delemasure S, Connat JL, Aziba L, Richard Tristan, Atmani Djebbar (2015) Antioxidant, cytoprotective, anti-inflammatory and anticancer activities of Pistacia lentiscus (Anacardiaceae) leaf and fruit extracts. Eur J Integr Med 7(3):274–286. https://doi.org/10.1016/j.eujim.2015.03.009

Sachan AK, Das DR, Kumar M (2016) Carum carvi—an important medicinal plant. J Chem Pharm Res 8(3):529–533. https://doi.org/10.1016/j.foodcont.2008.12.007

Shirin APR, Prakash J (2010) Chemical composition and antioxidant properties of ginger root (Zingiber officinale). J Med Plant Res 4(24):2674–2679. https://doi.org/10.5897/jmpr09.464

Su S, Cheng X, Wink M (2015) Natural lignans from Arctium lappa modulate P-glycoprotein efflux function in multidrug resistant cancer cells. Phytomedicine 22(2):301–307. https://doi.org/10.1016/j.phymed.2014.12.009

Tabolacci C, Cordella M, Turcano L, Rossi S, Lentini A, Mariotti S, Nisini R, Sette G, Eramo A, Piredda L, De Maria R, Facchiano F, Beninati S (2015) Aloe-emodin exerts a potent anticancer and immunomodulatory activity on BRAF-mutated human melanoma cells. Eur J Pharmacol 762:283–292. https://doi.org/10.1016/j.ejphar.2015.05.057

Yoo CB, Han KT, Cho KS, Ha J, Park HJ, Nam JH, Kil UH, Lee KT (2005) Eugenol isolated from the essential oil of Eugenia caryophyllata induces a reactive oxygen species-mediated apoptosis in HL-60 human promyelocytic leukemia cells. Cancer Lett 225(1):41–52. https://doi.org/10.1016/j.canlet.2004.11.018
Additional information
Publisher's Note
Springer Nature remains neutral with regard to jurisdictional claims in published maps and institutional affiliations.
Electronic supplementary material
Below is the link to the electronic supplementary material.
About this article
Cite this article
Monaco, A., Chianese, G. & Idolo, M. Drugs of plant origin from the "Carlo Erba" collection of the Botanical Museum in Portici "Orazio Comes". Phytochem Rev 18, 1211–1222 (2019). https://doi.org/10.1007/s11101-019-09637-9
Received:

Accepted:

Published:

Issue Date:
Keywords
Anticancer effect

Chemical composition

Medicinal plants

Plant drugs