Abstract
Chia, Salvia hispanica L., is a medicinal and dietary plant species used since ancient times by Mayan and Aztec. Its product is a dry indehiscent fruit which is commonly called seed. In recent times, there was an increasing attention and diffusion of the seeds of the plant for their health benefits and uses in cooking. In fact, seeds are a rich source of nutrients first of all the polyunsaturated omega-3 fatty acids that protect from inflammation, enhance cognitive performance and reduce the level of cholesterol. Seeds are also rich in polyphenols derived from caffeic acid that are antioxidant compounds protecting the body from free radicals, aging and cancer. In addition, carbohydrate based fibers, present at high concentration levels, are associated with reducing inflammation, lowering cholesterol and regulating bowel function. This review summarizes the current knowledge on the phytochemistry and pharmacological properties of the seeds of this plant, with special emphasis on the nutritional, and phytochemical analysis of the plant, including the recently developed metabolomic studies.
This is a preview of subscription content, log in to check access.
Access options
Buy single article
Instant access to the full article PDF.
US$ 39.95
Tax calculation will be finalised during checkout.
Subscribe to journal
Immediate online access to all issues from 2019. Subscription will auto renew annually.
US$ 99
Tax calculation will be finalised during checkout.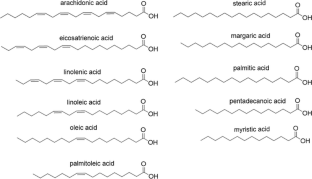 References
Ai CB, Li L-N (1992) Salvianolic acids D and E: two new depsides from Salvia miltiorrhiza. Planta Med 58:197–199

Ai CB, Deng QH, Song WZ, Li LN (1994) Salvianolic acid J, a depside from Salvia flava. Phytochemistry 37:907–908

Álvarez-Chávez LM, Valdivia-López MDLA, Aburto-Juarez MDL, Tecante A (2008) Chemical characterization of the lipid fraction of Mexican chia seed (Salvia hispanica L.). Int J Food Prop 11:687–697

Amato M, Caruso MC, Guzzo F, Commisso M, Bochicchio R, Galgano F, Labella R, Favati F (2015) Nutritional quality of seeds and leaf metabolites of Chia (Salvia hispanica L.) from Southern Italy. Eur Food Res Technol 241:615–625

Anderson JW, Baird P, Davis RH, Ferreri S, Knudtson M, Koraym A, Williams CL (2009) Health benefits of dietary fiber. Nutr Rev 67:188–205

Ayerza R (1995) Oil content and fatty acid composition of chia (Salvia hispanica L.), from five northeastern locations in northwestern Argentina. J Am Oil Chem Soc 72:1079–1081

Ayerza R (2011) The seed's oil content and fatty acid composition of chia (Salvia hispánica L.) var. Iztac 1, grown under six tropical ecosystems conditions. Interciencia 36:620–624

Ayerza R (2013a) Seed composition of two chia (Salvia hispanica L.) genotypes which differ in seed color Emir. J Food Agric 25:495–500

Ayerza R (2013b) Composition of chia (Salvia hispanica) grown in six tropical and subtropical ecosystems of South America. J Food Agric 25:495–500

Ayerza R, Coates W (2001) Chia seeds: new source of omega-3 fatty acids, natural antioxidants and dietetic fiber Southwest center for natural products research and commercialization. Office of Arid Lands Studies, Tucson

Ayerza R, Coates W (2004) Composition of chia (Salvia hispanica L.) grown in six tropical and subtropical ecosystems of South America. Trop Sci 44:131–135

Ayerza R, Coates W (2005) Chia: rediscovering a forgotten crop of the Aztecs. The University of Arizona Press, Tucson

Ayerza R, Coates W (2009a) Some quality components of four chia (Salvia hispanica L.) genotypes grown under tropical coastal desert ecosystem conditions. Asian J Plant Sci 8:301–307

Ayerza R, Coates W (2009b) Influence of environment on growing period and yield, protein, oil and linolenic content of three chia (Salvia hispanica L.) selections. Ind Crop Prod 30:321–324

Ayerza R, Coates W (2011) Protein content, oil content and fatty acid profiles as potential criteria to determine the origin of commercially grown chia (Salvia hispanica L.). Ind Crop Prod 34:1366–1371

Balasundram N, Sundram K, Samman S (2006) Phenolic compounds in plants and agri-industrial by-products: antioxidant activity, occurrence and potential uses. Food Chem 99:191–203

Bochicchio R, Philips TD, Lovelli S, Labella R, Galgano F, Di Marsico A, Perniola M, Amato M (2015) Innovative crop productions for healthy food: the case of chia (Salvia hispanica L.). In: Vastola A (ed) The sustainability of agro-food and natural resource systems in the mediterranean basin 2015. Springer, Berlin, pp 15–27

Borderìas AJ, Sanchez-Alonso I, Pérez-Mateos M (2005) New applications of fibres in food: addition to fishery products. Trends Food Sci Technol 16:458–465

Bushway AA, Belyea PR, Bushway RJ (1981) Chia seed as a source of oil, polysaccharide, and protein. J Food Sci 46:1349–1350

Cao G, Sofic E, Prior RL (1997) Antioxidant and prooxidant behavior of flavonoids: structure-activity relationships. Free Radic Biol Med 22:749–760

Capitani MI, Spotorno V, Nolasco SN, Tomas MC (2012) Physicochemical and functional characterization of by-products from chia (Salvia hispanica L.) seeds of Argentina. LWT—Food Sci Technol 45:94–102

Capitani MI, Ixtaina VY, Nolasco SM, Tomás MC (2013) Microstructure, chemical composition and mucilage exudation of chia (Salvia hispanica L.) nutlets from Argentina. J Sci Food Agric 93:3856–3862

Capitani MI, Corzo-Rios LJ, Chel-Guerrero LA, Betancur-Ancona DA, Nolasco SM, Tomás MC (2015) Rheological properties of aqueous dispersions of chia (Salvia hispanica L.) mucilage. J Food Eng 149:70–77

Capitani MI, Matus-Basto A, Ruiz-Ruiz JC, Santiago-García JL, Betancur-Ancona DA, Nolasco SM, Tomás MC, Segura-Campos MR (2016) Characterization of biodegradable films based on Salvia hispanica L. protein and mucilage. Food Bioprocess Technol 9:1276–1286

Codex Alimentarius Commission; Food and Agriculture Organization; World Health Organization (2009) Report of the 30th session of the Codex Committee on nutrition and foods for special dietary uses. ALINORM 09/32/26

Codex Mendoza (1542) Edition of Francisco del Paso and Troncoso (1925). Museo Nacional de Arqueologia, Historia y Etnografia, Mexico

Coelho SM, de las Mercedes Salas-Mellado M (2014) Chemical characterization of chia (Salvia hispanica L.) for use in food product. J Food Nutr Res 2:263–269

Critchfield JW, Butera ST, Folks TM (1996) Inhibition of HIV activation in latently infected cells by flavonoid compounds. AIDS Res Hum Retrovir 12(1):39–46

Cushnie TPT, Lamb AJ (2005) Antimicrobial activity of flavonoids. Int J Antimicrob Agents 26:343–356

da Silva Marineli R, Moraes ÉA, Lenquiste SA, Godoy AT, Eberlin MN, Maróstica MR (2014) Chemical characterization and antioxidant potential of Chilean chia seeds and oil (Salvia hispanica L.). Food Sci Technol 59:1304–1310

da Silva BP, Anunciação C, da Silva Matyelka JC, Della Lucia CM, Martino HSD, Pinheiro-Sant'Ana HM (2017) Chemical composition of Brazilian chia seeds grown in different places. Food Chem 221:1709–1716

Dąbrowski G, Konopka I, Czaplicki S, Tańska M (2016) Composition and oxidative stability of oil from Salvia hispanica L. seeds in relation to extraction method. Eur J Lipid Sci Technol. doi:10.1002/ejlt.201600209

de Falco B, Incerti G, Bochicchio R, Phillips TD, Amato M, Lanzotti V (2017) Metabolomic analysis of Salvia hispanica seeds using NMR spectroscopy and multivariate data analysis. Ind Crop Prod 99:86–96

de Sahagun B (1579) Historia general de las cosas de Nueva España. Reprinted 1982 by School of American Research, Santa Fe

Din JN, Newby DE, Flapan AD (2004) Omega 3 fatty acids and cardiovascular disease—fishing for a natural treatment. Br Med J 328:30–35

Ding Y, Lin HW, Lin YL, Yang DJ, Yu YS, Chen JW, Wang SY, Chen YC (2017) Nutritional composition in the chia seed and its processing properties on restructured ham-like products. J Food Drug Anal. doi:10.1016/j.jfda.2016.12.012

Dixon RA, Dey PM, Lamb CJ (1983) Phytoalexins: enzymology and molecular biology. Adv Enzymol Relat Areas Mol Biol 55:1–136

Dweck AC (2005) The folklore and cosmetic use of various Salvia species. In: Kintzios SE (ed) Sage: the Genus Salvia. Harwood Academic Publishers, Amsterdam, pp 1–25

Garg ML, Wood LG, Singh H, Moughan PJ (2006) Means of delivering recommended levels of long chain n − 3 polyunsaturated fatty acids in human diets. J Food Sci 71:66–71

Geelen A, Brouwer IA, Zock PL, Katan MB (2004) Antiarrhythmic effects of n − 3 fatty acids: evidence from human studies. Curr Opin Lipidol 15:25–30

Hermoso-Diaz IA, Velázquez-González MA, Lucio-Garcia MA, Gonzalez-Rodriguez JG (2014) A study of Salvia hispanica as green corrosion inhibitor for carbon steel in sulfuric acid. Chem Sci Rev Lett 3:685–697

Hipsley EH (1953) Dietary "fibre" and pregnancy toxaemia. Br Med J 2:420–422

Huang YS, Zhang JT (1991) Antioxidative effect of three water-soluble components isolated from Salvia miltiorrhiza in vitro. Yao Xue Xue Bao = Acta Pharm Sin 27:96–100

Ixtaina VY, Martinez ML, Spotorno V, Mateo CM, Maestri DM, Diehl BWK, Nolasco SM, Tòmas MC (2011) Characterization of chia seed oils obtained by pressing and solvent extraction. J Food Compos Anal 24:166–174

Jamboonsri W, Phillips TD, Geneve RL, Cahill JP, Hildebrand DF (2012) Extending the range of an ancient crop, Salvia hispanica L.—a new ω3 source. Gen Resour Crop Evolut 59:171–178

Lairon D, Arnault N, Bertrais S, Planells R, Clero E, Hercberg S, Boutron-Ruault MC (2005) Dietary fiber intake and risk factors for cardiovascular disease in French adults. Am J Clin Nutr 82:1185–1194

Li BQ, Fu T, Dongyan Y, Mikovits JA, Ruscetti FW, Wang JM (2000) Flavonoid baicalin inhibits HIV-1 infection at the level of viral entry. Biochem Biophys Res Commun 276(2):534–538

Lin KY, Daniel JR, Whistler RL (1994) Structure of chia seed polysaccharide exudate. Carbohydr Polym 23:13–18

Liu S, Stampfer MJ, Hu FB, Giovannucci E, Rimm E, Manson JE, Hennekens CH, Willett WC (1999) Whole-grain consumption and risk of coronary heart disease: results from the Nurses' health study. Am J Clin Nutr 70:412–419

Lowe ED, Gao GY, Johnson LN, Keung WM (2008) Structure of daidzin, a naturally occurring anti-alcohol-addiction agent, in complex with human mitochondrial aldehyde dehydrogenase. J Med Chem 51:4482–4487

Lu Y, Foo LY (1999) Rosmarinic acid derivatives from Salvia officinalis. Phytochemistry 51:91–94

Lu Y, Foo LY (2001) Salvianolic acid L., a potent phenolic antioxidant from Salvia officinalis. Tetrahedron Lett 42:8223–8225

Lu Y, Foo LY (2002) Polyphenolics of Salvia—a review. Phytochemistry 59:117–140

Martínez-Cruz O, Paredes-López O (2014) Phytochemical profile and nutraceutical potential of chia seeds (Salvia hispanica L.) by ultra-high performance liquid chromatography. J Chromatogr A 1346:43–48

Matthaus B (2002) Antioxidant activity of extracts obtained from residues of different oilseeds. J Agric Food Chem 50:3444–3452

Menga V, Amato M, Phillips TD, Angelino D, Morreale F, Fares C (2017) Gluten-free pasta incorporating chia (Salvia hispanica L.) As thickening agent: an approach to naturally improve the nutritional profile and the in vitro carbohydrate digestibility. Foog Chem 221:1954–1961

Miller HE (1971) A simplified method for the evaluation of antioxidants. J Am Oil Chem Soc 48:91–105

Mongeau R, Brassard M (1982) Insoluble dietary fiber from breakfast cereals and brans bile salt and water holding capacity in relation to particle size. Cereal Chem 59:413–417

Montanher PF, Costa e Silva B, Bonafé EG, Carbonera F, dos Santos HMC, de Lima Figueiredo I, Maruyama SA, Matsushita M (2016) Effects of diet supplementation with chia (Salvia hispanica L.) oil and natural antioxidant extract on the omega-3 content and antioxidant capacity of Nile tilapia fillets. Eur J Lipid Sci Technol 118:698–707

Montonen J, Knekt P, Jarvinen R, Aromaa A, Reunanen A (2003) Whole-grain and fiber intake and the incidence of type 2 diabetes. Am J Clin Nutr 77:622–629

Muñoz LA, Cobos A, Diaz O, Aguilera JM (2012a) Chia seeds: microstructure, mucilage extraction and hydration. J Food Eng 108:216–224

Muñoz LA, Aguilera JM, Rodriguez-Turienzo L, Cobos A, Diaz O (2012b) Characterization and microstructure of films made from mucilage of Salvia hispanica and whey protein concentrate. J Food Eng 111:511–518

Olivos-Lugo BL, Valdivia-López MÁ, Tecante A (2010) Thermal and physicochemical properties and nutritional value of the protein fraction of Mexican chia seed (Salvia hispanica L.). Food Sci Technol Int 16:89–96

Palma F, Donde M, Lloyd WR (1947) Fixed oils of Mexico. Part 1. Oil of chia—Salvia hispanica. J Am Oil Chem Soc 24:27

Parnham MJ, Kesselring K (1985) Rosmarinic acid. Drugs Future 10:756–757

Pearce KN, Kinsella JE (1978) Emulsifying properties of proteins: evaluation of a turbidimetric technique. J Agric Food Chem 26:716–723

Peiretti PG, Meineri G (2008) Effects on growth performance, carcass characteristics, and the fat and meat fatty acid profile of rabbits fed diets with chia (Salvia hispanica L.) seed supplements. Meat Sci 80(4):1116–1121

Petruzziello L, Iacopini F, Bulajic M, Shah S, Costamagna G (2006) Review article: uncomplicated diverticular disease of the colon. Aliment Pharmcol Ther 23:1379–1391

Porras-Loaiza P, Jiménez-Munguía MT, Sosa-Morales ME, Palou E, López-Malo A (2014) Physical properties, chemical characterization and fatty acid composition of Mexican chia (Salvia hispanica L.) seeds. Int J Food Sci Technol 49:571–577

Reyes-Caudillo E, Tecante A, Valdivia-López MA (2008) Dietary fibre content and antioxidant activity of phenolic compounds present in Mexican chia (Salvia hispanica L.) seeds. Food Chem 107:656–663

Sandoval-Oliveros MR, Paredes-López O (2012) Isolation and characterization of proteins from chia seeds (Salvia hispanica L.). J Agric Food Chem 61:193–201

Sargi SC, Silva BC, Santos HMC, Montanher PF, Boeing JS, Júnior S, Visentainer JV (2013) Antioxidant capacity and chemical composition in seeds rich in omega-3: chia, flax, and perilla. Food Sci Technol (Campinas) 33:541–548

Scapin G, Schimdt MM, Prestes RC, Ferreira S, Silva AFC, da Rosa CS (2015) Effect of extract of chia seed (Salvia hispanica) as an antioxidant in fresh pork sausage. Int Food Res J 22:1195–1202

Segura-Campos MR, Ciau-Solìs N, Rosado-Rubio G, Chel-Guerrero L, Betancour-Ancona D (2014a) Physicochemical characterization of chia (Salvia hispanica) seed oil from Yucatan, México. Agric Sci 5:220–226

Segura-Campos MR, Solis NC, Rubio GR, Guerrero LC, Ancona DB (2014b) Chemical and functional properties of chia seed (Salvia hispanica L.) gum. Mexico. Int J Food Sci 2014:1–5

Steffen LM, Jacobs DR Jr, Stevens J, Shahar E, Carithers T, Folsom AR (2003) Associations of whole-grain, refined grain, and fruit and vegetable consumption with risks of all-cause mortality and incident coronary artery disease and ischemic stroke: the atherosclerosis risk in communities (ARIC) study. Am J Clin Nutr 78:383–390

Taga MS, Miller EE, Pratt DE (1984) Chia seeds as a source of natural lipid antioxidants. J Am Oil Chem Soc 61:928–932

Timilsena YP, Adhikari R, Kasapis S, Adhikari B (2016) Molecular and functional characteristics of purified gum from Australian chia seeds. Carbohydr Polym 136:128–136

Tolba R, Guosheng W, Aicheng C (2011) Adsorption of dietary oils onto lignin for promising pharmaceutical and nutritional applications. BioResources 6(2):1322–1335

Trowell HC, Southgate DAT, Wolever TMS, Leeds AR, Gassull MA, Jenkins DJ (1976) A. dietary fiber redefined. Lancet 307:967

Vázquez-Ovando A, Rosado-Rubio G, Chel-Guerrero L, Betancur-Ancona D (2009) Physicochemical properties of a fibrous fraction from chia (Salvia hispanica L.). LWT—Food Sci Technol 42:168–217

Vuksan V, Whitham D, Sievenpiper JL, Jenkins AL, Rogovik AL, Bazinet RP, Vidgen E, Hanna A (2007) Supplementation of conventional therapy with the novel grain Salba (Salvia hispanica L.) improves major and emerging cardiovascular risk factors in type 2 diabetes. Diabetes Care 30:2804–2810

Vuksan V, Jenkins AL, Dias AG, Lee AS, Jovanovski E, Rogovik AL, Hanna A (2010) Reduction in postprandial glucose excursion and prolongation of satiety: possible explanation of the long-term effects of whole grain Salba (Salvia Hispanica L.). Eur J Clin Nutr 64:436–438

Wall R, Ross RP, Fitzgerald GF, Stanton C (2010) Fatty acids from fish: the anti-inflammatory potential of long-chain omega-3 fatty acids. Nutr Rev 68:280–289

Weber CW, Gentry HS, Kohlhepp EA, McCrohan PR (1991) The nutritional and chemical evaluation of chia seeds. Ecol Food Nutr 26:119–125

Whelton SP, Hyre AD, Pedersen B, Yi Y, Whelton PK, He J (2005) Effect of dietary fiber intake on blood pressure: a meta-analysis of randomized, controlled clinical trials. J Hypertens 23:475–481

Wu YJ, Hong CY, Lin SJ, Wu P, Shiao MS (1998) Increase of vitamin E content in LDL and reduction of atherosclerosis in cholesterol-fed rabbits by a water-soluble antioxidant-rich fraction of Salvia miltiorrhiza. Arterioscler Thromb Vasc Biol 18:481–486

Yagi A, Fujimoto K, Tanonaka K, Hirai K, Takeo S (1989) Possible active components of Tan-Shen for protection of myocardium against ischemia. Planta Med 55:51–54

Yao LH, Jiang YM, Shi J, Tomas-Barberan FA, Datta N, Singanusong R, Chen SS (2004) Flavonoids in food and their health benefits. Plant Food Hum Nutr 59:113–122

Yeh H, Su N, Lee M (2005) Chemical compositions and physicochemical properties of the fiber-rich materials prepared from shoyu mash residue. J Agric Food Chem 53:4361–4366

Zandi K, Teoh BT, Sam SS, Wong PF, Mustafa MR, Abubakar S (2011) Antiviral activity of four types of bioflavonoid against dengue virus type-2. Virol J 8:560–571

Zhang HJ, Li LN (1994) Salvianolic acid I: a new depside from Salvia cavaleriei. Planta Med 60:70–72

Zhao BL, Jiang W, Zhao Y, Wu JH, Xin WJ (1996) Scavenging effects of Salvia miltiorrhiza on free radicals and its protection for myocardial mitochondrial membranes from ischemia-reperfusion injury. Biochem Mol Biol Int 38:1171–1182

Zhu W, Jia Q, Wang Y, Zhang Y, Xia M (2012) The anthocyanin cyanidin-3-O-β-glucoside, a flavonoid, increases hepatic glutathione synthesis and protects hepatocytes against reactive oxygen species during hyperglycemia: involvement of a cAMP–PKA-dependent signaling pathway. Free Radical Bio Med 52:314–327

Zou ZW, Xu LN, Tian JY (1992) Antithrombotic and antiplatelet effects of rosmarinic acid, a water-soluble component isolated from radix Salviae miltiorrhizae (danshen). Yao Xue Xue Bao = Acta Pharm Sin 28:241–245
About this article
Cite this article
de Falco, B., Amato, M. & Lanzotti, V. Chia seeds products: an overview. Phytochem Rev 16, 745–760 (2017). https://doi.org/10.1007/s11101-017-9511-7
Received:

Accepted:

Published:

Issue Date:
Keywords
Salvia hispanica

Seeds

Phytochemical analysis

Nutritional value

Antioxidant activity

Industrial uses

Oil

Fiber

Mucilage