Abstract
Procyanidins are polyphenols abundant in dietary fruits, vegetables, nuts, legumes, and grains with a variety of chemopreventive biological effects. Rapid structure determination of these compounds is needed, notably for the more complex polymeric procyanidins. We review the recent developments in the structure elucidation of procyanidins with a focus on mass spectrometric approaches, especially liquid chromatography-tandem mass spectrometry (LC–MS/MS) and matrix-assisted laser desorption ionization (MALDI) MS/MS.
Access options
Buy single article
Instant access to the full article PDF.
USD 39.95
Price excludes VAT (USA)
Tax calculation will be finalised during checkout.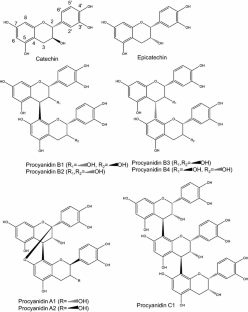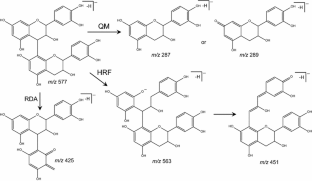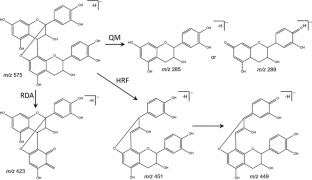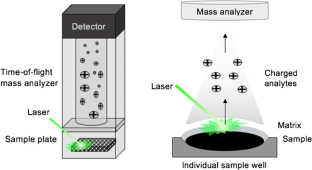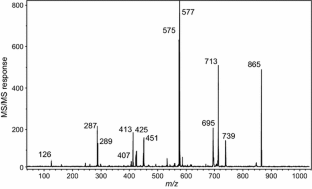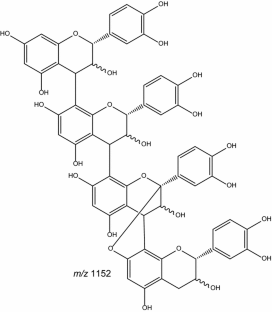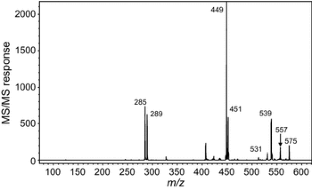 Abbreviations
PC:

procyanidins

DP:

degree of polymerization

MS:

mass spectrometry

MALDI:

matrix-assisted laser desorption ionization

QM:

quinone methide

RDA:

retro Diels–Alder
References
Adamson GE, Lazarus SA, Mitchell AE et al (1999) HPLC mehod for the quantification of procyanidins in cocoa and chocolate samples and correlation to total antioxidant capacity. J Agric Food Chem 47:4184–4188

Akiyama H, Sakushima J, Taniuchi S et al (2000) Antiallergic effect of apple polyphenols on the mouse model. Biol Pharm Bull 23:1370–1373

Arranz S, Valderas-Martinez P, Chiva-Blanch G et al (2013) Cardioprotective effects of cocoa: clinical evidence from randomized clinical intervention trials in humans. Mol Nutr Food Res 57:936–947

Balas L, Vercauteren J (1994) Extensive high-resolution reverse 2D NMR analysis for the structural elucidation of procyanidin oligomers. Magn Reson Chem 32:386–393

Balas L, Vercauteren J, Laguerre M (1995) 2D NMR structure elucidation of proanthocyanidins: the special case of the catechin–(4α-8)–catechin–(4α-8)–catechin trimer. Magn Reson Chem 33:85–94

Benavente-García O, Castillo J, Marin FR et al (1997) Uses and properties of citrus flavonoids. J Agric Food Chem 45:4505–4515

Bittner K, Rzeppa S, Humpf H-U (2013) Distribution and quantification of flavan-3-ols and procyanidins with low degree of polymerization in nuts, cereals, and legumes. J Agric Food Chem 61:9148–9154

Calderón AI, Wright BJ, Hurst WJ, van Breemen RB (2009) Screening antioxidants using LC–MS: case study with cocoa. J Agric Food Chem 57:5693–5699

Chaves FC, Gianfagna TJ (2007) Cacao leaf procyanidins increase locally and systemically in response to infection by Moniliophthora perniciosa basidiospores. Physiol Mol Plant Pathol 70:174–179

Chen L, Yuan P, Chen K et al (2014) Oxidative conversion of B-to A-type procyanidin trimer: evidence for quinone methide mechanism. Food Chem 154:315–322

Churchwell MI, Twaddle NC, Meeker LR, Doerge DR (2005) Improving LC–MS sensitivity through increases in chromatographic performance: comparisons of UPLC–ES/MS/MS to HPLC–ES/MS/MS. J Chromatogr B: Anal Technol Biomed Life Sci 825:134–143

de Pascual-Teresa S, Moreno DA, García-Viguera C (2010) Flavanols and anthocyanins in cardiovascular health: a review of current evidence. Int J Mol Sci 11:1679–1703

Dole M, Mack LL, Hines RL et al (1968) Molecular beams of macroions. J Chem Phys 49:2240–2249

Duan Y, Zhang H, Xu F et al (2010) Inhibition effect of procyanidins from lotus seedpod on mouse B16 melanoma in vivo and in vitro. Food Chem 122:84–91

Ehring H, Karas M, Hillenkamp F (1992) Role of photoionization and photochemistry in ionization processes of organic molecules and relevance for matrix-assisted laser desorption lonization mass spectrometry. Org Mass Spectrom 27:472–480

Engstrom MT, Palijarvi M, Fryganas C et al (2014) Rapid qualitative and quantitative analyses of proanthocyanidin oligomers and polymers by UPLC–MS/MS. J Agric Food Chem 62:3390–3399

Faria A, Calhau C, de Freitas V, Mateus N (2006) Procyanidins as antioxidants and tumor cell growth modulators. J Agric Food Chem 54:2392–2397

Feliciano RP, Krueger CG, Shanmuganayagam D et al (2012) Deconvolution of matrix-assisted laser desorption/ionization time-of-flight mass spectrometry isotope patterns to determine ratios of A-type to B-type interflavan bonds in cranberry proanthocyanidins. Food Chem 135:1485–1493

Fenn JB (2002) Electrospray ionization mass spectrometry: how it all began. J Biomol Tech 13:101–118

Fine AM (2003) Oligomeric proanthocyanidin (OPCs). Altern Med Rev 8:442–450

Friedrich W, Eberhardt A, Galensa R (2000) Investigation of proanthocyanidins by HPLC with electrospray ionization mass spectrometry. Eur Food Res Technol 211:56–64

Ge Y-W, Zhu S, Kazuma K et al (2016) Molecular ion index assisted comprehensive profiling of B-type oligomeric proanthocyanidins in rhubarb by high performance liquid chromatography–tandem mass spectrometry. Anal Bioanal Chem 408:3555–3570

Gentile C, Allegra M, Angileri F et al (2012) Polymeric proanthocyanidins from Sicilian pistachio (Pistacia vera L.) nut extract inhibit lipopolysaccharide-induced inflammatory response in RAW 264.7 cells. Eur J Nutr 51:353–363

Gossé F, Guyot S, Roussi S et al (2005) Chemopreventive properties of apple procyanidins on human colon cancer-derived metastatic SW620 cells and in a rat model of colon carcinogenesis. Carcinogenesis 26:1291–1295

Gu L, Kelm M, Hammerstone JF et al (2002) Fractionation of polymeric procyanidins from lowbush blueberry and quantification of procyanidins in selected foods with an optimized normal-phase HPLC–MS fluorescent detection method. J Agric Food Chem 50:4852–4860

Gu L, Kelm MA, Hammerstone JF et al (2003) Liquid chromatographic/electrospray ionization mass spectrometric studies of proanthocyanidins in foods. J Mass Spectrom 38:1272–1280

Gu L, Kelm MA, Hammerstone JF et al (2004) Concentrations of proanthocyanidins in common foods and estimations of normal consumption. J Nutr 134:613–617

Hammerstone JF, Lazarus SA, Mitchell AE et al (1999) Identification of procyanidins in cocoa (Theobroma cacao) and chocolate using high-performance liquid chromatography/mass spectrometry. J Agric Food Chem 47:490–496

Hammerstone JF, Lazarus SA, Schmitz HH (2000) Procyanidin content and variation in some commonly consumed foods. J Nutr 130:2086S–2092S

Han X, Shen T, Lou H (2007) Dietary polyphenols and their biological significance. Int J Mol Sci 8:950–988

Hayasaka Y, Waters EJ, Cheynier V et al (2003) Characterization of proanthocyanidins in grape seeds using electrospray mass spectrometry. Rapid Commun Mass Spectrom 17:9–16

Hellenbrand N, Sendker J, Lechtenberg M et al (2015) Isolation and quantification of oligomeric and polymeric procyanidins in leaves and flowers of hawthorn (Crataegus spp.). Fitoterapia 104:14–22

Hellström J, Sinkkonen J, Karonen M, Mattila P (2007) Isolation and structure elucidation of procyanidin oligomers from saskatoon berries (Amelanchier alnifolia). J Agric Food Chem 55:157–164

Hellström JK, Törrönen AR, Mattila PH (2009) Proanthocyanidins in common food products of plant origin. J Agric Food Chem 57:7899–7906

Hemström P, Irgum K (2006) Hydrophilic interaction chromatography. J Sep Sci 29:1784–1821

Hiraoka K (2013) Fundamentals of mass spectrometry. Springer, New York

Hurst WJ, Stanley B, Glinski JA et al (2009) Characterization of primary standards for use in the HPLC analysis of the procyanidin content of cocoa and chocolate containing products. Molecules 14:4136–4146

Ito C, Oki T, Yoshida T et al (2013) Characterisation of proanthocyanidins from black soybeans: isolation and characterisation of proanthocyanidin oligomers from black soybean seed coats. Food Chem 141:2507–2512

Jakobek L (2015) Interactions of polyphenols with carbohydrates, lipids and proteins. Food Chem 175:556–567

Kamimural A, Takahashi T, Waranabe Y (2000) Investigation of topical application of procyanidin B-2 from apple to identify its potential use as a hair growing agent. Phytomedicine 7:529–536

Karas M (1996) Matrix-assisted laser desorption ionization MS: a progress report. Biochem Soc Trans 24:897–900

Karas M, Bachmann D, Bahr U, Hillenkamp F (1987) Matrix- assisted ultraviolet laser desorption of non-volatile compounds. Int J Mass Spectrom Ion Process 78:53–68

Karonen M, Loponen J, Ossipov V, Pihlaja K (2004) Analysis of procyanidins in pine bark with reversed-phase and normal-phase high-performance liquid chromatography–electrospray ionization mass spectrometry. Anal Chim Acta 522:105–112

Karonen M, Liimatainen J, Sinkkonen J (2011) Birch inner bark procyanidins can be resolved with enhanced sensitivity by hydrophilic interaction HPLC–MS. J Sep Sci 34:3158–3165

Khan ML, Haslam E, Williamson MP (1997) Structure and conformation of the procyanidin B-2 dimer. Magn Reson Chem 35:854–858

Kimmel EM, Jerome M, Holderness J et al (2011) Oligomeric procyanidins stimulate innate antiviral immunity in dengue virus infected human PBMCs. Antivir Res 90:80–86

Kind T, Fiehn O (2010) Advances in structure elucidation of small molecules using mass spectrometry. Bioanal Rev 2:23–60

Krueger CG, Vestling MM, Reed JD (2003) Matrix-assisted laser desorption/ionization time-of-flight mass spectrometry of heteropolyflavan-3-ols and glucosylated heteropoly flavans in Sorghum [Sorghum bicolor (L.) Moench]. J Agric Food Chem 51:538–543

Kumar PR, Dinesh SR, Rini R (2016) LCMS—a review and a recent update. J Pharm Pharm Sci 5:377–391

Li H-J, Deinzer ML (2009) Proanthocyanidins in hops. Beer in health and disease prevention. Elsevier, Amsterdam, pp 333–348

Li S, Xiao J, Chen L et al (2012) Identification of A-series oligomeric procyanidins from pericarp of Litchi chinensis by FT-ICR-MS and LC-MS. Food Chem 135:31–38

Li W, Liu J, Guan R et al (2015) Chemical characterization of procyanidins from Spatholobus suberectus and their antioxidative and anticancer activities. J Funct Foods 12:468–477

Malien-Aubert C, Dangles O, Amiot MJ (2002) Influence of procyanidins on the color stability of oenin solutions. J Agric Food Chem 50:3299–3305

Mann M, Kelleher NL (2008) Precision proteomics: the case for high resolution and high mass accuracy. PNAS 105:18132–18138

Martin MA, Goya L, Ramos S (2013) Potential for preventive effects of cocoa and cocoa polyphenols in cancer. Food Chem Toxicol 56:336–351

Mateos-Martín ML, Fuguet E, Quero C et al (2012) New identification of proanthocyanidins in cinnamon (Cinnamomum zeylanicum L.) using MALDI-TOF/TOF mass spectrometry. Anal Bioanal Chem 402:1327–1336

Miller JM (2005) Chromatogarphy: concepts and contrasts, 2nd edn. Wiley, Hoboken

Monagas M, Quintanilla-López JE, Gómez-Cordovés C et al (2010) MALDI-TOF MS analysis of plant proanthocyanidins. J Pharm Biomed Anal 51:358–372

Montagut G, Bladé C, Blay M et al (2010) Effects of a grapeseed procyanidin extract (GSPE) on insulin resistance. J Nutr Biochem 21:961–967

Morris GA (1986) Modern NMR techniques for structure elucidation. Magn Reson Chem 24:371–403

Nguyen HP, Schug KA (2008) The advantages of ESI-MS detection in conjunction with HILIC mode separations: fundamentals and applications. J Sep Sci 31:1465–1480

Niu S, Zhang W, Chait BT (1998) Direct comparison of infrared and ultraviolet wavelength matrix-assisted laser desorption/ionization mass spectrometry of proteins. J Am Soc Mass Spectrom 9:1–7

Ohnishi-Kameyama M, Yanagida A, Kanda T, Nagata T (1997) Identification of catechin oligomers from apple (Malus pumila cv. Fuji) in matrix-assisted laser desorption/ionization time-of-flight mass spectrometry and fast-atom bombardment mass spectrometry. Rapid Commun Mass Spectrom 11:31–36

Oliveira J, Alhinho Da Silva M, Teixeira N et al (2015) Screening of anthocyanins and anthocyanin-derived pigments in red wine grape pomace using LC-DAD/MS and MALDI-TOF techniques. J Agric Food Chem 63:7636–7644

Ortega N, Romero MP, Macià A et al (2010) Comparative study of UPLC-MS/MS and HPLC-MS/MS to determine procyanidins and alkaloids in cocoa samples. J Food Compos Anal 23:298–305

Patras MA, Milev BP, Vrancken G, Kuhnert N (2014) Identification of novel cocoa flavonoids from raw fermented cocoa beans by HPLC-MSn. Food Res Int 63:353–359

Peng Z, Hayasaka Y, Iland PG et al (2001) Quantitative analysis of polymeric procyanidins (tannins) from grape (vitis vinifera) seeds by reverse phase high- performance liquid chromatography. J Agric Food Chem 49:26–31

Pérez-Jiménez J, Torres JL (2012) Analysis of proanthocyanidins in almond blanch water by HPLC–ESI–QqQ–MS/MS and MALDI–TOF/TOF MS. Food Res Int 49:798–806

Rastogi S, Arora V, Bhalla V (2015) Pycnogenol: the hercules of antioxidants. Indian J Drugs 3:5–10

Rigaud J, Escribano-Bailon MT, Prieur C et al (1993) Normal-phase high-performance liquid chromatographic separation of procyanidins from cacao beans and grape seeds. J Chromatogr A 654:255–260

Sarnoski PJ, Johnson JV, Reed KA et al (2012) Separation and characterisation of proanthocyanidins in virginia type peanut skins by LC-MSn. Food Chem 131:927–939

Self R, Eagles J, Galletti GC et al (1986) Fast atom bombardment mass spectrometry of polyphenols (syn. vegetable tannins). Biol Mass Spectrom 13:449–468

Shi J, Yu J, Pohorly JE, Kakuda Y (2003) Polyphenolics in grape seeds—biochemistry and functionality. J Med Food 6:291–299

Shoji T, Masumoto S, Moriichi N et al (2006) Apple (Malus pumila) procyanidins fractionated according to the degree of polymerization using normal-phase chromatography and characterized by HPLC-ESI/MS and MALDI-TOF/MS. J Chromatogr A 1102:206–213

Silva Elipe MV (2003) Advantages and disadvantages of nuclear magnetic resonance spectroscopy as a hyphenated technique. Anal Chim Acta 497:1–25

Sivakumaran S, Rumball W, Lane GA et al (2006) Variation of proanthocyanidins in lotus species. J Chem Ecol 32:1797–1816

Spencer P, Sivakumaran S, Fraser K et al (2007) Isolation and characterisation of procyanidins from Rumex obtusifolius. Phytochem Anal 18:193–203

Stringano E, Cramer R, Hayes W et al (2011) Deciphering the complexity of sainfoin (Onobrychis viciifolia) proanthocyanidins by MALDI-TOF mass spectrometry with a judicious choice of isotope patterns and matrixes. Anal Chem 83:4147–4153

Sui Y, Zheng Y, Li X et al (2016) Characterization and preparation of oligomeric procyanidins from Litchi chinensis pericarp. Fitoterapia 112:168–174

Sultana T, Stecher G, Mayer R et al (2008) Quality assessment and quantitative analysis of flavonoids from tea samples of different origins by HPLC-DAD-ESI-MS. J Agric Food Chem 56:3444–3453

Tanaka K, Waki H, Ido Y et al (1988) Protein and polymer analyses up to m/z 100 000 by laser ionization time-of-flight mass spectrometry. Rapid Commun Mass Spectrom 2:151–153

Tarascou I, Barathieu K, André Y et al (2006) An improved synthesis of procyanidin dimers: regio–and stereocontrol of the interflavan bond. Eur J Org Chem 23:5367–5377

Tatsuno T, Jinno M, Arima Y et al (2012) Anti-inflammatory and anti-melanogenic proanthocyanidin oligomers from peanut skin. Biol Pharm Bull 35:909–916

Tsao R (2010) Chemistry and biochemistry of dietary polyphenols. Nutrients 2:1231–1246

Tsao R, McCallum J (2010) Fruit and vegetable phytochemicals. Wiley-Blackwell, Ames

U.S. Department of Agriculture (2004) USDA database for the proanthocyanidin content of selected foods. pp 1–33. https://www.ars.usda.gov/ARSUserFiles/80400525/Data/PA/PA.pdf. Accessed 8 May 2017

Vázquez-Agell M, Urpi-Sarda M, Sacanella E et al (2013) Cocoa consumption reduces NF-kB activation in peripheral blood mononuclear cells in humans. Nutr Metab Cardiovasc Dis 23:257–263

Vivas N, Nonier M-F, de Gaulejac NV et al (2004) Differentiation of proanthocyanidin tannins from seeds, skins and stems of grapes (Vitis vinifera) and heartwood of Quebracho (Schinopsis balansae) by matrix-assisted laser desorption/ionization time-of-flight mass spectrometry and thioacidolysis/liquid chromatography/electrospray ionization mass spectrometry. Anal Chim Acta 513:247–256

Wang J, Kalt W, Sporns P (2000) Comparison between HPLC and MALDI-TOF MS analysis of anthocyanins in highbush blueberries. J Agric Food Chem 48:3330–3335

Wang Y, Chung S-J, Song WO, Chun OK (2011) Estimation of daily proanthocyanidin intake and major food sources in the U.S. diet. J Nutr 141:447–452

Wang C, He H, Zhang J et al (2016) High performance liquid chromatography (HPLC) fingerprints and primary structure identification of corn peptides by HPLC-diode array detection and HPLC-electrospray ionization tandem mass spectrometry. J Food Drug Anal 24:95–104

Wollgast J, Pallaroni L, Agazzi M-E, Anklam E (2001) Analysis of procyanidins in chocolate by reversed-phase high-performance liquid chromatography with electrospray ionisation mass spectrometric and tandem mass spectrometric detection. J Chromatogr A 926:211–220

Wysocki VH, Resing KA, Zhang Q, Cheng G (2005) Mass spectrometry of peptides and proteins. Methods 35:211–222

Xie D-Y, Dixon RA (2005) Proanthocyanidin biosynthesis—Still more questions than answers? Phytochemistry 66:2127–2144

Yanagida A, Murao H, Ohnishi-Kameyama M et al (2007) Retention behavior of oligomeric proanthocyanidins in hydrophilic interaction chromatography. J Chromatogr A 1143:153–161

Zhang H, Cheng Y, Luo X, Duan Y (2016) Protective effect of procyanidins extracted from the lotus seedpod on immune function injury induced by extremely low frequency electromagnetic field. Biomed Pharmacother 82:364–372
Acknowledgements
The work was supported by the P50 AT000155 from the Office of Dietary Supplements and the National Center for Complementary and Integrative Health and F31AT009039 from the National Center for Complementary and Integrative Health.
About this article
Cite this article
Rue, E.A., Rush, M.D. & van Breemen, R.B. Procyanidins: a comprehensive review encompassing structure elucidation via mass spectrometry. Phytochem Rev 17, 1–16 (2018). https://doi.org/10.1007/s11101-017-9507-3
Received:

Accepted:

Published:

Issue Date:

DOI: https://doi.org/10.1007/s11101-017-9507-3
Keywords
Procyanidins

Oligomeric

Polymeric

Structure elucidation