Abstract
The development of traditional medicine with the perspectives of safety, efficacy and quality would help not only to preserve the traditional heritage but also to rationalize the use of herbal medicine in the human healthcare. Nature is considered as a compendium for templates of new chemical entities. The medicinal plants mentioned in the different ancient texts worldwide may be explored with the modern scientific approaches for better leads in the healthcare. Drugs from medicinal plants are unique for their chemical and biological features, and are gaining global acceptance because they offer natural ways to treat diseases and promote healthcare. Natural products are the best sources of chemical diversity for finding new drugs and leads. Globalization of traditional medicine is necessary for health care with assessment of its safety, efficacy, therapeutic and clinical evidence. Evidence based validation of the ethnopharmacological claims on traditional medicine is necessary for its promotion and development. Applications of techniques such as marker analysis, DNA bar coding, plant metabolomics, network pharmacology etc. are being taken into account for the validation and documentation of medicinal plants. This can be achieved by the scientific exploitation of the established facts from ancient systems through proper validation of the claims based on pharmacological and phytochemical assessments.
This is a preview of subscription content,
to check access.
Access this article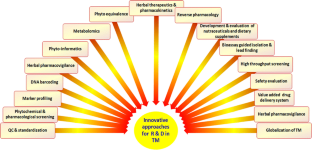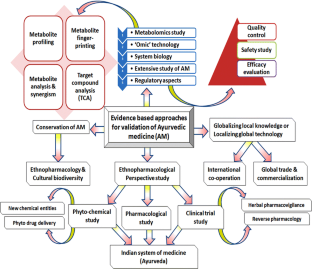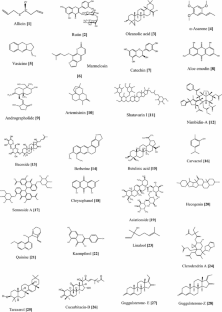 Similar content being viewed by others
Abbreviations
AYUSH:

Ayurveda, Yoga, Unani, Siddha and Homeopathy

ADME:

Absorption, distribution, metabolism and elimination

GC–MS:

Gas chromatography and mass spectrometry

HPLC:

High performance liquid chromatography

HPTLC:

High performance thin layer chromatography

HTS:

High-throughput screening

LC–MS:

Liquid chromatography and mass spectrometry

NCEs:

New chemical entities

NDDS:

Novel drug delivery system

NMR:

Nuclear magnetic resonance

TM:

Traditional medicine

UV:

Ultraviolet

WHO:

World Health Organization
References
Achan J, Talisuna AO, Erhart A et al (2011) Quinine, an old anti-malarial drug in a modern world: role in the treatment of malaria. Malar J 10:1–12

Agarwal P, Sharma B, Fatima A et al (2014) An update on Ayurvedic herb Convolvulus pluricaulis Choisy. Asian Pac J Trop Biomed 4:245–252

Agnolet S, Wiese S, Verpoorte R et al (2012) Comprehensive analysis of commercial willow bark extracts by new technology platform: combined use of metabolomics, high-performance liquid chromatography-solid-phase extraction-nuclear magnetic resonance spectroscopy and high-resolution radical scavenging assay. J Chromatogr A 1262:130–137

Ahmad N, Fazal H, Abbasi BH et al (2012) Biological role of Piper nigrum L. (Black pepper): a review. Asian Pac J Trop Biomed 2(3):S1945–S1953

Allan J, Damodaran A, Deshmukh NS et al (2007) Safety evaluation of a standardized phytochemical composition extracted from Bacopa monnieri in Sprague-Dawley rats. Food Chem Toxicol 45:1928–1937

Anwar F, Latif S, Ashraf M et al (2007) Moringa oleifera: a food plant with multiple medicinal uses. Phytother Res 21:17–25

API, The Ayurvedic Pharmacopoeia of India (2008) Part-I, volume-I. New Delhi: Government of India, Ministry of Health and Family Welfare, Department of Ayush

Asif HM, Sultana S, Akhtar N (2014) A panoramic view on phytochemical, nutritional, ethanobotanical uses and pharmacological values of Trachyspermum ammi Linn. Asian Pac J Trop Biomed 4:S545–S553

Bag A, Bhattacharyya SK, Chattopadhyay RR (2013) The development of Terminalia chebula Retz. (Combretaceae) in clinical research. Asian Pac J Trop Biomed 3:244–252

Baker JT, Borris RP, Carté B et al (1995) Natural products drug discovery and development: new perspectives on international collaboration. J Nat Prod 58:1325–1357

Baliga MS, Bhat HP, Joseph N et al (2011) Phytochemistry and medicinal uses of the bael fruit (Aegle marmelos Correa): a concise review. Food Res Int 44:1768–1775

Barlow DJ, Buriani A, Ehrman T et al (2012) In-silico studies in Chinese herbal medicines research: evaluation of in silico methodologies and phytochemical data sources, and a review of research to date. J Ethnopharmacol 140:526–534

Berkov S, Bastida J, Viladomat F et al (2011) Development and validation of a GC–MS method for rapid determination of galanthamine in Leucojum aestivum and Narcissus ssp: a metabolomic approach. Talanta 83:1455–1465

Bhadra S, Mukherjee PK, Kumar NS et al (2011) Anticholinesterase activity of standardized extract of Illicium verum Hook. f. fruits. Fitoterapia 82:342–346

Biswas K, Chattopadhyay I, Banerjee RK et al (2002) Biological activities and medicinal properties of neem (Azadirachta indica). Curr Sci 82:1336–1342

Biswas R, Mukherjee PK, Dalai MK et al (2015) Tyrosinase inhibitory potential of purpurin in Rubia cordifolia—a bioactivity guided approach. Ind Crops Prod 74:319–326

Bopana N, Saxena S (2007) Asparagus racemosus—ethnopharmacological evaluation and conservation needs. J Ethnopharmacol 110(1):1–15

Buriani A, Garcia-Bermejo ML, Bosisio E et al (2012) Omic techniques in systems biology approaches to traditional Chinese medicine research: present and future. J Ethnopharmacol 140:535–544

Buss AD, Waigh RD (1995) Natural products as leads for new pharmaceuticals. In: Wolff ME (ed) Burger's medicinal chemistry and drug discovery, principles and practice, 4th edn. Wiley, New York

CBOL Plant Working Group (2009) A DNA barcode for land plants. Proc Natl Acad Sci USA 106:12794–12797

Chanda S, Rakholiya K, Parekh J (2013) Indian medicinal herb: antimicrobial efficacy of Mesua ferrea L. seed extracted in different solvents against infection causing pathogenic strains. J Acute Dis 2:277–281

Chanda J, Mukherjee PK, Harwansh R et al (2014) RP-HPLC simultaneous estimation of betulinic acid and ursolic acid in Carissa spinarum. Nat Prod Res 28:1926–1928

Chandran U, Mehendale N, Tillu G et al (2015) Network pharmacology of Ayurveda formulation triphala with special reference to anti-cancer property. Comb Chem High Throughput Screen 18:846–854

Chatterjee S, Srivastava S, Khalid A et al (2010) Comprehensive metabolic fingerprinting of Withania somnifera leaf and root extracts. Phytochemistry 71(10):1085–1094

Chopra B, Dhingra AK, Dhar KL (2013) Psoralea corylifolia L. (Buguchi)—folklore to modern evidence: review. Fitoterapia 90:44–56

Cordell GA, Colvard MD (2012) Natural products and traditional medicine: turning on a paradigm. J Nat Prod 75:514–525

Cragg GM, Newman DJ (2013) Natural products: a continuing source of novel drug leads. Biochim Biophys Acta 1830(6):3670–3695

Dave H, Ledwani L (2012) A review on antharquinones isolated from Cassia species and their applications. Ind J Nat Prod Res 3:291–319

Deepak M, Amit A (2004) The need for establishing identities of 'bacoside A and B', the putative major bioactive saponins of Indian medicinal plant Bacopa monnieri. Phytomedicine 11:264–268

Dennis MK (1985) The foxglove, "the old woman from Shropshire" and William Withering. J Am Coll Cardiol 5:3A–9A

Devgun M, Nanda A, Ansari SH (2009) Pterocarpus marsupium Roxb.—a comprehensive review. Phcog Rev 3:359–363

Dias DA, Urban S, Roessner U (2012) A historical overview of natural products in drug discovery. Metabolites 2:303–333

Dinda B, Das N, Dinda S et al (2015) The genus Sida L.—a traditional medicine: its ethnopharmacological, phytochemical and pharmacological data for commercial exploitation in herbal drugs industry. J Ethnopharmacol 176:135–176

Drewry DH, Macarron R (2010) Enhancements of screening collections to address areas of unmet medical need: an industry perspective. Curr Opin Chem Biol 14:289–298

Dwivedi S, Chopra D (2014) Revisiting Terminalia arjuna—an ancient cardiovascular drug. J Tradit Complement Med 4:224–231

Ernst CA, Rhees BK, Miao J et al (1998) Correlated response in partitioned maternal effects to selection for early postnatal growth rate in mice. In: Proceedings of the 6th world congress on genetics applied to livestock production, vol 26, pp 513–516

Fabricant DS, Farnsworth NR (2001) The value of plants used in traditional medicine for drug discovery. Environ Health Perspect 109(1):69–75

Farag MA, Porzel A, Wessjohann LA (2012) Comparative metabolite profiling and fingerprinting of medicinal licorice roots using a multiplex approach of GC–MS, LC–MS and 1D NMR techniques. Phytochemistry 76:60–72

Farag MA, El-Ahmady SH, Elian FS et al (2013a) Metabolomics driven analysis of artichoke leaf and its commercial products via UHPLC–q-TOF-MS and chemometrics. Phytochemistry 95:177–187

Farag MA, Weigend M, Luebert F et al (2013b) Phytochemical, phylogenetic, and anti-inflammatory evaluation of 43 Urtica accessions (stinging nettle) based on UPLC–Q-TOF-MS metabolomic profiles. Phytochemistry 96:170–183

Farag MA, Gad HA, Heiss AG et al (2014) Metabolomics driven analysis of six Nigella species seeds via UPLC–QTOF-MS and GC–MS coupled to chemometrics. Food Chem 151:333–342

Franz C, Chizzola R, Novak J et al (2011) Botanical species being used for manufacturing plant food supplements (PFS) and related products in the EU member states and selected third countries. Food Funct 2:720

Ganie SH, Upadhyay P, Das S et al (2015) Authentication of medicinal plants by DNA markers. Plant Gene 4:83–99

Gantait A, Pandit S, Nema NK et al (2010a) Quantification of glycyrrhizin in Glycyrrhiza glabra extract by validated HPTLC densitometry. J AOAC Int 93:492–495

Gantait A, Sahu A, Venkatesh P et al (2010b) Isolation of taraxerol from Coccinia grandis, and its standardization. J Planar Chromatogr 23:323–325

Gantait A, Barman T, Mukherjee PK (2011) Validated method for estimation of curcumin in turmeric powder. Indian J Tradit Know 10:247–250

Gao T, Pang XH, Chen SL (2009) Authentication of plants in Astragalus by DNA barcoding technique. Planta Med. doi:10.1055/s-0029-1234433

Gertsch J (2011) Botanical drugs, synergy, and network pharmacology: forth and back to intelligent mixtures. Planta Med 77(11):1086–1098

Gilani AH, Aziz N, Zaman V (1998) Pharmacological basis for the use of ispaghula in constipation and diarrhea. Naunyn Schmiedebergs Arch Pharmacol 358(1):40–73

Gohil KJ, Patel JA, Gajjar AK (2010) Pharmacological review on Centella asiatica: a potential herbal cure-all. Indian J Pharm Sci 72:546–556

Government of India, Ministry of Health and Family Welfare, Department of Ayush, India (2008) The Ayurvedic pharmacopoeia of India part-I, volume-I, New Delhi

Grover JK, Yadav SP (2004) Pharmacological actions and potential uses of Momordica charantia: a review. J Ethnopharmacol 93:123–132

Gupta A, Jaiswal M, Prajapati PK (2011) Shelf life of Ayurvedic dosage forms-traditional view, current status and prospective need. Indian J Tradit Know 10:672–677

Gupta AD, Bansal VK, Babu V et al (2013) Chemistry, antioxidant and antimicrobial potential of nutmeg (Myristica fragrans Houtt). J Genet Eng Biotechnol 11:25–31

Harvey AL (2008) Natural products in drug discovery. Drug Discov Today 13:894–901

Harvey AL, Edrada-Ebel R, Quinn RJ (2015) The reemergence of natural products for drug discovery in the genomics era. Nat Rev Drug Discov 14(2):111–129

Harwansh RK, Patra KC, Pareta SK et al (2011) Pharmacological studies of Glycyrrhiza glabra: a review. Pharmacologyonline 2:1032–1038

Harwansh RK, Mukherjee K, Bhadra S et al (2014) Cytochrome P450 inhibitory potential and RP-HPLC standardization of trikatu—a rasayana from Indian Ayurveda. J Ethnopharmacol 153:674–681

Harwansh RK, Mukherjee PK, Bahadur S et al (2015) Enhanced permeability of ferulic acid loaded nanoemulsion based gel through skin against UVA mediated oxidative stress. Life Sci 141:202–211

Harwansh RK, Mukherjee PK, Kar A et al (2016) Enhancement of photoprotection potential of catechin loaded nanoemulsion gel against UVA induced oxidative stress. J Photochem Photobiol B 160:318–329

Hert J, Irwin JJ, Laggner C et al (2009) Quantifying biogeninc bias in screening libraries. Nat Chem Biol 5:479–483

Heyman HM, Meyer JJM (2012) NMR-based metabolomics as a quality control tool for herbal products. S Afr J Bot 82:21–32

Hopkins AL (2007) Network pharmacology. Nat Biotechnol 25:1110–1111

Hossain MS, Urbi Z, Sule A et al (2014) Andrographis paniculata (Burm. f.) Wall. ex Nees—a review of ethnobotany, phytochemistry, and pharmacology. Sci World J 274905:1–28

Huang C, Zheng C, Li Y et al (2014) Systems pharmacology in drug discovery and therapeutic insight for herbal medicines. Brief Bioinform 15:710–733

Hutchinson L, Kirk R (2011) High drug attrition rates—where are we going wrong? Nat Rev Clin Oncol 8:189–190

Jain A, Gupta VB (2006) Chemistry and pharmacological profile of guggul—a review. Indian J Tradit Know 5(4):478–483

Jiang C, Cao L, Yuan Y et al (2014) Barcoding melting curve analysis for rapid, sensitive, and discriminating authentication of saffron (Crocus sativus L.) from its adulterants. Biomed Res Int 2014:809037

Johri RK (2011) Cuminum cyminum and Carum carvi: an update. Pharmacogn Rev 5:63–72

Joshi P, Dhawan V (2005) Swertia chirayita—an overview. Curr Sci 89:635–640

Khanam Z, Singh O, Singh R et al (2013) Safed musli (Chlorophytum borivilianum): a review of its botany, ethnopharmacology and phytochemistry. J Ethnopharmacol 150:421–441

Kibble M, Saarinen N, Tang J et al (2015) Network pharmacology applications to map the unexplored target space and therapeutic potential of natural products. Nat Prod Rep 32:1249–1266

Kitano H (2007) A robustness-based approach to systems oriented drug design. Nat Rev Drug Discov 6:202–210

Klayman DL (1985) Qinghaosu (artemisinin): an antimalarial drug from China. Science 228:1049–1055

Kola I, Landis J (2004) Can the pharmaceutical industry reduce attrition rates? Nat Rev Drug Discov 3:711–716

Kumar NS, Mukherjee PK, Bhadra S et al (2010) Acetylcholinesterase enzyme inhibitory potential of standardized extract of Trigonella foenum graecum L. and its constituents. Phytomedicine 17:292–295

Kumaradoss M, Maruga M, Mishra H (2010) Comprehensive review of Clerodendrum phlomidis: a traditionally used bitter. J Chin Integ Med 8(6):510–524

Lagunin AA, Goel RK, Gawande DY et al (2014) Chemo- and bioinformatics resources for in silico drug discovery from medicinal plants beyond their traditional use: a critical review. Nat Prod Rep 31:1585–1611

Lamb J, Crawford ED, Peck D et al (2006) The connectivity map: using gene-expression signatures to connect small molecules, genes, and disease. Science 313:1929–1935

Lee YM, Cheol MB, Yunui J et al (2013) Development of RAPD-derived SCAR markers and multiplex-PCR for authentication of the Schisandrae fructus. Korean J Med Crop Sci 3:165–173

Li S, Zhang B, Zhang N (2011) Network target for screening synergistic drug combinations with application to traditional Chinese medicine. BMC Syst Biol 5:S10

Li X, Yang Y, Henry RJ et al (2015) Plant DNA barcoding: from gene to genome. Biol Rev Camb Philos Soc 90(1):157–166

Liu NQ, Cao M, Frédérich M et al (2010) Metabolomic investigation of the ethnopharmacological use of Artemisia afra with NMR spectroscopy and multivariate data analysis. J Ethnopharmacol 128(1):230–235

Mao Q, Bai M, Xu JD et al (2014) Discrimination of leaves of Panax ginseng and P. quinquefolius by ultrahigh performance liquid chromatography quadrupole/time-of-flightmass spectrometry based metabolomics approach. J Pharm Biomed Anal 97:129–140

Mhaskar M, Joshi S, Chavan B et al (2011) Status of Embelia ribes Burm f. (Vidanga), an important medicinal species of commerce from northern Western Ghats of India. Curr Sci 100:547–552

Mithun NM, Shashidhara S, Vivek KR (2011) Eclipta alba (L.)—a review on its phytochemical and pharmacological profile. Pharmacologyonline 1:345–357

Mukherjee PK (2001) Evaluation of Indian traditional medicine. Drug Inf J 35:623–632

Mukherjee PK (2002) Quality control of herbal drugs—an approach to evaluation of botanicals. Business Horizons Ltd., New Delhi

Mukherjee PK, Houghton PJ (2009) Evaluation of herbal medicinal products—perspectives on quality, safety and efficacy. Pharmaceutical Press, London

Mukherjee PK, Kumar V, Mal M et al (2007) Acorus calamus: scientific validation of ayurvedic tradition from natural resources. Pharm Biol 45:651–666

Mukherjee PK, Kumar V, Kumar NS et al (2008) The Ayurvedic medicine Clitoria ternatea—from traditional use to scientific assessment. J Ethnopharmacol 120:291–301

Mukherjee PK, Harwansh RK, Bahadur S (2013) Standardization and chemo-profiling of herbal medicine through marker analysis. Pharma Rev 51–58

Mukherjee PK, Bahadur S, Harwansh RK et al (2014) Shifting paradigm for validation of medicinal plants in Indian traditional medicine. Indian Drugs 51(8):5–14

Mukherjee PK, Bahadur S, Chaudhary SK et al (2015) Quality related safety issue-evidence-based validation of herbal medicine—farm to pharma. In: Mukherjee PK (ed) Evidence-based validation of herbal medicine. Elsevier Science, Amsterdam, pp 1–27

Mukherjee PK, Harwansh RK, Bahadur S et al (2016) Evidence based validation of indian traditional medicine—way forward. World J Tradit Chin Med 2:48–61

Paarakh PM (2009) Ficus racemosa Linn.—an overview. Nat Prod Rad 8(1):84–90

Pandit S, Kumar M, Ponnusankar S et al (2011) RP-HPLC-DAD for simultaneous estimation of mahanine and mahanimbine in Murraya koenigii. Biomed Chromatogr 25:959–962

Pandith SA, Hussain A, Bhat WW et al (2014) Evaluation of anthraquinones from Himalayan rhubarb (Rheum emodi Wall. ex Meissn.) as antiproliferative agents. S Afr J Bot 95:1–8

Patgiri B, Soni H, Bhatt S (2014) Evaluation of stability study of Ayurvedic formulation—rasayana churna. J Pharmacogn Phytochem 2:126–130

Pereira DM, Faria J, Gaspar L et al (2009) Boerhaavia diffusa: metabolite profiling of a medicinal plant from Nyctaginaceae. Food Chem Toxicol 47(8):2142–2149

Pferschy-Wenzig EM, Bauer R (2015) The relevance of pharmacognosy in pharmacological research on herbal medicinal products. Epilepsy Behav 52:344–362

Pirzada AM, Ali HH, Naeem M et al (2015) Cyperus rotundus L.: traditional uses, phytochemistry, and pharmacological activities. J Ethnopharmacol 174:540–560

Ponnusankar S, Pandit S, Babu R et al (2011) Cytochrome P450 inhibitory potential of Triphala—a rasayana from Ayurveda. J Ethnopharmacol 133:120–125

Potdar D, Hirwani RR, Dhulap S (2012) Phyto-chemical and pharmacological applications of Berberis aristata. Fitoterapia 83:817–830

Potts MB, Kim HS, Fisher KW et al (2013) Using functional signature ontology (FUSION) to identify mechanisms of action for natural products. Sci Sig 6:ra90

Putri SP, Nakayama Y, Matsuda F et al (2013) Current metabolomics: practical applications. J Biosci Bioeng 115(6):579–589

Qu XA, Rajpal DK (2012) Applications of connectivity map in drug discovery and development. Drug Discov Today 17:1289–1298

Rai S, Mal M, Wahile A et al (2005) Therapeutic potentials and untoward effects of Piper betle and its quid. Orient Pharm Exp Med 5:1–10

Rai S, Mukherjee K, Mal M et al (2006) Determination of 6-gingerol in ginger (Zingiber officinale) using high-performance thin-layer chromatography. J Sep Sci 29:2292–2295

Rai S, Basak S, Mukherjee K et al (2007) Oriental medicine Mangifera indica. Orient Pharm Exp Med 7:1–10

Ranasinghe P, Jayawardana R, Galappaththy P et al (2012) Efficacy and safety of 'true' cinnamon (Cinnamomum zeylanicum) as a pharmaceutical agent in diabetes: a systematic review and meta-analysis. Diabet Med 29:1480–1492

Rather LJ, Islam S, Mohammad F (2015) Acacia nilotica (L.): a review of its traditional uses, phytochemistry, and pharmacology. Sustain Chem Pharm 2:12–30

Sharafeldin K, Rizvi MR (2015) Effect of traditional plant medicines (Cinnamomum zeylanicum and Syzygium cumini) on oxidative stress and insulin resistance in streptozotocin induced diabetic rats. J Basic Appl Zool 72:126–134

Sharma V, Rao LJM (2014) An overview on chemical composition, bioactivity and processing of leaves of Cinnamomumt amala. Crit Rev Food Sci Nutr 54:433–448

Shi SH, Cai YP, Cai XJ et al (2014) A network pharmacology approach to understanding the mechanisms of action of traditional medicine: bushenhuoxue formula for treatment of chronic kidney disease. PLoS ONE 9:e89123

Shirolkar A, Gahlaut A, Chhillar AK et al (2013) Quantitative analysis of catechins in Saraca asoca and correlation with antimicrobial activity. J Pharm Anal 3:421–428

Singh TP, Singh OM, Singh HB (2011a) Adhatoda vasica Nees: phytochemical and pharmacological profile. Nat Prod J 1:29–39

Singh D, Singh B, Goel RK (2011b) Traditional uses, phytochemistry and pharmacology of Ficus religiosa: a review. J Ethnopharmacol 134:565–583

Sinha K, Mishra NP, Singh J et al (2004) Tinospora cordifolia (Guduchi), a reservoir plant for therapeutic applications: a review. Indian J Tradit Know 3:257–270

Sinha S, Sharma A, Reddy PH et al (2013) Evaluation of phytochemical and pharmacological aspects of Holarrhena antidysenterica (Wall.): a comprehensive review. J Pharm Res 6:488–492

Soni P, Siddiqui AA, Dwivedi J et al (2012) Pharmacological properties of Datura stramonium L. as a potential medicinal tree: an overview. Asian Pac J Trop Biomed 2:1002–1008

Suberu JO, Gorka AP, Jacobs L et al (2013) Antiplasmodial polyvalent interactions in Artemisia annua L. aqueous extract—possible synergistic and resistance mechanisms. PLoS ONE 8(11):e80790

Suleria HAR, Butt MS, Khalid N et al (2015) Garlic (Allium sativum): diet based therapy of 21st century—a review. Asian Pac J Trop Dis 5:271–278

Tajuddin, Ahmad S, Latif A et al (2003) Aphrodisiac activity of 50% ethanolic extracts of Myristica fragrans Houtt. (nutmeg) and Syzygium aromaticum (L) Merr. & Perry. (clove) in male mice: a comparative study. BMC Complement Altern Med 3:6

Thakur VD, Mengi SA (2005) Neuropharmacological profile of Eclipta alba (Linn.) Hassk. J Ethnopharmacol 102:23–31

Tu YY (2011) The discovery of artemisinin (qinghaosu) and gifts from Chinese medicine. Nat Med 17:1217–1220

Vakil RJ (1955) Rauwolfia Serpentina treatment of high blood pressure. J Intern Med 152(2):107–114

Venkatesh P, Mukherjee PK, Satheesh KN et al (2009) Mast cell stabilization and antihistaminic potentials of Curculigo orchioides rhizomes. J Ethnopharmacol 126:434–436

Venkatesh P, Mukherjee PK, Kumar NS et al (2010) Anti-allergic activity of standardized extract of Albizia lebbeck with reference to catechin as a phytomarkers. Immunopharmacol Immunotoxicol 32:272–276

Vishwanathan AS, Basavaraju R (2010) A review on Vitex negundo L.—a medicinally important plant. Eur J Biol Sci 3(1):30–42

Wetzel MS, Kaptchuk TJ, Haramati A et al (2003) Complementary and alternative medical therapies: implications for medical education. Ann Intern Med 138(3):191–196

Wu Z, Zhao XM, Chen L (2010) Systems biology approach to identify effective cocktail drugs. BMC Syst Biol 4(2):S7

Xie G, Plumb R, Su M et al (2008) Ultra-performance LC/TOF MS analysis of medicinal Panax herbs for metabolomic research. J Sep Sci 31:1015–1026

Xue T, Roy R (2003) Studying traditional Chinese medicine. Science 300:740–741

Zahara K, Tabassum S, Sabir S et al (2014) A review of therapeutic potential of Saussurea lappa—an endangered plant from Himalaya. Asian Pac J Trop Med 7(1):S60–S69

Zhao J, Yang P, Li F et al (2012) Therapeutic effects of astragaloside IV on myocardial injuries: multi-target identification and network analysis. PLoS ONE 7:e44938

Zhou J, Wang W, Liu M et al (2014) Molecular authentication of the traditional medicinal plant Peucedanum praeruptorum and its substitutes and adulterants by DNA—barcoding technique. Pharmacogn Mag 10:385–390
Acknowledgements
The authors would like to express their deep gratitude to the Department of Biotechnology, Government of India, New Delhi, for financial support through Tata Innovation Fellowship (D.O. No. BT/HRD/35/01/04/2014) to P.K.M.
About this article
Cite this article
Mukherjee, P.K., Bahadur, S., Harwansh, R.K. et al. Paradigm shift in natural product research: traditional medicine inspired approaches. Phytochem Rev 16, 803–826 (2017). https://doi.org/10.1007/s11101-016-9489-6
Received:

Accepted:

Published:

Issue Date:

DOI: https://doi.org/10.1007/s11101-016-9489-6
Keywords