Abstract
Terpenoids, in addition to being essential for plant growth and survival, are commercially valued for their medicinal properties, ecological significance, and used as flavors and fragrances. Prospective role of arbuscular mycorrhiza (AM) symbiosis in improving the accumulation of secondary metabolites especially terpenoids has gained recognition over the past two decades. Increased production of terpenoids in aboveground parts of AM-colonized medicinal plants has extensively been described. Understanding the mechanisms underpinning increase in accumulation of specific terpenoids in AM plants is important for obtaining higher yield and to improve the potential of AM in sustainable cultivation of plants harboring these compounds. Enhanced phosphorus uptake in the mycorrhizal plants has been largely credited for the increase in terpenoid production. However, recent findings have suggested AM mediated manipulation of morphology, biochemistry and gene transcription in plants. The review provides an update on recent findings in the field of AM research with a special focus on production of pharmaceutically important terpenoids. Several points are highlighted for future research to elucidate probable mechanisms underlying increase in terpenoids in mycorrhizal plants.
This is a preview of subscription content,
to check access.
Access this article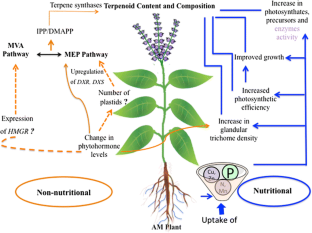 References
Akiyama K, Hayashi H (2002) Arbuscular mycorrhizal fungus-promoted accumulation of two new triterpenoids in cucumber roots. Biosci Biotechnol Biochem 66(4):762–769

Allen MF, Moore TS Jr, Christensen M (1980) Phytohormone changes in Bouteloua gracilis infected by vesicular-arbuscular mycorrhizae: I. Cytokinin increases in the host plant. Can J Bot 58(3):371–374

Allen MF, Moore TS Jr, Christensen M (1982) Phytohormone changes in Bouteloua gracilis infected by vesicular-arbuscular mycorrhizae. II. Altered levels of gibberellin-like substances and abscisic acid in the host plant. Can J Bot 60(4):468–471

An L, Zhou Z, Yan A, Gan Y (2011) Progress on trichome development regulated by phytohormone signaling. Plant Signal Behav 6(12):1959–1962

Araim G, Saleem A, Arnason JT, Charest C (2009) Root colonization by an arbuscular mycorrhizal (AM) fungus increases growth and secondary metabolism of purple coneflower, Echinacea purpurea (L.) Moench. J Agric Food Chem 57(6):2255–2258

Arpana J, Bagyaraj DJ (2007) Response of kalmegh to an arbuscular mycorrhizal fungus and a plant growth promoting rhizomicroorganism at two levels of phosphorus fertilizer. Am-Euras J Agric Environ Sci 2:33–38

Arpana J, Bagyaraj DJ, Prakasa Rao EVS, Parameswaran TN, Abdul Rahiman BA (2008) Symbiotic response of patchouli [Pogostemon cablin (Blanco) Benth.] to different arbuscular mycorrhizal fungi. Adv Environ Biol 2(1):20–24

Asensio D, Rapparini F, Peñuelas J (2012) AM fungi root colonization increases the production of essential isoprenoids vs. nonessential isoprenoids especially under drought stress conditions or after jasmonic acid application. Phytochemistry 77:149–161

Awasthi A, Bharti N, Nair P, Singh R, Shukla AK, Gupta MM, Darokar MP, Kalra A (2011) Synergistic effect of Glomus mosseae and nitrogen fixing Bacillus subtilis strain Daz26 on artemisinin content in Artemisia annua L. Appl Soil Ecol 49:125–130

Bago B, Philip E, Pfeffer PE, Shachar-Hill Y (2000) Carbon metabolism and transport in arbuscular mycorrhizas. Plant Physiol 124(3):949–958

Bartram S, Jux A, Gleixner G, Boland W (2006) Dynamic pathway allocation in early terpenoid biosynthesis of stress-induced lima bean leaves. Phytochemistry 67(15):1661–1672

Behnam S, Farzaneh M, Ahmadzadeh M, Tehrani AS (2006) Composition and antifungal activity of essential oils of Mentha piperita and Lavendula angustifolia on post-harvest phytopathogens. Commun Agric Appl Biol Sci 71(3 Pt B):1321–1326

Binet MN, Van Tuinen D, Deprêtre N, Koszela N, Chambon C, Gianinazzi S (2011) Arbuscular mycorrhizal fungi associated with Artemisia umbelliformis Lam, an endangered aromatic species in Southern French Alps, influence plant P and essential oil contents. Mycorrhiza 21(6):523–535

Björkman C, Larsson S, Gref R (1991) Effects of nitrogen fertilization on pine needle chemistry and sawfly performance. Oecologia 86(2):202–209

Blanch JS, Peñuelas J, Llusià J (2007) Sensitivity of terpene emissions to drought and fertilization in terpene-storing Pinus halepensis and non-storing Quercus ilex. Physiol Plant 131(2):211–225

Bryla DR, Eissenstat DM (2005) Respiratory costs of mycorrhizal associations. In: Lambers H, Ribas-Carbo M (eds) Plant respiration, 3rd edn. Springer, Netherlands, pp 207–224

Burney OT, Davis AS, Jacobs DF (2012) Phenology of foliar and volatile terpenoid production for Thuja plicata families under differential nutrient availability. Environ Exp Bot 77:44–52

Cao B, Dang QL, Yü X, Zhang S (2008) Effects of [CO2] and nitrogen on morphological and biomass traits of white birch (Betula papyrifera) seedlings. Forest Ecol Manag 254(2):217–224

Chappell J, Wolf F, Proulx J, Cuellar R, Saunders C (1995) Is the reaction catalyzed by 3-hydroxy-3-methylglutaryl coenzyme a reductase a rate-limiting step for isoprenoid biosynthesis in plants? Plant Physiol 109(4):1337–1343

Chaudhary V, Kapoor R, Bhatnagar AK (2008) Effectiveness of two arbuscular mycorrhizal fungi on concentrations of essential oil and artemisinin in three accessions of Artemisia annua L. Appl Soil Ecol 40(1):174–181

Copetta A, Lingua G, Berta G (2006) Effects of three AM fungi on growth, distribution of glandular hairs, and essential oil production in Ocimum basilicum L. var. Genovese. Mycorrhiza 16(7):485–494

Covello PS, Teoh KH, Polichuk DR, Reed DW, Nowak G (2007) Functional genomics and the biosynthesis of artemisinin. Phytochemistry 68(14):1864–1871

Dave S, Das J, Tarafdar JC (2011) Effect of vesicular arbuscular mycorrhizae on growth and saponin accumulation in Chlorophytum borivilianum. Sci Asia 37:165–169

El-Sayed M, Verpoorte R (2007) Catharanthus terpenoid indole alkaloids: biosynthesis and regulation. Phytochem Rev 6(2–3):277–305

Evelin H, Kapoor R, Giri B (2009) Arbuscular mycorrhizal fungi in alleviation of salt stress: a review. Ann Bot 104(7):1263–1280

Evelin H, Giri B, Kapoor R (2013) Ultrastructural evidence for AMF mediated salt stress mitigation in Trigonella foenum-graecum. Mycorrhiza 23(1):71–86

Farahani A, Lebaschi H, Hussein M, Hussein SA, Reza VA, Jahanfar D (2013) Effects of arbuscular mycorrhizal fungi, different levels of phosphorus and drought stress on water use efficiency, relative water content and proline accumulation rate of Coriander (Coriandrum sativum L.). J Med Plants Res 2(6):125-131

Feddermann N, Finlay R, Boller T, Elfstrand M (2010) Functional diversity in arbuscular mycorrhiza—the role of gene expression, phosphorus nutrition and symbiotic efficiency. Fungal Ecol 3(1):1–8

Fester T, Maier W, Strack D (1999) Accumulation of secondary compounds in barley and wheat roots in response to inoculation with an arbuscular mycorrhizal fungus and co-inoculation with rhizosphere bacteria. Mycorrhiza 8(5):241–246

Fester T, Schmidt D, Lohse S, Walter MH, Giuliano G, Bramley PM, Fraser PD, Hause B, Strack D (2002) Stimulation of carotenoid metabolism in arbuscular mycorrhizal roots. Planta 216(1):148–154

Fester T, Fetzer I, Buchert S, Lucas R, Rillig MC, Härtig C (2011) Towards a systemic metabolic signature of the arbuscular mycorrhizal interaction. Oecologia 167(4):913–924

Finlay RD (2008) Ecological aspects of mycorrhizal symbiosis: with special emphasis on the functional diversity of interactions involving the extraradical mycelium. J Exp Bot 59(5):1115–1126

Floß DS, Hause B, Lange PR, Küster H, Strack D, Walter MH (2008) Knock-down of the MEP pathway isogene 1-deoxy-D-xylulose 5-phosphate synthase 2 inhibits formation of arbuscular mycorrhiza-induced apocarotenoids, and abolishes normal expression of mycorrhiza-specific plant marker genes. Plant J 56(1):86–100

Geneva MP, Stancheva IV, Boychinova MM, Mincheva NH, Yonova PA (2010) Effects of foliar fertilization and arbuscular mycorrhizal colonization on Salvia officinalis L. growth, antioxidant capacity, and essential oil composition. J Sci Food Agric 90(4):696–702

Gershenzon J (1994) Metabolic costs of terpenoid accumulation in higher plants. J Chem Ecol 20(6):1281–1328

Giovannetti M, Avio L, Barale R, Ceccarelli N, Cristofani R, Iezzi A, Mignolli F, Picciarelli P, Pinto B, Reali D, Sbrana C (2012) Nutraceutical value and safety of tomato fruits produced by mycorrhizal plants. Br J Nutr 107(02):242–251

Gouinguené SP, Turlings TC (2002) The effects of abiotic factors on induced volatile emissions in corn plants. Plant Physiol 129(3):1296–1307

Gupta ML, Prasad A, Ram M, Kumar S (2002) Effect of the vesicular-arbuscular mycorrhizal (VAM) fungus Glomus fasciculatum on the essential oil yield related characters and nutrient acquisition in the crops of different cultivars of menthol mint (Mentha arvensis) under field conditions. Bioresour Technol 81(1):77–79

Gutjahr C (2014) Phytohormone signaling in arbuscular mycorhiza development. Curr Opin Plant Biol 20:26–34

Hans J, Hause B, Strack D, Walter MH (2004) Cloning, characterization, and immunolocalization of a mycorrhiza-inducible 1-deoxy-d-xylulose 5-phosphate reductoisomerase in arbuscule-containing cells of maize. Plant Physiol 134(2):614–624

Harrier LA, Watson CA (2004) The potential role of arbuscular mycorrhizal (AM) fungi in the bioprotection of plants against soil-borne pathogens in organic and/or other sustainable farming systems. Pest Manag Sci 60(2):149–157

Harrison MJ (2005) Signaling in the arbuscular mycorrhizal symbiosis. Annu Rev Microbiol 59:19–42

Hart M, Ehret DL, Krumbein A, Leung C, Murch S, Turi C, Franken P (2015) Inoculation with arbuscular mycorrhizal fungi improves the nutritional value of tomatoes. Mycorrhiza 25(5):359–376

Hause B, Maier W, Miersch O, Kramell R, Strack D (2002) Induction of jasmonate biosynthesis in arbuscular mycorrhizal barley roots. Plant Physiol 130(3):1213–1220

Hazzoumi Z, Moustakime Y, Joutei KA (2015) Effect of arbuscular mycorrhizal fungi (AMF) and water stress on growth, phenolic compounds, glandular hairs, and yield of essential oil in basil (Ocimum gratissimum L). Chem Biol Technol Agric 2(1):1–11

Heldt HW (2005) A large diversity of isoprenoids has multiple functions in plant metabolism. In: Academic Elsevier (ed) Plant biochemistry, third. Press, California, pp 413–433

Herms DA, Mattson WJ (1992) The dilemma of plants: to grow or defend. Q Rev Biol 67(3):283–335

Hodge A, Fitter AH (2010) Substantial nitrogen acquisition by arbuscular mycorrhizal fungi from organic material has implications for N cycling. Proc Natl Acad Sci 107(31):13754–13759

Hofmeyer PV, Seymour RS, Kenefic LS (2010) Production ecology of Thuja occidentalis. Can J For Res 40(6):1155–1164

Jakobsen I, Abbott LK, Robson AD (1992) External hyphae of vesicular-arbuscular mycorrhizal fungi associated with Trifolium subterraneum L. New Phytol 120(3):371–380

Jurkiewicz A, Ryszka P, Anielska T, Waligórski P, Białońska D, Góralska K, Tsimilli-Michael M, Turnau K (2010) Optimization of culture conditions of Arnica montana L.: effects of mycorrhizal fungi and competing plants. Mycorrhiza 20(5):293–306

Kainulainen P, Holopainen J, Palomäki V, Holopainen T (1996) Effects of nitrogen fertilization on secondary chemistry and ectomycorrhizal state of scots pine seedlings and on growth of grey pine aphid. J Chem Ecol 22(4):617–636

Kapoor R, Giri B, Mukerji KG (2002a) Glomus macrocarpum: a potential bioinoculant to improve essential oil quality and concentration in Dill (Anethum graveolens L.) and Carum (Trachyspermum ammi (Linn.) Sprague). World J Microbiol Biotechnol 18(5):459–463

Kapoor R, Giri B, Mukerji KG (2002b) Mycorrhization of coriander (Coriandrum sativum L.) to enhance the concentration and quality of essential oil. J Sci Food Agric 82(4):339–342

Kapoor R, Giri B, Mukerji KG (2004) Improved growth and essential oil yield and quality in Foeniculum vulgare mill on mycorrhizal inoculation supplemented with P-fertilizer. Bioresour Technol 93(3):307–311

Kapoor R, Chaudhary V, Bhatnagar AK (2007) Effects of arbuscular mycorrhiza and phosphorus application on artemisinin concentration in Artemisia annua L. Mycorrhiza 17(7):581–587

Karagiannidis N, Thomidis T, Lazari D, Panou-Filotheou E, Karagiannidou C (2011) Effect of three Greek arbuscular mycorrhizal fungi in improving the growth, nutrient concentration, and production of essential oils of oregano and mint plants. Sci Hort 129(2):329–334

Karagiannidis N, Thomidis T, Panou-Filotheou E (2012) Effects of Glomus lamellosum on growth, essential oil production and nutrients uptake in selected medicinal plants. J Agr Sci 4(3):137

Khaosaad T, Vierheilig H, Nell M, Zitterl-Eglseer K, Novak J (2006) Arbuscular mycorrhiza alter the concentration of essential oils in oregano (Origanum sp., Lamiaceae). Mycorrhiza 16(6):443–446

Khaosaad T, Krenn L, Medjakovic S, Ranner A, Lössl A, Nell M, Jungbauer A, Vierheilig H (2008) Effect of mycorrhization on the isoflavone content and the phytoestrogen activity of red clover. J Plant Physiol 165:1161–1167

King DJ, Gleadow RM, Woodrow IE (2004) Terpene deployment in Eucalyptus polybractea; relationships with leaf structure, environmental stresses, and growth. Funct Plant Biol 31(5):451–460

Klingner A, Bothe H, Wray V, Marner FJ (1995) Identification of a yellow pigment formed in maize roots upon mycorrhizal colonization. Phytochemistry 38(1):53–55

Knotz J, Coolbaugh RC, West CA (1977) Regulation of the biosynthesis of ent-kaurene from mevalonate in the endosperm of immature Marah macrocarpus seeds by adenylate energy charge. Plant Physiol 60(1):81–85

Kobayashi K, Awai K, Nakamura M, Nagatani A, Masuda T, Ohta H (2009) Type-B monogalactosyldiacylglycerol synthases are involved in phosphate starvation-induced lipid remodeling, and are crucial for low-phosphate adaptation. Plant J 57(2):322–331

Ku CM, Lin JY (2013) Anti-inflammatory effects of 27 selected terpenoid compounds tested through modulating Th1/Th2 cytokine secretion profiles using murine primary splenocytes. Food Chem 141(2):1104–1113

Kumar SR, Nisha MC, Prabu PC, Wondimu T, Selvaraj T (2008) Interaction between Glomus geosporum, Azotobacter chroococcum and Bacillus coagulans and their influence on growth and nutrition of Melia azaedarach L. Turk J Biol 33:109–114

Lerdau M, Gershenzon J (1997) Allocation theory and chemical defense. In: Bazzaz FA, Grace J (eds) Plant resource allocation. Academic Press, San Diego, pp 265–277

Lermen C, Morelli F, Gazim ZC, da Silva AP, Gonçalves JE, Dragunski DC, Alberton O (2015) Essential oil content and chemical composition of Cymbopogon citratus inoculated with arbuscular mycorrhizal fungi under different levels of lead. Ind Crops Prod 76:734–738

Liu S, Zhong JJ (1998) Phosphate effect on production of ginseng saponin and polysaccharide by cell suspension cultures of Panax ginseng and Panax quinquefolium. Process Biochem 33(1):69–74

Liu Y, Wang H, Ye HC, Li GF (2005) Advances in the plant isoprenoid biosynthesis pathway and its metabolic engineering. J Integr Plant Biol 47(7):769–782

Liu J, Wu L, Wei S, Xiao X, Su C, Jiang P, Song Z, Wang T, Yu Z (2007) Effects of arbuscular mycorrhizal fungi on the growth, nutrient uptake and glycyrrhizin production of licorice (Glycyrrhiza uralensis Fisch). Plant Growth Regul 52(1):29–39

Maes L, Goossens A (2010) Hormone-mediated promotion of trichome initiation in plants is conserved but utilizes species and trichome-specific regulatory mechanisms. Plant Signal Behav 5(2):205–207

Maes L, Inzé D, Goossens A (2008) Functional specialization of the TRANSPARENT TESTA GLABRA1 network allows differential hormonal control of laminal and marginal trichome initiation in Arabidopsis rosette leaves. Plant Physiol 148(3):1453–1464

Maes L, Van Nieuwerburgh FC, Zhang Y, Reed DW, Pollier J, Vande Casteele SR, Inzé D, Covello PS, Deforce DL, Goossens A (2011) Dissection of the phytohormonal regulation of trichome formation and biosynthesis of the antimalarial compound artemisinin in Artemisia annua plants. New Phytol 189(1):176–189

Maier W, Peipp H, Schmidt J, Wray V, Strack D (1995) Levels of a terpenoid glycoside (blumenin) and cell wall-bound phenolics in some cereal mycorrhizas. Plant Physiol 109(2):465–470

Maier W, Hammer K, Dammann U, Schulz B, Strack D (1997) Accumulation of sesquiterpenoid cyclohexenone derivatives induced by an arbuscular mycorrhizal fungus in members of the Poaceae. Planta 202(1):36–42

Maier W, Schneider B, Strack D (1998) Biosynthesis of sesquiterpenoid cyclohexenone derivatives in mycorrhizal barley roots proceeds via the glyceraldehyde 3-phosphate/pyruvate pathway. Tetrahedron Lett 39(7):521–524

Maier W, Schmidt J, Wray V, Walter MH, Strack D (1999) The arbuscular mycorrhizal fungus, Glomus intraradices, induces the accumulation of cyclohexenone derivatives in tobacco roots. Planta 207(4):620–623

Maier W, Schmidt J, Nimtz M, Wray V, Strack D (2000) Secondary products in mycorrhizal roots of tobacco and tomato. Phytochemistry 54(5):473–479

Malik AA, Ahmad J, Suryapani S, Abdin MZ, Ali M (2012) Effect of inorganic and biological fertilizer treatments on essential oil composition of Ruta graveolens L. J Herbs Spices Med Plants 18(2):191–202

Mandal S, Evelin H, Giri B, Singh VP, Kapoor R (2013) Arbuscular mycorrhiza enhances the production of stevioside and rebaudioside-A in Stevia rebaudiana via nutritional and non-nutritional mechanisms. Appl Soil Ecol 72:187–194

Mandal S, Upadhyay S, Singh VP, Kapoor R (2015a) Enhanced production of steviol glycosides in mycorrhizal plants: a concerted effect of arbuscular mycorrhizal symbiosis on transcription of biosynthetic genes. Plant Physiol Biochem 89:100–106

Mandal S, Upadhyay S, Wajid S, Ram M, Jain DC, Singh VP, Abdin MZ, Kapoor R (2015b) Arbuscular mycorrhiza increase artemisinin accumulation in Artemisia annua by higher expression of key biosynthesis genes via enhanced jasmonic acid levels. Mycorrhiza 25(5):345–357

Martin C, Zhang Y, Tonelli C, Petroni K (2013) Plants, diet, and health. Ann Rev Plant Biol 64:19–46

Matsumi R, Atomi H, Driessen AJ, van der Oost J (2011) Isoprenoid biosynthesis in Archaea–biochemical and evolutionary implications. Res Microbiol 162(1):39–52

McGarvey DJ, Croteau R (1995) Terpenoid metabolism. Plant Cell 7(7):1015

Miransari M (2010) Contribution of arbuscular mycorrhizal symbiosis to plant growth under different types of soil stress. Plant Biol 12(4):563–569

Miransari M (2011) Arbuscular mycorrhizal fungi and nitrogen uptake. Arch Microbiol 193(2):77–81

Misra A, Srivastava NK, Srivastava NK, Srivastava AK (2010) Influence of gibberellic acid and arbuscular mycorrhizae inoculation on carbon metabolism, growth, and diterpene accumulation in Taxus wallichiana Zuccarini var. mairei. J Biophys Struct Biol 2(2):022–027

Morone-Fortunato I, Avato P (2008) Plant development and synthesis of essential oils in micropropagated and mycorrhiza inoculated plants of Origanum vulgare L. ssp. hirtum (Link) Ietswaart. Plant Cell, Tissue Organ Cult 93(2):139–149

Muñoz-Bertomeu J, Arrillaga I, Ros R, Segura J (2006) Up-regulation of 1-deoxy-D-xylulose-5-phosphate synthase enhances production of essential oils in transgenic spike lavender. Plant Physiol 142(3):890–900

Nagegowda DA (2010) Plant volatile terpenoid metabolism: biosynthetic genes, transcriptional regulation and subcellular compartmentation. FEBS Lett 584(14):2965–2973

Nell M, Voetsch M, Vierheilig H, Steinkellner S, Zitterl-Eglseer K, Franz C, Novak J (2009) Effect of phosphorus uptake on growth and secondary metabolites of garden sage (Salvia officinalis L.). J Sci Food Agric 89(6):1090–1096

Nell M, Wawrosch C, Steinkellner S, Vierheilig H, Kopp B, Losse A, Franz C, Novak J, Zittere – Eyeseer K (2010) Root colonization by symbiotic arbuscular mycorrhizal fungi increases sesquiterpenic acid concentration in Valeriana officinalis L. Planta Med 76:393–398

Niinemets Ü, Seufert G, Steinbrecher R, Tenhunen JD (2002) A model coupling foliar monoterpene emissions to leaf photosynthetic characteristics in Mediterranean evergreen Quercus species. New Phytol 153(2):257–275

Nouri E, Breuillin-Sessoms F, Feller U, Reinhardt D (2014) Phosphorus and nitrogen regulate arbuscular mycorrhizal symbiosis in Petunia hybrida. PLoS ONE 9(3):e90841

Nurzynska-Wierdak R (2013) Does mineral fertilization modify essential oil content and chemical composition in medicinal plants? Acta Sci Pol Hortorum Cultus 12(5):3–16

Okada K (2011) The biosynthesis of isoprenoids and the mechanisms regulating it in plants. Biosci Biotechnol Biochem 75(7):1219–1225

Oksman-Caldentey KM, Inzé D (2004) Plant cell factories in the post-genomic era: new ways to produce designer secondary metabolites. Trends Plant Sci 9(9):433–440

Ormeno E, Fernandez C (2012) Effect of soil nutrient on production and diversity of volatile terpenoids from plants. Curr Bioact Compd 8(1):71

Parniske M (2008) Arbuscular mycorrhiza: the mother of plant root endosymbioses. Nat Rev Microbiol 6(10):763–775

Peñuelas J, Staudt M (2010) BVOCs and global change. Trends Plant Sci 15(3):133–144

Prasad A, Kumar S, Pandey A, Chand S (2012) Microbial and chemical sources of phosphorus supply modulate the yield and chemical composition of essential oil of rose-scented geranium (Pelargonium species) in sodic soils. Biol Fertil Soils 48(1):117–122

Rapparini F, Llusià J, Peñuelas J (2008) Effect of arbuscular mycorrhizal (AM) colonization on terpene emission and content of Artemisia annua L. Plant Biol 10(1):108–122

Rasouli-Sadaghiani M, Hassani A, Barin M, Danesh YR, Sefidkon F (2010) Effects of arbuscular mycorrhizal (AM) fungi on growth, essential oil production and nutrients uptake in basil. J Med Plants Res 4(21):2222–2228

Redecker D, Raab P (2006) Phylogeny of the Glomeromycota (arbuscular mycorrhizal fungi): recent developments and new gene markers. Mycologia 98(6):885–895

Richard SB, Ferrer JL, Bowman ME, Lillo AM, Tetzlaff CN, Cane DE, Noel JP (2002) Structure and mechanism of 2-C-methyl-d-erythritol 2,4-cyclodiphosphate synthase. An enzyme in the mevalonate-independent isoprenoid biosynthetic pathway. J Biol Chem 277(10):8667–8672

Ringer KL, Davis EM, Croteau R (2005) Monoterpene metabolism. Cloning, expression, and characterization of (−)-isopiperitenol/(−)-carveol dehydrogenase of peppermint and spearmint. Plant Physiol 137(3):863–872

Rodríguez-Concepción M (2006) Early steps in isoprenoid biosynthesis: multilevel regulation of the supply of common precursors in plant cells. Phytochem Rev 5(1):1–15

Ruiz-Lozano JM, Porcel R, Azcón C, Aroca R (2012) Regulation by arbuscular mycorrhizae of the integrated physiological response to salinity in plants: new challenges in physiological and molecular studies. J Exp Bot 63(11):4033–4034

Rydlová J, Jelínková M, Karel Dušek K, Dušková E, Miroslav Vosátka M, Püschel D (2016) Arbuscular mycorrhiza differentially affects synthesis of essential oils in coriander and dill. Mycorrhiza 26:123–131

Sacchettini JC, Poulter CD (1997) Creating isoprenoid diversity. Science 277(5333):1788–1789

Sailo GL, Bagyaraj DJ (2005) Influence of different AM-fungi on the growth, nutrition and forskolin content of Coleus forskohlii. Mycol Res 109(7):795–798

Salvioli A, Bonfante P (2013) Systems biology and "omics" tools: a cooperation for next-generation mycorrhizal studies. Plant Sci 203:107–114

Salvioli A, Zouari I, Chalot M, Bonfante P (2012) The arbuscular mycorrhizal status has an impact on the transcriptome profile and amino acid composition of tomato fruit. BMC Plant Biol 12(1):1

Sasanelli N, Anton A, Takacs T, D'Addabbo T, Biro I, Malov X (2009) Influence of arbuscular mycorrhizal fungi on the nematicidal properties of leaf extracts of Thymus vulgaris L. Helminthologia 46(4):230–240

Schüßler A, Schwarzott D, Walker C (2001) A new fungal phylum, the Glomeromycota: phylogeny and evolution. Mycol Res 105(12):1413–1421

Schweiger R, Müller C (2015) Leaf metabolome in arbuscular mycorrhizal symbiosis. Curr Opin Plant Biol 26:120–126

Schweiger R, Baier MC, Persicke M, Müller C (2014) High specificity in plant leaf metabolic responses to arbuscular mycorrhiza. Nat Commun 5:3886–3896

Seigler DS (1998) Plant secondary metabolism, 1st edn. Kluwer Academic Publishers, Norwell

Selvaraj T, Rajeshkumar S, Nisha MC, Wondimu L, Tesso M (2008) Effect of Glomus mosseae and plant growth promoting rhizomicroorganisms (PGPR's) on growth, nutrients and content of secondary metabolites in Begonia malabarica Lam. Maejo. Int J Sci Technol 2(3):516–525

Shaul-Keinan O, Gadkar V, Ginzberg I, Grünzweig JM, Chet I, Elad Y, Wininger S, Belausov E, Eshed Y, Atzmon N, Ben-Tal Y (2002) Hormone concentrations in tobacco roots change during arbuscular mycorrhizal colonization with Glomus intraradices. New Phytol 154(2):501–507

Shrivastava G, Ownley BH, Augé RM, Toler H, Dee M, Vu A, Köllner TG, Chen F (2015) Colonization by arbuscular mycorrhizal and endophytic fungi enhanced terpene production in tomato plants and their defense against a herbivorous insect. Symbiosis 65(2):65–74

Silva VC, Alves PAC, de Oliveira RA, de Jesus RM, Costa LCB, Gross E (2014) Influence of arbuscular mycorrhizal fungi on growth, mineral composition and production of essential oil in Mentha × piperita L. var. citrata (Ehrh.) Briq. under two phosphorus levels. J Med Plants Res 8(45):1321–1332

Siwko ME, Marrink SJ, de Vries AH, Kozubek A, Uiterkamp AJS, Mark AE (2007) Does isoprene protect plant membranes from thermal shock? A molecular dynamics study. Bba Biomembr 1768(2):198–206

Smith SE, Gianinazzi-Pearson V (1988) Physiological interactions between symbionts in vesicular-arbuscular mycorrhizal plants. Annu Rev Plant Physiol Plant Mol Biol 39(1):221–244

Smith SE, Read DJ (eds) (1997) Mycorrhizal symbiosis. Academic Press, London

Smith SE, Read DJ (2008) Mycorrhizal symbiosis, 4th edn. Academic, London

Steinbacher S, Kaiser J, Wungsintaweekul J, Hecht S, Eisenreich W, Gerhardt S, Bacher A, Rohdich F (2002) Structure of 2C-methyl-d-erythritol-2,4-cyclodiphosphate synthase involved in mevalonate-independent biosynthesis of isoprenoids. J Mol Biol 316(1):79–88

Strack D, Fester T (2006) Isoprenoid metabolism and plastid reorganization in arbuscular mycorrhizal roots. New Phytol 172(1):22–34

Tholl D (2006) Terpene synthases and the regulation, diversity and biological roles of terpene metabolism. Curr Opin Plant Biol 9(3):297–304

Tian C, Kasiborski B, Koul R, Lammers PJ, Bücking H, Shachar-Hill Y (2010) Regulation of the nitrogen transfer pathway in the arbuscular mycorrhizal symbiosis: gene characterization and the coordination of expression with nitrogen flux. Plant Physiol 153(3):1175–1187

Torelli A, Trotta A, Acerbi L, Arcidiacono G, Berta G, Branca C (2000) IAA and ZR content in leek (Allium porrum L.), as influenced by P nutrition and arbuscular mycorrhizae, in relation to plant development. Plant Soil 226(1):29–35

Toussaint JP (2007) Investigating physiological changes in the aerial parts of AM plants: what do we know and where should we be heading? Mycorrhiza 17(4):349–353

Urcoviche RC, Gazim ZC, Dragunski DC, Barcellos FG, Alberton O (2015) Plant growth and essential oil content of Mentha crispa inoculated with arbuscular mycorrhizal fungi under different levels of phosphorus. Ind Crops Prod 67:103–107

van Schie CC, Haring MA, Schuurink RC (2007) Tomato linalool synthase is induced in trichomes by jasmonic acid. Plant Mol Biol 64(3):251–263

Venkateshwaran M, Jayaraman D, Chabaud M, Genre A, Balloon AJ, Maeda J, Forshey K, den Os D, Kwiecien NW, Coon JJ, Barker DG (2015) A role for the mevalonate pathway in early plant symbiotic signaling. Proc Natl Acad Sci 112(31):9781–9786

Venkateswarlu B, Pirat M, Kishore N, Rasul A (2008) Mycorrhizal inoculation in neem (Azadirachta indica) enhances azadirachtin content in seed kernels. World J Microbiol Biotechnol 24(7):1243–1247

Walker AR, Davison PA, Bolognesi-Winfield AC, James CM, Srinivasan N, Blundell TL, Esch JJ, Marks MD, Gray JC (1999) The TRANSPARENT TESTA GLABRA1 locus, which regulates trichome differentiation and anthocyanin biosynthesis in Arabidopsis, encodes a WD40 repeat protein. Plant Cell 11(7):1337–1349

Walter MH, Fester T, Strack D (2000) Arbuscular mycorrhizal fungi induce the non-mevalonate methylerythritol phosphate pathway of isoprenoid biosynthesis correlated with accumulation of the 'yellow pigment' and other apocarotenoids. Plant J 21(6):571–578

Weisany W, Raei Y, Pertot I (2015) Changes in the essential oil yield and composition of dill (Anethum graveolens L.) as response to arbuscular mycorrhiza colonization and cropping system. Ind Crops Prod 77:295–306

Welling MT, Liu L, Rose TJ, Waters DL, Benkendorff K (2015) Arbuscular mycorrhizal fungi: effects on plant terpenoid accumulation. Plant Biol. doi:10.1111/plb.12408

Yadav A, Yadav K, Aggarwal A (2015) Impact of arbuscular mycorrhizal fungi with Trichoderma viride and Pseudomonas fluorescens on growth, yield and oil content in Helianthus annuus L. J Essent Oil Bear Plants 18(2):444–454

Zeng Y, Guo LP, Chen BD, Hao ZP, Wang JY, Huang LQ, Yang G, Cui XM, Yang L, Wu ZX, Chen ML (2013) Arbuscular mycorrhizal symbiosis and active ingredients of medicinal plants: current research status and prospectives. Mycorrhiza 23(4):253–265

Zouari I, Salvioli A, Chialva M, Novero M, Miozzi L, Tenore GC, Bagnaresi P, Bonfante P (2014) From root to fruit: RNA-Seq analysis shows that arbuscular mycorrhizal symbiosis may affect tomato fruit metabolism. BMC Genom 15(1):1

Zubek S, Stojakowska A, Anielska T, Turnau K (2010) Arbuscular mycorrhizal fungi alter thymol derivative contents of Inula ensifolia L. Mycorrhiza 20(7):497–504
Acknowledgements
We gratefully acknowledge the financial assistance (R&D grant) provided by the Research Council of University of Delhi, Delhi India. Garima Anand acknowledges University Grants Commision for fellowship as Junior Research Fellow.
About this article
Cite this article
Kapoor, R., Anand, G., Gupta, P. et al. Insight into the mechanisms of enhanced production of valuable terpenoids by arbuscular mycorrhiza. Phytochem Rev 16, 677–692 (2017). https://doi.org/10.1007/s11101-016-9486-9
Received:

Accepted:

Published:

Issue Date:

DOI: https://doi.org/10.1007/s11101-016-9486-9
Keywords