Abstract
Although Lobophora belongs to a marine algal family (Dictyotaceae) that produces a large array of secondary metabolites, it has received little attention compared to other genera, such as Dictyota, in terms of natural compounds isolation and characterization. However, metabolites produced by Lobophora species have been found to exhibit a wide array of bioactivities including pharmacological (e.g. antibacterial, antiviral, antioxidant, antitumoral), pesticidal, and ecological. This review aims to report the state-of-the-art of the natural products isolated from Lobophora species (Dictyotales, Phaeophyceae) and their associated bioactivities. All bioactivities documented in the literature are reported, therefore including studies for which pure active substances were described, as well as studies limited to extracts or fractions. From the early 1980s until today, 49 scientific works have been published on Lobophora chemistry and bioactivity, among which 40 have reported bioactivities. Only six studies, however, have identified, characterized and tested no less than 23 bioactive pure compounds (three C21 polyunsaturated alcohols, three fatty-acids, a macrolactone, 11 polyketides, a few sulfated polysaccharides, three sulfolipids, a tocopherol derivative). The present review intends to raise awareness of chemists and biologists given the recent significant taxonomic progress of this brown algal genus, which holds a promising plethora of natural products yet to be discovered with ecological and pharmacological properties.
Access options
Buy single article
Instant access to the full article PDF.
USD 39.95
Price includes VAT (USA)
Tax calculation will be finalised during checkout.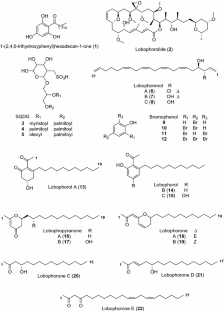 Abbreviations
ACVr:

Acyclovir-resistant

EC50 :

Half maximal effective concentration

HCT-116:

Human colon tumor

HEp-2:

Human epithelial type 2

HIV:

Human immunodeficiency virus

HL-60:

Human promyelocytic leukemia cell line

HSV-1/2:

Herpes simplex virus type 1 or 2

HT-29:

Human colorectal adenocarcinoma cell line

IC50 :

Half maximal inhibitory concentration

LC50 :

Median lethal concentration

LD50 :

Median lethal dose

MCF-7:

Human breast carcinoma cell line

MDCK:

Madin–Darby canine kidney

MIC90 :

Minimal inhibitory concentration to inhibit the growth of 90 % of organisms

MZI:

Mean zone of inhibition

RSV:

Respiratory syncytial virus

SQDG:

Sulfoquinovosyl diacylglycerol
References
Ahmed F, Fanning K, Schuhmann H, Netzel M, Schenk PM (2013) Microalgae: a valuable source of natural carotenoids with potential health benefits. In: Yamaguchi M (ed) Carotenoids: food sources, production and health benefits. Nova Science Publishers, Hauppauge

Amsler CD, Fairhead VA (2005) Defensive and sensory chemical ecology of brown algae. Adv Bot Res 43:1–91

Antonius A, Ballesteros E (1998) Epizoism: a new threat to coral health in Caribbean reefs. Rev Biol Trop 46:145–156

Baird AH, Morse AN (2004) Induction of metamorphosis in larvae of the brooding corals Acropora palifera and Stylophora pistillata. Mar Freshw Res 55:469–472

Ballantine DL, Gerwick WH, Velez SM, Alexander E, Guevara P (1987) Antibiotic activity of lipid-soluble extracts from Caribbean marine algae. Hydrobiologia 151:463–469

Bennett S, Vergés A, Bellwood D (2010) Branching coral as a macroalgal refuge in a marginal coral reef system. Coral Reefs 29:471–480

Bianco EM, Pires L, Santos GK, Dutra KA, Reis TN, Vasconcelos ER, Cocentino AL, Navarro DM (2013) Larvicidal activity of seaweeds from northeastern Brazil and of a halogenated sesquiterpene against the dengue mosquito (Aedes aegypti). Ind Crop Prod 43:270–275

Birrell CL, McCook LJ, Willis BL, Harrington L (2008) Chemical effects of macroalgae on larval settlement of the broadcast spawning coral Acropora millepora. Mar Ecol Prog Ser 362:129–137

Blunt JW, Copp BR, Keyzers RA, Munro MH, Prinsep MR (2015) Marine natural products. Nat Prod Rep 32:116–211

Bolser RC, Hay ME (1996) Are tropical plants better defended? Palatability and defenses of temperate vs. tropical seaweeds. Ecology 77:2269–2286

Burtin P (2003) Nutritional value of seaweeds. EJEAFChe 2:498–503

Cantillo-Ciau Z, Moo-Puc R, Quijano L, Freile-Pelegrín Y (2010) The tropical brown alga Lobophora variegata: a source of antiprotozoal compounds. Mar Drugs 8:1292–1304

Castro LSEPW, de Sousa Pinheiro T, Castro AJG, Santos MdSN, Soriano EM, Leite EL (2014a) Potential anti-angiogenic, antiproliferative, antioxidant, and anticoagulant activity of anionic polysaccharides, fucans, extracted from brown algae Lobophora variegata. J Appl Phycol 27:1315–1325

Castro LSEW, Pinheiro TS, Castro AJ, Dore CM, da Silva NB, Alves MGdCF, Santos MSN, Leite EL (2014b) Fucose-containing sulfated polysaccharides from brown macroalgae Lobophora variegata with antioxidant, anti-inflammatory, and antitumoral effects. J Appl Phycol 26:1783–1790

Cetrulo GL, Hay ME (2000) Activated chemical defenses in tropical versus temperate seaweeds. Mar Ecol Prog Ser 207:243–253

Chkhikvishvili ID, Ramazanov ZM (2000) Phenolic substances of brown algae and their antioxidant activity. Appl Biochem Microbiol 36:289–291

Chung HY, Ma WCJ, Ang PO, Kim J-S, Chen F (2003) Seasonal variations of bromophenols in brown algae (Padina arborescens, Sargassum siliquastrum, and Lobophora variegata) collected in Hong Kong. J Agric Food Chem 51:2619–2624

Da Gama BA, Carvalho AG, Weidner K, Soares AR, Coutinho R, Fleury BG, Teixeira VL, Pereira RC (2008) Antifouling activity of natural products from Brazilian seaweeds. Bot Mar 51:191–201

Dawczynski C, Schubert R, Jahreis G (2007) Amino acids, fatty acids, and dietary fibre in edible seaweed products. Food Chem 103:891–899

de Alencar DB, Pires-Cavalcante KMS, de Sousa MB, Viana FA, Saker-Sampaio S (2011) Biogenic amines in marine macroalgae of the state of Ceará, Brazil. Rev Ciênc Agron 42:349

De Lara-Isassi G, Alvarez-Hernandez S, Collado-Vides L (2000) Ichtyotoxic activity of extracts from Mexican marine macroalgae. J Appl Phycol 12:45–52

De Lara-Isassi G, Alvarez-Hernández S, Quintana-Pimentel A (2004) Screening for anticoagulant substances in some marine macroalgae Detección de sustancias anticoagulantes en algunas macroalgas marinas. Hidrobiológica 14:47–54

Diaz-Pulido G, McCook LJ, Dove S, Berkelmans R, Roff G, Kline DI, Weeks S, Evans RD, Williamson DH, Hoegh-Guldberg O (2009) Doom and boom on a resilient reef: climate change, algal overgrowth and coral recovery. PLoS ONE 4:e5239

Diaz-Pulido G, Harii S, McCook L, Hoegh-Guldberg O (2010) The impact of benthic algae on the settlement of a reef-building coral. Coral Reefs 29:203–208

Egan S, Harder T, Burke C, Steinberg P, Kjelleberg S, Thomas T (2013) The seaweed holobiont: understanding seaweed–bacteria interactions. FEMS Microbiol Rev 37:462–476

Engel S, Puglisi MP, Jensen PR, Fenical W (2006) Antimicrobial activities of extracts from tropical Atlantic marine plants against marine pathogens and saprophytes. Mar Biol 149:991–1002

Freile-Pelegrin Y, Robledo D, Chan-Bacab M, Ortega-Morales B (2008) Antileishmanial properties of tropical marine algae extracts. Fitoterapia 79:374–377

Fricke A, Titlyanova T, Nugues M, Bischof K (2011) Depth-related variation in epiphytic communities growing on the brown alga Lobophora variegata in a Caribbean coral reef. Coral Reefs 30:967–973

Gerwick W, Fenical W (1982) Phenolic lipids from related marine algae of the order Dictyotales. Phytochemistry 21:633–637

Goldschmidt BM (1984) Role of aldehydes in carcinogenesis. J Environ Sci Health C 2:231–249

Gosch BJ, Magnusson M, Paul NA, Nys R (2012) Total lipid and fatty acid composition of seaweeds for the selection of species for oil-based biofuel and bioproducts. Gcb Bioenergy 4:919–930

Guiry M, Guiry G (2015) AlgaeBase. World-Wide Electronic Publication, National University of Ireland, Galway

Gutiérrez-Cepeda A, Fernández JJ, Norte M, Montalvão S, Tammela P, Souto ML (2015) Acetate-derived metabolites from the brown alga Lobophora variegata. J Nat Prod 78:1716–1722

Hay M, Steinberg P (1992) The chemical ecology of plant-herbivore interactions in marine versus terrestrial communities. In: Rosenthal GA, Berenbaum MR (eds) Herbivores: their interactions with secondary plant metabolites. Academic, San Diego, California. USA

Hegazi MM (2002) Separation, identification and quantification of photosynthetic pigments from three red sea seaweeds using reversed-phase high-performance liquid chromatography. Egypt J Bio 4:1–6

Holdt SL, Kraan S (2011) Bioactive compounds in seaweed: functional food applications and legislation. J Appl Phycol 23:543–597

Ibañez E, Cifuentes A (2013) Benefits of using algae as natural sources of functional ingredients. J Sci Food Agric 93:703–709

Ito K, Hori K (1989) Seaweed: chemical composition and potential food uses. Food Rev Int 5:101–144

Jiang Q, Christen S, Shigenaga MK, Ames BN (2001) γ-Tocopherol, the major form of vitamin E in the US diet, deserves more attention. Am J Clin Nutr 74:714–722

Kabara JJ, Swieczkowski DM, Conley AJ, Truant JP (1972) Fatty acids and derivatives as antimicrobial agents. Antimicrob Agents Chemother 2:23–28

Kashiwagi M, Mynderse J, Moore R, Norton T (1980) Antineoplastic evaluation of Pacific basin marine algae. J Pharm Sci 69:735–738

Kim S-K, Pangestuti R (2011) Biological activities and potential health benefits of fucoxanthin derived from marine brown algae. Adv Food Nutr Res 64:111

Kremb S, Helfer M, Kraus B, Wolff H, Wild C, Schneider M, Voolstra CR, Brack-Werner R (2014) Aqueous extracts of the marine brown alga Lobophora variegata inhibit HIV-1 infection at the level of virus entry into cells. PLoS ONE 9:e103895

Kubanek J, Jensen PR, Keifer PA, Sullards MC, Collins DO, Fenical W (2003) Seaweed resistance to microbial attack: a targeted chemical defense against marine fungi. Proc Natl Acad Sci USA 100:6916–6921

Kuffner IB, Walters LJ, Becerro MA, Paul VJ, Ritson-Williams R, Beach KS (2006) Inhibition of coral recruitment by macroalgae and cyanobacteria. Mar Ecol Prog Ser 323:107–117

Leikauf GD (1992) Formaldehyde and other aldehydes. In: Lippmann M (ed) Environmental toxicants: human exposures and their health effects. Van Nostrand Reinhold, New York

León-Deniz LV, Dumonteil E, Moo-Puc R, Freile-Pelegrin Y (2009) Antitrypanosomal in vitro activity of tropical marine algae extracts. Pharm Biol 47:864–871

Lima Ainouz I, Holanda Sampaio A, Barros Benevides N, Ponte Freitas A, Costa F, Carvalho M, Pinheiro-Joventino F (1992) Agglutination of enzyme treated erythrocytes by Brazilian marine algal extracts. Bot Mar 35:475–480

Liu M, Hansen PE, Lin X (2011) Bromophenols in marine algae and their bioactivities. Mar Drugs 9:1273–1292

Longo G, Hay M (2014) Does seaweed–coral competition make seaweeds more palatable? Coral Reefs 34:87–96

Manilal A, Sujith S, Sabarathnam B, Kiran GS, Selvin J, Shakir C, Lipton AP (2010a) Antifouling potentials of seaweeds collected from the southwest coast of India. World J Agric Sci 6:243–248

Manilal A, Sujith S, Selvin J, Seghal Kiran G, Shakir C, Premnath Lipton A (2010b) Antimicrobial potential of marine organisms collected from the southwest coast of India against multiresistant human and shrimp pathogens. Sci Mar (Barc) 74:287–296

Manilal A, Selvin J, Thajuddin N, Sujith S, Panikkar M, Idhayadhulla A, Kumar RS (2012) Biopotentials of marine alga, Lobophora variegata collected from the south Indian littoral. Thalassas 28:47–54

Maschek JA, Baker BJ (2008) The chemistry of algal secondary metabolism. In: Amsler CD (ed) Algal chemical ecology. Springer, Berlin

Medeiros V, Queiroz K, Cardoso M, Monteiro G, Oliveira F, Chavante S, Guimaraes L, Rocha H, Leite E (2008) Sulfated galactofucan from Lobophora variegata: anticoagulant and anti-inflammatory properties. Biochemistry (Moscow) 73:1018–1024

Miyake T, Shibamoto T (1995) Quantitative analysis by gas chromatography of volatile carbonyl compounds in cigarette smoke. J Chromatogr 693:376–381

Moo-Puc R, Robledo D, Freile-Pelegrin Y (2008) Evaluation of selected tropical seaweeds for in vitro anti-trichomonal activity. J Ethnopharmacol 120:92–97

Moo-Puc R, Robledo D, Freile-Pelegrín Y (2009) In vitro cytotoxic and antiproliferative activities of marine macroalgae from Yucatán, Mexico Actividad citotóxica y antiproliferativa in vitro de macroalgas marinas de Yucatán, México. Cienc Mar 35:345–358

Morrow K, Paul V, Liles M, Chadwick N (2011) Allelochemicals produced by Caribbean macroalgae and cyanobacteria have species-specific effects on reef coral microorganisms. Coral Reefs 30:309–320

Morrow KM, Ritson-Williams R, Ross C, Liles MR, Paul VJ (2012) Macroalgal extracts induce bacterial assemblage shifts and sublethal tissue stress in Caribbean corals. PLoS ONE 7:e44859

Morse AN, Iwao K, Baba M, Shimoike K, Hayashibara T, Omori M (1996) An ancient chemosensory mechanism brings new life to coral reefs. Biol J Bull 191:149–154

Mota da Silva V, Da Cunha Veloso MC, Teixeira Sousa E, Vieira Santos G, Accioly MC, Afonso De Pereira P, De Andrade JB (2006) Determination of 11 low-molecular-weight carbonyl compounds in marine algae by high-performance liquid chromatography. J Chromatogr Sci 44:233–238

Paiva AAdO, Castro AJ, Nascimento MS, Will LSE, Santos ND, Araújo RM, Xavier CA, Rocha FA, Leite EL (2011) Antioxidant and anti-inflammatory effect of polysaccharides from Lobophora variegata on zymosan-induced arthritis in rats. Int Immunopharmacol 11:1241–1250

Paul VJ, Ritson-Williams R (2008) Marine chemical ecology. Nat Prod Rep 25:662–695

Paul VJ, Puglisi MP, Ritson-Williams R (2006) Marine chemical ecology. Nat Prod Rep 23:153–180

Plaza M, Cifuentes A, Ibáñez E (2008) In the search of new functional food ingredients from algae. Trends Food Sci Technol 19:31–39

Queiroz K, Assis C, Medeiros V, Rocha H, Aoyama H, Ferreira C, Leite E (2006) Cytotoxicity effect of algal polysaccharides on HL60 cells. Biochemistry (Moscow) 71:1312–1315

Queiroz K, Medeiros V, Queiroz L, Abreu L, Rocha H, Ferreira C, Juca M, Aoyama H, Leite E (2008) Inhibition of reverse transcriptase activity of HIV by polysaccharides of brown algae. Biomed Pharmacother 62:303–307

Rao CK, Untawale A (1991) Polyphenols content of Indian seaweeds. Mahasagar 24:99–102

Rasher DB, Hay ME (2010a) Chemically rich seaweeds poison corals when not controlled by herbivores. Proc Natl Acad Sci USA 107:9683–9688

Rasher DB, Hay ME (2010b) Seaweed allelopathy degrades the resilience and function of coral reefs. Commun Integr Biol 3:564–566

Rigotti A (2007) Absorption, transport, and tissue delivery of vitamin E. Mol Asp Med 28:423–436

Rocha FD, Soares AR, Houghton PJ, Pereira RC, Kaplan MAC, Teixeira VL (2007) Potential cytotoxic activity of some Brazilian seaweeds on human melanoma cells. Phytother Res 21:170–175

Ruyter De, van Steveninck E, Breeman A (1987) Deep water populations of Lobophora variegata (Phaeophyceae) on the coral reef of Curaçao: influence of grazing and dispersal on distribution patterns. Mar Ecol Prog Ser 38:241–250

Sathyaseelan T, Murugesan S, Sivamurugan V (2015) Structural identification and antioxidant properties of methanolic extract of brown algae Lobophora variegata (JVF Lamouroux) Womersley ex EC Oliveira. Int J Innov Pharma Biosci Res Technol 2:165–178

Siqueira RC, da Silva MS, de Alencar DB, Pires AdF, de Alencar NM, Pereira MG, Cavada BS, Sampaio AH, Farias WR, Assreuy AMS (2011) In vivo anti-inflammatory effect of a sulfated polysaccharide isolated from the marine brown algae Lobophora variegata. Pharm Biol 49:167–174

Sivakumar S (2014) In vitro activity of seaweed extracts collected from Gulf of Mannar coast islands Tamilnadu on clinical isolates. Int J Pharm Biol Arch 5:99–103

Slattery M, Lesser MP (2014) Allelopathy in the tropical alga Lobophora variegata (Phaeophyceae): mechanistic basis for a phase shift on mesophotic coral reefs? J Phycol 50:493–505

Soares AR, Robaina M, Mendes GS, Silva TS, Gestinari L, Pamplona OS, Yoneshigue-Valentin Y, Kaiser CR, Romanos MTV (2012) Antiviral activity of extracts from Brazilian seaweeds against herpes simplex virus. Rev Bras Farmacogn 22:714–723

Sousa MBd, Pires KMdS, Alencar DBd, Sampaio AH, Saker-Sampaio S (2008) α-and β-carotene, and α-tocopherol in fresh seaweeds. Food Sci Technol (Campinas) 28:953–958

Stern JL, Hagerman AE, Steinberg PD, Mason PK (1996) Phlorotannin–protein interactions. J Chem Ecol 22:1877–1899

Sun Z, Hanyuda T, Lim P-E, Tanaka J, Gurgel CFD, Kawai H (2012) Taxonomic revision of the genus Lobophora (Dictyotales, Phaeophyceae) based on morphological evidence and analyses rbcL and cox3 gene sequences. Phycologia 51:500–512

Targett NM, Arnold TM (1998) Minireview—predicting the effects of brown algal phlorotannins on marine herbivores in tropical and temperate oceans. J Phycol 34:195–205

Thennarasan S (2015) Biochecmial composition of marine brown alga Lobophora variegata from Mandapam in the South East Coast of Tamil Nadu. Int J Pharm Pharm Sci 5:25–29

Thrasher JD, Kilburn KH (2001) Embryo toxicity and teratogenicity of formaldehyde. Arch Environ Health Int J 56:300–311

Val A, Platas G, Basilio A, Cabello A, Gorrochategui J, Suay I, Vicente F, Portillo E, Río M, Reina G (2001) Screening of antimicrobial activities in red, green and brown macroalgae from Gran Canaria (Canary Islands, Spain). Int Microbiol 4:35–40

Vallim MA, De Paula JC, Pereira RC, Teixeira VL (2005) The diterpenes from Dictyotacean marine brown algae in the Tropical Atlantic American region. Biochem Syst Ecol 33:1–16

Vieira C (2015) Lobophora biotic interactions and diversification. Ph.D. thesis, Université Pierre et Marie Curie, France

Vieira C, D'hondt S, De Clerck O, Payri CE (2014) Toward an inordinate fondness for stars, beetles and Lobophora? Species diversity of the genus Lobophora (Dictyotales, Phaeophyceae) in New Caledonia. J Phycol 50:1101–1119

Vieira C, Payri C, De Clerck O (2015) Overgrowth and killing of corals by the brown alga Lobophora hederacea (Dictyotales, Phaeophyceae) on healthy reefs in New Caledonia: a new case of the epizoism syndrome. Phycol Res 63:152–153

Vieira C, Thomas OP, Culioli G, Houlbreque F, De Clerck O, Payri C (Manuscript submitted) Allelopathic interactions between the brown algal genus Lobophora (Dictyotales, Phaeophyceae) and scleractinian corals. Sci Rep

Wang H, Chiu L, Ooi VE, Ang PO (2008a) Seaweed polysaccharides with anticancer potential. Bot Mar 51:313–319

Wang H, Ooi EV, Ang PO Jr (2008b) Antiviral activities of extracts from Hong Kong seaweeds. J Zhejiang Univ Sci A 9:969–976

Weidner K, Lages BG, da Gama BA, Molis M, Wahl M, Pereira RC (2004) Effects of mesograzer and nutrient levels on the induction of defenses in several Brazilian macroalgae. Mar Ecol Prog Ser 283:113–125

Zaneveld JS (1959) The utilization of marine algae in tropical South and East Asia. Econ Bot 13:89–131

Zubia M, Robledo D, Freile-Pelegrin Y (2007) Antioxidant activities in tropical marine macroalgae from the Yucatan Peninsula, Mexico. J Appl Phycol 19:449–458
Ethics declarations
Conflict of interest
The authors state no conflict of interest and have received no payment for the preparation of this manuscript.
About this article
Cite this article
Vieira, C., Gaubert, J., De Clerck, O. et al. Biological activities associated to the chemodiversity of the brown algae belonging to genus Lobophora (Dictyotales, Phaeophyceae). Phytochem Rev 16, 1–17 (2017). https://doi.org/10.1007/s11101-015-9445-x
Received:

Accepted:

Published:

Issue Date:
Keywords
Bioactivity

Brown algae

Lobophora

Natural products