Abstract
Aloe barbadensis Miller is a plant that is native to North and East Africa and has accompanied man for over 5,000 years. The aloe vera plant has been endowed with digestive, dermatological, culinary and cosmetic virtues. On this basis, aloe provides a range of possibilities for fascinating studies from several points of view, including the analysis of chemical composition, the biochemistry involved in various activities and its application in pharmacology, as well as from horticultural and economic standpoints. The use of aloe vera as a medicinal plant is mentioned in numerous ancient texts such as the Bible. This multitude of medicinal uses has been described and discussed for centuries, thus transforming this miracle plant into reality. A summary of the historical uses, chemical composition and biological activities of this species is presented in this review. The latest clinical studies involved in vivo and in vitro assays conducted with aloe vera gel or its metabolites and the results of these studies are reviewed.
Access options
Buy single article
Instant access to the full article PDF.
US$ 39.95
Tax calculation will be finalised during checkout.
Subscribe to journal
Immediate online access to all issues from 2019. Subscription will auto renew annually.
US$ 79
Tax calculation will be finalised during checkout.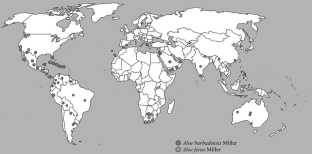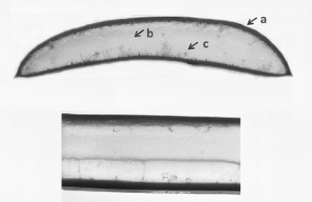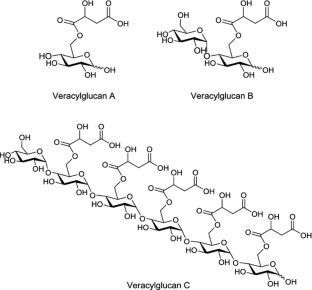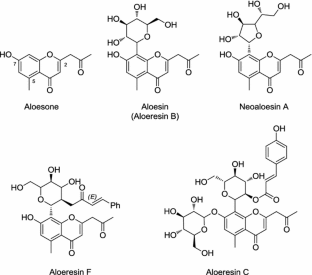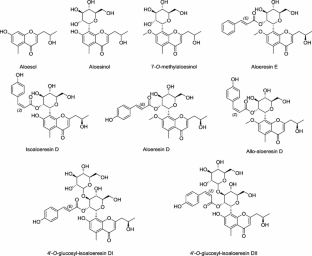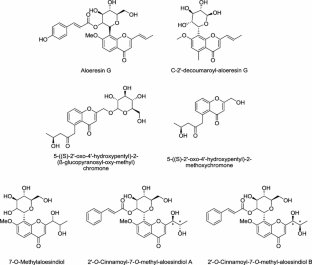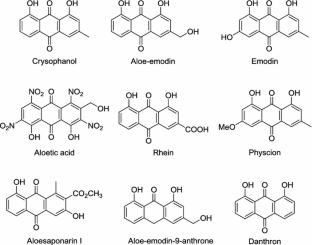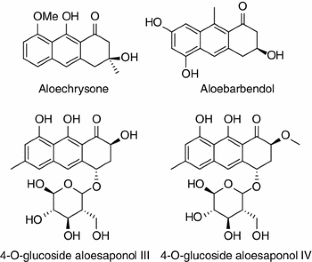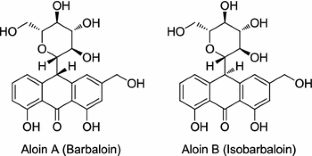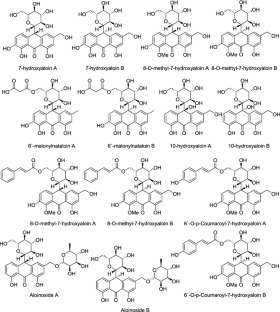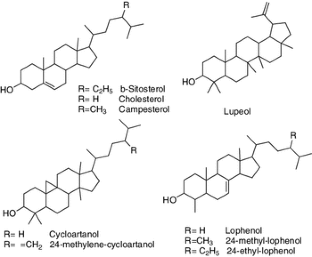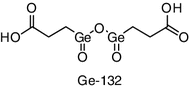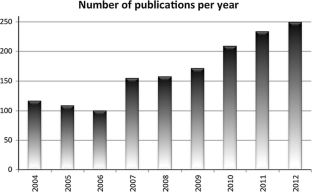 References
Acevedo-Duncan M, Russell C, Patel S, Patel R (2004) Aloe-emodin modulates PKC isozymes, inhibits proliferation, and induces apoptosis in U-373MG glioma cells. Int Immunopharmacol 4:1775–1784

Adler H, Frech B, Thoeny M, Pfister H, Peterhans E, Jungi TW (1995) Inducible nitric oxide synthase in cattle. Differential cytokine regulation of nitric oxide synthase in bovine and murine macrophages. J Immunol 154:4710–4718

Ahmed MJ, Singh Z, Khan AS (2009) Postharvest Aloe vera gel-coating modulates fruit ripening and quality of 'Arctic snow' nectarine kept in ambient and cold storage. Int J Food Sci Technol 44:1024–1033

Alberti KGMM, Zimmet P, Shaw J (2005) The metabolic syndrome—a new worldwide definition. Lancet 366:1059–1062

Arunkumar S, Muthuselvam M (2009) Analysis of phytochemical constituents and antimicrobial activities of Aloe vera L. against clinical pathogens. World J Agric Sci 5:572–576

Ashafa AT, Abass A A, Sunmonu TO, Ogbe A A (2011) Laxative potential of the ethanolic leaf extract of Aloe vera (L.) Burm. f. in Wistar rats with loperamide-induced constipation. J Nat Pharm 2:158

Ashnagar A, Naseri NG, Heidarzadeh A (2006) Isolation and identification of the major chemical compounds found in the extracts of the leaves of Aloe vera plant. Int J Chem Sci 4:1025–1030

Bassetti A, Sala S (2001) El gran libro del Aloe. Ediciones Zuccari, Trento

Benítez S, Achaerandio I, Sepulcre F, Pujolà M (2013) Aloe vera based edible coatings improve the quality of minimally processed 'Hayward' kiwifruit. Postharvest Biol Technol 81:29–36

Bezakova L, Oblozinsky M, Sykorova M, Paulikova I, Kostalova D (2005) Antilipoxygenase activity and the trace elements content of Aloe vera in relation to the therapeutical effect. Ceska Slov Farm 54:43–46

Boudreau MD, Beland FA (2006) An evaluation of the biological and toxicological properties of Aloe barbadensis (Miller) aloe vera. J Environ Sci Health C Environ Carcinog Ecotoxicol Rev 24:103–154

Bowden RA (1995) The effect of a mannose-rich extract on integrin expression on vascular endothelial cells. Texas A&M University, Houston

Capasso F, Mascolo N, Autore G, Duraccio MR (1983) Effect of indomethacin on aloin and 1,8 dioxianthraquinone-induced production of prostaglandins in rat isolated colon. Prostaglandins 26:557–562

Carter S (1994) Aloaceae. In: Polhill RM (ed). Balkema, Rotterdam

Chithra P, Sajithlal GB, Chandrakasan G (1998) Influence of aloe vera on the healing of dermal wounds in diabetic rats. J Ethnopharmacol 59:195–201

Choi J-S, Lee S-K, Sung C-K, Jung J-H (1996) Phytochemical study on Aloe vera. Arch Pharmacal Res 19:163–167

Chow JT-N, Williamson DA, Yates KM, Goux WJ (2005) Chemical characterization of the immunomodulating polysaccharide of Aloe vera L. Carbohydr Res 340:1131–1142

Conner JM, Gray AI, Waterman PG, Reynolds T (1990) Novel anthrone-anthraquinone dimers from Aloe elgonica. J Nat Prod 53:1362–1364

Dang KTH, Singh Z, Swinny EE (2008) Edible coatings influence fruit ripening, quality, and aroma biosynthesis in mango fruit. J Agric Food Chem 56:1361–1370

Davis RH, Maro NP (1989) Aloe vera and gibberellin. Anti-inflammatory activity in diabetes. J Am Podiatr Med Assoc 79:24–26

Davis RH, Leitner MG, Russo JM, Byrne ME (1989) Anti-inflammatory activity of Aloe vera against a spectrum of irritants. J Am Podiatr Med Assoc 79:263–276

DiscoverLife (2013) http://www.discoverlife.org/. August 2013

El-Shemy HA, Aboul-Soud MAM, Nassr-Allah AA, Aboul-Enein KM, Kabash A, Yagi A (2010) Antitumor properties and modulation of antioxidant enzymes activity by Aloe vera leaf active principles isolated via supercritical carbon dioxide extraction. Curr Med Chem 17:129–138

Evans WC (1989) Trease and Evans' pharmacology. 13th edn/ed., Boilliere Tindall, London

Fanali S, Aturki Z, D'Orazio G, Rocco A, Ferranti A, Mercolini L, Raggi MA (2010) Analysis of Aloe-based phytotherapeutic products by using nano-LC-MS. J Sep Sci 33:2663–2670

Farahnejad Z, Ghazanfari T, Yaraee R (2011) Immunomodulatory effects of Aloe vera and its fractions on response of macrophages against Candida albicans. Immunopharmacol Immunotoxicol 33:676–681

Femenia A, Sanchez ES, Simal S, Rossello C (1999) Compositional features of polysaccharides from Aloe vera (Aloe barbadensis Miller) plant tissues. Carbohydr Polym 39:109–117

Fugh-Berman A (2000) Herbs and dietary supplements in the prevention and treatment of cardiovascular disease. Prev Cardiol 3:24–32

Garber G (2001) An overview of fungal infections. Drugs 61(Suppl 1):1–12

Gowda DC, Neelisiddaiah B, Anjaneyalu YV (1979) Structural studies of Polysaccharides from Aloe-vera. Carbohydr Res 72:201–205

Grieve M (1998) A modern herbal. Tiger Books International, London

Grindlay D, Reynolds T (1986a) The Aloe-vera phenomenon—a review of the properties and modern uses of the leaf parenchyma gel. J Ethnopharmacol 16:117–151

Grindlay D, Reynolds T (1986b) The Aloe vera phenomenon: a review of the properties and modern uses of the leaf parenchyma gel. J Ethnopharmacol 16:117–151

Habeeb F, Shakir E, Bradbury F, Cameron P, Taravati MR, Drummond AJ, Gray AI, Ferro VA (2007) Screening methods used to determine the anti-microbial properties of Aloe vera inner gel. Methods (Oxford, UK) 42:315–320

Haffner SM (2006) The metabolic syndrome: inflammation, diabetes mellitus, and cardiovascular disease. Am J Cardiol 97:3A–11A

Hamman JH (2008) Composition and applications of Aloe vera leaf gel. Molecules 13:1599–1616

Harlev E, Nevo E, Lansky EP, Ofir R, Bishayee A (2012) Anticancer potential of aloes: antioxidant, antiproliferative, and immunostimulatory attributes. Planta Med 78:843–852

Harris C, Pierce K, King G, Yates KM, Hall J, Tizard I (1991) Efficacy of acemannan in treatment of canine and feline spontaneous neoplasms. Mol Biother 3:207–213

Haynes LJ, Holdsworth DK, Russell R (1970) C-glycosyl compounds. Part VI. Aloesin, a C-glucosylchromone from Aloe sp. J Chem Soc C Org 18:2581–2586

Holdsworth DK (1972) Chromones in aloe species. II. Aloesone. Planta Med. 22:54–58

Hranisavljevic-Jakovljevic M, Miljkovic-Stojanovic J (1981) Structural study of an acidic polysaccharide isolated from Aloe arborescens Mill. I. Periodate oxidation and partial acid hydrolysis. Glas Hem Drus Beogr 46:269–273

Hsu S-C, Chung J-G (2012) Anticancer potential of emodin. BioMedicine (Taipei, Taiwan) 2:108–116

Ian T, Yawei N (2004) Aloe polysaccharides. In: Reynolds T (ed) Aloes the genus Aloe. CRC Press, Bocaraton, FL, pp 75–87

Im S-A, Oh S-T, Song S, Kim M-R, Kim D-S, Woo S-S, Jo TH, Park YI, Lee C-K (2005) Identification of optimal molecular size of modified Aloe polysaccharides with maximum immunomodulatory activity. Int Immunopharmacol 5:271–279

Ishi Y, Tanizawa H, Takino Y (1990) Studies of aloe. III. Mechanism of cathartic effect. (2). Chem Pharm Bull 38:197–200

Khoshgozaran-Abras S, Azizi MH, Hamidy Z, Bagheripoor-Fallah N (2012) Mechanical, physicochemical and color properties of chitosan based-films as a function of Aloe vera gel incorporation. Carbohydr Polym 87:2058–2062

Kim I, Kwon H (2006) Induction of apoptosis by Aloe vera extract in human hepatocellular carcinoma HepG2 cells. J Toxicol Public Health 22:329–332

Kinoshita K, Koyama K, Takahashi K, Noguchi Y, Amano M (1996) Steroid glucosides from Aloe barbadensis. J Jpn Botany 71:83–86

Kwon KH, Hong MK, Hwang SY, Moon BY, Shin S, Baek JH, Park YH (2011) Antimicrobial and immunomodulatory effects of Aloe vera peel extract. J Med Plants Res 5:5384–5392

Lawrence R, Tripathi P, Jeyakumar E (2009) Isolation, purification and evaluation of antibacterial agents from Aloe vera. Braz J Microbiol 40:906–915

Lee S, Do S-G, Kim SY, Kim J, Jin Y, Lee CH (2012) Mass spectrometry-based metabolite profiling and antioxidant activity of Aloe vera (Aloe barbadensis Miller) in different growth stages. J Agric Food Chem 60:11222–11228

Lin K-Y, Uen Y-H (2010) Aloe-emodin, an anthraquinone, in vitro inhibits proliferation and induces apoptosis in human colon carcinoma cells. Oncol Lett 1:541–547

Lopez A, de Tangil MS, Vega-Orellana O, Ramirez AS, Rico M (2013) Phenolic constituents, antioxidant and preliminary antimycoplasmic activities of leaf skin and flowers of Aloe vera (L.) Burm. f. (syn. A. barbadensis Mill.) from the Canary Islands (Spain). Molecules 18:4942–4954

Lopez-Jornet P, Camacho-Alonso F, Molino-Pagan D (2013) Prospective, randomized, double-blind, clinical evaluation of Aloe vera Barbadensis, applied in combination with a tongue protector to treat burning mouth syndrome. J Oral Pathol Med 42:295–301

Low DT (2006) A reason to season: the therapeutic benefits of spices and culinary herbs. Explore (NY) 2:446–449

Lv L, Yang Q-Y, Zhao Y, Yao C-S, Sun Y, Yang E-J, Song K-S, Mook-Jung I, Fang W-S (2008) BACE1 (β-secretase) inhibitory chromone glycosides from Aloe vera and Aloe nobilis. Planta Med 74:540–545

Mabusela WT, Stephen AM, Botha MC (1990) Carbohydrate polymers from Aloe ferox leaves. Phytochemistry 29:3555–3558

Maithani A, Parcha V, Pant G, Dhulia I, Kumar D (2011) Studies on phytochemical screening and hypoglycemic evaluation of Aloe vera leave extracts on alloxan induced diabetic rats. Int J Res Phytochem Pharmacol 1:207–210

Mandal G, Das A (1980a) Characterization of the polysaccharides of Aloe barbadensis Miller. Part II. Structure of the glucomannan isolated from the leaves of Aloe barbadensis Miller. Carbohydr Res 87:249–256

Mandal G, Das A (1980b) Characterization of the polysaccharides of Aloe barbadensis. Part I. Structure of the d-galactan isolated from Aloe barbadensis Miller. Carbohydr Res 86:247–257

Manna S, McAnalley BH (1993) Determination of the position of the O-acetyl group in a beta-(1 → 4)-mannan (acemannan) from Aloe barbardensis Miller. Carbohydr Res 241:317–319

Marpudi SL, Abirami LSS, Pushkala R, Srividya N (2011) Enhancement of storage life and quality maintenance of papaya fruits using Aloe vera based antimicrobial coating. Indian J Biotechnol 10:83–89

McMahon M, Regan F, Hughes H (2006) The determination of total germanium in real food samples including Chinese herbal remedies using graphite furnace atomic absorption spectroscopy. Food Chem 97:411–417

Meng I, Yang BZ, Hu G, Lu Y, Liu Y (2004) Determination of components of anthraquinones in Aloe vera. Beijing Huagong Daxue Xuebao Ziran Kexueban 31:70–73

Misawa E, Tanaka M, Nomaguchi K, Nabeshima K, Yamada M, Toida T, Iwatsuki K (2012) Oral ingestion of Aloe vera phytosterols alters hepatic gene expression profiles and ameliorates obesity-associated metabolic disorders in zucker diabetic fatty rats. J Agric Food Chem 60:2799–2806

Moniruzzaman M, Rokeya B, Ahmed S, Bhowmik A, Khalil MI, Gan SH (2012) In vitro antioxidant effects of Aloe barbadensis Miller extracts and the potential role of these extracts as antidiabetic and antilipidemic agents on streptozotocin-induced type 2 diabetic model rats. Molecules 17:12851–12867

Newton LE (2001) Aloe. In: Eggli U (ed) Illustrated handbook of succulent plants: monocotyledons. Springer, Berlin

Ni Y, Turner D, Yates KM, Tizard I (2004) Isolation and characterization of structural components of Aloe vera L. leaf pulp. Int Immunopharmacol 4:1745–1755

Niciforovic A, Adzic M, Zaric B, Radojcic MB (2007) Adjuvant antiproliferative and cytotoxic effect of aloin in irradiated HeLaS3 cells. Russ J Phys Chem A 81:1463–1466

Okamura N, Hine N, Harada S, Fujioka T, Mihashi K, Yagi A (1996) Three chromone components from Aloe vera leaves. Phytochemistry 43:495–498

Okamura N, Hine N, Harada S, Fujioka T, Mihashi K, Nishi M, Miyahara K, Yagi A (1997a) Diastereomeric C-glucosylanthrones of Aloe vera leaves. Phytochemistry 45:1519–1522

Okamura N, Hine N, Tateyama Y, Nakazawa M, Fujioka T, Mirmhi K, Yagi A (1997b) Three chromones of Aloe vera leaves. Phytochemistry 45:1511–1513

Okamura N, Hine N, Tateyama Y, Nakazawa M, Fujioka T, Mihashi K, Yagi A (1998) Five chromones from Aloe Vera leaves. Phytochemistry 49:219–223

Ovodova RG, Lapchik VF, Ovodov YS (1975) Polysaccharides of Aloe arborescens. Khim Prir Soedin 11:3–5

Pandey R, Mishra A (2010) Antibacterial activities of crude extract of Aloe barbadensis to clinically isolated bacterial pathogens. Appl Biochem Biotechnol 160:1356–1361

Park MK, Park JH, Shin YG, Kim WY, Lee JH, Kim KH (1996) Neoaloesin A. A new C-glucofuranosyl chromone from Aloe barbadensis. Planta Med 62:363–365

Park MK, Park JH, Kim NY, Shin YG, Choi YS, Lee JG, Kim KH, Lee SK (1998) Analysis of 13 phenolic compounds in Aloe species by high performance liquid chromatography. Phytochem Anal 9:186–191

Patel DK, Patel K, Tahilyani V (2012) Barbaloin: a concise report of its pharmacological and analytical aspects. Asian Pac J Trop Biomed 2:835–838

Paulsen BS, Fagerheim E, Oeverbye E (1978) Structural studies of the polysaccharide from Aloe plicatilis Miller. Carbohydr Res 60:345–351

Pecere T, Gazzola MV, Mucignat C, Parolin C, Dalla VF, Cavaggioni A, Basso G, Diaspro A, Salvato B, Carli M, Palu G (2000) Aloe-emodin is a new type of anticancer agent with selective activity against neuroectodermal tumors. Cancer Res 60:2800–2804

Pugh N, Ross SA, ElSohly MA, Pasco DS (2001) Characterization of Aloeride, a new high-molecular-weight polysaccharide from Aloe vera with potent immunostimulatory activity. J Agric Food Chem 49:1030–1034

Pulse TL, Uhlig E (1990) A significant improvement in a clinical pilot study utilizing nutritional supplements, essential fatty acids and stabilized aloe vera juice in 29 HIV seropositive, ARC and AIDS patients. J Adv Med 3:209–230

Radjabi-Nassab F, Ramiliarison C, Monneret C, Vilkas E (1984) Further studies of the glucomannan from Aloe vahombe (liliaceae). II. Partial hydrolyses and NMR carbon-13 studies. Biochimie 66:563–567

Ramachandra CT, Srinivasa Rao P (2008) Processing of Aloe vera leaf gel: a review. Am J Agric Biol Sci 3:502–510

Rauwald HW (1990) Naturally occurring quinones and their related reduction forms: analysis and analytical methods. PZ Wiss 3:169–181

Rauwald HW, Niyonzima DD (1991) Free and cinnamoylated 8-O-methyl-7-hydroxyaloins from Aloe barbadensis: isolation, structure, and configurational determination of the diastereoisomers. Planta Med 57:A129. doi:10.1055/s-2006-960426

Reynolds GW (1966) The aloes of tropical Africa and Madagascar. Aloes Book Fund, Mbabane

Reynolds T (1985) Observations on the phytochemistry of the Aloë leaf-exudate compounds. Bot J Linn Soc 90:179–199

Reynolds T (2004) Aloes: the genus Aloe. Medicinal and aromatic plants-industrial profiles. CPR Press, Boca Raton, FL

Reynolds T, Dweck AC (1999) Aloe vera leaf gel: a review update. J Ethnopharmacol 68:3–37

Robson MC, Heggers JP, Hagstrom WJ Jr (1982) Myth, magic, witchcraft, or fact? Aloe vera revisited. J Burn Care Rehabil 3:157–163

Rowe TD, Parks LM (1941) A phytochemical study of Aloe vera leaf. J Am Pharm Assoc (1912–1977) 30:262–266

Saccu D, Bogoni P, Procida G (2001) Aloe exudate: characterization by reversed phase HPLC and headspace GC-MS. J Agric Food Chem 49:4526–4530

Saleem R, Faizi S, Deeba F, Siddiqui BS, Qazi MH (1997) A new bisbenzopyran from Aloe barbadensis roots. Planta Med 63:454–456

Saleen R, Faizi S, Deeba F, Siddiqui BS, Qazi MH (1997) Anthrones from Aloe barbadensis. Phytochemistry 45:1279–1282

Scala A, Checchi L, Montevecchi M, Marini I, Giamberardino MA (2003) Update on burning mouth syndrome: overview and patient management. Crit Rev Oral Biol Med 14:275–291

Schweizer M (1994) Aloe vera. La planta que cura. APB, Paris

Scopus (2013) http://www.scopus.com/. August 2013

Segal A, Taylor JA, Eoff JC (1968) A re-investigation of the polysaccharide material from Aloe vera mucilage. Lloydia 31:423

Serrano M, Valverde JM, Guillen F, Castillo S, Martinez-Romero D, Valero D (2006) Use of Aloe vera gel coating preserves the functional properties of table grapes. J Agric Food Chem 54:3882–3886

Sigler A, Rauwald HW (1994) First proof of anthrone aglycons and diastereomeric anthrone-C-glycosyls in flowers and bracts of Aloe species. Biochem Syst Ecol 22:287–290

Silva SS, Popa EG, Gomes ME, Cerqueira M, Marques AP, Caridade SG, Teixeira P, Sousa C, Mano JF, Reis RL (2013) An investigation of the potential application of chitosan/aloe-based membranes for regenerative medicine. Acta Biomater 9:6790–6797

Song H-Y, Jo W-S, Song N-B, Min SC, Song KB (2013) Quality change of apple slices coated with Aloe vera gel during storage. J Food Sci 78(6):C817–C822

Speranza G, Manitto P, Cassara P, Monti D (1993) Feralolide, a dihydroisocoumarin from Cape aloe. Phytochemistry 33:175–178

Steenkamp V, Stewart MJ (2007) Medicinal applications and toxicological activities of Aloe. Products. Pharm Biol 45:411–420

Swanson LN (1995) Therapeutic value of aloe vera. US Pharmacy 20:26–35

Tan Z, Li F, Xu X (2012) Isolation and purification of aloe anthraquinones based on an ionic liquid/salt aqueous two-phase system. Sep Purif Technol 98:150–157

Tanaka M, Misawa E, Ito Y, Habara N, Nomaguchi K, Yamada M, Toida T, Hayasawa H, Takase M, Inagaki M, Higuchi R (2006) Identification of five phytosterols from Aloe vera gel as anti-diabetic compounds. Biol Pharm Bull 29:1418–1422

Tapsell LC, Hemphill I, Cobiac L, Patch CS, Sullivan DR, Fenech M, Roodenrys S, Keogh JB, Clifton PM, Williams PG, Fazio VA, Inge KE (2006) Health benefits of herbs and spices: the past, the present, the future. Med J Aust 185:S4–S24

Tarameshloo M, Norouzian M, Zarein-Dolab S, Dadpay M, Gazor R (2012a) A comparative study of the effects of topical application of Aloe vera, thyroid hormone and silver sulfadiazine on skin wounds in Wistar rats. Lab Anim Res 28:17–21

Tarameshloo M, Norouzian M, Zarein-Dolab S, Dadpay M, Mohsenifar J, Gazor R (2012b) Aloe vera gel and thyroid hormone cream may improve wound healing in Wistar rats. Anat Cell Biol 45:170–177

'T Hart LA, van den Berg AJ, Kuis L, van Dijk H, Labadie RP (1989) An anti-complementary polysaccharide with immunological adjuvant activity from the leaf parenchyma gel of Aloe vera. Planta Med 55:509–512

'T Hart LA, Nibbering PH, van den Berselaar MT, van Dijk H, van den Berg AJ, Labadie RP (1990) Effects of low molecular constituents from Aloe vera gel on oxidative metabolism and cytotoxic and bactericidal activities of human neutrophils. Int J Immunopharmacol 12:427–434

Tizard IR, Ramamoorthy L (2004) Aloes and the immune system. In: Tom Reynolds (ed) Medicinal aromatic plants—industrial profiles, vol. 38. CRC Press, Boca Raton, pp 311–332

Tundis R, Loizzo MR, Menichini F (2010) Natural products as α-amylase and α-glucosidase inhibitors and their hypoglycaemic potential in the treatment of diabetes: an update. Mini Rev Med Chem 10:315–331

Valverde JM, Valero D, Martinez-Romero D, Guillen F, Castillo S, Serrano M (2005) Novel edible coating based on Aloe vera gel to maintain table grape quality and safety. J Agric Food Chem 53:7807–7813

Vanitha M, Suja Pandian R, Karthikeyan J (2013) Evaluation of aloevera gel for its anti inflammatory activity in diabetes mellitus using animal model system. Int J Drug Dev Res 5:305–309

Vazquez B, Avila G, Segura D, Escalante B (1996) Antiinflammatory activity of extracts from Aloe vera gel. J Ethnopharmacol 55:69–75

Viljoen AM, van Wyk B-E, van Heerden FR (2002) The chemotaxonomic value of the diglucoside anthrone homonataloside B in the genus Aloe. Biochem Syst Ecol 30:35–43

Vilkas E, Radjabi-Nassab F (1986) The glucomannan system from Aloe vahombe (liliaceae). III. Comparative studies on the glucomannan components isolated from the leaves. Biochimie 68:1123–1127

Vinson JA, Al Kharrat H, Andreoli L (2005) Effect of Aloe vera preparations on the human bioavailability of vitamins C and E. Phytomedicine 12:760–765

Vogler BK, Ernst E (1999) Aloe vera: a systematic review of its clinical effectiveness. Br J Gen Pract 49:823–828

Waller GR, Mangiafico S, Ritchey CR (1978) A chemical investigation of Aloe barbadensis Miller. Proc Okla Acad Sci 58:69–76

Wozniewski T, Blaschek W, Franz G (1990) Isolation and structure analysis of a glucomannan from the leaves of Aloe arborescens var. Miller. Carbohydr Res 198:387–391

Wu X, Yin S, Zhong J, Ding W, Wan J, Xie Z (2012) Mushroom tyrosinase inhibitors from Aloe barbadensis Miller. Fitoterapia 83:1706–1711

Wu X, Ding W, Zhong J, Wan J, Xie Z (2013) Simultaneous qualitative and quantitative determination of phenolic compounds in Aloe barbadensis Mill by liquid chromatography–mass spectrometry–ion trap-time-of-flight and high performance liquid chromatography–diode array detector. J Pharm Biomed Anal 80:94–106

Xiao Z, Chen D, Si J, Tu G, Ma L (2000) Chemical constituents of Aloe vera. Yaoxue Xuebao 35:120–123

Yagi A, Makino K, Nishioka I, Kuchino Y (1977) Aloe-mannan, polysaccharide, from Aloe arborescens var natalensis. Planta Med 31:17–20

Yagi A, Hamada K, Mihashi K, Harada N, Nishioka I (1984) Structure determination of polysaccharides in Aloe saponaria (Hill.) Haw. (Liliaceae). J Pharm Sci 73:62–65

Yagi A, Nishimura H, Shida T, Nishioka I (1986) Structure determination of polysaccharides in Aloe arborescens var natalensis. Planta Med 3:213–218

Yagi A, Hine N, Asai M, Nakazawa M, Tateyama Y, Okamura N, Fujioka T, Mihashi K, Shimomura K (1998) Tetrahydroanthracene glucosides in callus tissue from Aloe barbadensis leaves. Phytochemistry 47:1267–1270

Yamaguchi I, Mega N, Sanada H (1993) Components of the gel of Aloe vera (L.) Burm. f. Biosci Biotechnol Biochem 57:1350–1352

Yang Q-Y, Yao C-S, Fang W-S (2010) A new triglucosylated naphthalene glycoside from Aloe vera L. Fitoterapia 81:59–62

Yau Y-h, Ho K-c, Xu J-l, Leung K-l, Leung Y-h (2011) Evaluation of two house plants for indoor air purification. Chengshi Huanjing Yu Chengshi Shengtai 24:1–4

Yeh GY, Eisenberg DM, Kaptchuk TJ, Phillips RS (2003) Systematic review of herbs and dietary supplements for glycemic control in diabetes. Diabetes Care 26:1277–1294

Zhang L, Tizard IR (1996) Activation of a mouse macrophage cell line by acemannan: the major carbohydrate fraction from Aloe vera gel. Immunopharmacology 35:119–128
Acknowledgments
This work was supported by the Consejería de Innovación, Ciencia y Empresa, Junta de Andalucía (Project P10-AGR5822).
About this article
Cite this article
Chinchilla, N., Carrera, C., Durán, A.G. et al. Aloe barbadensis: how a miraculous plant becomes reality. Phytochem Rev 12, 581–602 (2013). https://doi.org/10.1007/s11101-013-9323-3
Received:

Accepted:

Published:

Issue Date:
Keywords
Aloe vera

Phytochemistry

Acemannan

Bioactivity