Abstract
The introduction of high throughput screening in the 1990s aimed to shorten the drugs discovery route. To fully use its high potential, this technology requires a large number of compounds to screen. Thus, increasing the number of chemicals for initial screening is high on the agenda of pharmaceutical companies. High throughput synthesis and combinatorial chemistry were developed to address this demand. However, these technologies cannot fulfill the expectation to increase new lead compounds. One of the reasons is that the obtained compounds lack relevant chemical diversity. On the other hand, it is well known that an enormous molecular diversity and biological functionality are two important features which distinguish plant extracts as a drug source from synthetic chemicals, although a natural products-based drug discovery project also poses some challenges, mostly connected with the presence of an active compound in a complex matrix with all kind of compounds. An elaborative purification to isolate and identify active compounds is thus needed. The possibility of antagonism or synergism between metabolites present in the extracts, and the fact that some common plant products have been found to be active in a number of test systems even make lead finding projects from natural sources become complicated. This review summarizes recent studies reporting metabolomics based techniques to uncover activity related compounds in complex plant matrices.
Access options
Buy single article
Instant access to the full article PDF.
USD 39.95
Price excludes VAT (USA)
Tax calculation will be finalised during checkout.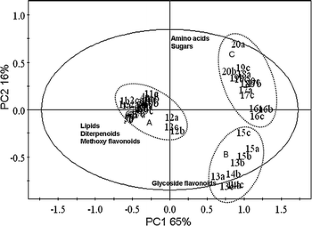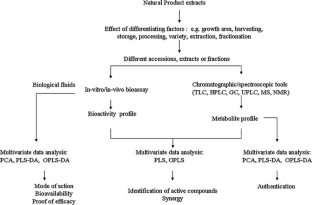 References
Badjakov I, Nikolova M, Gevrenova R, Kondakova V, Todorovska E, Atanassov A (2008) Bioactive compounds in small fruits and their influence on human health. Biotechnol Biotechnol Eq 22:581–587

Biao-Yi Z, Yu Y, Zeng-Liang Y (2008) Investigation of antimicrobial model of Hemsleya pengxianensis W.J. Chang and its main active component by metabolomics technique. J Ethnopharmacol 116:89–95

Cardoso-Taketa AT, Pereda-Miranda R, Choi YH, Verpoorte R, Villarreal ML (2008) Metabolic profiling of the Mexican anxiolytic and sedative plant Galphimia glauca using Nuclear Magnetic Resonance spectroscopy and Multivariate Data Analysis. Planta Med 74:1295–1301

Chang W-T, Choi YH, Van der Heijden R, Lee M-S, Lin M-K, Kong H, Kim HK, Verpoorte R, Hankemeier T, Van der Greef J, Wang M (2011) Traditional processing strongly affects metabolite composition by hydrolysis in Rehmannia glutinosa roots. Chem Pharm Bull 59:546–552

Cheng X-L, Liu Q, Peng Y-B, Qi L-W, Li P (2011) Steamed ginger (Zingiber officinale): changed chemical profile and increased anticancer potential. Food Chem 129:1785–1792

Ching J, Soh W-L, Tan C-H, Lee J-F, Tan J-YC, Yang J, Yap C-W, Koh H-L (2012) Identification of active compounds from medicinal plant extracts using gas chromatography-mass spectrometry and multivariate data analysis. J Sep Sci 35:53–59

Choi M-Y, Chai C, Park JH, Lim J, Lee J, Kwon SW (2011) Effects of storage period and heat treatment on phenolic compound composition in dried Citrus peels (Chenpi) and discrimination of Chenpi with different storage periods through targeted metabolomic study using HPLC–DAD analysis. J Pharm Biomed Anal 54:638–645

Colquhoun IJ (2007) Use of NMR for metabolic profiling in plant systems. J Pestic Sci 32:200–212

Dai Y, Li Z, Xue L, Dou C, Zhou Y, Zhang L, Qin X (2010) Metabolomics study on the anti-depression effect of xiaoyaosan on rat model of chronic unpredictable mild stress. J Ethnopharmacol 128:482–489

Dai W, Wei C, Kong H, Jia Z, Han J, Zhang F, Wu Z, Gu Y, Chen S, Gu Q, Lu X, Wu Y, Xu G (2011) Effect of the traditional Chinese medicine tongxinluo on endothelial dysfunction rats studied by using urinary metabonomics based on liquid chromatography-mass spectrometry. J Pharm Biomed Anal 56:86–92

Feher M, Schmidt JM (2003) Property distributions: differences between drugs, natural products, and molecules from combinatorial chemistry. J Chem Inf Comput Sci 43:218–227

Gu Y, Zhang Y, Shi X, Li X, Hong J, Chen J, Gu W, Lu X, Xu G, Ning G (2010) Effect of traditional Chinese medicine berberine on type 2 diabetes based on comprehensive metabonomics. Talanta 81:766–772

Han J, Datla R, Chan S, Borchers CH (2009) Mass spectrometry-based technologies for high-throughput metabolomics. Bioanalysis 1:1665–1684

Henkel T, Brunne RM, Müller H, Reichel F (1999) Statistical investigation into the structural complementarity of natural products and synthetic compounds. Angew Chem Int Ed 38:643–647

Hillwig ML, Hammer KDP, Birt DF, Wurtele ES (2008) Characterizing the metabolic fingerprint and anti-inflammatory activity of Hypericum gentianoides. J Agric Food Chem 56:4359–4366

Hou CC, Chen CH, Yang NS, Chen YP, Lo CP, Wang SY, Tien YJ, Tsai PW, Shyur LF (2010) Comparative metabolomics approach coupled with cell- and gene-based assays for species classification and anti-inflammatory bioactivity validation of Echinacea plants. J Nutr Biochem 21:1045–1059

Ingkaninan K, Hazekamp A, de Best CM, Irth H, Tjaden UR, van der Heijden R, van der Greef J, Verpoorte R (2000) The application of HPLC with on-line coupled UV/MS: biochemical detection for isolation of an acetylcholinesterase inhibitor from Narcissus Sir Winston Churchill. J Nat Prod 63:803–806

Jiang H, Xie Z, Koo HJ, McLaughlin SP, Timmermann BN, Gang DR (2006) Metabolic profiling and phylogenetic analysis of medicinal Zingiber species: tools for authentication of ginger (Zingiber officinale Rosc.). Phytochemistry 67:1673–1685

Khatib A, Yuliana N, Jinap S, Sarker M, Jaswir I, Wilson E, Chung S, Verpoorte R (2009) Identification of possible compounds possessing adenosine A1 receptor binding activity in the Leaves of Orthosiphon stamineus using TLC and multivariate data analysis. J Liq Chrom Rel Technol 32:2906–2916

Kim HK, Verpoorte R (2010) Sample preparation for plant metabolomics. Phytochem Anal 21:4–13

Kim HK, Choi YH, Chang W-T, Verpoorte R (2003) Quantitative analysis of ephedrine analogues from Ephedra species using 1H-NMR. Chem Pharm Bull 51:1382–1385

Kim HK, Choi YH, Erkelens C, Lefeber AWM, Verpoorte R (2005) Metabolic fingerprinting of Ephedra species using 1H-NMR spectroscopy and Principal Component Analysis. Chem Pharm Bull 53:105–109

Kim HK, Choi YH, Verpoorte R (2010) NMR-based metabolomic analysis of plants. Nat Protocols 5:536–549

Koehn FE (2008) High impact technologies for natural products screening. In: Amstudz R, Petersen F (eds) Natural compounds as drugs volume I. Birkhäuser, Basel, pp 175–210

Lee S, Do S-G, Kim SY, Kim J, Jin Y, Lee CH (2012) Mass spectrometry-based metabolite profiling and antioxidant activity of Aloe vera (Aloe barbadensis Miller) in different growth stages. J Agric Food Chem 60:11222–11228

Li F, Lu X, Liu H, Liu M, Xiong Z (2007) A pharmaco-metabonomic study on the therapeutic basis and metabolic effects of Epimedium brevicornum Maxim on hydrocortisone-induced rat using UPLC-MS. Biomed Chromatogr 21:397–405

Li S-L, Song J-Z, Qiao C-F, Zhou Y, Xu H-X (2010) UPLC-PDA-TOFMS based chemical profiling approach to rapidly evaluate chemical consistency between traditional and dispensing granule decoctions of traditional medicine combinatorial formulae. J Pharm Biomed Anal 52:468–478

Liang X, Zhang L, Zhang X, Dai W, Li H, Hu L, Liu H, Su J, Zhang W (2010) Qualitative and quantitative analysis of traditional Chinese medicine Niu Huang Jie Du Pill using ultra performance liquid chromatography coupled with tunable UV detector and rapid resolution liquid chromatography coupled with time-of-flight tandem mass spectrometry. J Pharm Biomed Anal 51:565–571

Ma C, Wang H, Lu X, Xu G, Liu B (2008) Metabolic fingerprinting investigation of Artemisia annua L. in different stages of development by gas chromatography and gas chromatography-mass spectrometry. J Chromatogr A 1186:412–419

Maltese F, van der Kooy F, Verpoorte R (2009) Solvent derived artifacts in natural products chemistry. Nat Prod Commun 4:447–454

Mangelsdorf DJ, Thummel C, Beato M, Herrlich P, Schütz G, Umesono K, Blumberg B, Kastner P, Mark M, Chambon P, Evans RM (1995) The nuclear receptor superfamily: the second decade. Cell 83:835–839

Mohn T, Plitzko I, Hamburger M (2009) A comprehensive metabolite profiling of Isatis tinctoria leaf extracts. Phytochemistry 70:924–934

Newman DJ, Cragg GM (2007) Natural products as sources of new drugs over the last 25 years. J Nat Prod 70:461–477

Newman DJ, Cragg GM (2012) Natural products as sources of new drugs over the 30 years from 1981 to 2010. J Nat Prod 75:311–335

Newman DJ, Cragg GM, Snader KM (2003) Natural products as sources of new drugs over the period 1981–2002. J Nat Prod 66:1022–1037

Rhee IK, van de Meent M, Ingkaninan K, Verpoorte R (2001) Screening for acetylcholinesterase inhibitors from Amaryllidaceae using silica gel thin-layer chromatography in combination with bioactivity staining. J Chromatogr A 915:217–223

Ryan EP, Heuberger AL, Weir TL, Barnett B, Broeckling CD, Prenni JE (2011) Rice bran fermented with Saccharomyces boulardii generates novel metabolite profiles with bioactivity. J Agric Food Chem 59:1862–1870

Schenk T, Breel GJ, Koevoets P, van Den Berg S, Hogenboom AC, Irth H, Tjaden UR, van Der Greef J (2003) Screening of natural products extracts for the presence of phosphodiesterase inhibitors using liquid chromatography coupled online to parallel biochemical detection and chemical characterization. J Biomol Screen 8:421–429

Schobel U, Frenay M, Van Elswijk DA, McAndrews JM, Long KR, Olson LM, Bobzin SC, Irth H (2001) High resolution screening of plant natural product extracts for estrogen receptor a and f3 binding activity using an online HPLC-MS biochemical detection system. J Biomol Screen 6:291–303

Shyur L-F, Yang N-S (2008) Metabolomics for phytomedicine research and drug development. Curr Opin Chem Biol 12:66–71

Steinmann D, Ganzera M (2011) Recent advances on HPLC/MS in medicinal plant analysis. J Pharm Biomed Anal 55:744–757

Torras-Claveria L, Berkov S, Jáuregui O, Caujapé J, Viladomat F, Codina C, Bastida J (2010) Metabolic profiling of bioactive Pancratium canariense extracts by GC-MS. Phytochem Anal 21:80–88

van der Kooy F, Verpoorte R, Marion Meyer JJ (2008) Metabolomic quality control of claimed anti-malarial Artemisia afra herbal remedy and A. afra and A. annua plant extracts. S Afr J Bot 74:186–189

van der Kooy F, Maltese F, Choi Y (2009) Quality control of herbal material and phytopharmaceuticals with MS and NMR based metabolic fingerprinting. Planta Med 75:763–775

van Elswijk D, Schobel U, Lansky E, Irth H, van der Greef J (2004) Rapid dereplication of estrogenic compounds in pomegranate (Punica granatum) using on-line biochemical detection coupled to mass spectrometry. Phytochemistry 65:233–241

Verpoorte R, Choi Y, Kim H (2007) NMR-based metabolomics at work in phytochemistry. Phytochem Rev 6:3–14

Verpoorte R, Choi Y, Mustafa N, Kim H (2008) Metabolomics: back to basics. Phytochem Rev 7:525–537

Wang M, Lamers R-JAN, Korthout HAAJ, van Nesselrooij JHJ, Witkamp RF, van der Heijden R, Voshol PJ, Havekes LM, Verpoorte R, van der Greef J (2005) Metabolomics in the context of systems biology: bridging traditional Chinese medicine and molecular pharmacology. Phytother Res 19:173–182

Wang S-X, Luo K, Liang J, Fan F, Li H, Zheng J-B, Zheng X-H (2011) Metabolomics study on the synergistic interaction between Salvia miltiorrhiza and Lignum dalbergiae odoriferae used as "Jun-Shi" herbs in a S. miltiorrhiza recipe. Med Chem Res 20:16–22

Yang B, Zhang A, Sun H, Dong W, Yan G, Li T, Wang X (2012) Metabolomic study of insomnia and intervention effects of Suanzaoren decoction using ultra-performance liquid-chromatography/electrospray-ionization synapt high-definition mass spectrometry. J Pharm Biomed Anal 58:113–124

Yi L, Yuan D, Liang Y, Xie P, Zhao Y (2007) Quality control and discrimination of Pericarpium Citri Reticulatae and Pericarpium Citri Reticulatae Viride based on high-performance liquid chromatographic fingerprints and multivariate statistical analysis. Anal Chim Acta 588:207–215

Yuliana ND, Khatib A, Choi YH, Verpoorte R (2011a) Metabolomics for bioactivity assessment of natural products. Phytother Res 25:157–169

Yuliana ND, Khatib A, Verpoorte R, Choi YH (2011b) Comprehensive extraction method integrated with NMR metabolomics: a new bioactivity screening method for plants, adenosine A1 receptor binding compounds in Orthosiphon stamineus Benth. Anal Chem 83:6902–6906

Zhao X, Zhang Y, Meng X, Yin P, Deng C, Chen J, Wang Z, Xu G (2008) Effect of a traditional Chinese medicine preparation Xindi soft capsule on rat model of acute blood stasis: a urinary metabonomics study based on liquid chromatography-mass spectrometry. J Chromatogr B 873:151–158
About this article
Cite this article
Yuliana, N.D., Jahangir, M., Verpoorte, R. et al. Metabolomics for the rapid dereplication of bioactive compounds from natural sources. Phytochem Rev 12, 293–304 (2013). https://doi.org/10.1007/s11101-013-9297-1
Received:

Accepted:

Published:

Issue Date:

DOI: https://doi.org/10.1007/s11101-013-9297-1
Keywords