Abstract
Plant secondary metabolites (natural products) have been a source for many of our medicines. Their functions in plants remain often unknown, but in recent years there are more and more new compounds isolated and identified and their medicinal potential investigated. The major classes of plant natural products and various derivatives thereof are: phenolics, terpenoids, alkaloids and lignans. The major transcription factor, nuclear factor-κB (NF-κB) is a central downstream regulator of inflammation, cell proliferation and apoptosis that controls the expression of more than 500 genes. It plays an essential role in several aspects of human health including the development of innate and adaptive immunity. The deregulation of NF-κB is associated with many ailments including cancer and chronic inflammatory diseases. In spite of a vast literature describing NF-κB inhibitors from many natural or synthetic sources, such modulators have not been fully tapped for therapeutic purposes and the search for effective and specific inhibitors for therapeutic use and minimal side effects is still relevant and ongoing. Plant-derived phytochemicals are promising lead compounds to develop potent and safe inhibitors for cancer and inflammatory disorders driven by NF-κB. We briefly review the recent knowledge on plant derived phytochemicals and their major NF-κB molecular targets.
Access options
Buy single article
Instant access to the full article PDF.
USD 39.95
Price excludes VAT (USA)
Tax calculation will be finalised during checkout.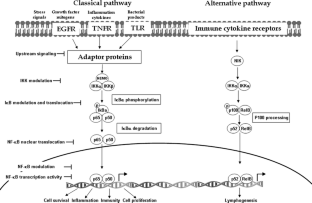 Abbreviations
AMPK:

Adenosine monophosphate- activated protein kinase

AKT:

Protein Kinase B

CBP:

CREB binding protein

COX:

Cyclooxygenase

CXCR CXC:

Chemokine receptor

EGF:

Epidermal growth factor

ERK:

Extracellular signal-regulated kinase

FAK:

Focal adhesion kinase

IAP:

Inhibitor of apoptosis

ICAM:

Intracellular adhesion molecule

IκB:

Inhibitor of NF-κB

IKK:

Inhibitor of NF-κB Kinase

IL-1:

Interleukin-1

LPS:

Lipopolysacharide

MAPK:

Mitogen-activated protein kinase

MMP:

Matrix metalloproteinase

PI3K:

Phosphoinositide 3-kinase

RHD:

REL homology domain

ROS:

Reactive oxygen species

γ-T3:

γ-tocotrienol

TBP:

TATA binding protein

TLR:

Toll-like receptor

TNF:

Tumor necrosis factor

TNFR:

Tumor necrosis factor receptor

VEGF:

Vascular endothelial factor

XIAP:

X-linked inhibitor of apoptosis protein
References
Anand P, Kunnumakkara AB, Harikumar KB, Ahn KS, Badmaev V, Aggarwal BB (2008) Modification of cysteine residue in p65 subunit of nuclear factor-κB (NF-κB) by Picroliv suppresses NF-κB–regulated gene products and potentiates apoptosis. Cancer Res 68:8861–8870

Bae JW, Bae JS (2011) Barrier protective effects of lycopene in human endothelial cells. Inflamm Res 60:751–758

Baker RG, Hayden MS, Gosh S (2011) NF-κB, inflammation, and metabolic disease. Cell Metab 13:11–22

Benelli R, Vene R, Ciarlo M, Carlone S, Barbieri O, Ferrari N (2012) The AKT/NF-κB inhibitor xanthohumol is a potent anti-lymphocytic leukemia drug overcoming chemoresistance and cell infiltration. Biochem Pharmacol 83:1634–1642

Bento AF, Marcon R, Dutra RC, Claudino RF, Cola M, Leite DFP, Calixto JB (2011) β-Caryophyllene inhibits dextran sulfate sodium-induced colitis in mice through CB2 receptor activation and PPARγ pathway. Am J Pathol 178(3):1153–1166

Bharrhan S, Koul A, Chopra K, Rishi P (2011) Catechin suppresses an array of signalling molecules and modulates alcohol-induced endotoxin mediated liver injury in a rat model. PLoS One 6(6):e20635

Bhaskar S, Shalini V, Helen A (2011) Quercetin regulates oxidized LDL induced inflammatory changes in human PBMCs by modulating the TLR-NF-κB signaling pathway. Immunobiol 216:367–373

Bi WY, Fu BD, Shen HQ, Wei Q, Zhang C, Song Z, Qin QQ, Li HP, Lv S, Wu SC, Yi PF, Wei XB (2012) Sulfated derivative of 20(S)-Ginsenoside Rh2 inhibits inflammatory cytokines through MAPKs and NF-kappa B pathways in LPS-induced RAW264.7 macrophages. Inflammation 35(5):1659–1668

Buhrmann C, Mobasheri A, Busch F, Aldinger C, Stahlmann R, Montaseri A, Shakibaei M (2011) Curcumin modulates nuclear factor κB (NF-κB)-mediated Inflammation in human tenocytes in Vitro role of the phosphatidylinositol 3-kinase/akt pathway. JBC 286(32):28556–28566

Chai X, Guan Z, Yu S, Zhao Q, Hua H, Zou Y, Tao X, Wu Q (2012) Design, synthesis and molecular docking studies of sinomenine derivatives. Bioorg Med Chem Lett 22:5849–5852

Chaturvedi MM, Sung B, Yadav VR, Kannappan R, Aggarwal BB (2011) NF-κB addiction and its role in cancer: 'one size does not fit all'. Oncogene 30:1615–1630

Chen S (2011) Natural products triggering biological targets—a review of the anti-inflammatory phytochemicals targeting the arachidonic acid pathway in allergy asthma and rheumatoid arthritis. Curr Drug Targets 12:288–301

Choi HG, Lee DS, Li B, Choi YH, Lee SH, Kim YC (2012) Santamarin, a sesquiterpene lactone isolated from Saussurea lappa, represses LPS-induced inflammatory responses via expression of heme oxygenase-1 in murine macrophage cells. Int Immunopharmacol 13:271–279

Chow YL, Lee KH, Vidyadaran S, Lajis NH, Akhtar MN, Israf DA, Syahid A (2012) Cardamonin from Alpinia rafflesiana inhibits inflammatory responses in IFN-γ/LPS-stimulated BV2 microglia via NF-κB signalling pathway. Int Immunopharmacol 12:657–665

Connelly L, Barham W, Onishko HM, Sherrill T, Chodosh LA, Blackwell TS, Yull FE (2011) Inhibition of NF-kappa B activity in mammary epithelium increases tumor latency and decreases tumor burden. Oncogene 30:1402–1412

DiDonato JA, Mercurio F, Karin M (2012) NF-κB and the link between inflammation and cancer. Immunol Rev 246:379–400

Essafi-Benkhadir K, Refai A, Riahi I, Fattouch S, Karoui H, Essafi M (2012) Quince (Cydonia oblonga Miller) peel polyphenols modulate LPS-induced inflammation in human THP-1-derived macrophages through NF-κB, p38MAPK and Akt inhibition. Biochem Biophys Res Commun 418:180–185

Fu RH, Hran HJ, Chu CL, Huang CM, Liu SP, Wang YC, Lin YH, Shyu WC, Lin SZ (2011) Lipopolysaccharide-stimulated activation of murine DC2.4 cells is attenuated by n-butylidenephthalide through suppression of the NF-κB pathway. Biotechnol Lett 33:903–910

Ghosh S, Hayden MS (2012) Celebrating 25 years of NF-kB research. Immunol Rev 246:5–13

Giakoustidis AE, Giakoustidis DE, Koliakou K, Kaldrymidou E, Iliadis S, Antoniadis N, Kontos N, Papanikolaou V, Papageorgiou G, Atmatzidis K, Takoudas D (2008) Inhibition of intestinal ischemia/repurfusion induced apoptosis and necrosis via down-regulation of the NF-κB, c-Jun and caspace-3 expression by epigallocatechin-3-gallate administration. Free Radic Res 42(2):180–188

Gilmore TD, Herscovitch M (2006) Inhibitors of NF-kappa B signaling 785 and counting. Oncogene 25:6887–6899

Goto H, Kariya R, Shimamoto M, Kudo E, Taura M, Katano H, Okada S (2012) Antitumor effect of berberine against primary effusion lymphoma via inhibition of NF-κB pathway. Cancer Sci 103(4):775–781

GuhaThakurta D (2006) Computational identification of transcriptional regulatory elements in DNA sequence. Nucleic Acid Res 34:3585–3598

Gupta SC, Kim JH, Prasad S, Aggarwal BB (2010a) Regulation of survival proliferation invasion angiogenesis and metastasis of tumor cells through modulation of inflammatory pathways by nutraceuticals. Cancer Metastasis Rev 29:405–434

Gupta SC, Sundaram C, Reuter S, Aggarwal BB (2010b) Inhibiting NF-κB activation by small molecules as therapeutic strategy. Biochim Biophys Acta 1799:775–787

Gupta SC, Kannappan R, Ghazi JK, Rahman M, Francis SK, Raveendran R, Nair MS, Das J, Aggarwal BB (2011a) Bharangin, a diterpenoid quinonemethide, abolishes constitutive and inducible nuclear factor-κB (NF-κB) activation by modifying p65 on Cysteine 38 residue and reducing inhibitor of nuclear factor-κB α Kinase activation, leading to suppression of NF-κB-regulated gene expression and sensitization of tumor cells to chemotherapeutic agents. Mol Pharmacol 80:769–781

Gupta SC, Kim JH, Kannappan R, Reuter S, Dougherty PM, Aggarwal BB (2011b) Role of nuclear factor κB-mediated inflammatory pathways in cancer-related symptoms and their regulation by nutritional agents. Exp Biol Med 236:658–671

Hafeez BB, Jamal MS, Fischer JW, Mustafa A, Verma AK (2012) Plumbagin, a plant derived natural agent inhibits the growth of pancreatic cancer cells in in vitro and in vivo via targeting EGFR, Stat3 and NF-κB signaling pathways. Int J Cancer 131:2175–2186

Harikumar KB, Sung B, Pandey MK, Guha S, Krishnan S, Aggarwal BB (2010a) Escin, a pentacyclic triterpene, chemosensitizes human tumor cells through inhibition of nuclear factor-κB signaling pathway. Mol Pharmacol 77:818–827

Harikumar KB, Sung B, Tharakan ST, Pandey MK, Joy B, Guha S, Krishnan S, Aggarwal BB (2010b) Sesamin manifests chemopreventive effects through the suppression of NF-κB-regulated cell survival, proliferation, invasion, and angiogenic gene products. Mol Cancer Res 8:751–761

Hošek J, Bartos M, Chudík S, Dall'Acqua S, Innocenti G, Kartal M, Kokoška L, Kollár P, Kutil Z, Landa P, Marek R, Závalová V, Žemlička M, Šmejkal K (2011) Natural compound cudraflavone B shows promising anti-inflammatory properties in vitro. J Nat Prod 74:614–619

Hsieh CC, Hernández-Ledesma B, de Lumen BO (2011) Cell proliferation inhibitory and apoptosis-inducing properties of anacardic acid and lunasin in human breast cancer MDA-MB-231 cells. Food Chem 125:630–636

Hwang JT, Park OJ, Lee YK, Sung MJ, Hur HJ, Kim MS, Ha JH, Kwon DY (2011) Anti-tumor effect of luteolin is accompanied by AMP-activated protein kinase and nuclear factor-κB modulation in HepG2 hepatocarcinoma cells. Int J Mol Med 28:25–31

Jin HR, Jin SZ, Cai XF, Li D, Wu X, Nan JX, Lee JJ, Jin X (2012) Cryptopleurine targets NF-κB pathway, leading to inhibition of gene products associated with cell survival, proliferation, invasion, and angiogenesis. PLoS One 7(6)

Jung DH, Park HJ, Byun HE, Park YM, Kim TW, Kim BO, Um SH, Pyo S (2010) Diosgenin inhibits macrophage-derived inflammatory mediators through downregulation of CK2, JNK, NF-κB and AP-1 activation. Int Immunopharmacol 10:1047–1054

Kannaiyan R, Hay HS, Rajendran P, Li F, Shanmugam MK, Vali S, Abbasi T, Kapoor S, Sharma A, Kumar AP, Chng WJ, Sethi G (2011) Celastrol inhibits proliferation and induces chemosensitization through down-regulation of NF-κB and STAT3 regulated gene products in multiple myeloma cells. Br J Pharmacol 164:1506–1521

Kavitha K, Priyadarsini RV, Anitha P, Ramalingam K, Sakthivel R, Purushothaman G, Singh AK, Karunagaran D, Nagini S (2012) Nimbolide, a neem limonoid abrogates canonical NF-κB and Wnt signaling to induce caspase-dependent apoptosis in human hepatocarcinoma (HepG2) cells. Eur J Pharmacol 681:6–14

Kim HG, Kim JY, Hwang YP, Lee KJ, Lee KY, Kim DH, Kim DH, Jeong HG (2006) The coffee diterpene kahweol inhibits tumor necrosis factor-α-induced expression of cell adhesion molecules in human endothelial cells. Toxicol Appl Pharmacol 217:332–341

Kim SM, Lee SY, Yuk DY, Moon DC, Choi SS, Kim Y, Han SB, Oh KW, Hong JT (2009) Inhibition of NF-κB by ginsenoside Rg3 enhances the susceptibility of colon cancer cells to docetaxel. Arch Pharm Res 32(5):755–765

Kim JA, Yang SY, Song SB, Kim YH (2011) Effects of impressic acid from Acanthopanax koreanum on NF-κB and PPARγ activities. Arch Pharm Res 34(8):1347–1351

Kudo K, Hagiwara S, Hasegawa A, Kusaka J, Koga H, Noguchi T (2011) Cepharanthine exerts anti-inflammatory effects via NF-κB inhibition in a LPS-induced rat model of systemic inflammation. J Surg Res 171:199–204

Kumar A, Sharma SS (2010) NF-κB inhibitory action of resveratrol: a probable mechanism of neuroprotection in experimental diabetic neuropathy. Biochem Biophys Res Commun 394:360–365

Kumar A, Takada Y, Boriek AM, Aggarwal BB (2004) Nuclear factor-kappaB: its role in health and disease. J Mol Med (Berl) 82:432–448

Kunnumakkara AB, Sung B, Ravindran J, Diagaradjane P, Deorukhkar A, Dey S, Koca C, Yadav VR, Tong Z, Gelovani JG, Guha S, Krishnan S, Aggarwal BB (2010) γ-Tocotrienol inhibits pancreatic tumors and sensitizes them to gemcitabine treatment by modulating the inflammatory microenvironment. Cancer Res 70:8695–8705

Lee MY, Lee JA, Seo CS, Ha H, Lee H, Son JK, Shin HK (2011) Anti-inflammatory activity of Angelica dahurica ethanolic extract on RAW264.7 cells via upregulation of heme oxygenase-1. Food Chem Toxicol 49:1047–1055

Li C, Yang Z, Zhai C, Qiu W, Li D, Yi Z, Wang L, Tang J, Qian M, Luo J, Liu M (2010) Maslinic acid potentiates the anti-tumor activity of tumor necrosis factor a by inhibiting NF-κB signaling pathway. Mol Cancer 9:73

Lian KC, Chuang JJ, Hsieh CW, Wung BS, Huang GD, Jian TY, Sun YW (2010) Dual mechanisms of NF-κB inhibition in carnosol-treated endothelial cells. Toxicol Appl Pharmacol 245:21–35

Liang Y, Xu RZ, Zhang L, Zhao XY (2009) Berbamine, a novel nuclear factor κB inhibitor, inhibits growth and induces apoptosis in human myeloma cells. Acta Pharmacol Sinica 30:1659–1665

Liu WS, Chang LS (2012) Suppression of Akt/Foxp3-mediated miR-183 expression blocks Sp1-mediated ADAM17 expression and TNFα-mediated NF-κB activation in piceatannol-treated human leukemia U937 cells. Biochem Pharmacol 84:670–680

Liu H, Jiang C, Xiong C, Ruan J (2012) DEDC, a new flavonoid induces apoptosis via a ROS-dependent mechanism in human neuroblastoma SH-SY5Y cells. Toxicol In Vitro 26:16–23

Lu Y, Suh SJ, Li X, Hwang SL, Li Y, Hwangbo K, Park SJ, Murakami M, Lee SH, Jahng Y, Son JK, Kim CH, Chang HW (2012) Citreorosein, a naturally occurring anthraquinone derivative isolated from Polygoni cuspidati radix, attenuates cyclooxygenase-2-dependent prostaglandin D2 generation by blocking Akt and JNK pathways in mouse bone marrow-derived mast cells. Food Chem Toxicol 50:913–919

Mathema VB, Koh YS, Thakuri BC, Sillanpää M (2011) Parthenolide, a sesquiterpene lactone, expresses multiple anti-cancer and anti-inflammatory activities. Inflammation 35(2):560–565

Moon DO, Choi YH, Moon SK, Kim WJ, Kim GY (2010a) Butein suppresses the expression of nuclear factor-kappa B-mediated matrix metalloproteinase-9 and vascular endothelial growth factor in prostate cancer cells. Toxicol In Vitro 24:1927–1934

Moon DO, Kim MO, Lee JD, Choi YH, Kim GY (2010b) Rosmarinic acid sensitizes cell death through suppression of TNF-α-induced NF-κB activation and ROS generation in human leukemia U937 cells. Cancer Lett 288:183–191

Nakanishi C, Toi M (2005) Nuclear factor-kappaB inhibitors as sensitizers to anticancer drugs. Nat Rev Cancer 5:297–309

Oh J, Yu T, Choi SJ, Yang Y, Baek HS, An SA, Kwon LK, Kim J, Rho HS, Shin SS, Choi WS, Hong S, Cho JY (2012) Syk/Src pathway-targeted inhibition of skin inflammatory responses by carnosic acid. Mediators Inflamm

Ozer J, Eisner N, Ostrozhenkova E, Bacher A, Eisenreich W, Benharroch D, Golan-Goldhirsh A, Gopas J (2009) Nuphar lutea thioalkaloids inhibit the nuclear factor κB pathway, potentiate apoptosis and are synergistic with cisplatin and etoposide. Cancer Biol Ther 8(19):1–9

Ozer L, El-On J, Golan-Goldhirsh A, Gopas J (2010) Leishmania major: anti-leishmanial activity of Nuphar lutea extract mediated by the activation of transcription factor NF-κB. Exp Parasitol 126:510–516

Park SJ, Youn HS (2010) Suppression of homodimerization of toll-like receptor 4 by isoliquiritigenin. Phytochem 71:1736–1740

Park B, Sung B, Yadav VR, Chaturvedi MM, Aggarwal BB (2011) Triptolide, histone acetyltransferase inhibitor, suppresses growth and chemosensitizes leukemic cells through inhibition of gene expression regulated by TNF-TNFR1-TRADD-TRAF2-NIK-TAK1-IKK pathway. Biochem Pharmacol 82:1134–1144

Perkins ND (2012) The diverse and complex roles of NF-κB subunits in cancer. Nar Rev Cancer 12:121–132

Prasad S, Madan E, Nigam N, Roy P, George J, Shukla Y (2009) Induction of apoptosis by lupeol in human epidermoid carcinoma A431 cells through regulation of mitochondrial, Akt/PKB and NFkB signaling pathways. Cancer Biol Ther 8(17):1632–1639

Prasad S, Yadav VR, Sundaram C, Reuter S, Hema PS, Nair MS, Chaturvedi MM, Aggarwal BB (2010) Crotepoxide chemosensitizes tumor cells through inhibition of expression of proliferation, invasion, and angiogenic proteins linked to proinflammatory pathway. JBC 285(35):26987–26997

Reuter S, Prasad S, Phromnoi K, Kannappan R, Yadav VR, Aggarwal BB (2010a) Embelin suppresses osteoclastogenesis induced by receptor activator of NF-κB ligand and tumor cells in vitro through inhibition of the NF-κB cell signaling pathway. Mol Cancer Res 8:1425–1436

Reuter S, Prasad S, Phromnoi K, Ravindran J, Sung B, Yadav VR, Kannappan R, Chaturvedi MM, Aggarwal BB (2010b) Thiocolchicoside exhibits anticancer effects through downregulation of NF-κB pathway and its regulated gene products linked to inflammation and cancer. Cancer Prev Res 3:1462–1472

Salminen A, Kauppinen A, Kaamiranta K (2012) Phytochemicals suppress nuclear factor-κB signaling: impact on health span and aging process. Curr Opin Clin Nutr Metab Care 15:23–28

Sen R, Baltimore D (1986) Inducibility of kappa immunoglobulin enhancer-binding protein NF-kappa B by a posttranscriptional mechanism. Cell 47:921–928

Siedle B, Garcıa-Pineres AJ, Murillo R, Schulte-Monting J, Castro V, Rungeler P, Klaas CA, Da Costa FB, Kisiel W, Merfort I (2004) Quantitative structure-activity relationship of sesquiterpene lactones as inhibitors of the transcription factor NF-κB. J Med Chem 47:6042–6054

Song SH, Min HY, Han AR, Nam JW, Seo EK, Park SW, Lee SH, Lee SK (2009) Suppression of inducible nitric oxide synthase by (−)-isoeleutherin from the bulbs of Eleutherine americana through the regulation of NF-κB activity. Int Immunopharmacol 9:298–302

Subramaniya BR, Srinivasan G, Mohammed Sadullah SS, Davis N, Subhadara LBR, Halagowder D, Sivasitambaram ND (2011) Apoptosis inducing effect of plumbagin on colonic cancer cells depends on expression of COX-2. PLoS One 6(4)

Sung B, Ahn KS, Aggarwal BB (2010) Noscapine, a benzylisoquinoline alkaloid, sensitizes leukemic cells to chemotherapeutic agents and cytokines by modulating the NF-κB signaling pathway. Cancer Res 70:3259–3268

Wang Y, Huang Z, Wang L, Meng S, Fan Y, Chen T, Cao J, Jiang R, Wang C (2011) The anti-malarial artemisinin inhibits pro-inflammatory cytokines via the NF-κB canonical signaling pathway in PMA-induced THP-1 monocytes. Int J Mol Med 27:233–241

Yang Z, Li C, Wang X, Wang X, Zhai C, Yi Z, Wang L, Liu B, Du B, Du B, Wu H, Guo X, Liu M, Li D, Luo J (2010) Dauricine Induces apoptosis, inhibits proliferation and invasion through inhibiting NF-κB signaling pathway in colon cancer cells. J Cell Physiol 225:266–275

Yang J, Li Q, Zhou XD, Kolosov VP, Perelman JM (2011) Naringenin attenuates mucous hypersecretion by modulating reactive oxygen species production and inhibiting NF-κB activity via EGFR-PI3K-Akt/ERK MAPKinase signaling in human airway epithelial cells. Mol Cell Biochem 351:29–40

Yang HL, Chen SC, Kumar KJS, Yu KN, Chao PDL, Tsai SY, Hou YC, Hseu YC (2012) Antioxidant and anti-inflammatory potential of hesperetin metabolites obtained from hesperetin-administered rat serum: an ex vivo approach. J Agric Food Chem 60:522–532

Zhang W, Li XJ, Zeng X, Shen DY, Liu CQ, Zhang HJ, Xu CB, Li XY (2012) Activation of nuclear factor-κB pathway is responsible for tumor necrosis factor-α-induced up-regulation of endothelin B2 receptor expression in vascular smooth muscle cells in vitro. Toxicol Lett 209:107–112
Acknowledgments
The authors gratefully acknowledge the support of the Israel Ministry of Health through the Winkselbaum fund, the Israel Cancer Association through the Miriam and Shlomo Hasid Memorial fund, ICA in Israel, Jacobs foundation through BG-Negev and The Richard H. Holzer Foundation. We thank Janet Ozer (M.Sc.) for assistance in preparation of figure 1 and critical reading of the manuscript.
About this article
Cite this article
Golan-Goldhirsh, A., Gopas, J. Plant derived inhibitors of NF-κB. Phytochem Rev 13, 107–121 (2014). https://doi.org/10.1007/s11101-013-9293-5
Received:

Accepted:

Published:

Issue Date:

DOI: https://doi.org/10.1007/s11101-013-9293-5
Keywords