Abstract
Plants have a long history as therapeutic tools in the treatment of human diseases and have been used as a source of medicines for ages. In search of new biologically active natural products, many plants and herbs used in traditional medicine are screened for natural products with pharmacological activity. In this paper, we present a group of natural products, the sesquiterpene coumarins isolated from plants, and describe their wide range of biological activity. Sesquiterpene coumarins are found in some plants of the families Apiaceae (Umbelliferae), Asteraceae (Compositae) and Rutaceae. The coumarin moiety is often umbelliferone (7-hydroxycoumarin) but scopoletin (7-hydroxy-6-methoxycoumarin) and isofraxidin (7-hydroxy-6,8-dimethoxycoumarin) are also found. These coumarins are linked to a C15 terpene moiety through an ether linkage. Another group of sesquiterpene coumarins is the prenylated 4-hydroxycoumarins where the link between the coumarin and the C15 terpene moiety is a C–C-bond at carbon 3 of the coumarin moiety. Finally, the prenyl-furocoumarin-type sesquiterpenoids are a separate group of sesquiterpene coumarins based on the suggested biosynthetic pathway. Our relatively limited knowledge on the biosynthesis of sesquiterpene coumarins is reviewed.
Access options
Buy single article
Instant access to the full article PDF.
US$ 39.95
Tax calculation will be finalised during checkout.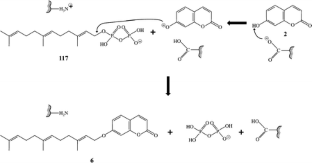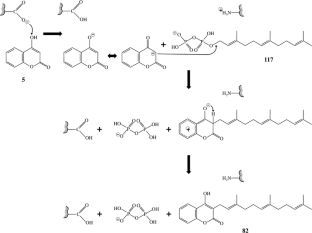 Abbreviations
AChE:

Acetylcholinesterase

BIS:

Bisphenyl synthase

CPE:

Cytopathic effect

F6′H1:

Fe(II)- and 2-oxoglutarate-dependent dioxygenase

FDP:

Farnesyl diphosphate

FDU7T:

Farnesyl diphosphate umbelliferone transferase

HRV:

Human rhinoviruses

INH:

Isonicotinic acid hydrazide

M4Beu:

Human metastatic pigmented malignant melanoma cells

MDR:

Multidrug resistance

MIC:

Minimum inhibitory concentration

NDP:

Nerolidyl diphosphate

SHC:

Squalene-hopene cyclase

SQE:

Squalene epoxidase

VEGF:

Vascular endothelial growth factor

UPE:

Umbelliprenin epoxidase
References
Abd El-Razek MH, Ohta S, Ahmed AA, Hirata T (2001) Sesquiterpene coumarins from the roots of Ferula assa-foetida. Phytochemistry 58:1289–1295

Abd El-Razek MH, Y-Ch Wu, Chang F-R (2007) Sesquiterpene coumarins from Ferula foetida. J Chin Chem Soc 54:235–238

Ahmed AA (1999) Sesquiterpene coumarins and sesquiterpenes from Ferula sinaica. Phytochemistry 50:109–112

Ahmed AA, Bishr MM, El-Shanawany MA, Attia EZ, Ross SA, Paré PW (2005) Rare trisubstituted sesquiterpenes daucanes from the wild Daucus carot. Phytochemistry 66:1680–1684

Ahmed AA, Hegazy M-EF, Zellagui A, Rhouati S, Mohamed TA, Sayed AA, Abdella MA, Ohta S, Hirata T (2007) Ferulsinaic acid, a sesquiterpene coumarin with a rare carbon skeleton from Ferula species. Phytochemistry 68:680–686

Al-Yahya MA, Muhammad I, Mirza HH, El-Feraly FS (1998) Antibacterial constituents from the rhizomers of Ferula communis. Phytoter Res 12:335–339

Appendino G, Tagliapietra S, Gariboldi P, Nano GM, Picci V (1988) ω-Oxygenated prenylated coumarins from Ferula communis. Phytochemistry 27:3619–3624

Appendino G, Nano GM, Viterbo D, De Munno G, Cisero M, Palmisano G, Aragno M (1991) Ammodoremin, an epimeric mixture of prenylated chromandiones from Ammoniacum. Helv Chim Acta 74:495–500

Appendino G, Őzen HC, Nano GN, Cisero M (1992) Sesquiterpene coumarin ethers from the genus Heptaptera. Phytochemistry 31:4223–4226

Appendino G, Tagliapietra S, Nano GM, Jakupovic J (1994) Sesquiterpene coumarin ethers from asafetida. Phytochemistry 35:183–186

Appendino G, Jakupovic J, Alloatti S, Ballero M (1997) Daucane esters from Ferula arrigonii. Phytochemistry 45:1639–1643

Appendino G, Mercalli E, Fuzzati N, Arnoldi L, Stavri M, Gibbons S, Ballero M, Maxia A (2004) Antimycobacterial coumarins from the Sardinian Giant Fennel (Ferula communis). J Nat Prod 67:2108–2110

Appendino G, Maxia L, Bascope M, Houghton PJ, Sanchez-Duffhues G, Munoz E, Sterner O (2006) A meroterpenoid NF-κB inhibitor and drimane sesquiterpenoids from asafetida. J Nat Prod 69:1101–1104

Bandyopadhyay D, Basak B, Chatterjee A, Lai TK, Banerji A, Banerji J, Neuman A, Prangé T (2006) Saradaferin, a new sesquiterpenoid coumarin from Ferula assafoetida. Nat Prod Res 20:961–965

Barthomeuf C, Demeule M, Grassi J, Saidkhodjaev A, Beliveau R (2006) Conferone from Ferula schtschurowskiana enhances vinblastine cytotoxicity in MDCK-MDR1 cells by competitively inhibiting P-glycoprotein transport. Planta Med 72:634–639

Barthomeuf C, Lim S, Iranshahi M, Chollet P (2008) Umbelliprenin from Ferula szowitsiana inhibits the growth of human M4Beu metastatic pigmented malignant melanoma cells through cell-cycle arrest in G1 and induction of caspase-dependent apoptosis. Phytomedicine 15:103–111

Bocca C, Gabriel L, Bozzo F, Miglietta A (2002) Microtubule-interacting activity and cytotoxicity of the prenylated coumarin ferulenol. Planta Med 68:1135–1137

Bourgaud F, Hehn A, Larbat R, Doerper S, Gontier E, Kellner S, Matern U (2006) Biosynthesis of coumarins in plants: a major pathway still to be unravelled for cytochrome P450 enzymes. Phytochem Rev 5:293–308

Bouvier F, Rahier A, Camara B (2005) Biogenesis, molecular regulation and function of plant isoprenoids. Prog Lip Res 44:357–429

Brandt W, Bräuer L, Günnewich N, Kufka J, Rausch F, Schulze D, Schulze E, Weber R, Zakharova S, Wessjohann L (2009) Molecular and structural basis of metabolic diversity mediated by prenyldiphosphate converting enzymes. Phytochemistry 70:1758–1775

Caglioti L, Naef H, Arigoni D, Jeger O (1959) Zur Kenntnis der Sesquiterpene und Azulene. 127. Mitteilung. Über die Inhaltsstoffe der Asa foetida II. Farnesiferol B und C. Helv Chim Acta 42:2557

Cha MR, Choi YH, Choi CW, Kim YS, Kim YK, Ryu SY, Kim YH, Choi SU (2011) Galbanic acid, a cytotoxic sesquiterpene from the gum resin of Ferula asafoetida, blocks protein farnesyltransferase. Planta Med 77:52–54

Choudhary MI, Baig I, Nur-e-Alam M, Shahzad-ul-Hussan S, Öndognii P, Bunderya M, Oyun Z, Atta-ur-Rahman (2001) New α-Glucosidase inhibitors from the Mongolian medicinal plant Ferula mongolic. Helv Chim Acta 84:2409–2416

Cravotto G, Balliano G, Robaldo B, Oliaro-Bosso S, Chimichi S, Boccalini M (2004) Farnesyloxycoumarins a new class of squalene-hopene cyclase inhibitors. Bioorg Med Chem Lett 14:1931–1934

Dall'Acqua S, Maggi F, Minesso P, Salvagno M, Papa F, Vittori S, Innocenti G (2010) Identification of non-alkaloid acetylcholinesterase inhibitors from Ferulago campestris (Besser) Grecescu (Apiaceae). Fitoterapia 81:1208–1212

El-Bassuony AA, Gohar AA, Kabbash AM (2007) Two new sesquiterpene coumarins, ferusinol and samarcandin diastereomer from Ferula sinaica. Iran J Pharm Res 6:217–221

Fazly Bazzaz BS, Du AR, Iranshhahi M, Naderinasab M, Karamodin MK (2009) Evaluating the potentiating effect of galbanic acid from Ferula szowitsiana on three common antibiotics against resistant hospital isolates of Staphylococcus aureus. Iran J Pharm Res 8:217–221

Filippini R, Piovan A, Innocenti G, Caniato R, Cappelletti EM (1998) Production of coumarin compounds by Haplophyllum patavinum in vivo and in vitro. Phytochemistry 49:2337–2340

Gohar AA, El-Bassuony AA (2007) Two new sesquiterpene coumarins, ferusinol and samarcandin diastereomer from Ferula sinaica. Saudi Pharm J 15:33–37

Greger H, Haslinger E, Hofer O (1982a) Albartin–a new sesquiterpene–coumarin ether from Artemisis alb. Monatsh Chem 113:375–379

Greger H, Hofer O, Nikiforov A (1982b) New sesquiterpene-coumarin ethers from Achillea and Artemisis species. J Nat Prod 45:455–461

Greger H, Hofer O, Robien W (1983) New sesquiterpene coumarin ethers from Achillea ochroleuca. 13C NMR of isofraxidin-derived open-chain and bicyclic sesquiterpene ethers. J Nat Prod 46:510–516

Hamerski D, Schmitt D, Matern U (1990) Induction of two prenyltransferases for the accumulation of coumarin phytoalexins in elicitor-treated Ammi majus cell suspension cultures. Phytochemistry 29:1131–1135

Hofer O, Greger H (1984a) Naturally occurring sesquiterpene-coumarin ethers, VI. New sesquiterpene-isofraxidin ethers from Achillea depress. Monatsh Chem 115:477–483

Hofer O, Greger H (1984b) Scopoletin sesquiterpene ethers from Artemisia persica. Phytochemistry 23:181–182

Hofer O, Weissensteiner W, Widhalm M (1983) Absolute configurations and circular dichroism of sesquiterpene-coumarin ethers. Monatsh Chem 114:1399–1411

Iranshahi M, Shahverdi AR, Mirjani R, Amin G, Shafiee A (2004) Umbelliprenin from Ferula persica roots inhibits the red pigment production in Serratia marcescens. Z Naturforsch 59c:506–508

Iranshahi M, Arfa P, Ramezani M, Jaafari MR, Sadeghian H, Bassarello C, Piacente S, Pizza C (2007) Sesquiterpene coumarins from Ferula szowitsiana and in vitro antileishmanial activity of 7-prenyloxycoumarins against promastigotes. Phytochemistry 68:554–561

Iranshahi M, Kalategi F, Rezaee R et al (2008) Cancer chemopreventive activity of terpenoid coumarins from Ferula species. Planta Med 74:147–150

Iranshahi M, Sahebkar A, Takasaki M et al (2009a) Cancer chemopreventive activity of the prenylated coumarin, umbelliprenin, in vivo. Eur J Cancer Prev 18:412–415

Iranshahi M, Askari M, Sahebkar A, Hadjipavlou-Litina D (2009b) Evaluation of antioxidant, anti-inflammatory and lipoxygenase inhibitory activities of the prenylated coumarin umbelliprenin. Daru 17:99–103

Iranshahi M, Ghiadi M, Sahebkar A, Rahimi A, Bassarello C, Piacente S, Pizza C (2009c) Badrakemonin, a new eremophilane-type sesquiterpene from the roots of Ferula badrakema Kos.-Pol. Iran J Pharm Res 8:275–279

Iranshahi M, Masullo M, Asili A, Hamedzadeh A, Jahanbin B, Festa M, Capasso A, Piacente S (2010) Sesquiterpene Coumarins from Ferula gumosa. J Nat Prod 73:1958–1962

Isaka K, Nagatsu A, Ondognii P, Zevgeegiin O, Gombosurengyin P, Davgiin K, Kojima K, Ogihara Y (2001) Sesquiterpenoid derivatives from Ferula ferulioides. V. Chem Pharm Bull 49:1072–11076

Jabrane A, Jannet HB, Mighri Z, Mirjolet J-F, Duchamp O, Harzallah-Skhiri F, Lacaille-Dubois M-A (2010) Two new sesquiterpene derivatives from the Tunisian endemic Ferula tunetana POM. Chem Biodivers 7:392–399

Jandl B, Hofer O, Kalchhauser H, Greger H (1997) Open chain sesquiterpene coumarin ethers and coniferylalcohol-4-O-farnesyl ether from Achillea ochroleuc. Nat Prod Lett 11:17–24

Kai K, Mizutani M, Kawamura N, Yamamoto R, Tamai M, Yamaguchi H, Sakata K, Shimizu B (2008) Scopoletin is biosynthesized via ortho-hydroxylation of feruloyl CoA by a 2-oxoglutarate-dependent dioxygenase in Arabisdopsis thaliana. Plant J 55:989–999

Kajimoto T, Yahiro K, Nohara T (1989) Sesquiterpenoid and disulphide derivatives from Ferula assa-foetida. Phytochemistry 28:1761–1763

Khorramizadeh MR, Esmail-Nazari Z, Zarei-Ghaane Z, Shakibaie M, Mollazadeh-Moghaddam K, Iranshahi M, Shahverdi AR (2010) Umbelliprenin-coated Fe3O4 magnetite nanoparticles: Antiproliferation evaluation on human Fibrosarcoma cell line (HT-1080). Mate Sci Eng C 30:1038–1042

Kisiel W, Stojakowska A (1997) A sesquiterpene coumarin ether from transformed roots of Tanacetum parthenium. Phytochemistry 46:515–516

Kojima K, Isaka K, Ondognii P, Zevgeegiin O, Gombosurengyin P, Davgiin K, Mizukami H, Ogihara Y (2000) Sesquiterpenoid derivatives from Ferula ferulioides. IV. Chem Pharm Bull 48:353–356

Lahouel M, Zini R, Zellagui A, Rhouati S, Carrupt P-A, Morin D (2007) Ferulenol specifically inhibits succinate ubiquinone reductase at the level of the ubiquinone cycle. Biochem Biophys Res Comm 355:252–257

Lee Ch-L, Chiang L-Ch, Cheng L-H, Liaw Ch-Ch, Abd El-razek MH, Chang F-R, Wu Y-Ch (2009) Influenza A (H1N1) Antiviral and cytotoxic agents from Ferula assa-foetida. J Nat Prod 72:1568–1572

Lee J-H, Choi S, Lee Y, Lee H-J, Kim K-H, Ahn K-S, Bae H, Lee H-J, Lee E-O, Ahn K-S, Ryu SY, Lü J, Kim S-H (2010) Herbal compound farnesiferol C exerts antiangiogenic and antitumor activity and targets multiple aspects of VEGFR1 (Flt1) or VEGFR2 (Flk1) signaling cascades. Mol Cancer Ther 9:389–399

Liu B, Raeth T, Beuerle T, Beerhues L (2010) A novel 4-hydroxycoumarin biosynthetic pathway. Plant Mol Biol 72:17–25

Madureira AM, Molnar A, Abreu PM, Molnar J, Ferreira MU (2004) A new sesquiterpene coumarin ether and a new abietane diterpene and their effects as inhibitors of p-glycoprotein. Planta Med 70:828–833

Marchi A, Appendino G, Pirisi I, Ballero M, Loi MC (2003) Genetic differentiation of two distinct chemotypes of Ferula communis (Apiaceae) in Sardinia (Italy). Biochem Sys Eco 31:1397–1408

Mashinchian O, Salehi R, Dehghan G, Aganejad A, Davaran S, Omidi Y (2010) Novel thermosensitive poly (N-isopropylacrylamide-co-vinylprrolidone-co-methacrylic acid) nanosystems for delivery of natural products. Int J Drug Deliv 2:278–286

Miski M, Ulubelen A (1985) Sesquiterpene-coumarin ethers of Ferula tingitana. J Nat Prod 48:326–327

Monti M, Pinotti M, Appendino G, Dallocchio F, Bellini T, Antognoni F, Poli F, Bernardi F (2007) Characterization of anti-coagulant properties of prenylated coumarin ferulenol. Biochim Biophys Acta 1770:1437–1440

Mossa JS, El-Feraly FS, Muhammad I (2004) Antimycobacterial constituents from Juniperus procera, Ferula communis and Plumbago zeylanica and their in vitro synergistic activity with isonicotinic acid hydrazide. Phytother Res 18:934–937

Motai T, Kitanaka S (2004) Sesquiterpene coumarins from Ferula fukanensis and Nitric Oxide production inhibitory effects (2). Chem Pharm Bull 52:1215–1218

Motai T, Kitanaka S (2006) Sesquiterpenoids from Ferula fukanensis and their inhibitory effects on nitric oxide production. J Nat Med 60:54–57

Murphy EM, Nahar L, Byres M, Shoeb M, Siakalima M, Rahman MM, Gray AI, Sarker SD (2004) Coumarins from the seeds of Angelica sylvestris (Apiaceae) and their distribution within the genus Angelica. Biochem Syst Ecol 32:203–207

Murray RDH (2002) The naturally occurring coumarins. Progress in the chemistry of organic natural products, vol 83. Springer, Vienna, p 673

Murray RDH, Méndez J, Brown SA (1982) The natural coumarins: occurrence, chemistry and biochemistry. Wiley, Chichester

Nadkarni KK, Kamat SP, Paknikar SK (1994) Synthesis of (±)-6-hydroxy-3, 4-dihydro-4, 7-dimethylbenzo-1-pyran-2(h)-one, a tetranorsesquiterpenoid. Indian J Chem B 33:432–435

Nagatsu A, Isaka K, Ondognii P, Zevgeegiin O, Gombosurengyin P, Davgiin K, Irfan B, Choudhary MI, Ogihara Y (2002) New sesquiterpenes from Ferula ferulaeoides (STEUD.) KOROVIN. VI. Isolation and identification of three new dihydrofuro [2, 3-b]chromones. Chem Pharm Bull 50:675–677

Oughlissi-Dehak K, Lawton P, Michalet S, Bayet C, Darbour N, Hadj-Mahammed M, Badjah-Hadj-Ahmed YA, Dijoux-Franca M-G, Guilet D (2008) Sesquiterpenes from aerial parts of Ferula vesceritensis. Phytochemistry 69:1933–1938

Paknikar SK, Fondekar KPP (2001) Synthesis of the 7-hydroxy-4-isopropyl-6-methylcoumarin: a bisnorsesquiterpene. J Indian Inst Sci 81:175–179

Phillips DR, Rasbery JM, Bartel B, Matsuda SPT (2006) Biosynthetic diversity in plant triterpene cyclization. Curr Opin Plant Biol 9:305–314

Pillai SP, Menon SR, Mitscher LA, Pillai CA, Shankel DM (1999) Umbelliferone analogues and their potential to inhibit benzo(a)pyrene- and hydrogen peroxide-induced mutations. J Nat Prod 62:1358–1362

Rasbery JM, Shan H, LeClair RJ, Norman M, Matsuda SPT, Bartel B (2007) Arabidopsis thaliana squalene epoxidase 1 is essential for root and seed development. J Biol Chem 282:17002–17013

Rassouli FB, Matin MM, Iranshahi M, Bahrami AR, Neshati V, Mollazadeh S, Neshati Z (2009) Mogoltacin enhances vincristine cytotoxicity in human transitional cell carcinoma (TCC) cell line. Phytomedicine 16:181–187

Razdan TK, Qadri B, Qurishi MA, Khuroo MA, Kachroo PK (1989) Sesquiterpene esters and sesquiterpene-coumarin ethers from Ferula jaeskeana. Phytochemistry 28:3389–3393

Rollinger JM, Hornick A, Langer T, Stuppner H, Prast H (2004) Acetylcholinesterase inhibitory activity of scopolin and scopoletin discovered by virtual screening of natural products. J Med Chem 47:6248–6254

Rollinger JM, Steindl TM, Schuster D, Kirchmair J, Anrain K, Ellmerer EP, Langer T, Stuppner H, Wutzler P, Schmidtke M (2008) Structure-based virtual screening for the discovery of natural inhibitors for human Rhinovirus coat protein. J Med Chem 51:842–851

Rosselli S, Maggio A, Bellone G, Formisano C, Basile A, Cicala C, Alfieri A, Mascolo N, Bruno M (2007) Anitbacterial and anticoagulant activities of coumarins isolated from the flowers of Magydaris tomentosa. Planta Med 73:116–120

Sahebkar A, Iranshahi M (2010) Cancer chemoprevention by 7-prenyloxycoumarins: A role for 5-lipoxygenases inhibition? Integr Cancer Ther 9:259–260

Saleh O, Haagen Y, Seeger K, Heide L (2009) Prenyl transfer to aromatic substrates in the biosynthesis of aminocoumarins, meroterpenoids and phenazines: the ABBA prenyltransferase family. Phytochemistry 70:1728–1738

Sasaki K, Mito K, Ohara K, Yamamoto H, Yazaki K (2008) Cloning and characterization of naringenin 8-prenyltransferase, a flavonoid-specific prenyltransferase of Sophora flavescens. Plant Physiol 146:1075–1084

Sayed AAR (2011) Ferulsinaic acid attenuation of advanced glycation end products extends the lifespan of Caenorhabditis elegans. J Pharm Pharmacol 63:423–428

Shahverdi A-R, Iranshahi M, Mirjani R, Jamalifar H, Amin G, Shafiee A (2005) Bioassay-guided isolation and identification of an antibacterial compound from Ferula persica var. persica roots. Daru 13:17–19

Shahverdi AR, Saadat F, Khorramizadeh MR, Iranshahi M, Khoshayand MR (2006) Two matrix metalloproteinases inhibitors from Ferula persica var. persica. Phytomedicine 13:712–717

Shahverdi AR, Fakhimi A, Zarrini G, Dehghan G, Iranshahi M (2007) Galbanic acid from Ferula szowitsiana enhanced the antibacterial activity of penicillin G and cephalexin against Staphylococcus aureus. Biol Pharm Bull 30:1805–1807

Soltani F, Mosaffa F, Iranshahi M, Karimi G, Malekaneh M, Haghighi F, Behravan J (2009) Evaluation of antigenotoxicity effects of umbelliprenin on human peripheral lymphocytes exposed to oxidative stress. Cell Biol Toxicol 25:291–296

Su B-N, Takaishi Y, Honda G, Itoh M, Takeda Y, Kodzhimatov OK, Ashurmetov O (2000) Sesquiterpene coumarins and related derivatives from Ferula palli. J Nat Prod 63:436–440

Sutthivaiyakit S, Mongkolvisut W, Prabpai S, Kongsaeree P (2009) Diterpenes, sesquiterpenes and a sesquiterpene-coumarin conjugate from Jatropha integerrima. J Nat Prod 72:2024–2027

Tligui N, Ruth GR, Felice LJ (1994) Plasma ferulenol concentration and activity of clotting factors in sheep with Ferula communis variety brevifolia intoxication. Am J Vet Res 55:1564–1569

Valle MG, Appendino G, Nano GM, Picci V (1987) Prenylated coumarins and sesquiterpenoids from Ferula communis. Phytochemistry 26:253–256

Vandyshev VV, Sklyar YuE, Perel'son ME, Moroz MD, Pimenov MG (1972) Conferol—a new coumarin from the roots of Ferula conocaula and F. moschata. Khim Prirodn Soedin 5:670–671

Yang J-R, An Z, Li Z-H, Jing S, Qin H-L (2006) Sesquiterpene coumarins from the roots of Ferula sinkiangensis and Ferula teterrim. Chem Pharm Bull 54:1595–1598

Yazaki K, Kunihisa M, Fujisaki T, Sato F (2002) Geranyl diphosphate:4-hydroxybenzoate geranyl-transferase from Lithospermum erythrorhizon. Cloning and characterization of a key enzyme in shikonin biosynthesis. J Biol Chem 277:6240–6246

Yazaki K, Sasaki K, Tsurumaru Y (2009) Prenylation of aromatic compounds, a key diversification of plant secondary metabolites. Phytochemistry 70:1739–1745

Zhai D-D, Zhong J-J (2010) Simultaneous analysis of three bioactive compounds in Artemisia annua hairy root cultures by reversed-phase high-performance liquid chromatography–diode array detector. Phytochem Anal 21:524–530

Zhao P, Inoue K, Kouno I, Yamamoto H (2003) Characterization of leachianone G 2′′-dimethylallyl-transferase, a novel prenyl side-chain elongation enzyme for the formation of the lavandulyl group of sophoraflavanone G in Sophora flavescens Ait. cell suspension cultures. Plant Physiol 133:1306–1313

Zhong C, Yongxing Z, Xu Z et al (2001) Expression of multidrugassociated protein, P-glycoprotein, P53 and Bcl-2 proteins in bladder cancer and clinical implication. J Tongji Med Univ 21:56–58

Zhou P, Takaishi Y, Duan H, Chen B, Honda G, Itoh M, Takeda Y, Kodzhimatov O, Lee K-H (2000) Coumarins and bicoumarin from Ferula sumbul: anti-HIV activity and inhibition of cytokine release. Phytochemistry 53:689–697
About this article
Cite this article
Gliszczyńska, A., Brodelius, P.E. Sesquiterpene coumarins. Phytochem Rev 11, 77–96 (2012). https://doi.org/10.1007/s11101-011-9220-6
Received:

Accepted:

Published:

Issue Date:
Keywords
Farnesyldiphosphate

4-Hydroxycoumarin

Isofraxidin

Prenylated coumarins

Prenyl-furocoumarin sesquiterpenenes

Scopoletin

Sesquiterpene coumarins

Umbelliferone